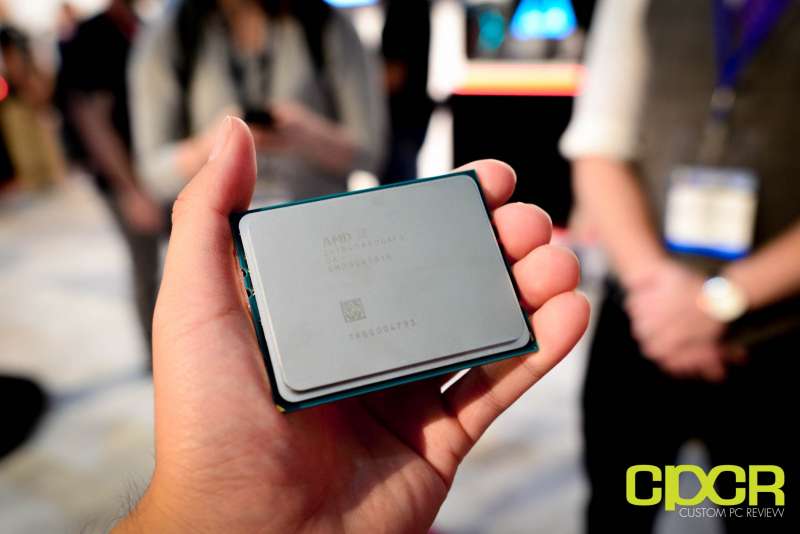 During AMD's SIGGRAPH event, the company finally revealed the full details, lineup and availability of their highly anticipated Ryzen Threadripper CPUs.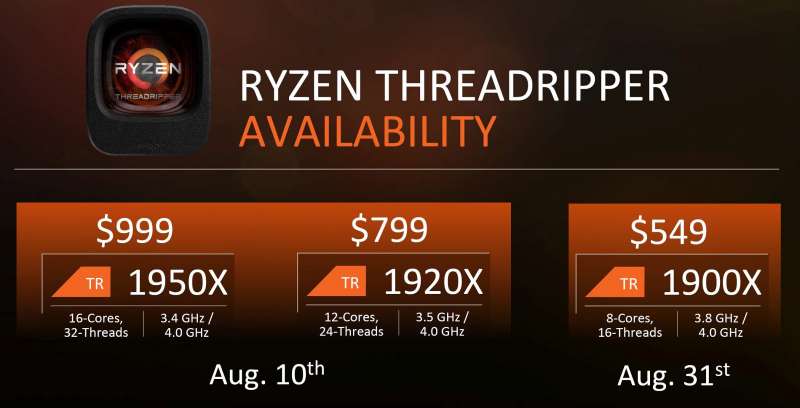 AMD will release three products into the Ryzen Threadripper family. At the top of the stack is the Ryzen Threadripper 1950X, which will feature 16-cores/32-threads, a base clock of 3.4GHz, a turbo clock of 4.0GHz + XFR to 4.2GHz, 180w TDP and will retail for $999 starting August 10. In the middle is the Ryzen Threadripper 1920X, which will feature 12-cores/24-threads, a base clock of 3.5GHz, a turbo clock of 4.0GHz + XFR to 4.2GHz, 180w TDP and will retail for $999 starting August 10. Of course, most of this information we've already known previously so not much of a surprise there.
What's new is that AMD will also release the Ryzen Threadripper 1900X. The TR 1900X will feature 8-cores/16-threads, a base clock of 3.8GHz, a turbo clock of 4.0GHz + XFR to 4.2GHz, 180w TDP and will retail for $999 starting August 31. While the TR 1900X doesn't sport any more compute capability than the Ryzen 1800X, it does give the customer an upgrade path to higher end CPUs and provides all the benefits of the Threadripper HEDT platform such as a larger memory footprint, more I/O and storage, and more PCIe lanes for better PCIe storage and multi-GPU configuration support.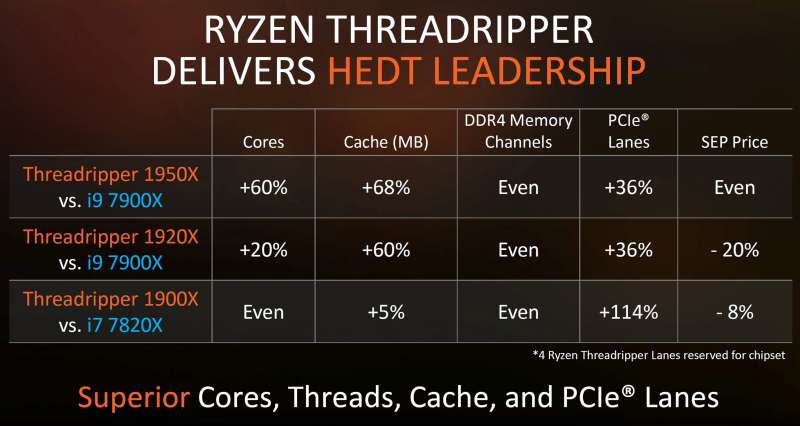 Here's a full breakdown of AMD's Threadripper HEDT lineup against comparable Intel HEDT lineup. Essentially, AMD is able to provide more cores, ore cache, more PCIe lines at a similar or lower price.
OK, so we know the full lineup and specifications, what about performance. Well, according to AMD's internal testing,  the Threadripper 1950X is capable of as much as 55% performance improvement over the identically priced Intel Core i9 7900X. Other benchmarks presented such as POVRay, Premiere Pro, Handbrake and 7-Zip showed double digit performance improvements as well.
Stepping down to the $799 Threadripper 1920X, AMD claims it's as much as 19% faster than the Intel Core i9-7900X in Veracrypt. With the exception of Premiere Pro, the 1920X was able to outperform the Core i9-7900X.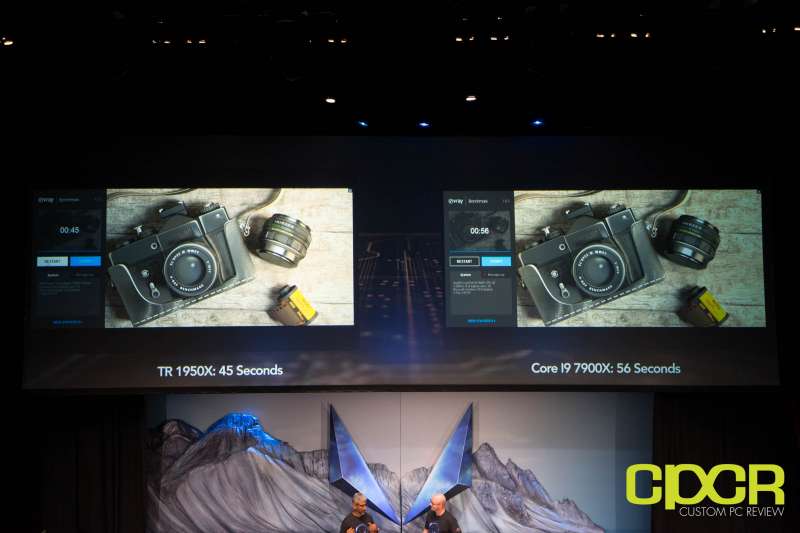 At AMD's Capsaicin event, AMD also showed a live video of Threadripper 1950X vs Core i9 7900X in a demo rendering of VRAY. Safe to say, Threadripper 1950X crushed the Core i9 7900X by about 20% rendering the image in 45 seconds vs 56 seconds for the i9 7900X.
Of course, without motherboards, customers will be left in the same situation as we saw back when Ryzen launched where CPUs were readily available, but motherboards were nowhere to be found. According to AMD, Threadripper will have an entire ecosystem of TR4 socket motherboards and TR4 socket compatible CPU coolers ready at launch. AMD also already has 90 retailers and boutique OEMs partners ready to begin shipping.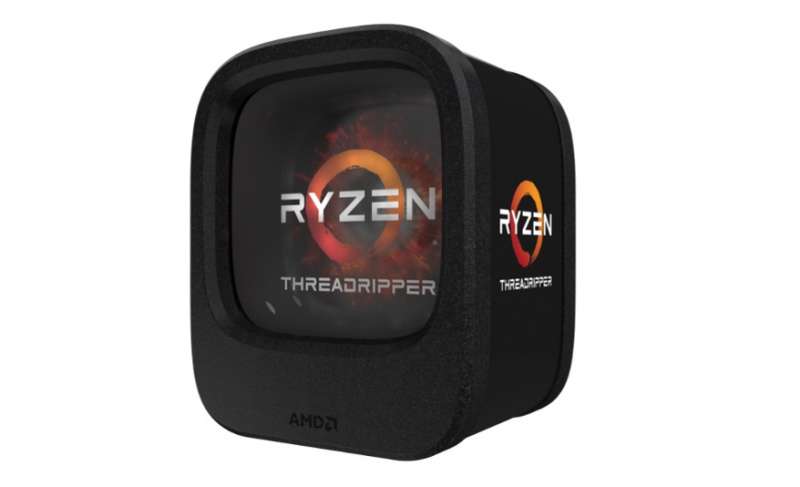 For those who missed the Twitter post AMD CEO Dr. Lisa Su posted with her and the new Threadripper packaging, here's a better look at that.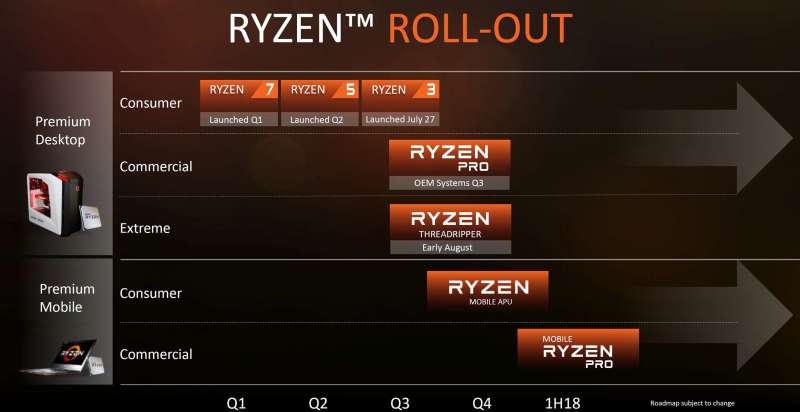 AMD also shared a roadmap showing the current roll-out of Ryzen as well as what's coming next in the pipeline. With the entire desktop lineup announced, it's really the mobile chips now. By the end of the year, AMD will announce the Ryzen Mobile CPUs/APUs, and in the following year we'll be seeing Ryzen Mobile Pro.
AMD Ryzen Threadripper Specifications
[table id=8 /]