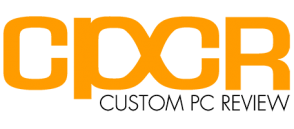 Help Us for Free!
Thank you all for visiting this page as you've shown interest in supporting Custom PC Review. As we're a small, independent technology website without corporate overlords, funding plays a huge role in the amount and the type of content we're able to provide.
If you'd like to help support us, please consider bookmarking and using our Amazon link or Ebay link when purchasing products from Amazon or Ebay. It doesn't cost you anything extra, but everything you order using our link will provide us with a small commission. Feel free to buy anything from computer hardware to games to even underwear. This directly helps us continue doing what we love doing and helping you make the best buying decisions possible.
Our mission here since day one has been and will continue to be to provide you with the best technology news and the most in-depth reviews possible. We're passionate about what we do and we hope our articles have helped you in some way. Thank you for your support!
Links
Chances are, you've probably heard of Amazon by now. Amazon is the site many of us here at Custom PC Review use to buy everything from that new video card to that new roll of toilet paper. They have excellent customer service and every time I've contacted them whether its items lost in the mail, price adjustments, price matching, etc. I always get a satisfactory resolution. These guys really go out of their way to make sure your buying experience is a good one.
If you're willing to shell out $99 a year, you can also get in on the Amazon Prime membership. (Which I've been a member for years) This will allow you to get free 2 day shipping (or better depending on where you live) on pretty much everything Amazon sells and includes access to Amazon's library of streaming videos and movies, e-books, music streaming, Twitch Prime, and more!
Chances are, you've probably heard of Ebay as well. Ebay is a great site we use here to find great deals on older hardware such as used CPUs, graphics cards, memory, and more. Prices are very good, especially for those interested in purchasing more specialized equipment such as servers or workstations.
Donations
While we appreciate the gesture, we don't take donations. Please use your money to purchase some new computer parts using our links and let us know what you think of them! If you'd like, feel free to send us some computer parts by mail.
Custom PC Review
PO Box 2316
Chino Hills, CA 91709