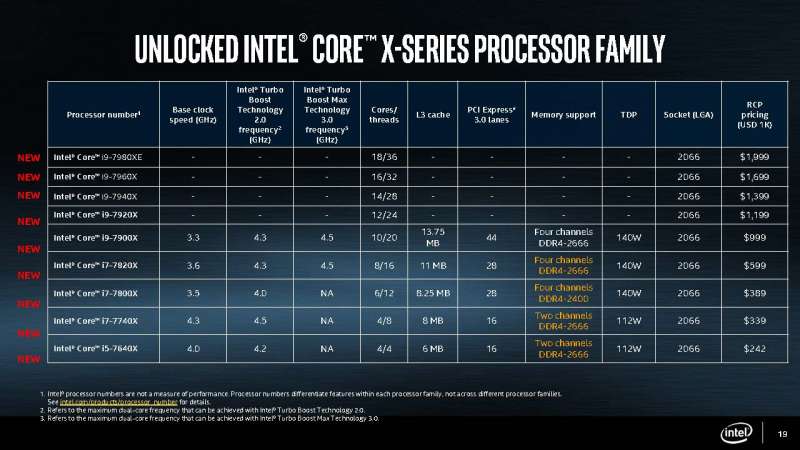 When Intel announced their Core X Series processors back in June of last month, no information was revealed about many of the specifications of the high end Core i9 CPUs. Aside from the core count, information about the base clock speeds, turbo clock speeds, L3 cache, etc. were still missing from the picture. What were they hiding?
Well, recently Videocardz published a screenshot of Intel's processor pricing chart for tray CPUs as of July 14. While many details are still missing, the document reveals several key details about the Core i9-7920X, namely the base clock speed of 2.90GHz and 16.5MB of L3 cache.

This is interesting as it puts the base frequency of the Core i9-7920X at 400MHz lower than the Core i9 7900X and 600MHz lower than AMD's 12-core Threadripper 1920X. Of course, the base frequency doesn't paint a full picture of the actual performance of the CPU since turbo frequencies need to be factored in as well, the base does tend to correlate somewhat with the turbo frequency and at just 2.9GHz, that's very low in relation to other Intel high end CPUs.
Of course, as with any leaked information, take this one with a grain of salt. Nothing is final until Intel announces the complete specifications of their products and until then, anything is subject to change.
Source: Videocardz