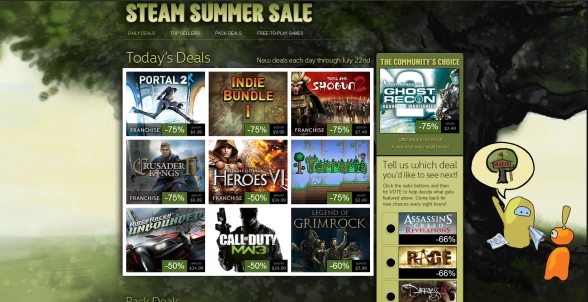 Ladies and gentleman, it's time to empty your wallets because the Steam Summer Sale is here!
Similar to previous years, this year we're looking at some fantastic deals on a huge variety of games. Franchise bundles like Total War Shogun 2 is at 71% off, Portal 2 is at 75% off, and Might & Magic Heroes IV is at 50% off. Along with those, we get developer packs as well including Valve's Complete pack for 50% off, Bethesda's Collection pack for 40% off, 2K's Collection pack for 77% off, Square Enix Hit Collection for 79% off, as well as Activision's pack for 71% off. In addition, this year Steam is also having quick sales that rotate every 8 hours. These 8 hour rotation sales give the community the option to choose what game they want to be on discount. Currently, Tom's Clancy: Ghost Recon Advanced Warfighter 2 is at 75% off.
Other games on sale worth noting are Left 4 Dead 2 at 50% off, Terraria at 75% off, Arma 2 for 20% off and a brand new Indie Bundle at 75% (Anomaly: Warzone Earth, CaveStory, Edge, Lone Survivor and the Baconing are all part of this bundle).
What games are you planning to buy? Let us know!
Source: Steam