Warning
: Undefined array key "width" in
/var/www/vhosts/custompcreview.com/public_html/wp-includes/media.php
on line
1381
Warning
: Undefined array key "width" in
/var/www/vhosts/custompcreview.com/public_html/wp-includes/media.php
on line
1386
Warning
: Undefined array key "height" in
/var/www/vhosts/custompcreview.com/public_html/wp-includes/media.php
on line
1386
Warning
: Undefined array key "width" in
/var/www/vhosts/custompcreview.com/public_html/wp-includes/media.php
on line
1381
Warning
: Undefined array key "width" in
/var/www/vhosts/custompcreview.com/public_html/wp-includes/media.php
on line
1386
Warning
: Undefined array key "height" in
/var/www/vhosts/custompcreview.com/public_html/wp-includes/media.php
on line
1386
[section label=1. Introduction]
Lock and Load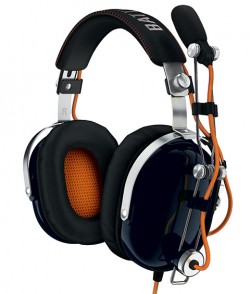 At this point, most of us probably shy away from branded products since most of them are simply obvious attempts by hardware manufacturers to make more money from their current lineup of products by overcharging game fans for what essentially is a product that's already offered except with a new paintjob. Of course, there are other companies then who produce branded products that are completely unique, which is why when Razer initially announced the BlackShark back in late May of this year, I was quite intrigued.
Contrary to some of Razer's previous branded gaming gear, the BlackShark is actually a unique design never before seen from Razer. This means that Razer didn't just simply just repaint a Carcharias or something, slap on a new logo, and attach a higher price tag than the base product. Inspired by the aviator headset used by military helicopter pilots, the BlackShark (AKA Kamov KA-50 Attack Helicopter) focuses on delivering superior sound performance with a high level of noise insulation. Its boom microphone is also detachable, and Razer even included a cap to cover up the microphone socket when it's detached allowing gamers to use the headset as a pair of headphones on the go.
Now, the BlackShark isn't actually a product completely new to me. When I visited Razer at E3 earlier this year, I was able to get a bit of hands on time with the new headset and came away with some fairly good impressions. Comfort and fit was good, the build quality was solid, noise isolation was top notch, and most importantly it sounded quite good despite it carrying only 40mm drivers underneath.
That said, I recently obtained a Razer BlackShark for a more thorough review, so were my first impressions spot on? Let's find out!
Specifications
Headphones
Drivers: 40mm neodymium magnets with copper-clad aluminum voice coil
Frequency response: 20Hz – 20KHz
Impedance: 29 Ω
Sensitivity @ 1KHz: 105dB ± 3 dB
Input power: 50mW
Cable: 1.3m rubber sheathed
Connector: 3.5 mm audio + mic combined jack
Microphone
Frequency response: 50Hz – 16KHz
Signal-to-noise ratio: 50dB
Sensitivity @ 1KHz: -37 dB +/- 4dB
Pick-up pattern: Unidirectional
[section label=2. A Closer Look]
A Closer Look At The Razer BlackShark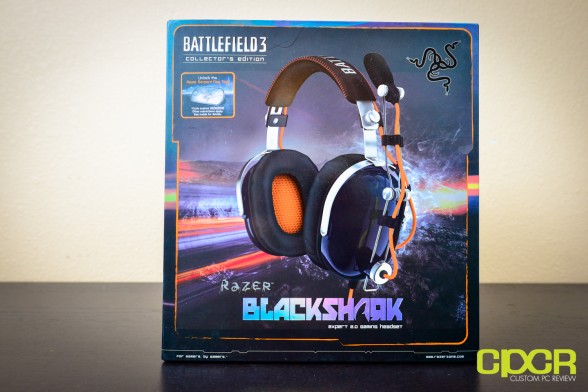 The packaging of the BlackShark breaks Razer's traditional black and green color scheme and instead features the loading screen for the Battlefield 3 map, Kharg Island.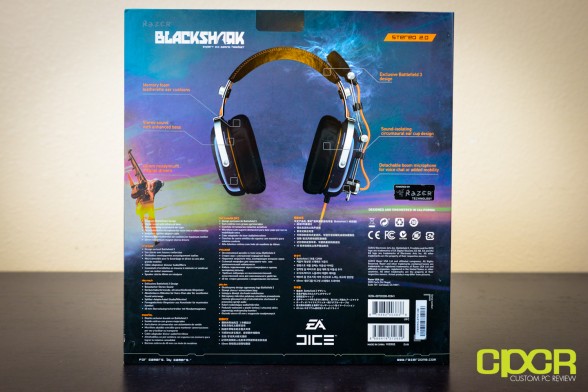 The back of the box show cases all the main features of this headset. It also bares the EA and DICE logo at the bottom to let you know it's official.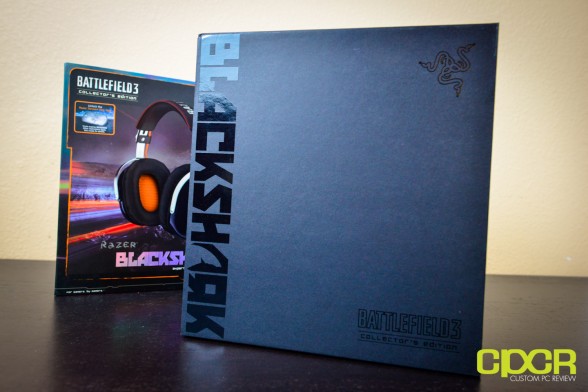 It is clear that Razer put a lot of effort into protecting the headset from shipping damage. The headset casing is extremely sturdy. It looks nice, too. Definitely packaging worthy of a collector's edition product.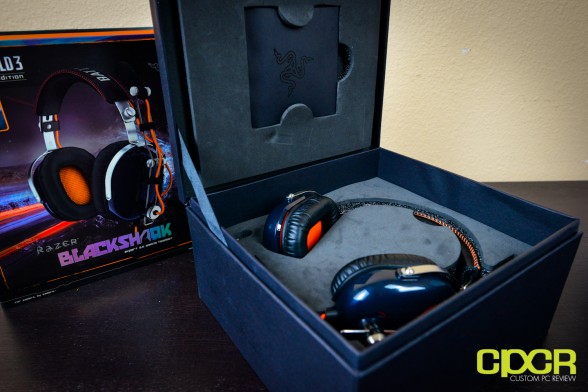 Holy moly, with a box like this, one wouldn't be surprised to see a diamond ring in here. But instead we find a BlackShark, which is just as good.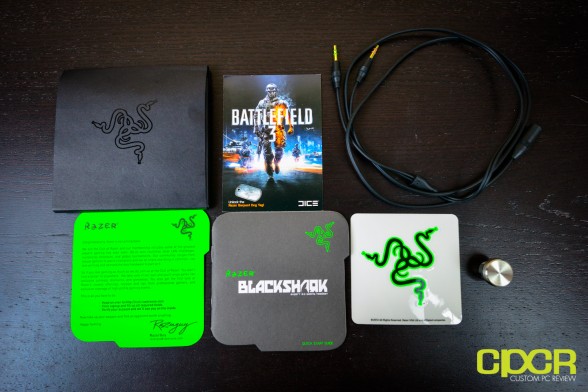 In terms of accessories, we get a Battlefield 3 exclusive dogtag code pamphlet, an extension cable, the Razer Gamer Certificate, the user's manual, a Razer sticker, and a cap for the microphone socket.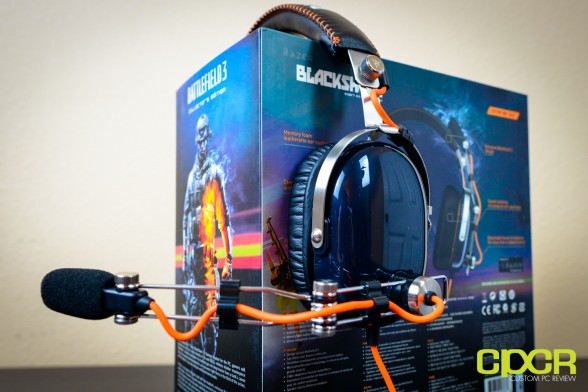 To keep true to the Battlefield 3 theme, the Razer BlackShark uses deep blue as its dominant color with lines of bright orange added to show contrast. The glossy earcups give off nice highlights, and the looks very balanced overall. Of course, like all products finished with a glossy finish, expect a constant battle with dust, fingerprints, and smudges.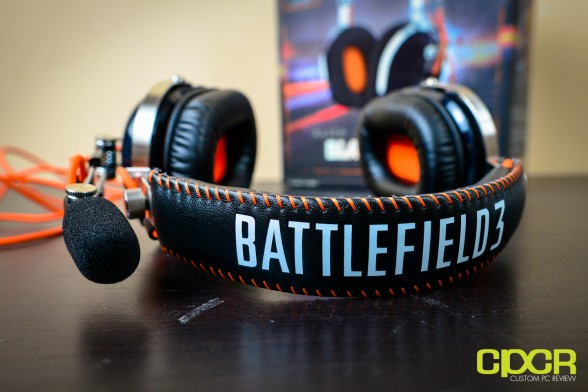 The headband of the headset bares the Battlefield 3 logo. The outside is covered with a tough leather material and looks like it's stitched on instead of glued. It's extremely well made and Razer's attention to detail with this product is top notch.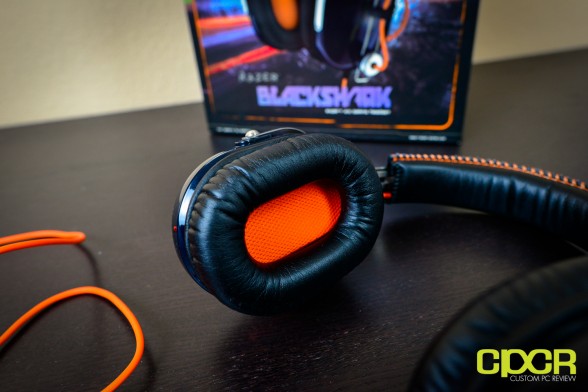 The earcup is oval in shape and has very nice, soft leather ear pads. Razer claims that the interior of the earpads is made of memory foam, which is probably true since it's really nice and plush. The inside of the earcups are lined with a piece of porous orange fabric.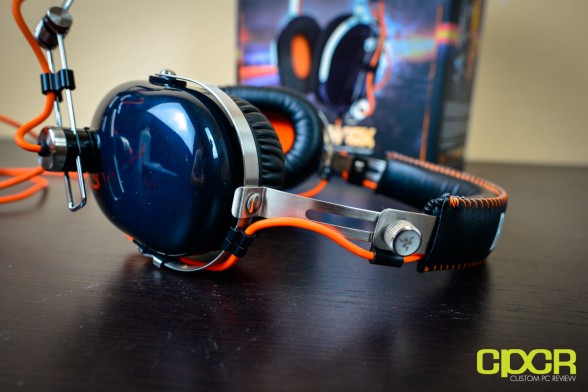 Everything about this headset screams quality. With the exception of the earcups, everything is metal. Although composed of plastic, the earcups feel very strong. Even the earcup height adjustment slide is non-conventional: there's a knob on either side of the headset that tightens and loosens the arm, giving the user total control of the height while keeping it completely secure when tightened.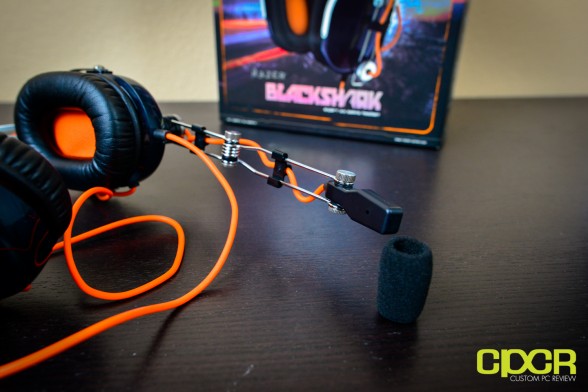 The microphone arm is also metal. The microphone is moveable in three areas; the part that attaches to the headset (up/down), the center of the microphone arm (side-to-side), and the microphone head itself (side-to-side). As you can see here, the thick wires are secured to the microphone arm to keep it stationary. The head of the microphone is covered with a removable foam windscreen.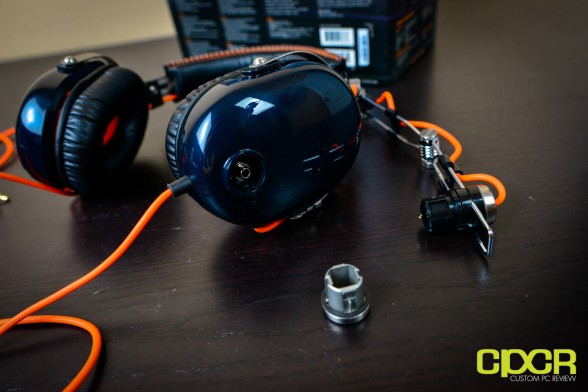 Here we have a shot of the microphone detached. The microphone is not attached magnetically, and instead clips in. The little metal cup thingy at the bottom of the picture is the cover for the microphone socket on the earcup.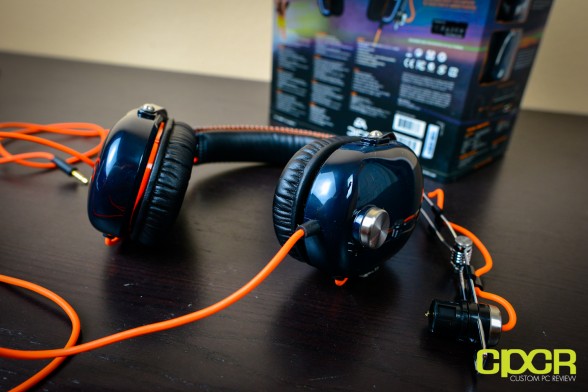 This is what the headset looks like with the microphone detached and the cover installed. Unfortunately, it does look a bit funky without the microphone as one side has a little metal piece popping out and the other side doesn't. Razer should've probably put a decorative metal cover on the other side as well to promote better symmetry when the microphone is removed.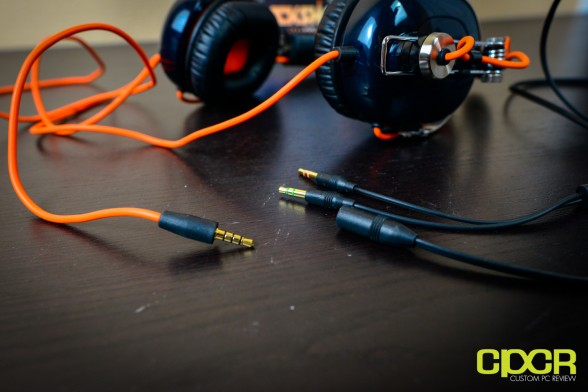 The headset itself uses 3.5mm jacks so it will be compatible with any device that uses a 3.5mm jack such as your PC or your iPod. All 3.5mm connectors are gold plated, which helps promote better corrosion resistance.
What's interesting about the 3.5mm jacks is that the 3.5mm jack attached to the headset is actually a headphone/microphone combo jack. This is great for those who want to take the BlackShark on the go as you'll no longer have to sling around a massively long cable and there won't be an extra 3.5mm microphone jack dangling around when the headset is plugged into a music player. That said, this may be problematic for gamers, since if you lose the extension cable that splits the signal, you'll also effectively lose the ability to use the attached microphone.
[section label=3. Performance]
Razer BlackShark Performance
Games and Movies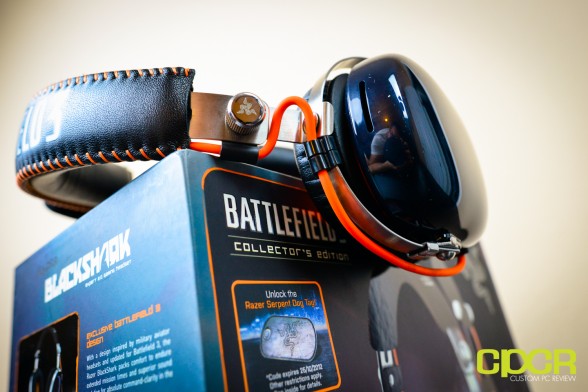 The Razer BlackShark is designed ground up to be a gaming headset, so the first test I ran it through of course was some games. Since it's a Battlefield 3 endorsed product, I naturally played Battlefield 3 as the ultimate test and overall experience here was extremely good. Bass was very boomy and I was extremely surprised at how much low end the headset was able to produce despite Razer choosing to go with the relatively smaller 40mm drivers here. The range of sound that the BlackShark produced was quite good here as well as I was easily able to tell apart the different vehicles, players, and weapons that were in play. Soundstage wasn't too bad either although I did find it a bit lacking compared to some other headsets I've used such as the SteelSeries 7H Fnatic. However, I did test the headset using the Creative Recon3D PCIe soundcard and it was capable of enhancing the surround capabilities of the headset.
Next, I spent some time watching the action packed Mission: Impossible – Ghost Protocol and I found the BlackShark a great performer here as well. From furtive movements to head rattling bass explosions to the sounds of a desert windstorm rushing through the scenes, the headset did an excellent job creating an extremely immersive experience.
Music
After testing the types of scenarios the BlackShark was designed for, I went in for some music testing so I hooked the BlackShark up to the Audioengine D1 DAC for some critical listening. After spending some time listening to various audio tracks (FLAC/320Kbps MP3) from artists such as AC/DC, Journey, Usher, Two Steps from Hell and Skrillex, I came away feeling that while the BlackShark is capable of performing quite well in bass heavy genres such as pop, hip hop, dubstep, etc., but those looking for a clean and crisp mid range will find the headset lacking. That said, if you're a fan of bass heavy gaming headsets such as the Creative Tactic 3D Sigma or naturally bass heavy headsets such as the Beats by Dr. Dre you'll probably love the acoustic profile of the BlackShark.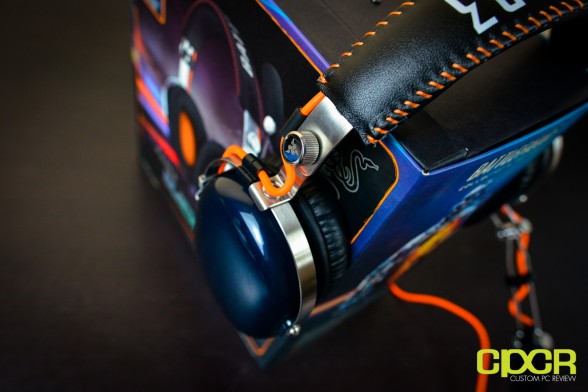 Microphone
Tom's (Editor) take: The microphone on the BlackShark is respectable; much better than the included microphones of many other headsets. In Skype, sounds sounded just a tad bit muddy in comparison to the Plantronics GameCom 780, but speech was still clear and discernible. The windscreen did a decent job at keeping breathing from creating excessive noise as well. Noise cancellation also deserves a thumbs up as it canceled out the fan noise of Sam's HAF-X, his mechanical keyboard, and most of the speaker noise in the background.
Comfort
When I first saw the headset in the product shots, I was actually quite worried about comfort as the earcups are oval instead of round suggesting it might not completely fit ears that are wide; however, after trying the BlackShark on, I can safely say that comfort was not an issue especially considering I typically have a very difficult time finding a headset that's comfortable. I've got a large head, large ears, and I wear glasses – a terrible combination when it comes to searching for a comfortable headset.
That said, I do think Razer should've included some sort of cloth earpads as the included leather earpads aren't my first choice. While the earcups are extremely comfortable, it does tend to get hot over my ears after 1-2 hours of use, which isn't very ideal as we all know you can't just play BF3 for only 1-2 hours at a time. One thing the leather earpads excel in though is noise isolation and the BlackShark does an excellent job of that. Extraneous noise from around the room such as the sound of my A/C unit running or cars driving by were blocked out quite well, which greatly helped improve the sound quality and bass response.
[section label=4. Conclusion]
Razer BlackShark Conclusion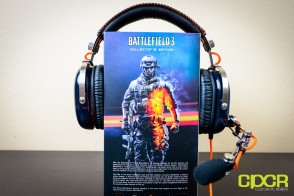 The Razer BlackShark is one helluva good looking headset. The dark blue and bright orange color combination contrast each other perfectly and looks extremely nice. The metallic chassis and the stitched headrest gives the headset a military grade rigidity feel – a feel that even Tom Cruise would happily approve. My only complaint about the design is Razer's decision to use glossy plastic for the earcups. It's a huge dust, fingerprint, and smudge magnet and will take a whole lot of maintenance if you want it to continue to look shiny and new in the long term.
As expected of a headset designed for Battlefield 3, I found that its most suited types of sounds were the sounds most often heard in Battlefield 3 where explosions and gunshots are aplenty. Considering the relatively smaller-ish 40mm driver Razer has chosen to bless the BlackShark with, this is very impressive and I found myself quite immersed in my game of BF3, especially after hopping into a AH-1 Super Cobra and raining hell on an unsuspecting T90. That said then, performance is generally positive with the BlackShark. It performed well enough in the very low end and fairly well in the high end, but I did end up finding it lacking a bit in the mid range clarity department. Then again, the headset was designed for Battlefield 3 and it excels for the purpose so I'm not going to whine about the music performance too much. Noise insulation was also very good as the leather earcups kept the humming of the A/C and dreadful car alarms at bay as I tore through the battlefield.
If you're dead set on get the Razer BlackShark, make sure you have some extra cash to burn. It can currently be found on Amazon for $128.99, which definitely places the headset in a special price bracket. That said, I still think you're getting a lot of value here as you're getting a genuinely high quality headset, awesome looks, good sound quality, and for Battlefield 3 gamers, you'll also get a virtual BF3 Razer dogtag as well. It's a collector's edition item and unfortunately, it will come with a collector's edition pricetag.
Bottom Line
The Razer BlackShark Gaming Headset is a premium gaming headset that has both the performance and the unique aesthetic appeal for those who demand it. If your wallet can weather the high pricetag, I say… go for it!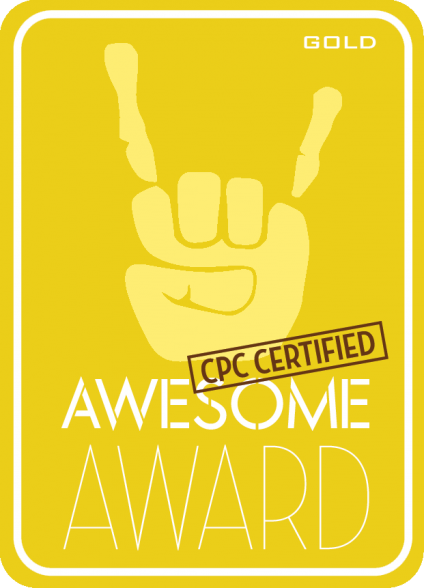 Special thanks to Razer for making this review possible!
The Razer BlackShark is currently available for purchase on Amazon.