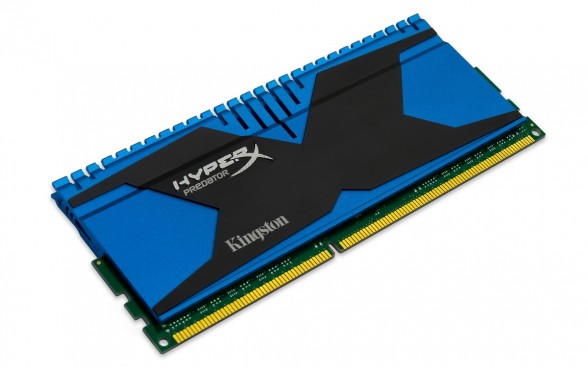 Press Release
Kingston Technology Company, Inc., the independent world leader in memory products, today announced the launch of the new Kingston® HyperX® Predator. The new high-performance DRAM module complements the HyperX product range with the fastest speeds, lowest latencies and highest capacities. HyperX Predator is aimed at extreme enthusiasts and overclockers looking to push their systems to the maximum with the fastest speeds and highest performance hardware.
With its new heatspreader, HyperX Predator offers a more aggressive design, which accompanies the look and design of the latest PC hardware, and provides great heat dissipation to optimize memory reliability. The memory is Intel® XMP certified and has been fully tested and validated on a top range of motherboards currently available on the market. End users can easily overclock their systems by simply selecting a profile in BIOS with no need for manual adjustments.
"The PC gaming market is robust and growing and we are pleased to contribute to that market with our new, more aggressive HyperX Predator memory kits," said Mark Tekunoff, senior technology manager, Kingston®. "Enthusiasts will experience higher performance, ultra-responsive multitasking possibilities and an overall faster system thanks to its top optimized performance settings for specific modules ― handpicked and tested by our Kingston engineers."
HyperX Predator is available in speeds up to 2666MHz, CAS latencies of 9 and 11, and capacities from 8GB to 32GB in various dual- and quad-channel kit configurations.
Kingston HyperX memory is backed by a lifetime warranty and free live technical support. For more information check out the Kingston HyperX Predator product page here.
Kingston HyperX Predator Specifications:
Capacity: 8GB, 16GB, and 32GB in kits of 2 and 4
Frequency (speed): 1600MHz-2666MHz
CAS Latency: CL9, CL11
Voltage: 1.5v-1.65v operating voltage enables stable overclocking
XMP Certified: Higher-performing frequencies, timings and voltage are attainable by simply enabling Intel's Extreme Memory Profile.
Compatible: Designed specifically for P55, H67, P67, Z68, H61 (AG) and Z77 Intel chipsets, as well as A75, A87, A88, A89, A78 and E35 (Fusion) AMD chipsets
Reliable: 100-percent tested
Guaranteed: Lifetime warranty, free technical support