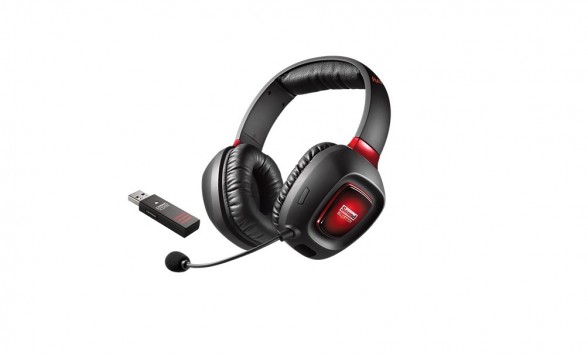 Press Release
CREATIVE UNLEASHES SOUND BLASTER TACTIC3D RAGE GAMING HEADSETS
Hassle-Free Wireless Audio Sounds as Great as a Wired Headset
Creative Technology Ltd today announced the Sound Blaster® Tactic3D Rage Wireless gaming headset for PC and Mac, featuring state-of-the-art wireless audio technology and hassle-free connectivity.  Creative also announced the new Sound Blaster Tactic3D Rage USB wired gaming headset. Both headsets feature customisable SBX Pro Studio™ sound and voice audio technologies to arm gamers with the competitive advantage of the most immersive and accurate 3D acoustic environment.

Sound Blaster Tactic3D Rage Wireless
Gaming Headset

Sound Blaster Tactic3D Rage
Wired Gaming Headset
The Sound Blaster Tactic3D Rage Wireless gaming headset connects quickly and easily via a USB dongle, for uncompressed 2.4 GHz, latency-free wireless audio playback.  In both the wireless and wired models of the headset, best-in-class sound quality pumps through 50mm Full Spectrum™ drivers, with frequency response of 20Hz ~ 20KHz.  The TacticProfile™ audio interface on the PC or Mac enables customisation of EQ and audio preferences, which gamers can export and share with others.
The Sound Blaster Tactic3D Rage gaming headsets introduce the SB Prism™ RGB LED illumination system, enabling gamers to choose from 16 million colors to light up the side of each ear cup to match their rig or gaming style.  Adjustable pulsation and intensity control for the SB Prism system also allows the headset to dynamically pulsate with the audio stream in real time when activated.
"We worked closely with professional gamers around the world to embrace their vision of the ultimate gaming headset, and we met their challenge to design a wireless headset that sounds as good and performs as well as its wired counterpart, providing ultimate freedom of movement without compromising audio quality," said Ryan Schlieper, Product Marketing Manager for Gaming at Creative.  "We want everyone to feel like the Sound Blaster Tactic3D Rage is designed especially for them, so we're excited to introduce the most customisable headsets on the market.  The competitive advantage of creating your own personalised audio settings combined with customised ear cup illumination gives you the ultimate addition to your gaming arsenal."
The Sound Blaster Tactic3D Rage gaming headsets feature SpringSteel™ steel core head band construction with sponge ear cups encased in leather for comfort during long periods of gaming.  The built-in rechargeable battery powers up to 16 hours of use on a single charge.  Rotary volume and mute controls are conveniently located on the ear cup.  The detachable boom mic enhances portability and enhances the headset's use for music playback.
The Tactic3D software control panel for PC and Mac provides all of the SBX Pro Studio and SB Prism customisation capabilities.
SBX Pro Studio Sound and Voice Technologies
SBX Surround™ – Goes beyond 7.1 surround sound creating unprecedented levels of audio realism including stunning surround effects that produce virtual speakers around, above and below you
SBX Crystalizer™ – Hearing the clang of armor or the hum of a BFG, makes for a great game experience.  SBX Crystalizer ensures that every audio detail is heard by restoring the "highs" and "lows" that are compromised with audio compression
SBX Bass™ – SBX Bass technology dramatically improves the sound experience by expanding the low frequency tones
SBX Dialog Plus™ – SBX Dialog Plus intelligently enhances voices in games and moves for dramatically clearer dialog
SBX Smart Volume™ – Address the problem of abrupt volume level changes in games by intelligently applying gain and attenuation to deliver consistent volume levels
VoiceFX™ – Enables alteration of voice with a variety of effects, which can be used to enhance the tone of a voice, create interesting accents, or enable someone to sound like a completely different person
Pricing and Availability
The Sound Blaster Tactic3D Rage Wireless gaming headset and Sound Blaster Tactic3D Rage wired gaming headset will be available at end September 2012 at the online store at creative.com/shop in Asia and authorised dealers in Asia at the following suggested retail prices:
| | |
| --- | --- |
| Sound Blaster Tactic3D Rage Wireless Gaming Headset | US$99.99 |
| Sound Blaster Tactic3D Rage Wired Gaming Headset | US$79.99 |
Pricing and availability may vary according to region.
For more information, visit soundblaster.com.