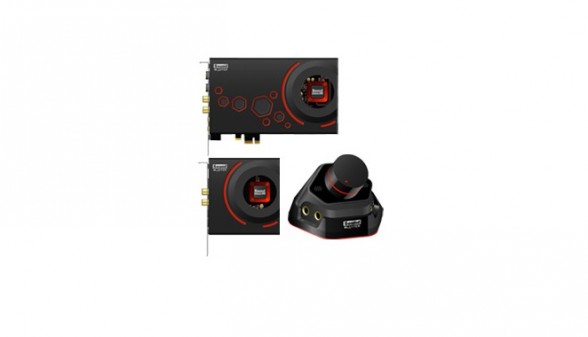 Press Release
CREATIVE INTRODUCES THE SOUND BLASTER Z-SERIES – A NEW RANGE OF ULTRA HIGH-PERFORMANCE SOUND CARDS DESIGNED FOR FUTURE GAMING AND ENTERTAINMENT AUDIO
Sneak Preview This Week at Gamescom 2012
Creative Technology Ltd today announced its new ultra high-performance Z-Series of Sound Blaster®PCI-Express sound cards, elevating the standards of technology and performance for the future of gaming and entertainment on the PC.  Creative will preview the new Sound Blaster ZxR, Sound Blaster Zx and Sound Blaster Z at Gamescom in Cologne, Germany from 15-19 August 2012.
| | | |
| --- | --- | --- |
| Sound Blaster ZxR | Sound Blaster Zx | Sound Blaster Z |
"The audio landscape for gaming and entertainment on the PC has changed.  As content creation and consumption evolves with the interactivity of the Internet, our vision is to enable the best listening experiences for music, video and games, and to transcend the basic concept of sound quality as a specification with enabling technologies that allow users to completely customise their PC audio," said Low Long Chye, Director of Product Marketing for Audio.  "For audio playback, we use studio-grade components to deliver outstanding fidelity, and then greatly enhance the listening experience by implementing our SBX Pro Studio™ suite of audio technologies.  This enables complete customisation of audio playback, uniquely catered to suit individual tastes.  Our mixture of outstanding components and proprietary technologies also enables us to provide the highest quality recording experience for audio creation, which today expands beyond just music recording to include user interaction and creation with YouTube, eSports, and more."
"We also recognise how voice communications in massively multiplayer online (MMO) and multiplayer online battle arena (MOBA) games are so crucial to winning, and how clear communications in VoIP applications such as Skype are so important to having meaningful conversations.  This is where our CrystalVoice™ technologies enable users to experience the best possible sound quality – the level of quality that is exclusively available with Sound Blaster.  To complete the overall communication experience, all our sound cards comes standard with a high-quality dual microphone array," added Low Long Chye.
Each New Sound Card Offers a Complete Audio System
To dynamically power compelling audio playback, the new sound cards leverage the Creative Sound Core3D quad-core sound and voice processor, which is designed to work in perfect harmony with Creative's SBX Pro Studio technology and high-quality components to deliver a complete audio platform.  Sound Core3D also works seamlessly with CrystalVoice communications technologies and the high-quality beam-forming microphone array included with each of the new sound cards to deliver Acoustic Echo Cancellation, Voice Focus and
Noise Reduction for clear online voice communications.  This complete system for voice communications also enables gamers to use speakers and the high-quality microphone array to achieve a better overall experience.
Sound Blaster ZxR – The World's Best Sounding Sound Card (SRP US$249.99)
This flagship Sound Blaster ZxR is designed to provide the best gaming and entertainment audio performance in any sound cards.  It also delivers the ultimate audio playback and creation solution for the PC.  Studio-grade components, which include external digital-to-analog converters (DACs) that deliver 127dB signal-to-noise ratio (SNR), sockets for swappable Op-Amps, a high-end 80mW into 600 ohm headphone amplifier, and 192kHz pass through, are used to deliver phenomenal audio quality.
The Sound Blaster ZxR has multiple connections including a proprietary connector to the DBpro, a daughter board that offers optical output for outstanding playback; and professional-grade 123dB analog-to-digital converters (ADCs) with RCA Aux-in and optical input for outstanding recording quality.
Furthermore, a convenient external ACM (Audio Control Module) provides a built-in dual-microphone array and mic/headphone I/O connections.  Designed to complement the Sound Blaster ZxR, the ACM adds convenience, extra connectivity and control, plus it enhances the look of any desktop.
In addition to the impressive hardware capabilities, the proprietary SB Speaker-Calibration feature, DTS Connect and Dolby Digital Live, all these three ensure an ultra-realistic cinematic audio playback and gaming experience.  From the hardcore gamer fragging an opponent on a first person shooter to a die-hard MOBA or MMO player engaging with thousands of players online, gamers can get a competitive advantage from excellent audio quality and positional accuracy.
In many of today's most popular games, if gamers are not communicating, they are not winning.   For voice communications, Creative's CrystalVoice technologies enable crystal-clear communications amongst gamers and their teammates.
Creative's audio engineers designed the SBX Pro Studio suite of audio playback technologies so gamers can improve their audio experience and calibrate their game audio so they can hear the subtle nuances that gives a competitive edge.  Immersive surround sound, the ability to clearly understand teammates and enhancements of specific sounds in a gaming environment are just a few elements of SBX Pro Studio that enhance gaming audio.
SBX Pro Studio Features:
SBX Crystalizer™ – Enhances sound for games, music and movies by restoring low and high end frequency curves lost to compression
SBX Surround™ – Delivers a 360 degree surround sound experience so gamers can hear sounds clearly from the front, back, above and below
SBX Smart Volume™ – Address the problem of abrupt volume level changes in music, movies and games by intelligently applying gain and attenuation to deliver consistent volume levels; includes Night Mode™  to reduce the impact of explosions and bursts of sound so as not to disturb others after hours
SBX Dialog Plus™ – Enhances voices in games and movies for clearer dialog, allowing the listener to hear the dialog over the rest of sound track and over ambient noise
SBX Bass™ – Fills in the missing low frequency tones and give the extra impact for a better entertainment experience
Designed to deliver crystal clear vocal fidelity in multiplayer games, online chats and video conferencing, CrystalVoice technologies also enhance voice communications for VoIP solutions such as Skype.
CrystalVoice Features:
Acoustic Echo Cancellation – Eliminates echoes and enables whoever is speaking to listen to the other party clearly
Noise Reduction – Enables the person speaking to be heard clearly over background noise by constantly monitoring the environment and eliminating unwanted noise that interferes with the conversation
Smart Volume – Automatically adjusts the loudness of a voice to maintain a consistent volume level.  This makes it convenient for the speaker to converse normally, regardless of whether the speaker is close to or far away from the microphone
Voice Focus – Beam-forming creates a zone and suppresses noise outside it to enable whoever is speaking to be heard with amazing clarity.  Multiple microphones are used to focus, enhance voice, and eliminate sounds outside the zone
VoiceFX™ – Enables alteration of voice with a variety of effects, which can be used to enhance the tone of a voice, create interesting accents, or enable someone to sound like a completely different person
Sound Blaster Zx – High-Performance Gaming and Entertainment Audio (SRP US$149.99)
The Sound Blaster Zx incorporates all the hardware and software features of the Sound Blaster ZxR except for the DBpro daughter board.
Clad in brilliant red EMI shielding and featuring glowing LED lighting, the Sound Blaster Zx is the bad boy of the bunch, with an attention-grabbing design that ideally complements any power gaming rig.  The Sound Blaster Zx leverages Sound Core3D processing with external DACs that deliver 120dB SNR. Other features include support for 192kHz direct pass-through to analog out, a 600 ohm headphone amplifier, gold-plated I/O connectivity, and SB Speaker-Calibration, which calibrates speakers to take advantage of room acoustics, resulting in an optimised audio performance.  The Sound Blaster Zx also includes the convenient external ACM (Audio Control Module) with a built-in dual microphone array and mic/headphone I/O connections.  To enhance digital entertainment capabilities, DTS Connect and Dolby Digital Live encoding are included.   The product also includes high-quality optical and stereo cables.
Sound Blaster Z – High-Performance Gaming and Entertainment Audio (SRP US$99.99) 
The Sound Blaster Z incorporates all the hardware and software features of the Sound Blaster Zx except for the ACM.  Instead, an external high quality dual-microphone array comes standard with this card.
An ideal all-around gaming and entertainment solution, the Sound Blaster Z comes with 120dB SNR and supports 192kHz direct pass-through to analog out.  It also features glowing LED lighting, a 600 ohm headphone amplifier, an EMI-free analog input and output path, SB Speaker- Calibration and gold-plated I/O connections for pristine audio quality.
The Future of Audio for Gaming and Entertainment
Click http://www.soundblaster.com/technology/whitepapers/ and find out more about the future of audio for gaming and entertainment, and how Sound Blaster will be a major force with a new wave of applied technology.
Pricing and Availability
The Sound Blaster ZxR and Sound Blaster Zx will be available in December 2012 and the Sound Blaster Z will be available in October 2012 at the online store at creative.com/shop in Asia and authorised dealers in Asia at the following suggested retail prices:
| | |
| --- | --- |
| Sound Blaster ZxR | US$249.99 |
| Sound Blaster Zx | US$149.99 |
| Sound Blaster Z | US$99.99 |
Pricing and availability may vary according to region.
For more information, visit soundblaster.com.