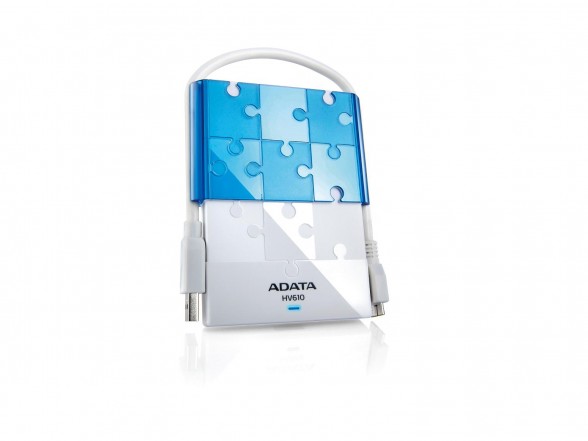 Press Release
Fashionable Puzzle Piece Design with Slide-Out Smart Cover
ADATA™ Technology today launches the DashDrive™ HV610 external hard drive, which combines a unique puzzle piece design concept with a SuperSpeed USB 3.0 interface. A slide-out smart cover provides a convenient and novel way to store the transmission cable.
The body of the HV610 comes in a choice of two attractive monochrome patterns, each with interlocking shiny and matte puzzle piece lines. The HV610 cool ice-blue cover is easily removed and holds the USB cable when not in use – providing a stylish and practical solution for cable-management.
Compared to USB 2.0 in file reads, writes, or data backups, performance of the ultra-high-speed USB 3.0 interface is improved by nearly three times, substantially reducing the required transmission time by as much as 70%. When used in conjunction with a USB 3.0 interface platform, it provides quick and easy access to all digital archives. The HV610 external hard drive comes in capacities of 500GB and 1TB, and a choice of cool black and twinkling white colors, giving consumers a chance to show their personality and freedom of choice.
Purchasers of ADATA's external storage devices are eligible for a free download of the latest Norton Internet Security 2012 anti-virus software (60 day trial version), and also enjoy three year warranty service, ensuring better mobility, security and convenience.
Availability
The ADATA HV610 external hard drive is available at selective channels in the US and Canada.
Suggested MSRPs are:
500GB: US$79.99
1TB: US$99.99
More information can be found on the ADATA website.