Raidmax Agusta Case Review
Designed by Earth Federation Forces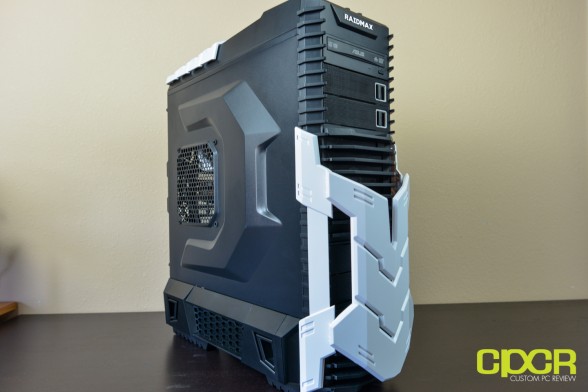 Most computer cases these days follow a fairly standard formula. They are often rectangular in shape with the interior housing the the power supply mount at the bottom, the motherboard tray in the center, and the tower of drive bays to the right side. Some cases deviates from this style a little, but they're often subtle changes in appearance.
Since there's little deviation from this tried and true layout, when Raidmax announced the Agusta a couple months back, I was really interested in seeing what they had to offer. Unlike many cases on the market, the Agusta has two unorthodox design features that make it quite the unique chassis. The first is that it's a Gundam themed case. While fans of the popular anime series may not recognize the Agusta as a Gundam Wing per say, it does carry the mecha style theme which we all know and love. The second is that Raidmax has gone with a dual chambered design with this case, opting to create a dedicated chamber for the 2.5″/3.5″ drives and another for the rest of the system. In theory, this will allow cool air drawn in from the front of the case to stay cool as it no longer needs to move through hot harddrives before moving to the graphics cards or the CPU.
Has Raidmax made the Agusta a case worthy of the Earth Federation Forces? Read the full review to find out!
Specifications