Warning
: Undefined array key "width" in
/var/www/vhosts/custompcreview.com/public_html/wp-includes/media.php
on line
1381
Warning
: Undefined array key "width" in
/var/www/vhosts/custompcreview.com/public_html/wp-includes/media.php
on line
1386
Warning
: Undefined array key "height" in
/var/www/vhosts/custompcreview.com/public_html/wp-includes/media.php
on line
1386
Warning
: Undefined array key "width" in
/var/www/vhosts/custompcreview.com/public_html/wp-includes/media.php
on line
1381
Warning
: Undefined array key "width" in
/var/www/vhosts/custompcreview.com/public_html/wp-includes/media.php
on line
1386
Warning
: Undefined array key "height" in
/var/www/vhosts/custompcreview.com/public_html/wp-includes/media.php
on line
1386
[section label=1. Introduction]
Balance is the Key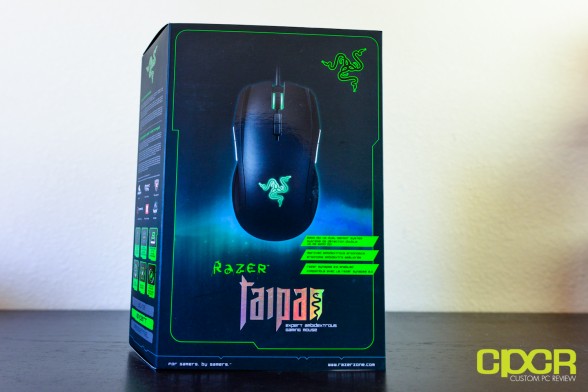 Earlier this month, I was pretty excited to attend E3 for the first time and while it was nice seeing all the new game announcements at the show, I just had to make it my top priority to visit the Razer booth first. After all, I admit. I'm a hardware guy. Entering the Razer booth for the first time, I noticed that there were two main products on display. The first was a mouse which at first glance looked a bit like the Imperator and the other of course was a strange joystick, LCD, numpad contraption that I had never seen before. Safe to say, I was quite intrigued by both products.
After speaking with some of the Razer representatives at the booth, I found out that the joystick, LCD, numpad contraption was a prototype controller called Artemis, which is a controller designed for the upcoming MechWarrior Online game. The other? Well, that was the Razer Taipan, a new gaming mouse announced that very morning. Safe to say, at this point I was dying for a hands on demo. Unfortunately, there was no Artemis sample at E3, so I shot straight to the Taipan to get a feel for the new mouse.
Personally, I'm not a huge fan of mice with ambidextrous designs. I'm a palm grip type of guy and I've never had a mouse with an ambidextrous design work well with that grip. Additionally, after having my last Razer Imperator fail pretty hard on me in a relatively short time-frame, I wasn't exactly the biggest Razer fan out there either. Anyway, speaking with the Razer reps at the booth, I learned that the Taipan would be Razer's new flagship ambidexterous mouse. With a completely new design, Razer's goal was to create a new mouse that could be called a successor to the classics that helped put Razer on the map – the Boomslang, Diamondback, Copperhead, etc. With features like an 8200DPI 4G dual sensor system, same ambidextrous shape of the Razer classics that came before it, and a design created by a collaboration between Razer and eSport's finest, has Razer finally produced a worthy successor with the Taipan?
Specifications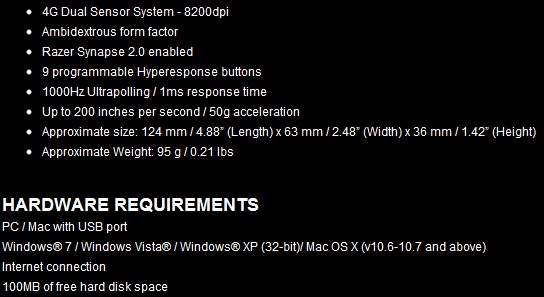 [section label=2. A Closer Look]
A Closer Look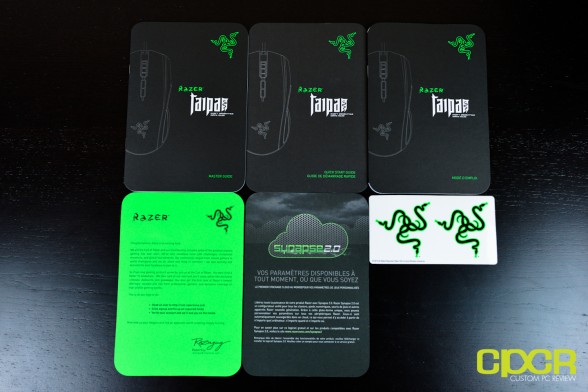 Included in the box, we receive a ton of documentation and of course, the usual Razer stickers we all know and love. Nothing to see here. Let's move on.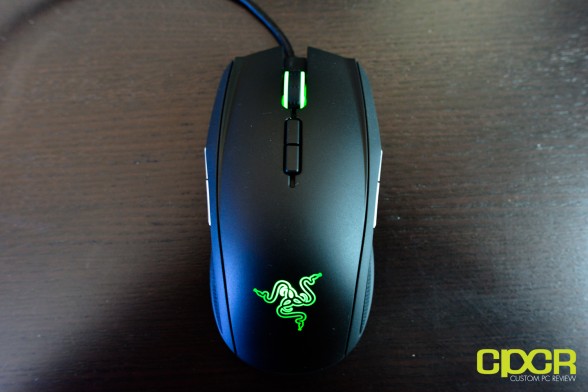 For the rest of the pictures today, I'll have the Taipan plugged into the system. Typical of Razer gear, the green backlit Razer logo looks amazing. Taking a quick look at the top of the mouse here, you'll notice that it's an ambidextrous design, which means it'll work very well for both right and left handers. Additionally, the top of the mouse is constructed of a slightly rough and textured material that should prevent slippage quite nicely. In terms of weight, the mouse is extremely light which is generally how Razer designs their mice. The weight feels very nicely distributed in the center of the mouse.  Styling here is aggressive and angled which is a tad different from what we've seen from Razer in the past. Personally, I think the Taipan might be one of the best looking mice in the Razer lineup.
In terms of buttons, we've got the usual left and right clickers, a scroll wheel which, by the way, feels very nice. It's not too loose and has great tactile feedback as well. There's also two buttons in the center for DPI controls and two buttons on each side of the mouse (four total) with very nice silver/chrome accents giving the mouse quite the classy look. All of the buttons on the mouse are fully customizable through the Synapse 2.0 software, so it doesn't really matter which buttons are intended for what.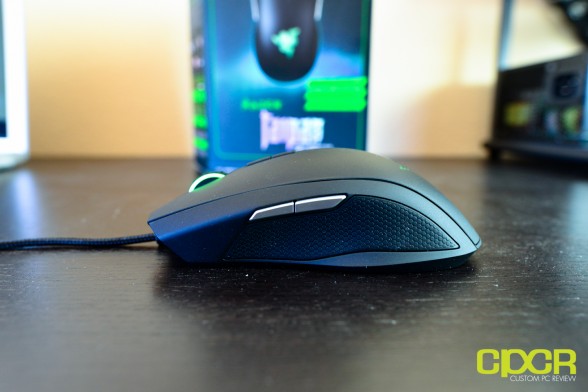 Here we've got the left side of the mouse, which just so happens to be identical to the right side of the mouse (ambidextrous!). There's two buttons here as mentioned earlier. What's super neat is that Razer has included a grippy material on the side, which is great for claw grip users. Additionally, you can see that the mouse itself does have a contoured/arched design, which Razer claims is great for palm grip users as well.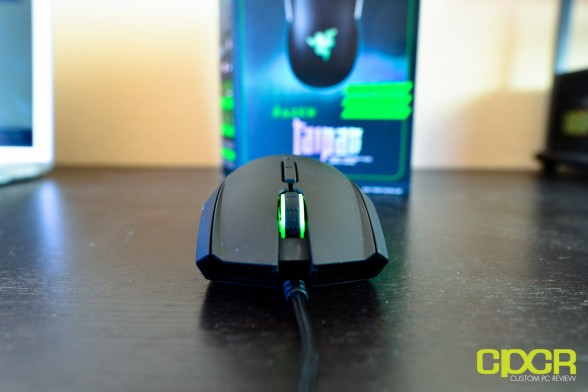 Around the front, we get a better view of the aggressive, angled styling Razer has gone with for the Taipan. Sorta reminds me of a certain Italian supercar… (Lamborghini anyone?)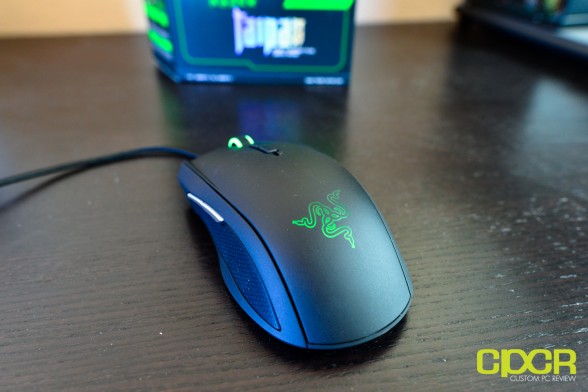 Since it was kinda pointless for me to take a shot of the other side of an ambidextrous mouse, I ended up just grabbing a shot of the rear of the mouse. Yay Razer logo!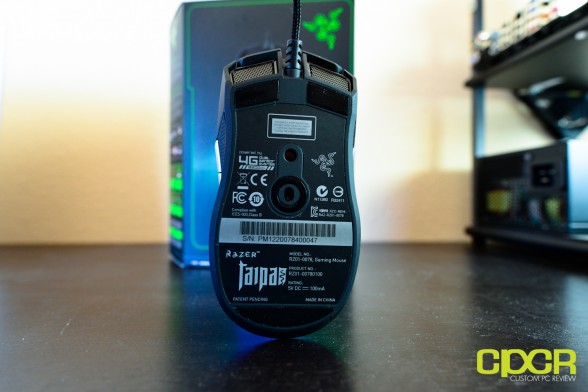 For those who care, here's a shot of the bottom of the mouse. You can see that Razer has gone with their new 4G sensor system, which means there's both an optical sensor as well as a main laser sensor as well. The reason for this is because laser sensors had some very strange issues when the mouse is lifted causing the cursor to jump around. With Razer's 4G sensor system, the optical sensor is supposed to correct for that, so there shouldn't be any issues there. Otherwise, the mouse contains an 8200dpi sensor. From whom? No clue. Let's find out!
[section label=3. A Look Inside]
A Look Inside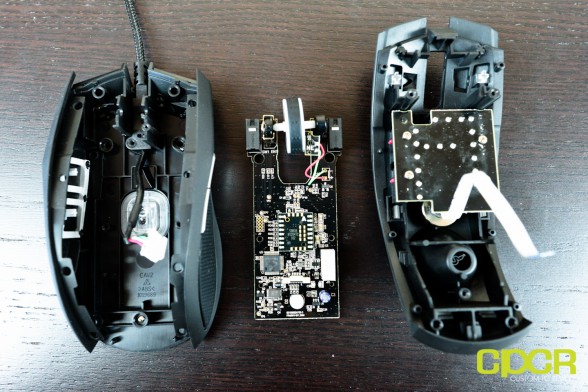 If there's one thing that irritates me, it's when manufacturers don't actually list what's in the mouse. Well, maybe not so much because this means we'll be voiding the warranty today. The mouse is held together by some standard Phillips head screws, so this was a relatively easy process. Obviously, don't do this at home unless you don't care about the warranty.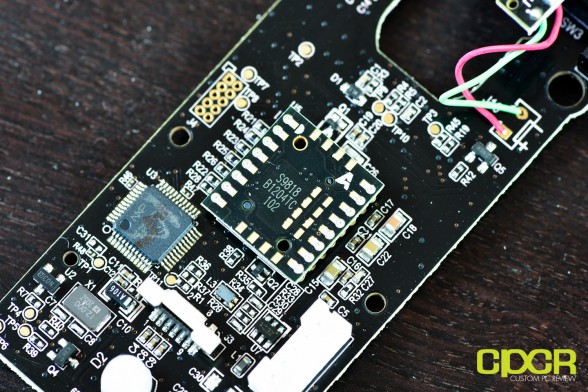 Staring into the belly of the beast, it appears that the Taipan uses an Avago sensor. As far as I know, the only Avago sensor to rock 8200dpi is the Avago ADNS-9800 series sensors so that's probably what it is. Oh, wait no there it is! Avago S9818. It's becoming so much clearer now! Didn't do much research into what the optical sensor is, but having previously used the CM Storm Sentinel Advance II with its ADNS-9800 sensor, I don't think that really matters. As far as I'm concerned, the ADNS-9800 series sensors are good. Little to no acceleration issues and no lift off distance issues so far.
To the left of the sensor, there's also a NXP 32 Bit ARM Cortex M0 LPC11U14F processor. This is what's going to interface with the Synapse 2.0 software and drives the optical/laser combo.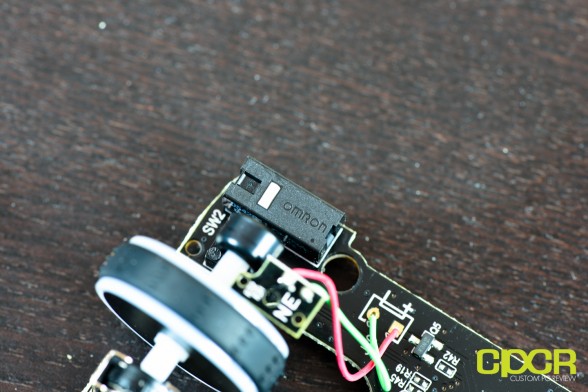 Oh yes, that's what I love to see. Left and right clickers using Omron switches. These days, these are pretty much the standard for high quality mice.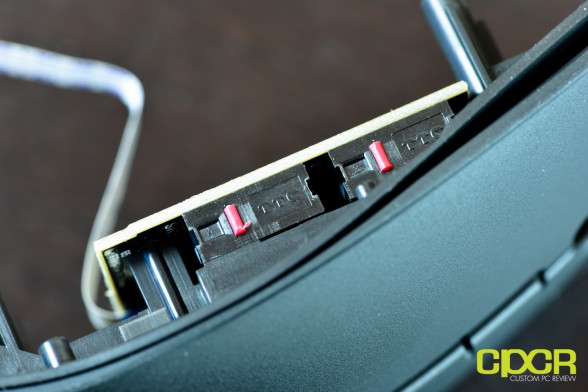 Oh Razer, you've failed me on the side mouse buttons. What is this TTC stuff? Oh well, at least these buttons don't get clicked nearly as much as the left and right buttons.
[section label=4. Software]
Software
Synapse 2.0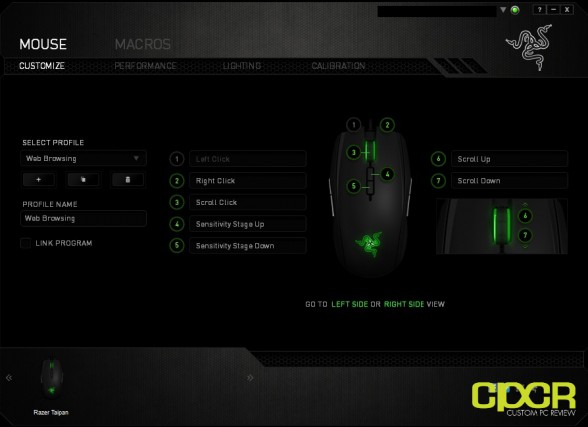 Software wise, Razer is moving onto a standard app for all their peripherals, which they call Synapse 2.0. While older products may or may not support this new software (more info here), the Taipan can take advantage of it. What's cool about this software is that you can store all your peripheral profiles on the Razer cloud so you'll always have your desired settings whether you're moving from one mouse to another or moving from one computer to another. Since the Taipan doesn't have onboard storage, Synapse 2.0 is definitely something that you'll want to make sure to download.
Here's the home screen. You can set up and switch between all your profiles here. You can also customize what each mouse button does as well, which is nice. While I won't get too in depth about this, one feature that was really interesting here is that you can set what Razer calls "Sensitivity Clutch", which is something most us us know as the "sniper" button or "sniper" mode. Basically you can choose the button that will decrease your DPI to a specified value. As you can imagine, this is pretty sweet for FPS gamers who need a sniper mode, or if you're like me, it's a godsend for heavy Photoshop users as well. Making fine adjustments via sliders at 500 DPI is much easier than at 3,200.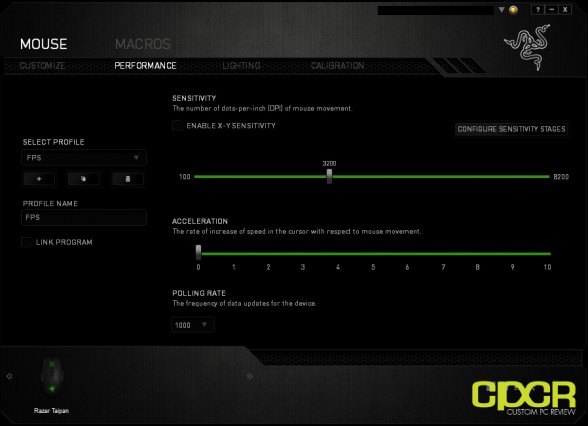 Here you can set the number of DPI settings that the DPI switches can scroll though, the current DPI of the mouse, acceleration, and polling rate. Pretty self explanatory here.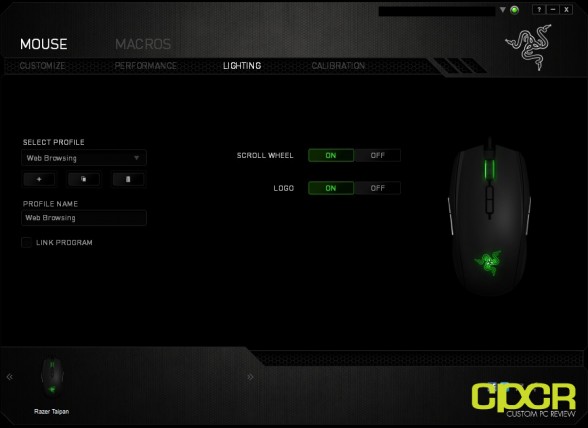 Unfortunately for those who don't like green, you'll be stuck with the color. However, if you really hate it that much you can always turn it off. There's no multicolor mode or anything though. Too bad!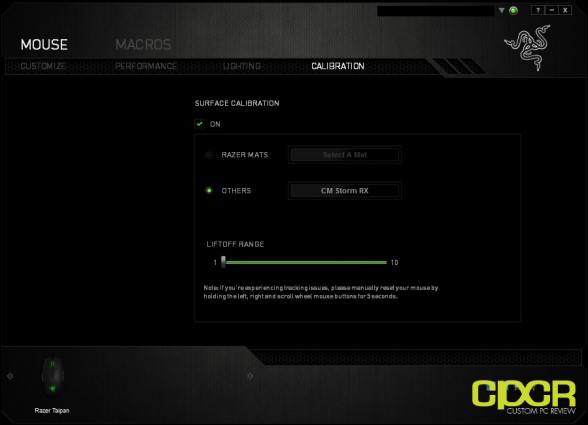 We've also got a calibration menu that calibrates the optical sensor to your mousepad. Since I'm currently testing the mouse on the CM Storm RX mousepad, I had to go into the other mode to get it manually calibrated. When I say manually, it's pretty much auto. You simply move the mouse around and the software does all the calibration for you. Those who own Razer mousepads, well you won't even have to do that. Everything is precalibrated and ready to go. Simply choose your mousepad from the Razer mats menu.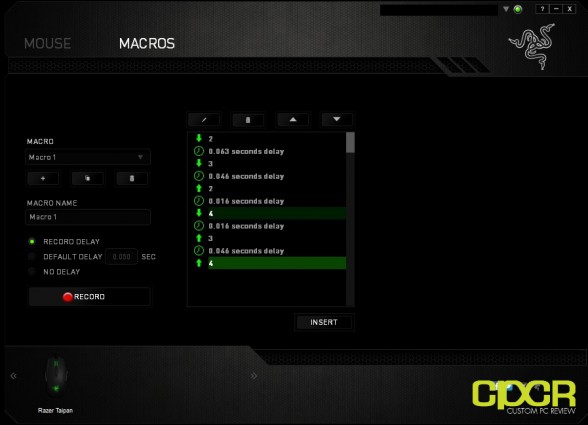 We've also got the macros menu as well. It's pretty easy to record and assign them. Simply just record here, save them and assign them to a key in the main menu. Pretty simple overall. I'm not a huge mouse macro user as I prefer keyboard macros, but it's always a nice feature to have.
[section label=5. Performance]
Performance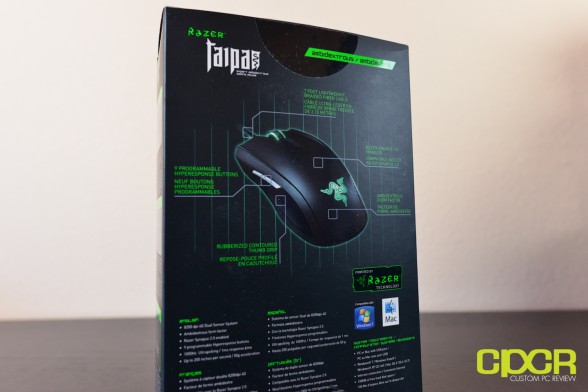 As usual, I put this mouse to the test in a variety of general use and gaming scenarios. For general use, I had no issues with the mouse. It was extremely responsive and the buttons are placed very well allowing easy access to the side buttons. For those times I needed "Sensitivity Clutch" mode say for Photoshop or Lightroom, a simple profile change was all that's needed. Those who work with tons of Photoshop sliders all day will very quickly realize how awesome having this feature is. Being able to program two easily reachable side buttons to two different sensitivity modes? Even better!
Since it's a gaming mouse, I also played a couple rounds of Battlefield 3, some Diablo III and some Counter Strike: Source as well. As you can expect, each of these games are very mouse oriented and requires both a lot of clicking and a lot of precision. The first game I tested of course is the all popular Battlefield 3 and overall I was pretty happy with the mouse. The Omron switches underneath are what you'd expect – not too soft, and provide nice tactile/auditory feedback when clicked. With the side buttons setup to sniper mode, it's pretty easy to quickly transition between DPI settings as well.
Similar to Battlefield 3, gaming with the Taipan in Diablo 3 was a blissful experience as well. Again, the Omron switches were fantastic and was very well suited for the game as the switch isn't too heavy like it is with the CM Storm Sentinel Advance II. That said, it's not as light as what we've seen from the SteelSeries Diablo III mouse, so I'd say the Taipan is a very good balance. What's really nice about this mouse is that it's so versatile compared to many other mice. Because of the design of the Taipan, I was able to go from playing with the palm grip for a couple hours to the claw grip without it feeling awkward. With a lot of mice designed for a certain type of grip, it's difficult to transition to something else.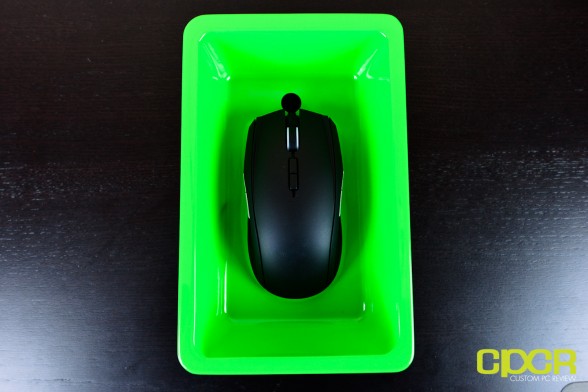 Finally, I also played a couple rounds of CS: Source (Raw mouse input mode on) mainly because it's a good way to test for mouse acceleration. For those unfamiliar with mouse acceleration, it's when the mouse moves more or less depending on how fast you move the mouse. Unfortunately, many new games such as Battlefield 3 has built in mouse acceleration, which is terrible for those skilled in twitch aiming. That said, I did notice very slight amounts of negative acceleration, but it was definitely not a major issue. Moving from one side of the large CM Storm Speed RX mousepad (~17in – 18in) to another only yielded maybe a 300px to 500px difference in position on screen. This is significantly less acceleration than what we saw from the older Avago ADNS-9500 sensors. Additionally, I didn't notice any lift off issues at all, which was a huge problem with some of the other Razer mice that used the Phillips Twin Eye sensor.
Comfort
Since I'm predominantly a palm grip mouse user, I didn't expect this mouse to be very comfortable, but somehow, it actually is. The Taipan is supposedly designed to be comfortable for mouse grips of all types (or at least that's what Razer claims). From my experience so far, I think the best grips for this mouse is the palm and the claw grip. However, I will qualify this statement. I have pretty small hands and I find that the mouse is just barely large enough to support my hand in the palm grip position. This means that yes, it is quite comfortable for me; however, those with larger hands who predominantly use the palm grip may not find this mouse that great since the back of your palm will most likely drag on the mousepad.
For those claw grip users, well you'll really like this mouse. The grippy materials on the side of the mouse along with the balanced weight distribution makes this a perfect mouse for this style of grip.
For those who predominantly use fingertip grip, I'd get something else. This mouse is too big and too heavy for that.
[section label=6. Conclusion]
Conclusion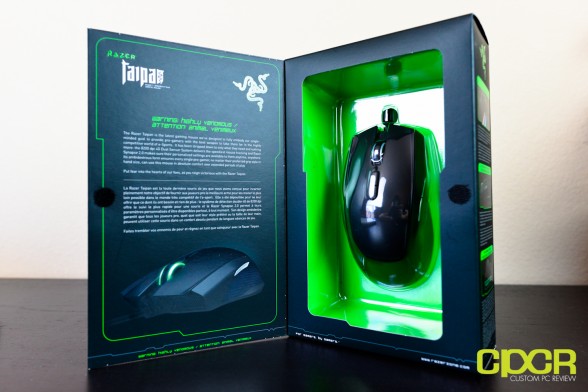 Earlier this month when I was lucky enough to get my first hands-on with the Taipan over at E3, I'd have to say I was quite pleasantly surprised and even after all my testing, I'd still have to say I'm pleasantly surprised. Appearance wise, the mouse is fantastic. It's got that high end European sports car feel and the silver/chrome side buttons really complement the entire mouse as a whole. However, it's not even about the aesthetics because it seems like with the Taipan, Razer's design team put a lot of effort into making the mouse both great looking and functional. The sides of the mouse has a nice grippy material that works out really well for claw grip users and the curved back design means palm grip users aren't left out in the dark. Maybe you just like using a claw grip during gaming sessions and palm grip while web browsing. That works too.
In terms of buttons, I'd say you'll really only have six buttons with this mouse. Right handed users will most likely not have access to the buttons on the far right as they're horribly awkward to press with your pinky or ring finger, and vice versa for the left handers. However, those who need a lot of buttons probably won't be looking at something like this anyway with the Naga, Naga Hex, or the Naga Epic offering a whole lot more buttons. The Synapse 2.0 software is also a great addition as well as it's easy to use and is quite convenient for those who want to use the same mouse on multiple machines. Additionally, being able to reprogram buttons for "Sensitivity Clutch" is amazing and is great not only for FPS gamers, but for productivity as well. Considering this is one of the few mice on the market that works for a Mac (and we all know designers use Macs), I think it might be worthwhile to get this even for Photoshop designers and such. (Ok, enough of that tangent.)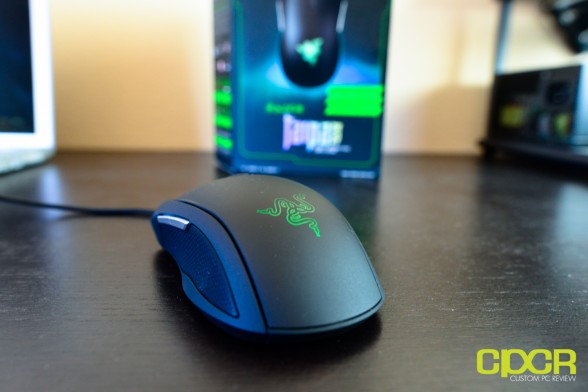 In the performance department, the Taipan had no issues for me whatsoever. Everything tracked very smoothly and the Omron switches performed very well. Speaking of Omron switches, Razer is using durable, high quality Omron switches, which is something I was really happy with. Unfortunately the more expensive Omron switches didn't make it to the side buttons, but at least the ones used most (left/right click) do. For the sensor, Razer has opted to go with the Avago ADNS-9800 sensor, which I think is probably the best laser sensor on the market right now if you like using laser or a bit of acceleration doesn't bother you. As far as I could tell, there were no liftoff distance issues which is either attributed to the ADNS-9800 or the 4G dual sensor system. Either way, I didn't have issues there.
Personally, the durability of Razer mice have been a hit or miss for me. Sure, I've had some pretty good experiences with the Diamondback from back in the day, but I have had my equal share of bad experiences as well with the Imperator. With the Taipan, the entire mouse feels quite solid and the materials used feel like they're pretty high quality. The high durability Omron switches are nice additions too and the materials on the mouse seem like they're a bit tougher than what we've seen. Of course, only time will tell how long they will last.  I'll definitely be replacing my current mouse with this one and putting the Taipan to the test in the long term.
Pricing for the Razer Taipan is currently $79.99 on Amazon and it should be available soon if not already.
Bottom Line
When I think ambidextrous, I think balance and I think Razer has hit that spot with the Taipan. It doesn't excel in a single area, but it's pretty damn good in all areas. Gamers, non-gamers, or anyone looking for a well balanced mouse that'll perform well no matter what grip style you use should definitely pick this one up. Highly recommended!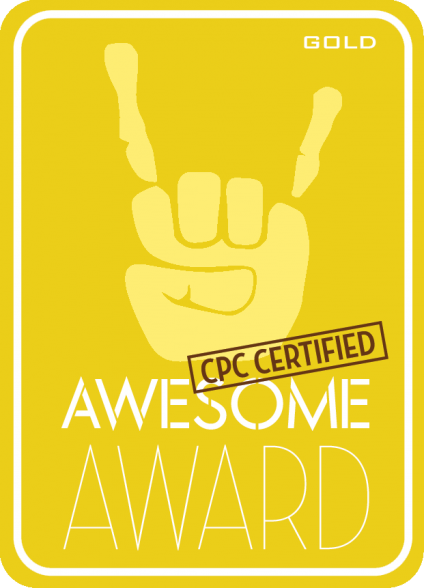 Special thanks to Razer for making this review possible.
The Razer Taipan is currently available on Amazon.