[section label=1. Introduction]
Sleek Design, Good Performance, Reasonable Price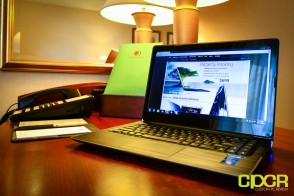 Ever since Intel's Ultrabook push in late 2011, Ultrabooks have become quite popular in the notebook market and today we'll be taking a look at the newest offerings from our friends over at CyberPowerPC. Now, since this is our first Ivy Bridge Ultrabook review, let's first discuss what an Ultrabook is and what can be called an Ultrabook.
The first Ultrabooks that were released in 2011 prior to the release of Ivy Bridge CPUs had their own set of Ultrabook specifications, but with the release of Intel's Ivy Bridge processors (sometime during Computex 2012 in June), Intel also released a new set of requirements manufacturers had to meet in order to call their product an "Ultrabook". Let's take a look at this set of requirements…
Intel Core Family Processor – Obviously…
Thin – 18mm thick or less with displays of 14″ or less and 21mm thick or less with displays of 14″ or more.
Long Battery Life – Minimum 5 hour battery life
Responsive – S4 sleep to wake in 7 seconds or less
Secure – Must include Intel's Anti-Theft technology and Intel Identity Protection technology
Fast I/O – Ivy Bridge (3rd Generation Intel Core Processor) Must have USB 3 or Thunderbolt technology
This then leads us into the topic for our review today, the CyberPowerPC Zeus-M2 Ultrabook. Recently unveiled only about a couple months ago, the Zeus-M series Ultrabooks is CyberPowerPC's first entry into the Ultrabook segment. Currently, CyberPowerPC is offering the Zeus-M Series Ultrabooks in three flavors – the Zeus-M, Zeus-M2, and the Zeus-M3. The difference between the three? The amount of onboard memory and the capacity of the SSD.
Zeus-M2 Specifications
| | |
| --- | --- |
| Manufacturer | CyberPowerPC |
| Model | Zeus-M2 Ultrabook |
| CPU | Intel Core i5-3317U Ivy Bridge Dual Core Processor – Integrated on MB 17W |
| Motherboard | Mobile Intel®HM77 Chipset |
| Memory | 16GB (8GBx2) DDR3-1600 Corsair Vengeance SODIMM Memory |
| Graphics | Intel HD 4000 Integrated |
| Storage | 120GB Intel 520 SSD |
| Optical Drive | N/A |
| Display | 14.1″ 1366×768 LED Backlit Display |
| Sound | Built-in two stereo speaker with chamber |
| Networking | Built-in 10/100/1000 Mbps + Wireless b/g/n + Bluetooth v3.0 |
| Keyboard | Built-in Frame Keyboard |
| Mouse | Built-in Multi-gesture Touchpad |
| Battery | 8 Cell Li-Ion Polymer Battery 3320mAh |
| Webcam | Built-in 1.3 Mega Pixel Webcam |
| I/O | HDMI, 2x USB 3.0, 1x USB 2.0, Ethernet, Multi-card Reader, 3.5mm Headphone/Microphone Combo Jack, Kensington Lock |
| Operating System | Microsoft® Windows 7 Home Premium (64-bit Edition) |
| Dimensions | 13.15″ x 9.25″ x ~0.704″ (344mm x 235mm x 17.9mm) |
| Weight | < 3.97 lbs (< 1.8kg) |
| Warranty | 1-Year Limited Warranty with Lifetime Technical Support |
As we can see from the specifications here, the specific laptop we'll be taking a look at today is the Zeus-M2, which contains an i5-3317U, 16GB of DDR3 memory, and a 120GB Intel 520 SSD.
**Update 11/26/12**
Per reader request, I've acquired a small food scale in order to accurately measure notebook weight. The Zeus-M2 as reviewed here weighs in at 3.41 lbs.
[section label=2. A Closer Look (Exterior)]
A Closer Look at the Zeus-M2 (Exterior)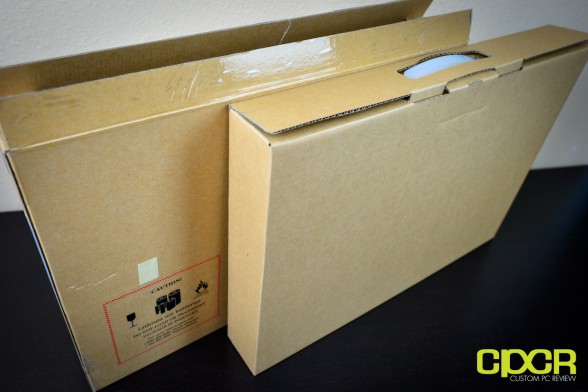 As usual of CyberPowerPC, we receive the notebook in a very plain looking brown box.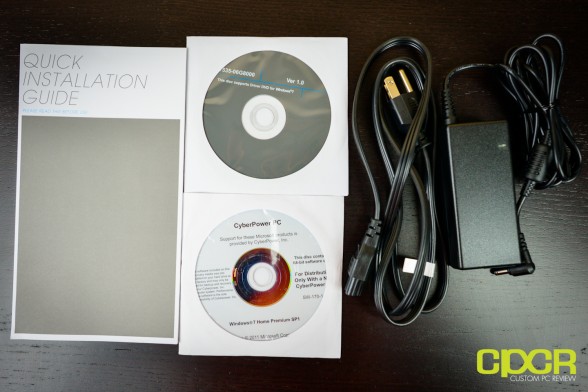 Included, there aren't very many accessories. In addition to the quick install guide, we get a driver disk, a re-install disk and a 65w Lite-On power adapter.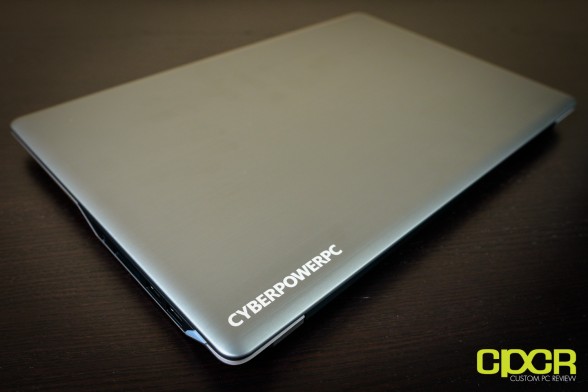 Here's a first look at the Zeus-M2. As you can see, it looks very, very good as the entire top panel of the ultrabook is constructed of brushed aluminum.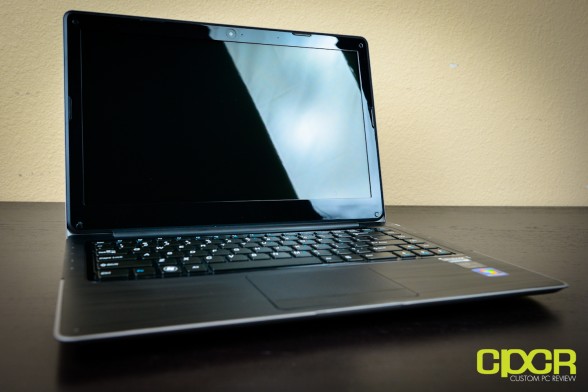 Opening up the notebook, we can see that the Zeus-M2 uses a 14.1″ glossy screen with a glossy bezel. Above the screen, we get a 1.3MP webcam along with a couple microphone holes. Because of the solid brushed aluminum used in the top cover's construction  the entire LCD assembly feels extremely solid and there's fairly little LCD flex if any at all.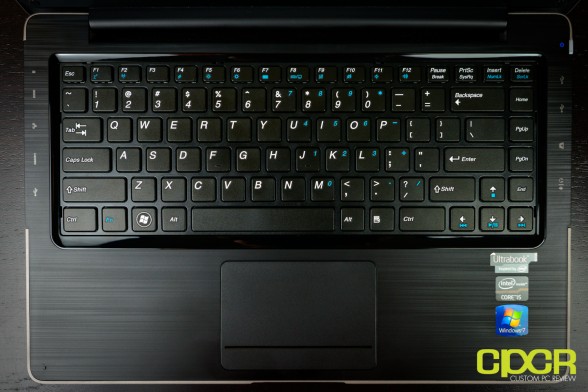 The keyboard is a built-in frame keyboard in the standard US layout. The keyboard does have a slight amount of flex and the keys are mushy, but ultimately ultrabooks aren't meant to be used to type books with. The trackpad is nice and large with a matte finish which feels quite good, but the buttons at the bottom are a bit stiff so pushing them will take slightly more force than you may be used to. Hopefully they'll get a bit softer with a bit of wear.
Around the keyboard, the frame is constructed of plastic although it has been painted to imitate brushed aluminum to match the rest of the Ultrabook. Along the sides of the Ultrabook frame, we get labels for all the ports, which is very convenient.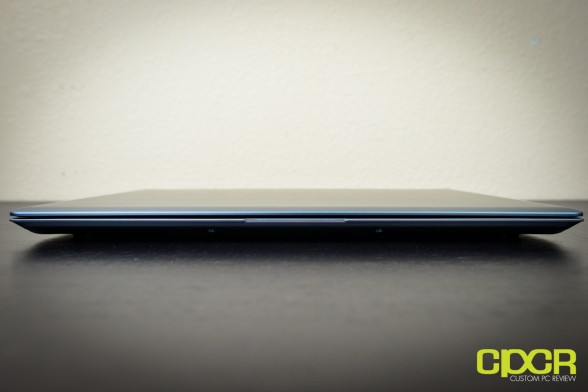 Front of the ultrabook.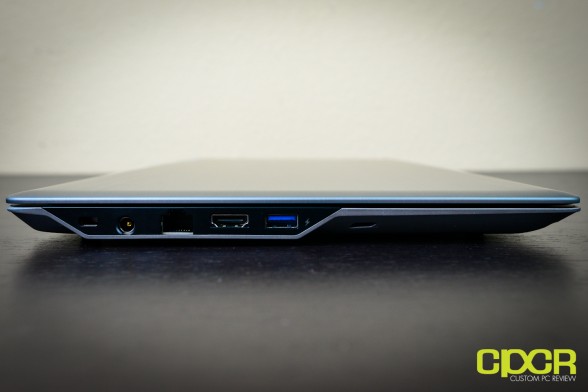 Along the left side of the Zeus-M2, we get a Kensington lock port, power port, Ethernet, HDMI, and USB 3.0 with charging functionality. The charging functionality allows you to charge USB devices such as smartphones and tablets through the USB 3.0 port on the Ultrabook without turning it on.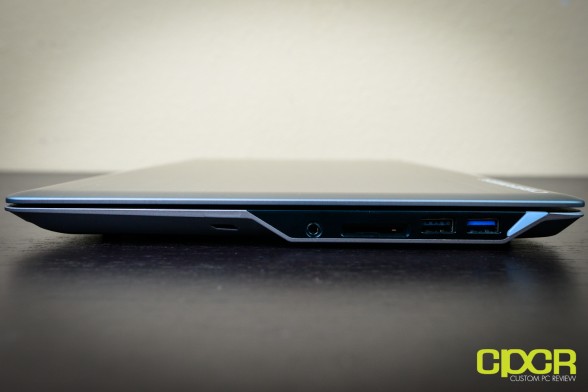 Along right side, we get a combo headphone/microphone jack, a multi-card reader, 1x USB 2.0, and 1x USB 3.0. Additionally, we also get a power button that doubles up as a status indicator.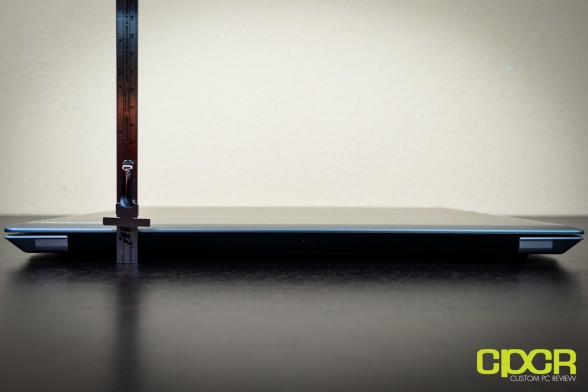 Here's a look at the back of the Zeus-M2. The entire Ultrabook is around 18mm (0.71″) thick, which is well under the 22mm (0.87″) maximum specified by Intel for a 14″ or larger Ultrabook.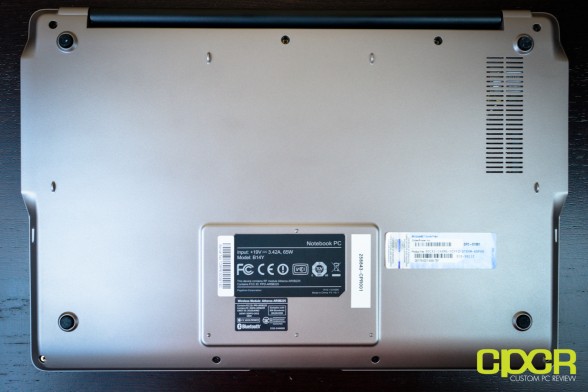 Here's a look at the bottom of the Zeus-M2. Notice that there's a bulge right near the front center. As you'll see in a minute, this provides additional space for fitting a standard 2.5″ notebook hard drive or SSD. There's also 4 rubber feet on the bottom as well, which provide slip resistance and help with airflow. Unfortunately, the battery is not removable with the Zeus.
[section label=3. A Closer Look (Interior)]
A Closer Look at the Zeus-M2 (Interior)
Unlike most other PC manufacturers, CyberPowerPC not only allows you to open their notebooks, but they also help you do it by making a video showing you how it's done. Awesome!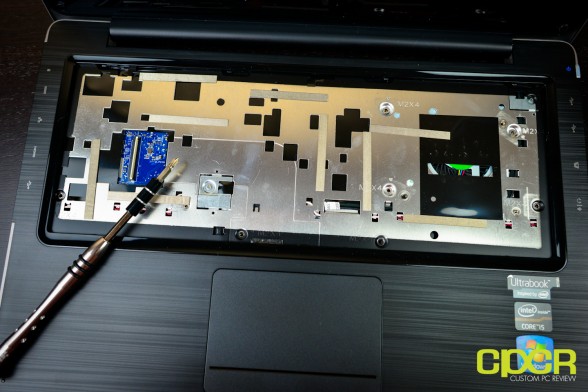 Following instructions then, I first removed the keyboard along with a number of screws underneath the keyboard.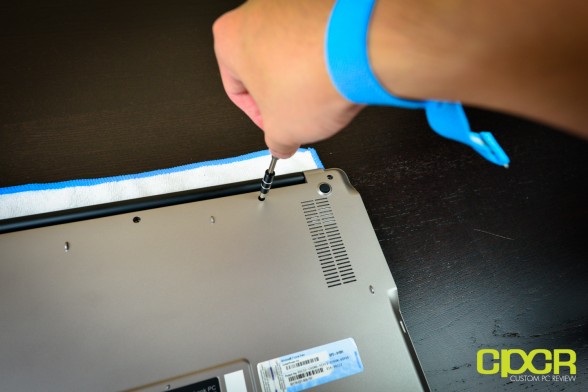 At the bottom of the Zeus-M2 there's a number of screws. All Phillips head, which means this is easily doable with tools you probably already have.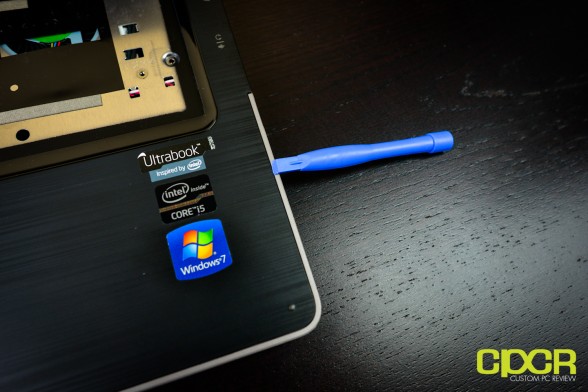 The assembly is additionally held together via some clips on the inside as well. I've found it useful to go in with a Spudger Handy Tool in order to avoid any damage to the clips and the Ultrabook's finish. All of these tools may be found in the iFixit Pro Tech Toolkit, which should be something anyone working with computers (or any electronics for that matter) should buy.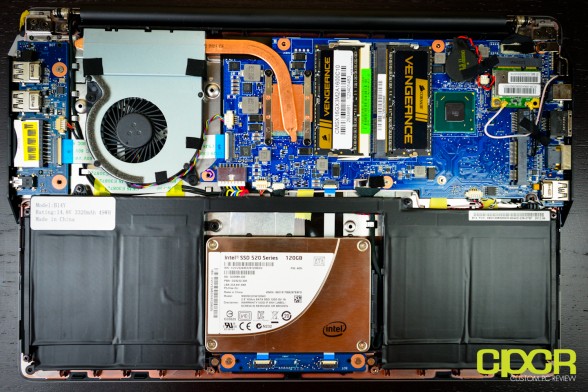 Let's take a look at what's inside then. Here's an overview of the layout for the Zeus-M2. Since it's an Ultrabook, the entire space is very efficiently used and there's not much room for expansion. Notice however, that there's a spot for a mSATA card that's currently empty. This is nice as another SSD may be dropped in here either as additional storage, or to use with Intel Rapid Start Technology.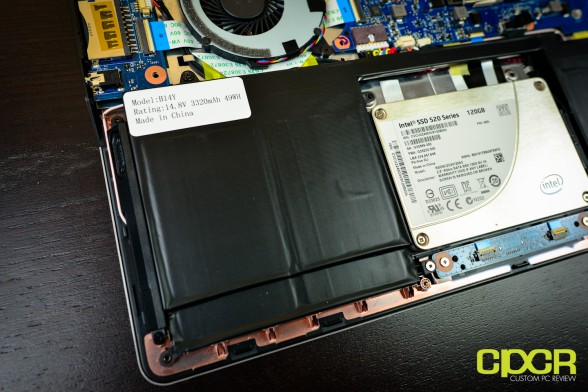 The Zeus-M2 comes with a 8 cell, 3320mAh, 49WH battery (Model #B14Y).
Included with the Zeus-M2 is a 120GB Intel 520 SSD. For those familiar with SSDs, this is a top tier SandForce SF-2281 based SSD that's both fast and extremely reliable.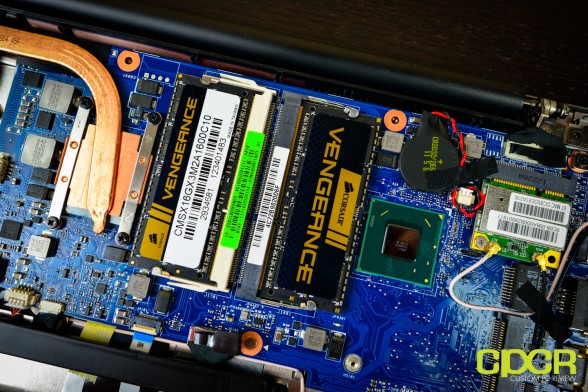 Included is also two Corsair Vengeance 8GB DDR3-1600MHz CAS 10 SO-DIMM modules. This makes up for 16GB of onboard memory. The Intel Core i5 3317U is left of the memory and is fused on the motherboard, so there's no room for upgrades there.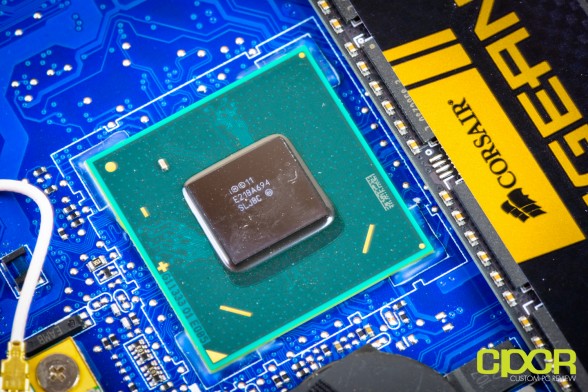 Finally, we also get the Intel 7 series HM 77 chipset, model #SLJ8C.
[section label=4. Initial Boot]
Zeus-M2 Initial Boot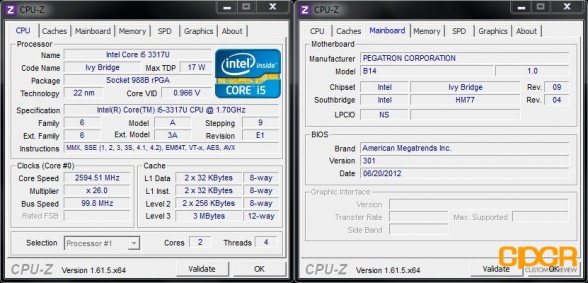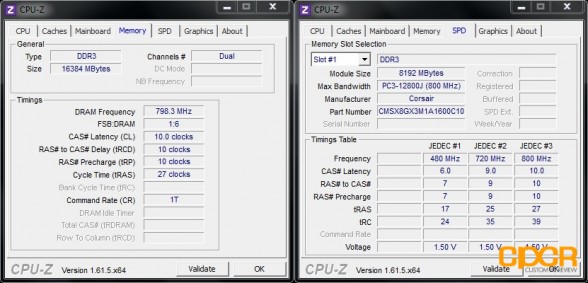 Above, we've got the CPU, motherboard, and memory configuration. The CPU is a 17W TDP Intel Core i5 3317U processor, which is a dual core HyperThreading enabled processor (4 threads) with a stock frequency of 1.7GHz and a turbo frequency of 2.6GHz. The motherboard is a Pegatron B14 motherboard, and we've got 16GB of Corsair Vengeance DDR3 1600MHz CAS 10 memory (2x8GB).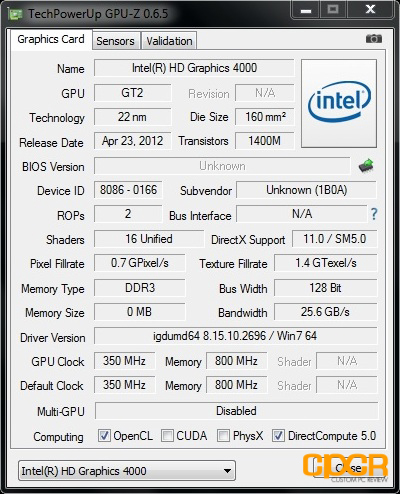 Here's a quick look at the integrated Intel HD 4000 Graphics. We've got 16 EUs (Execution Units) clocked at 350MHz with a Turbo Boost up to 1050MHz.
[section label=5. CPU Performance]
Zeus-M2 CPU Performance
SuperPi 32M
SuperPi is a single threaded benchmarking tool which for our purposes simply calculates pi for us and records the time to calculate 32 million digits after the decimal point.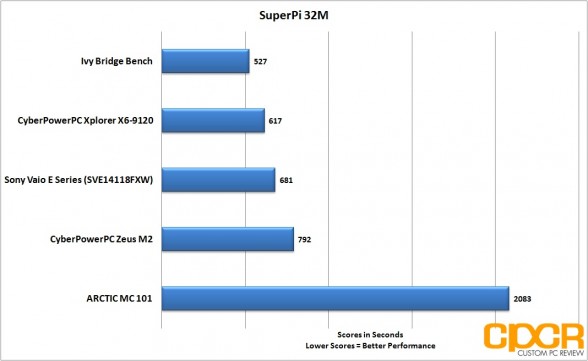 WPrime 32M
WPrime is a multi-threaded benchmarking tool which for our purposes simply calculates pi for us and records the time to calculate 32 million digits after the decimal point.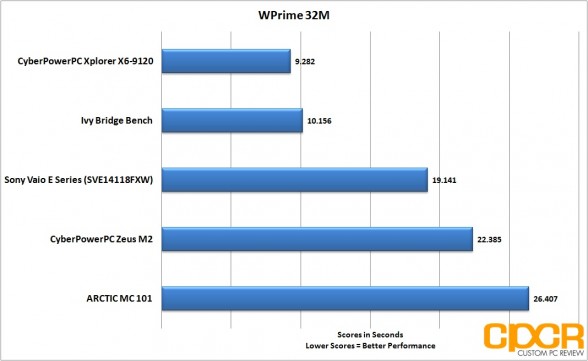 x264 HD Video Benchmark v5.0.1
x264 HD video benchmark tests how fast the system can encode a 1080p video into a high quality x264 video file. The most recent 5.0.1 release includes a more advanced benchmark script to better stress test newer multi-core processors.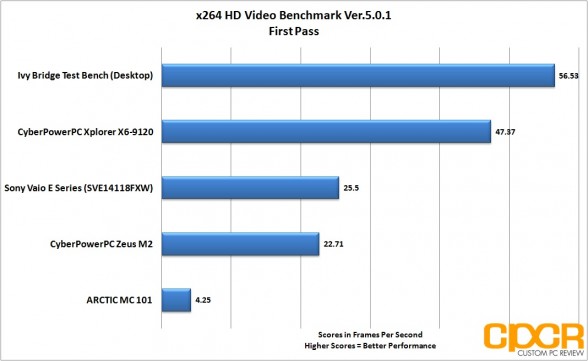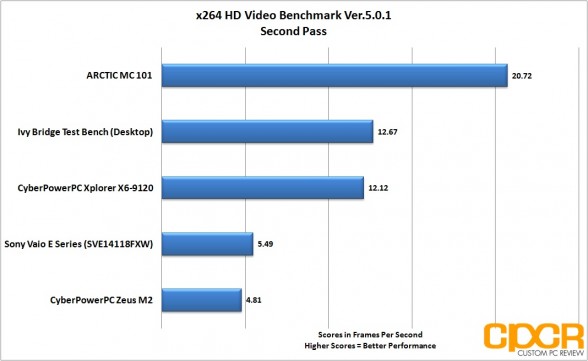 AIDA64 Extreme Edition
Cinebench v11.5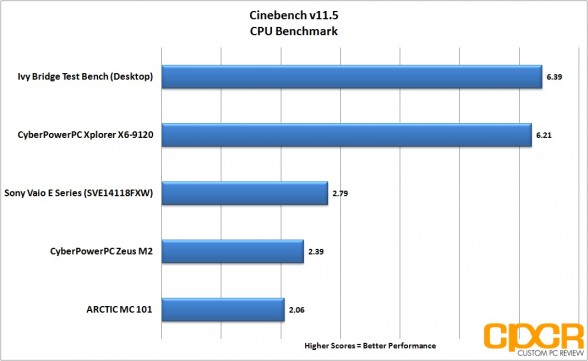 Performance Analysis
Overall, being a 17w TDP processor, the Intel Core i5 3317U on the Zeus-M2 doesn't compete all that well against its 35w (Intel Core i5 2415M), 45w (Intel Core i7 3610QM), and 77w (Intel Core i5 3570K) brothers, but that's more or less expected. Similar architecture, except lower TDP should mean reduced performance.
In comparison to the Trinity A10-4600M however, the Intel Core i5 3317U is still ahead despite the A10-4600M carrying a 35w thermal envelope. This is especially apparent in the single threaded SuperPi 32M benchmark where the Intel Core i5 3317U crushes the A10-4600M.
[section label=6. System / Graphics Performance]
Zeus-M2 Performance
System Performance
PC Mark 7
PC Mark 7 is a full system benchmark designed to test real world system performance.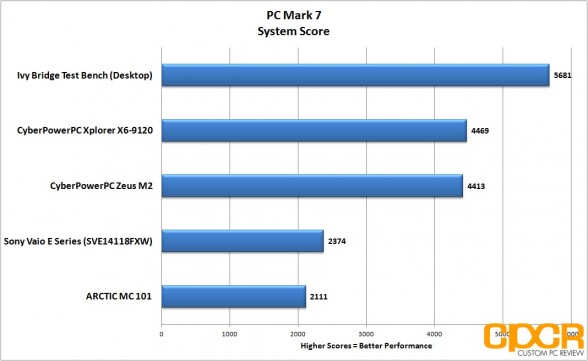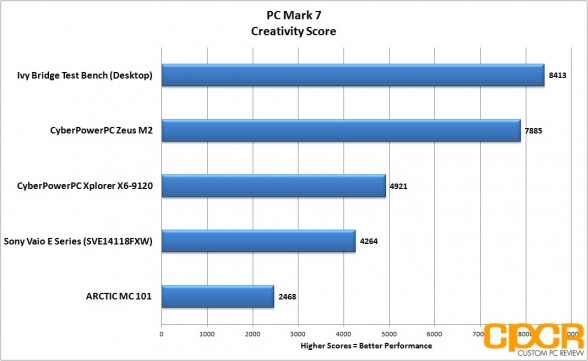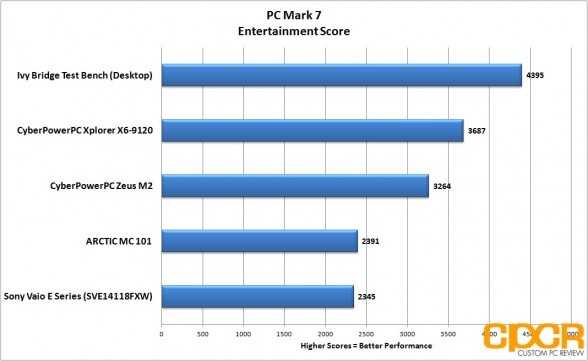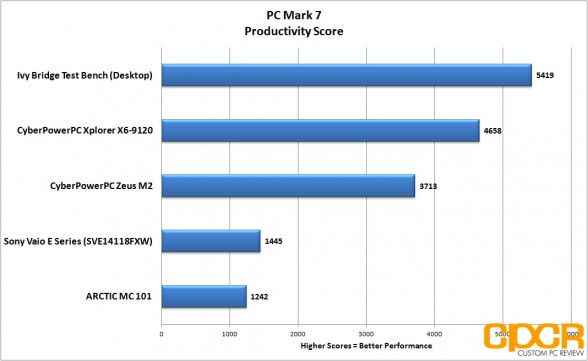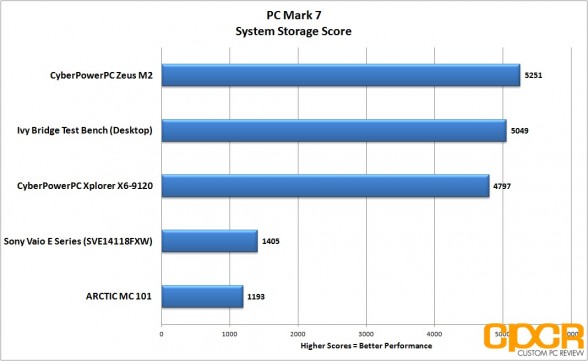 Performance Analysis
In PC Mark 7 the Zeus-M2 performed very well, largely in part due to the Intel 520 SSD.
Graphics Performance
3D Mark 11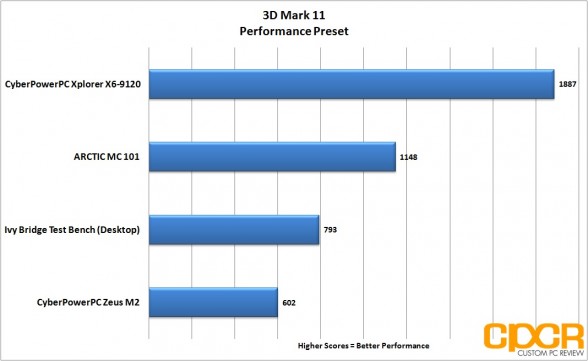 Performance Analysis
As the Zeus-M2 is an Ultrabook using integrated graphics, we'll be skipping the usual gaming performance section and instead simply bringing you 3D Mark 11 only. As you can see here, 3D Mark 11 performance is terrible with the Zeus-M2, scoring only a meager 602 points although it does run since Intel HD 4000 integrated graphics does have support for DirectX 11.
[section label=7. Disk / USB 3.0 Performance]
Zeus-M2 Performance
Disk Performance
Disk performance on the Zeus-M2 is quite good as CyberPowerPC has gone with the 120GB Intel 520 series SSD. Here we can see that the SSD is capable of very fast sequential reads and very fast 4k read/writes. This will make the OS feel very snappy in general and wake from sleep should be quite fast as well.
USB 3.0 Performance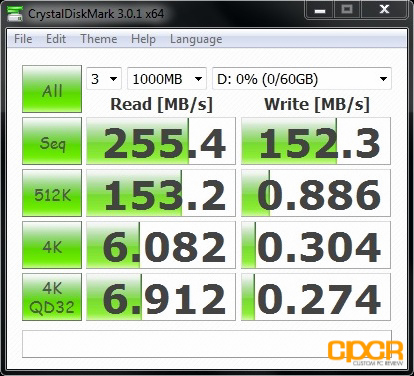 Here's the USB 3.0 performance that can be expected through the Zeus-M2 with the Kingston HyperX USB 3.0 64GB flash drive. This performance was expected as it's very similar to all other Ivy Bridge based notebooks carrying the USB 3.0 through the Intel 7 series chipset.
[section label=8. Power Consumption / Temperature / Noise]
Zeus-M2 Power Consumption
Here we'll be testing the maximum power consumption of each of the test systems shown below. Idle power consumption is taken after the notebook is left idle for a minimum of 5 minutes. For load power consumption numbers, both Prime95 and Furmark are run simultaneously for a minimum of 5 minutes before the final results are taken. If possible, the battery is removed for a more accurate reading of power consumption. Power consumption readings are taken using a Extech 380801 Power Analyzer connected via a Tripp-Lite LCR2400 Line Conditioner.
For our testing below, the notebooks are set to "balanced" power mode with the screens at 200 nits of brightness. The ARCTIC MC101 and the Ivy Bridge Bench are not notebooks and have been included for reference purposes only.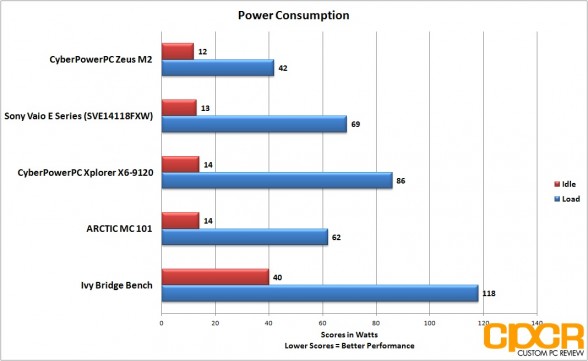 As we can see above, the Zeus-M2 with its 17W TDP Core i5 3317U is the most power efficient PC tested here today, drawing only a mere 12W at idle and 42W at load. Low power draw in conjunction with the large 8 cell battery should give us plenty of battery life.
Powermark Professional Edition v1.1.1
Powermark is a benchmark utility developed by developers behind both 3D Mark as well as PC Mark. This benchmark is designed to test real world battery life in a variety of situations such as web browsing or gaming. For our testing today, the system power setting is set to "balanced", the screen is set to 200 nits of brightness (maximum brightness), and the wireless is switched on.
Light Load
The productivity test includes the web browsing and word processing workloads, simulating a typical work use scenario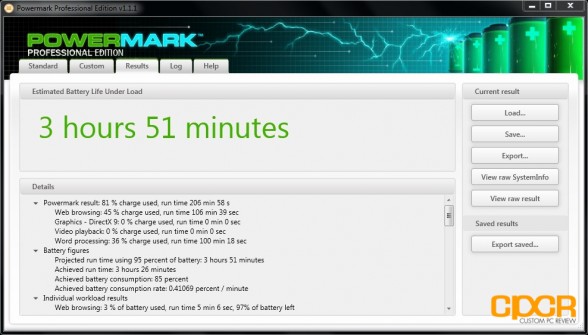 Medium Load
The balanced test uses an even split between the web browsing, word processing, video and gaming workloads.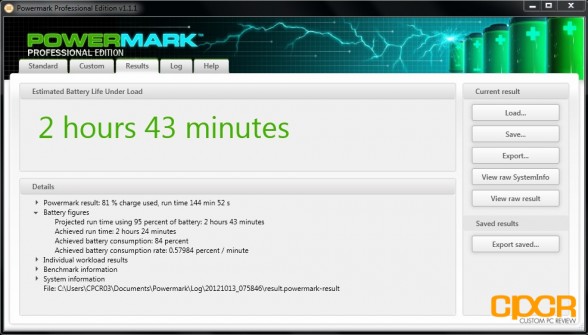 Heavy Load
The entertainment test includes the video and gaming workloads, simulating a typical recreational use scenario.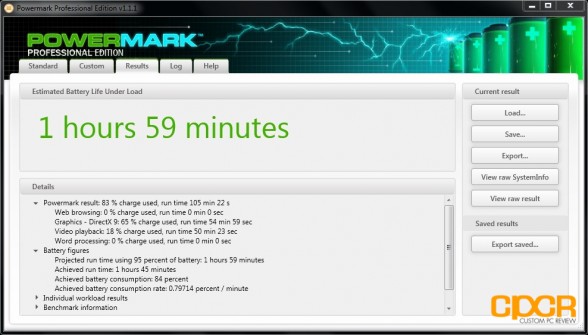 We can see here that for the intended purpose of this ultrabook – web browsing and word processing, the Zeus-M2 is capable of almost 4 hours of battery life. With the wireless switched off and the brightness set to something much lower, the Zeus-M2 should be more than capable of hitting around 5 hours of battery life. In worst case, heavy usage scenarios such as watching HD videos or gaming, the Zeus-M2 with only integrated graphics was able to hit almost 2 hours of battery life.
Zeus-M2 Temperature and Noise
Temperature testing is conducted by simultaneously running Prime 95 and Furmark in order to generate the maximum amount of heat possible. Temperatures are taken after a minimum of 20 minutes of testing.
Ambient Temperature – 23.6°C (Taken via Extech EA10 dual probe thermometer)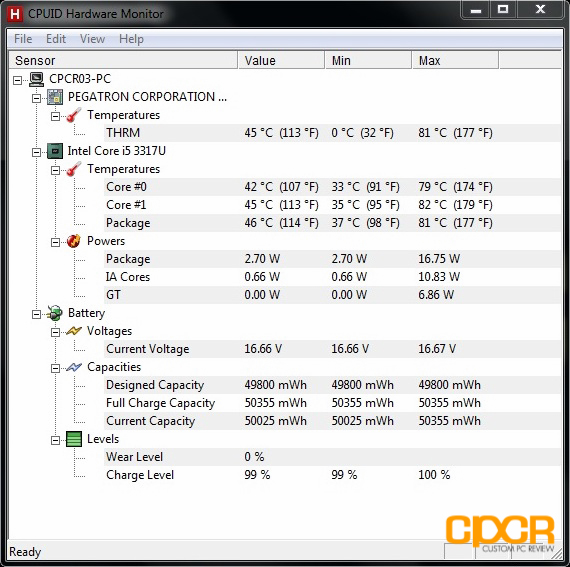 In terms of temperatures here, the Zeus-M2's 17W TDP Core i5 3317U processor doesn't generate all that much heat, reaching the low 80°C range while under heavy load.
In terms of noise, I think CyberPowerPC should consider issuing a firmware update to lower the fan speed of the Zeus-M2 when idle. While the fan isn't terribly loud at idle, it's quite noticeable despite CPU temperatures in the mid-30°C range. Unfortunately, the fan profile isn't adjustable and the fan is a smaller, low profile, blower style fan so even at lower RPMs, it's very noisy. Under heavy load, the fans will spin up considerably and get louder as well, but this is more or less expected of a notebook of this form factor.
[section label=9. LCD Testing]
Zeus-M2 LCD Testing
The screen included on the Zeus-M2 is an InfoVision M140NWR1 R0. According to the spec sheet, this is a 14.1″ 1366×768 LED backlit screen with a brightness of 200 nits, a contrast ratio of 500:1, and an astonishingly low 45% color gamut. Personally, I've never heard of this brand and the specs aren't all that, but let's see how it does.
Sample Zeus-M2 #1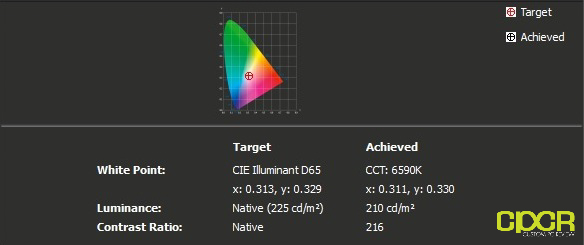 Here, I've calibrated the screen based on its native specs using the Xrite i1 Display Pro. I was able to achieve 210 nits and a paltry contrast ratio of only 216.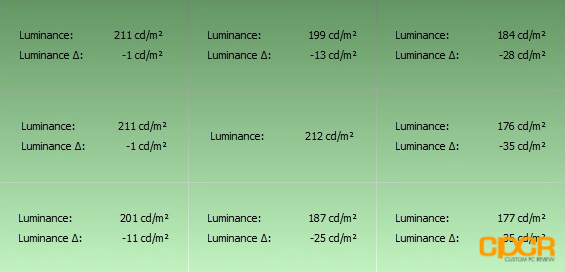 Let's also take a look at backlight uniformity. Not good. Between the center of the screen and the right, there's around a 35 nit difference in brightness.
Sample Zeus-M2 #2
In order to confirm my initial findings, CyberPowerPC was able to provide a second Zeus-M2, which yielded very similar results to the first.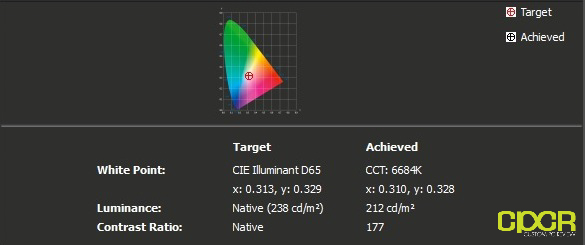 At maximum brightness, our second sample yielded a maximum brightness of 212 nits and a contrast ratio of only 177.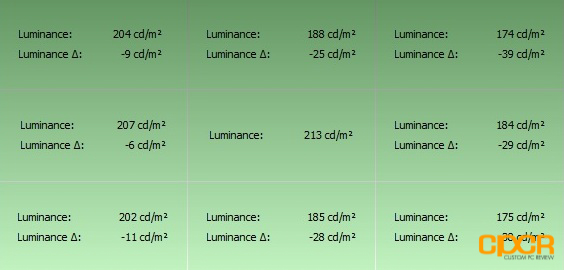 Backlight uniformity is still quite poor with a maximum brightness difference of 39 nits from the center of the screen to the top right.
Viewing Angles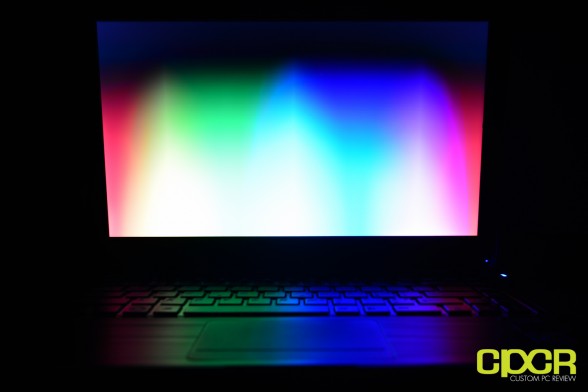 Here's a look at the screen itself directly from the front. The colors are alright, but the lacking contrast ratio is quite apparent here as the colors aren't nearly as vibrant as they should be. The screen itself isn't all that bright either and while that's perfectly fine in total darkness, it may be a problem in brightly lit rooms or outdoors.
Horizontal viewing angles are bad, even for a TN panel.
Vertical viewing angles are even worse. I just see blobs in a sea of grey backlighting.
[section label=10. Conclusions]
Zeus-M2 Conclusions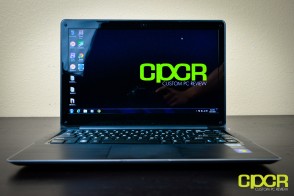 Alright, so as usual let's start with the performance. Overall, I think the performance is pretty good for what this laptop is meant for – productivity. Being designed primarily for those looking for a thin and light product for business, school, etc. the Zeus-M2's processing power fits the bill perfectly. Those looking to do lots and lots of video editing or photo editing may want to consider going with a larger notebook carrying something like the i7 3610QM while those looking to play lots of games will want to go with a notebook with a dedicated graphics card.
Aesthetics on the Zeus-M2 is excellent. The top cover's brushed aluminum finish is very beautiful and gives the Ultrabook a very classy feel. While the brushed aluminum finish looks good, it also serves a functional purpose as it helps give the screen a lot of rigidity as well. Being an Ultrabook it's also very thin as well, coming in at only 1″ thick and weighing less than 4 lbs. This one's definitely a head turner.
What was quite disappointing was screen performance. It was just average at best. The TN panel presented a poor color range, poor contrast ratio, overly high black point, and a lot of backlight bleed not to mention terrible horizontal and vertical viewing angles, but that was more or less expected from the start. Those planning to use the Zeus-M2 for typical productivity activities such as web browsing, answering e-mails while traveling, taking notes, or word processing probably won't notice, but those looking to do photo or video editing should definitely consider going with something that carries a better screen. For most, the paltry 1366×768 screen resolution will probably be the most important consideration and while it's quite common for a 14.1″ display to have this resolution, I do think it could use the bump up to 1600×900 although not critical. Additionally, I'd also like to point out that the screen's brightness tops out at only a mere 200 or so nits, so those who enjoy using their notebooks outdoors may have a difficult time doing so.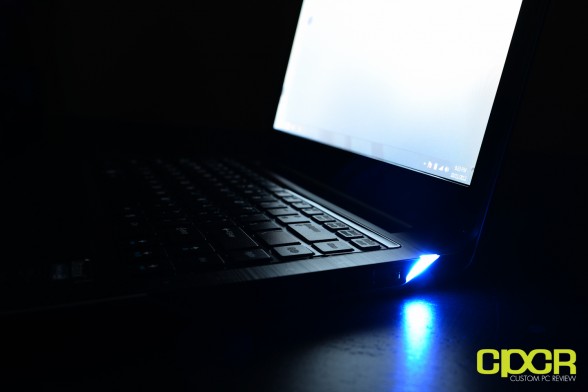 In addition to the screen, I had another two small issues as well. First was that the onboard wireless wasn't able to connect to wireless N networks. While wireless B and wireless G worked flawlessly, wireless N didn't work despite it being advertised as a wireless N compatible notebook in the specifications. Am I missing something here? The second issue is that the speakers are extremely underpowered, which is mostly a general Ultrabook issue rather than one specific to the Zeus series Ultrabooks. Because the notebook needs to fit into a sub-0.87″ profile, it's quite hard to incorporate large speakers into the chassis, which means those looking to listen to any music, conduct VoIP calling, etc. will want to invest in a decent headset or some speakers.
Ultimately, all the issues aside, it's very difficult to ignore the fact that the Zeus-M2 is an extremely powerful Ultrabook coming in at only $850. Other options at this price range typically don't even offer such a large capacity SSD, high performance SSD or don't offer anywhere close to 16GB of memory (or even 8GB for that matter).
Bottom Line
The Zeus-M2 may be the first Ultrabook to make its way to boutique PC manufacturer CyberPowerPC, but it certainly is a great choice for those looking for a fast, good looking, durable Ultrabook at a budget. Those who don't necessarily need a good screen with perfect color accuracy will find that the Zeus M2 with a premium tier 120GB Intel 520 SSD, 16GB of memory, and a Intel Core i5 3317U processor at only $850 a perfect balance between high performance and low cost.
That said, my best recommendation for a CyberPowerPC Zeus series Ultrabook is to go with the Zeus M and upgrading the SSD from the standard 60GB Intel 520 to the 120GB Intel 520. This leaves you with an Ultrabook with an Intel Core i5 3317U, 8GB of DDR3 and a 120GB SSD for about $734. Not bad!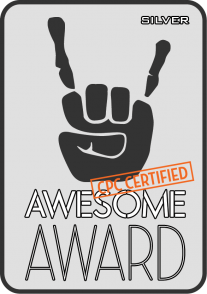 Special thanks to CyberPowerPC for making this review possible!
The CyberPowerPC Zeus-M2 is currently available at CyberPowerPC's website.