Warning
: Undefined array key "width" in
/var/www/vhosts/custompcreview.com/public_html/wp-includes/media.php
on line
1381
Warning
: Undefined array key "width" in
/var/www/vhosts/custompcreview.com/public_html/wp-includes/media.php
on line
1386
Warning
: Undefined array key "height" in
/var/www/vhosts/custompcreview.com/public_html/wp-includes/media.php
on line
1386
Warning
: Undefined array key "width" in
/var/www/vhosts/custompcreview.com/public_html/wp-includes/media.php
on line
1381
Warning
: Undefined array key "width" in
/var/www/vhosts/custompcreview.com/public_html/wp-includes/media.php
on line
1386
Warning
: Undefined array key "height" in
/var/www/vhosts/custompcreview.com/public_html/wp-includes/media.php
on line
1386
[section label=1. Introduction]
Back to Indilinx for a New Vertex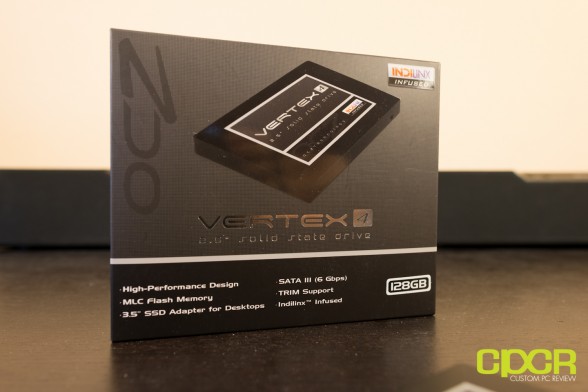 OCZ's Vertex series have always been OCZ's most popular high performance consumer grade SSDs. First introduced in 2009, the original Vertex shook the storage industry by becoming one of the most popular SSDs on the market. Being the first SSD to introduce the Indilinx Barefoot controller, OCZ surprised the market when it demonstrated that SSDs did indeed have a brilliant future. While riding the wave of the Vertex's success, OCZ then introduced the Vertex 2. Featuring the then relatively new Sandforce controller, OCZ proved that with newer technology, faster, more affordable SSDs were possible. By now, practically everyone had eliminated their doubts about the future of SSDs, with some even betting that SSD technology will replace the traditional hard drives in the future. After enjoying much success with the Vertex 2, OCZ soon followed up with a new third generation Vertex, the Vertex 3. The Vertex 3 again was among the most advanced of its time, featuring the new SF-2200 series controller and the SATA 3 6Gb/s interface. Despite OCZ's success in being first to market with a lot of the new technologies, the success of Vertex 2 and the Vertex 3 brought about an unexpected problem – reliability concerns.
Today, a quick search on OCZ SSDs will return many articles on reliability concerns – blue screens, dead drives, etc. While many spit fires at OCZ for making sub-par products, a large part of the problem is actually due to the SandForce firmware. In comparison to many other companies, OCZ has been very aggressive when rolling out new technology, introducing new products as soon as the technology is available – not after waiting for patches and new firmware updates prior to releasing their own SandForce based SSDs. As OCZ essentially became the SandForce guinea pig, OCZ's reputation as a provider of reliable SSDs tanked significantly after a large majority of consumers began having issues. So for their next revision of the Vertex, OCZ has decided to use a different controller – one recently acquired, Indilinx.
Today, we'll be reviewing the newest revision of the Vertex series SSDs, the OCZ Vertex 4. After OCZ's acquisition of Indilinx last year, OCZ has been hard at work integrating Indilinx technology into their SSDs, starting with the Octane SSD, and now with the Vertex 4. Will the Vertex 4 live up to the Vertex name in terms of performance? Can this new Vertex help salvage OCZ's bad reputation? Let's find out!
Vertex 4 Specifications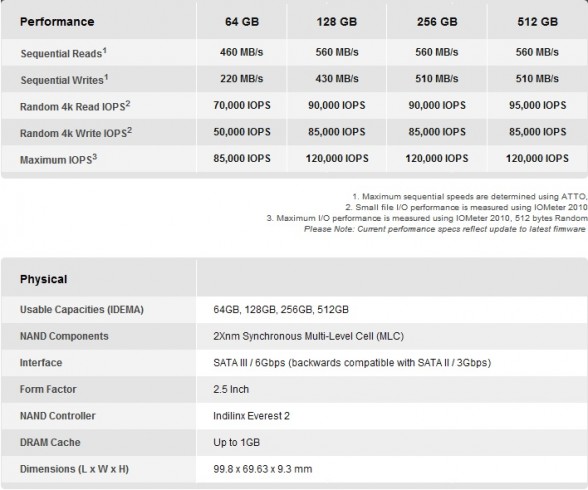 [section label=2. A Closer Look (Exterior)]
A Closer Look at the Vertex 4 128GB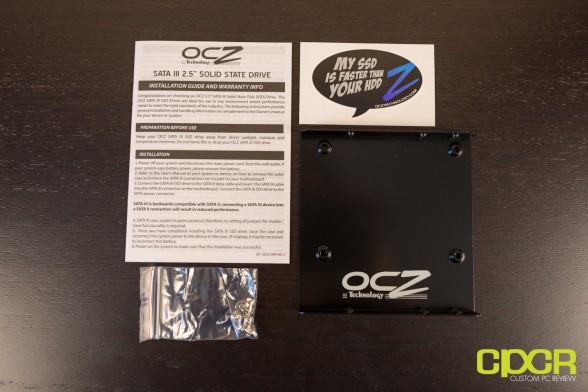 Included in the box, we receive some documentation, a 2.5 to 3.5″ drive adapter, some mounting screws, and the usual "MY SSD IS FASTER THAN YOUR HDD" sticker.
Course, we also receive the SSD itself, and comparing to what we saw from the last generation Vertex 3, it seems like OCZ hasn't really done much to the design at all. However, We now get an INDILINX INFUSED logo at the bottom right corner; telling us that the drive is now powered by an Indilinx controller.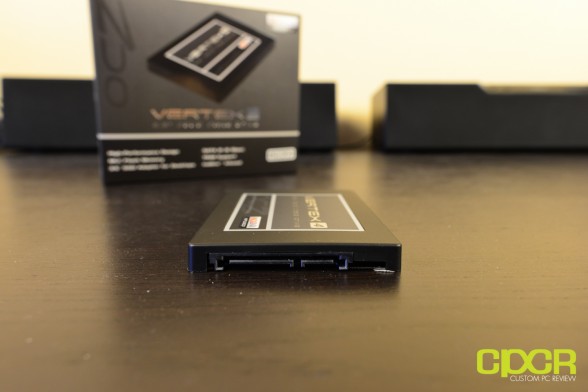 SATA power and SATA 3 6Gb/s ports are in their usual locations. You can also see that this is a 2.5″ drive, so it's compatible with both larger notebooks and desktop PCs. For those with ultrabooks that use mSATA or 1.8″ drives exclusively, this along with any other 2.5″ drive won't work. You'll probably need to invest in something like a Samsung 830 SSD or some mSATA SSD in that case.
Similar to most other SSDs, the Vertex 4 can be either mounted through the 4x side mounting holes or through the 4x bottom mounting holes.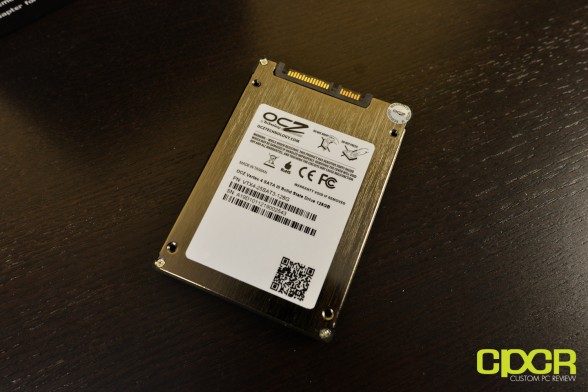 Moving onto the bottom, we get the usual OCZ informational sticker as well as a warranty void if removed sticker. Well, guess it's time to void the warranty for you guys… Oh by the way, it's not really recommended that you do – especially with OCZ offering an industry leading 5 year warranty on this drive.
[section label=3. A Closer Look (Interior)]
A Closer Look at the Vertex 4 128GB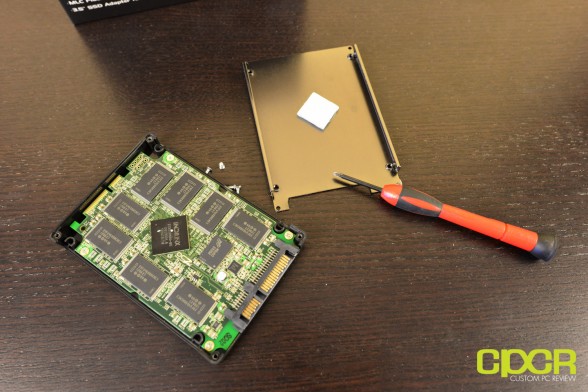 Well, opening the thing up was definitely easy. None of that security torx stuff found on Kingston SSDs. The first word that flew out of my mouth when I saw the PCB was "Wow". OCZ  decided to drop the controller right smack dab in the middle and surrounded it with 8x NAND modules instead of what we usually see with controllers being off to the side. There's also a piece of thermal pad stuck on the casing to help cool the controller. That's new….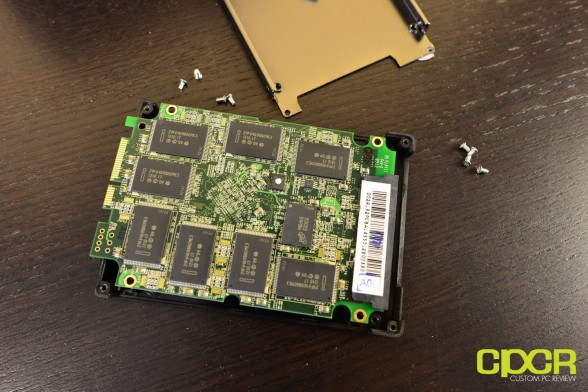 Wow, the other side of the board is equally as interesting as the front. Again, we're looking at another 8x NAND modules here, which gives the Vertex 4 to a full 16 NAND modules on its PCB. (Remember, it's ONLY 128GB here) We're also getting 2x DRAM memory modules for the cache as well. More into that later.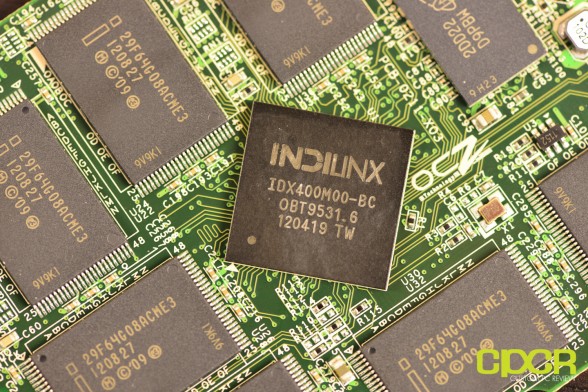 Well, since OCZ chose the Indilinx controller to be at the heart of the Vertex 4, we'll take a closer look at it. Yes, this controller is exclusive to OCZ, however, in recent news, it appears that the Indilinx controller is just a re-branded Marvell with fully custom Indilinx firmware. Can't say that's a bad approach as Marvell powered SSDs have been proven time and time again by popular SSDs such as the Crucial m4, and it's been proven by Intel that even the most "unreliable" SandForce controller can be made reliable by excellent firmware.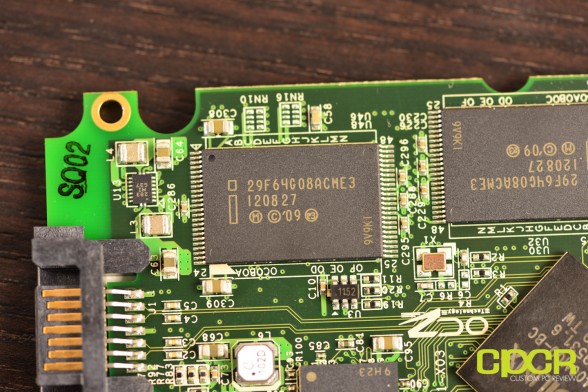 The memory is powered by IMFT 3,000 P/E 25nm Synchronous MLC NAND. Nothing too special here, but since there's 16 modules and only 128GB of maximum capacity, it seems like each NAND module has a capacity of 8GB each.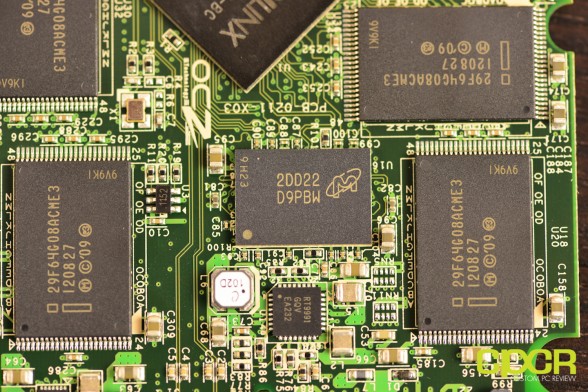 Along with that, we also get two Micron branded 256MB DRAM modules (One on the front of the PCB and one on the back) designed to work together as a cache. Whoa! 512MB cache on a 128GB drive!
[section label=4. ATTO Disk Bench/Crystal Disk Mark]
Sandy Bridge Test Bench
CPU: Intel Core i5 2500K
Motherboard: Asrock Z68 Fatal1ty Professional Gen 3
Graphics: Intel HD3000 Graphics
Memory: Gskill Sniper 1866MHz DDR3 1.5v
Storage: Patriot Pyro SE 120gb
Power Supply: Corsair HX650
Case: HSPC High Speed Tech Station
Special thanks to HSPC for sponsoring our test bench!
Vertex 4 128GB Performance
Before we start benchmarking, I want to make it clear that the Vertex 4 we're testing today is using the v1.4 firmware, which was released about a month after the original release of the Vertex 4. According to OCZ, this update is supposed to bring a huge performance benefit to the Vertex 4 with the 128GB edition now being advertised at up to 550MB/s sequential reads (Up from 535MB/s in v1.3) and 420MB/s sequential writes (Up from 200MB/s in v1.3).
ATTO Disk Benchmark v2.46
ATTO Disk Benchmark is one of the industry's most popular benchmarks for testing SSD read/write speeds. This benchmarks allows read and write testing using predefined block sizes and gives us a good idea of read/write speeds with different sized files.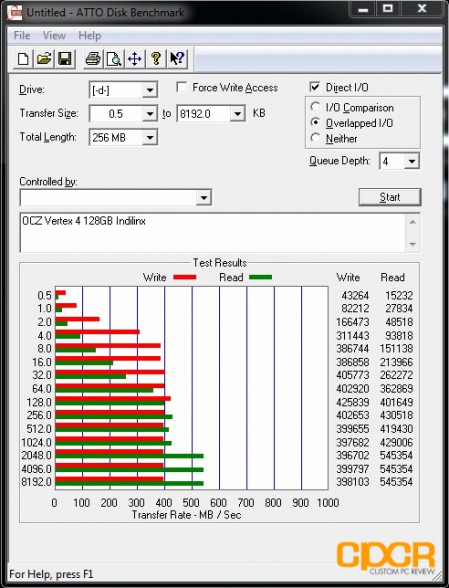 As usual, we're kicking off our benchmarking with some ATTO Disk Benchmark, and for those familiar with SSDs, you'll almost instanty recognize that this isn't a SandForce based SSD. SandForce based SSDs excel in compressible data, which is the data tested in ATTO Disk Benchmark. While the read speeds are similar, SandForce based SSDs typically hit the 500+ MB/s range. That said, the Indilinx based Vertex 4 does push a tad bit more than what's advertised with sequential reads topping out at 545 MB/s and sequential reads topping out at 426 MB/s.  Good enough for me!
Crystal Disk Mark 3.0.1 x64
Crystal Disk Mark is another popular benchmark which allows us to measure both sequential read/write speeds as well as random read/write speeds. With this benchmark, tests will be run using both random fill (incompressible data which simulates music, video, pictures, etc.) and 0 fill (compressible data).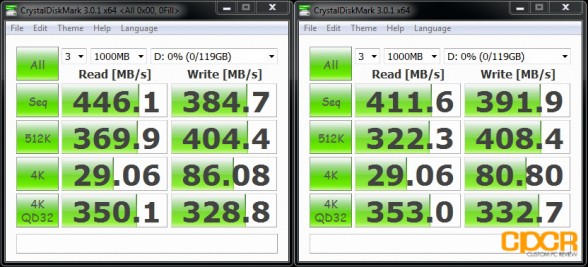 First, taking a look at the benchmark to the left, we've got Crystal Disk Mark on the 0 fill setting, which tests SSD performance through the use of compressible data. Overall, it's a pretty good showing with sequential reads/writes confirming those seen in ATTO Disk Mark. Again, it's apparent that SandForce isn't in play here.
Taking a look at the benchmark on the right, we've got Crystal Disk Mark on the random fill setting, which tests SSD performance through the use of incompressible data. Whereas SandForce typically will see a massive write performance drop, the Vertex 4 relatively stayed the same. Fantastic results here, and possibly one of the highest 4K QD32 scores I've seen on a SATA based SSD.
[section label=5. AS SSD/PC Mark 7]
Vertex 4 128GB Performance
AS SSD Benchmark
AS SSD is a very commonly used benchmark used to measure SSD performance in a number of categories. Here, tests are run using incompressible data, which most simulate real world usage. It also outputs a final score at the conclusion of the test based off the read and write performance of the drive.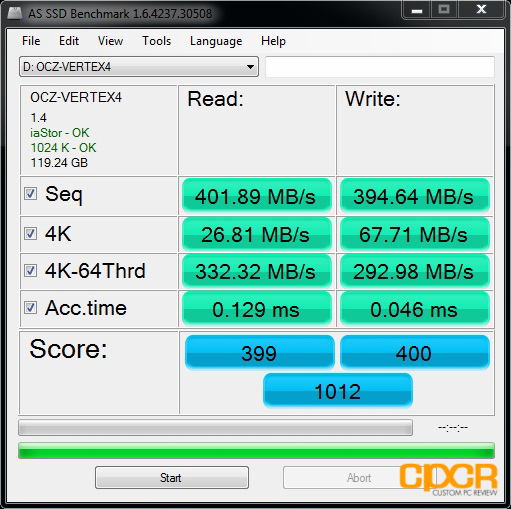 AS SSD is where SandForce SSDs typically suffer and does everything else fine. Then there's the Indilinx controlled Vertex 4 just eating up this benchmark. I think this might be the first time I've seen a score of 1012 on AS SSD – no doubt due to the stupid fast 4k 64 read/writes. Looks like the Vertex 4 will be able to work with larger queue depths very well.
PC Mark 7
The PC Mark 7 storage test tests the SSD under many different real world tests such as gaming, video editing, etc. This is most representative of the SSD's performance under real world situations.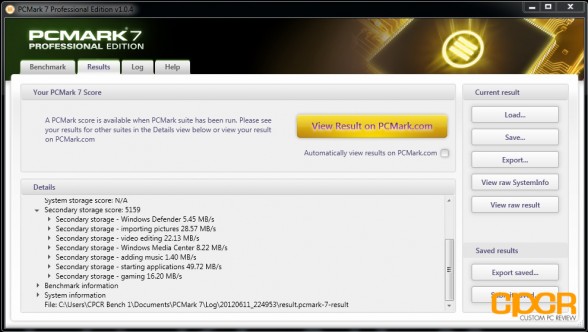 | | |
| --- | --- |
| SSD | PC Mark 7 Score |
| OCZ RevoDrive 3 X2 PCIe 240GB | 5326 |
| Kingston HyperX 3K 240GB | 5304 |
| SanDisk Extreme 240GB | 5273 |
| Samsung 830 128GB | 5234 |
| Crucial m4 128GB | 5214 |
| OCZ RevoDrive Hybrid 1TB | 5182 |
| OCZ Vertex 4 128GB | 5159 |
| OCZ Vertex 3 120GB | 5078 |
| Patriot Pyro SE 120GB | 5042 |
| OCZ RevoDrive 3 PCIe 120GB | 4954 |
| Kingston V+200 120GB | 4711 |
| OCZ Agility 3 120GB | 4701 |
| Corsair Force 3 180GB | 4615 |
| Seagate Momentus XT 750GB | 3247 |
| WD Scorpio Black 250GB | 1727 |
In PC Mark 7, we can see that the Vertex 4 performs quite well here as well, out-scoring its older brother the Vertex 3 by a healthy margin. Unfortunately, it's still unable to overtake the Crucial m4 or the Samsung 830 here. This is more than likely due to slightly slower read speeds on the Vertex 4. That said, it's still leading the pack for the 120GB/128GB capacity.
[section label=6. Conclusion]
Vertex 4 128GB Conclusions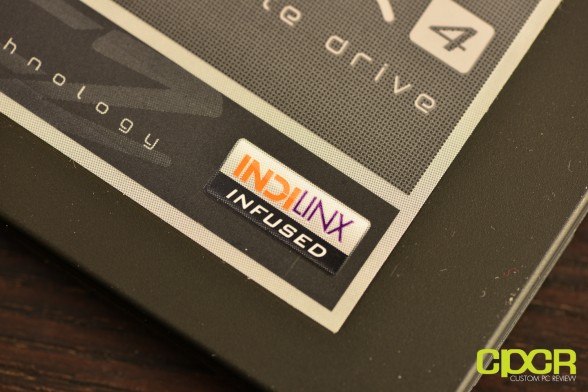 Since performance is the biggest factor when comparing SSDs, we'll begin our conclusion there. Taking a look at some of the benchmark numbers, the OCZ Vertex 4 is without a doubt very impressive, dishing out excellent performance, and most importantly easily defeating the previous generation Vertex 3. Sequential read/write performance was top-notch overall if you take in account that performance is relatively the same irregardless of type of data used and 4k read/writes weren't bad at all. What's really surprising was the excellent performance in higher queue depths, which helped the Vertex 4 produce the highest AS SSD score we've seen to date. Sweet.
One thing that's plagued OCZ lately of course is their reliability concerns and it seems like OCZ is making a serious effort to correct their image in that department. Starting with the controller, OCZ has moved to their Indilinx Everest 2 platform. Although it's Marvell's controller hardware, OCZ is using their own custom Indilinx firmware. Given Marvell's proven track record and OCZ having greater control of the firmware behind the controller through the Indilinx platform, OCZ is better able to push out firmware updates when/if problems are discovered. In addition to this, OCZ is standing behind the Vertex 4 as well, providing an industry leading 5 year warranty, which is still quite a rare commitment for many SSD manufacturers to commit to.
The OCZ Vertex 4 128GB is currently priced at $129.99 on Amazon, so it's just a little above $1/GB. Our current recommended SSD for most systems out there is the Crucial m4 128GB, which is currently priced at $122.49, so the m4 is actually a tad bit cheaper and it does score a smidge better in PC Mark 7 against the OCZ Vertex 4. This is because the Crucial m4 performs better when writing data at low queue depths, which is what PC Mark 7 primarily tests. However, with that said, the OCZ is giving the Vertex 4 a 5 year warranty, so I think an extra 2 years of peace of mind is definitely worth the extra $7 investment.
Bottom Line
Overall, OCZ has done a fantastic job on their newest line of Vertex 4 SSDs. They've covered everything – price, performance, and reliability. So what's not to love?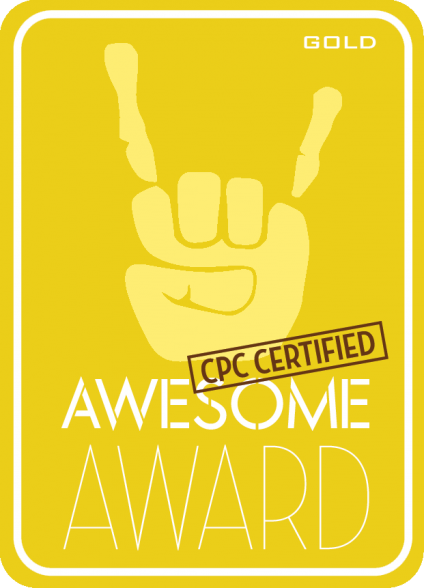 Special thanks to OCZ Technology for making this review possible.
The OCZ Vertex 4 is currently available on Amazon.