[section label=1. Introduction]
The Kraken. Now in 7.1 Virtual Surround.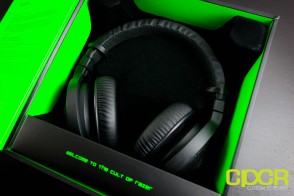 A couple years back, the only option to get any sort of surround sound on a computer was to either purchase a physical 5.1/7.1 surround sound system or purchase an expensive, bulky, and generally crappy sounding true 5.1 surround sound headset. If you think those are both pretty bad options, you're probably not alone which is why a number of companies are investing in virtual surround sound software which use principles of psychoacoustics to simulate 7.1 channel audio in headsets that only have two physical drivers.
Now recently it seems like gaming peripherals giant Razer has also gotten into the virtual surround bandwagon as they've developed and released their own software capable of turning any headset into a virtual surround headset. Whereas previously virtual surround software was generally licensed and tied to a specific headset you bought, Razer decided to offer their Surround software for free to everyone willing to download it. Yup. Quite a good deal indeed.
Fast forward a couple weeks and now we have a brand new headset from the guys over at Razer, which they're referring to as the Kraken 7.1 surround sound gaming headset. The Kraken 7.1 is based off the Kraken headset which is a headset that Razer already has in their repository of gaming headsets, but the Kraken 7.1 does have a number of differences that make it the Kraken 7.1 rather than a Kraken Pro. While the core design of the Kraken 7.1 is nearly identical to the Kraken Pro, the Kraken 7.1 does include a new and improved digital microphone along with a new black color scheme. It's also powered by USB as well, which is pretty useful for those who own a notebook that only has a single 3.5mm headphone/mic combo port (Razer Blade, anyone?).
Wanna find out what we think about the Kraken 7.1? Flip the page to check out our review!
Razer Kraken 7.1 Specifications
| | |
| --- | --- |
| Manufacturer | Razer |
| Model | Kraken 7.1 |
| Formfactor | Over Ear |
| Interface | USB |
| Driver Diameter | 40mm Neodymium Magnets |
| Frequency Response | 20 – 20000 Hz |
| Impedance | 32 Ω |
| Microphone | Omnidirectional |
| Warranty | 1 Year |
| Check Pricing | Razer, Amazon |
[section label=2. A Closer Look]
A Closer Look at the Razer Kraken 7.1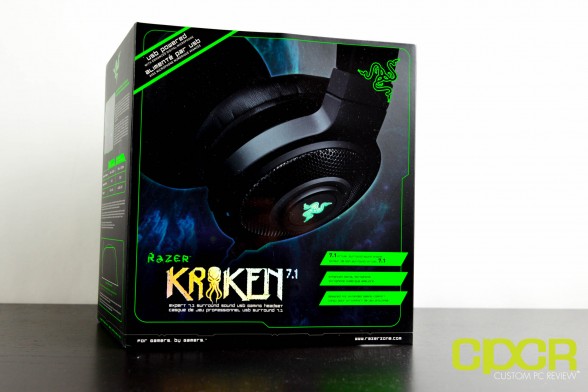 Here's a look at the packaging for the Razer Kraken 7.1.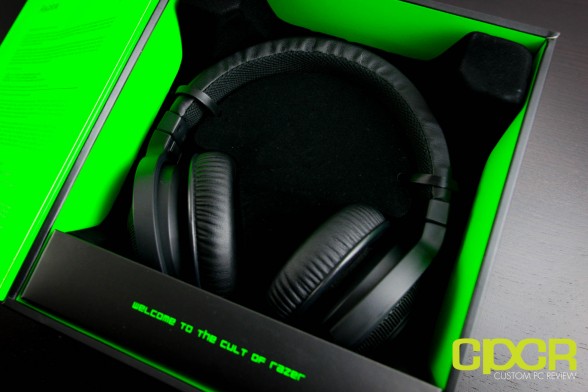 As usual, Razer has done a pretty awesome job on packaging.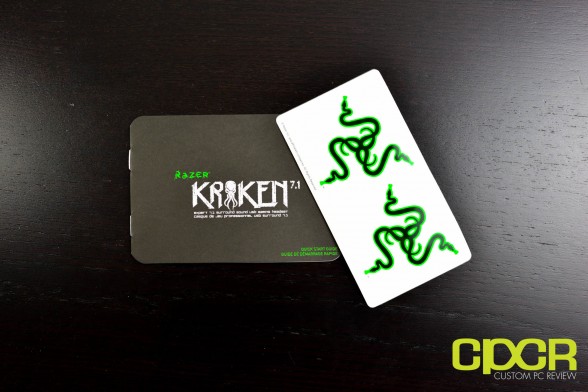 There aren't really any accessories to speak of. After all, the Kraken 7.1 is a USB powered headset. You do get some documentation, but there's no software. Software for the Kraken 7.1 is the Synapse 2.0 software, which can be obtained via Razer's website here. Be sure to have an internet connection ready to take full advantage of the headphones.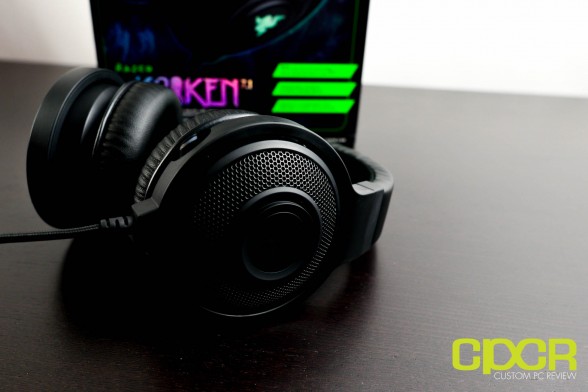 Of course, we also get the Kraken 7.1 headset itself, which is basically the same thing as the original Kraken except finished with a lot less green and a lot more black. The entire unit is constructed of mainly plastic here. Unfortunately the plastic doesn't feel super durable, but it doesn't feel cheap and flimsy either.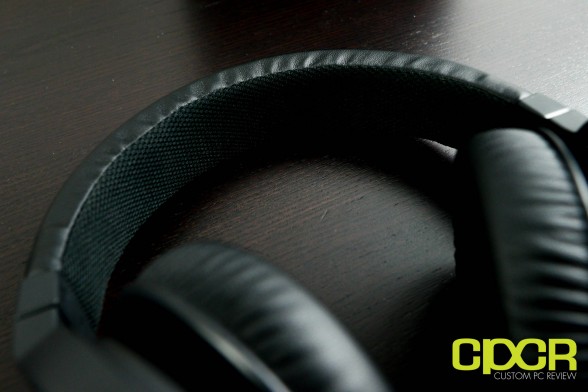 The headband on the Kraken 7.1 is constructed of a cloth material, which doesn't provide all that much padding, but the headset isn't too heavy, weighing in at only around 0.75 lbs.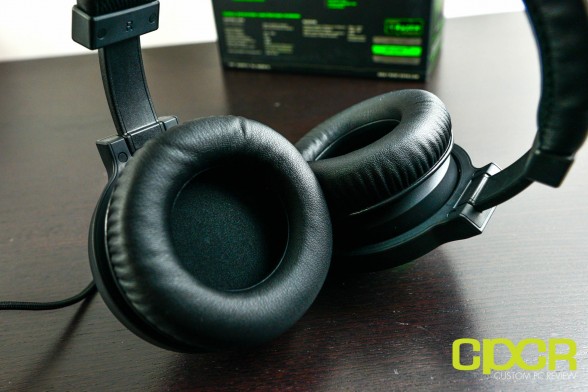 Here's a look at the earcups on the Kraken 7.1. Razer has done quite a good job making the headset comfortable as the earcups are quite deep and extremely soft. As for the material on the earcups themselves, the earcups are constructed of a leatherette material. While I personally prefer cloth earpads as they provide much better breathability and comfort, leatherette does have significantly better noise isolation properties than cloth, which is preferable when playing in loud environments.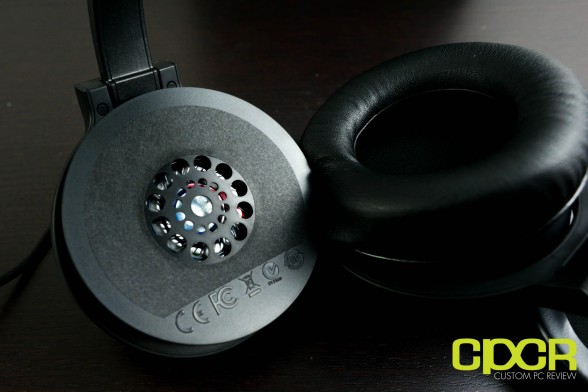 Removing the earpads, we can take a look at the drivers underneath. For the Kraken 7.1, Razer is using 40mm neodymium drivers.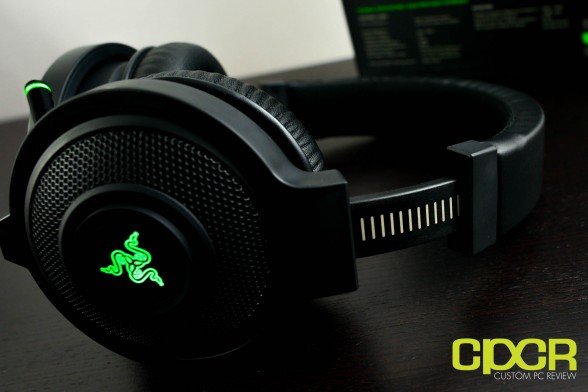 As expected, the headband is adjustable. Unfortunately, the headband is constructed of plastic and doesn't seem like it includes a metal core, so durability here is questionable.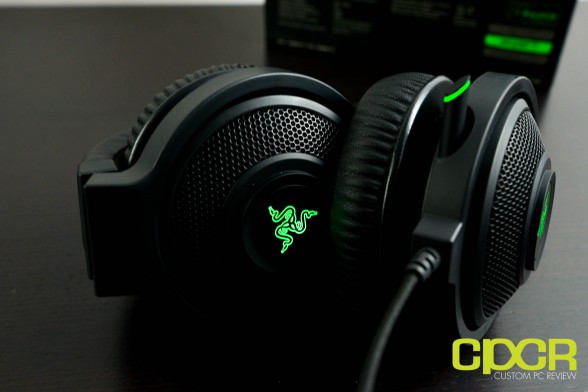 For better portability, the ear cups on the Kraken 7.1 can be folded in.
New on the Kraken 7.1 is a digital microphone rather than a traditional analog microphone seen on Razer's older headsets. The digital microphone provides superior audio clarity and less static noise in comparison to analog microphones. There's also a button on the microphone that allows the microphone to be turned off as well. The LED turns off when the microphone is disabled.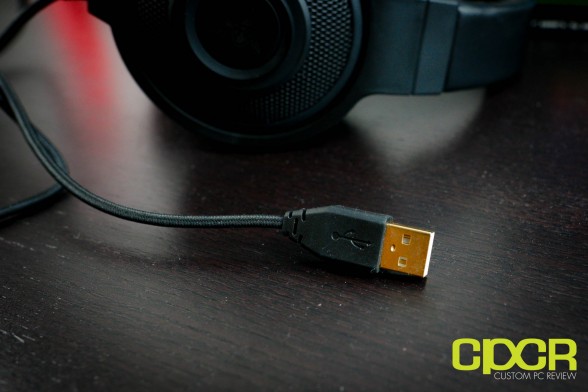 Since the Kraken 7.1 is a USB powered headset, we get a gold plated USB connector along with a 6.56 ft braided cord. Unfortunately, there's no in line volume controls to speak of, which is something that should be standard on all gaming headsets. There's nothing more ridiculous than having to go into the Windows audio control panel to adjust volume settings mid-game.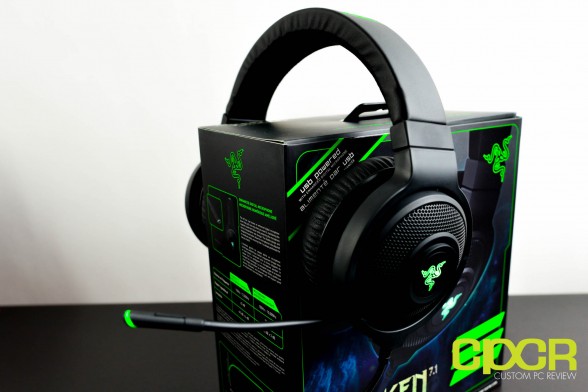 Plugging in the Kraken 7.1, we can see that Razer has added some lighting for the Razer logos on each of the earcups as well as a LED indicator on the microphone itself indicating that it's active.
[section label=3. Software]
Razer Kraken 7.1 Software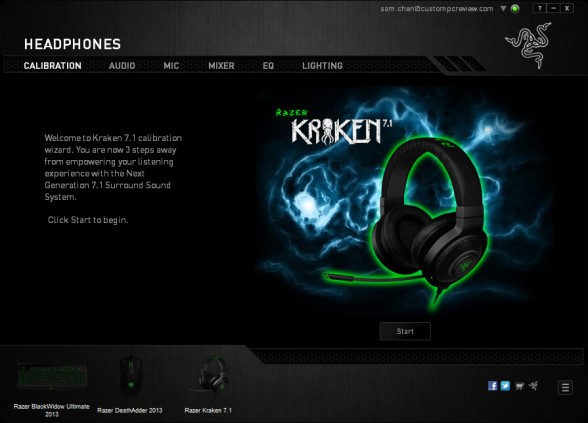 Software on the Kraken 7.1 is based off the Razer Surround software which is Razer's virtual surround software that piggybacks off of their Synapse 2.0 driver software. A driver disk isn't included, so the software must be downloaded at the Razer website.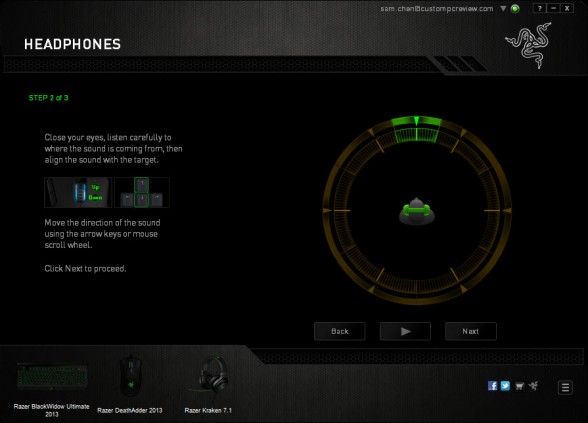 Upon installing the software, Razer requires you to calibrate the virtual surround. This calibration process is identical to the process on the Razer Surround software.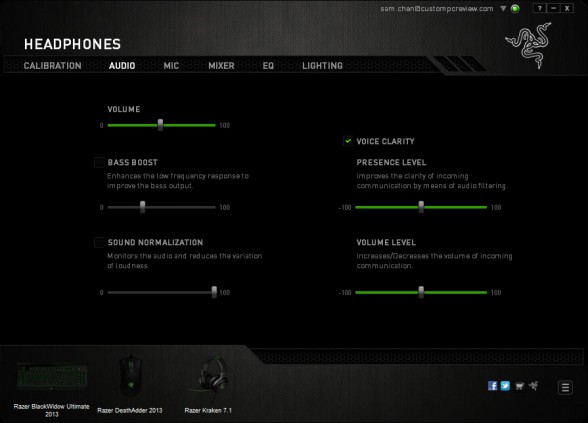 Once the system is calibrated, the audio, mic, mixer, eq, and lighting submenus appear. Under the audio menu, we get a couple features such as bass boost, sound normalization, and voice clarity. In testing, I found the voice clarity and bass boost features to work quite well although the Kraken 7.1's drivers are bass boosted from the factory, so I generally keep bass boost off. Voice clarity also works quite well, but I've found that it's generally most effective when listening to low bitrate audio or in VOIP applications where the connection isn't necessarily that great. As for sound normalization, I generally leave that off and manually adjust my settings. I generally play multiplayer games and I like my VOIP audio to be louder and game audio to be a bit quieter.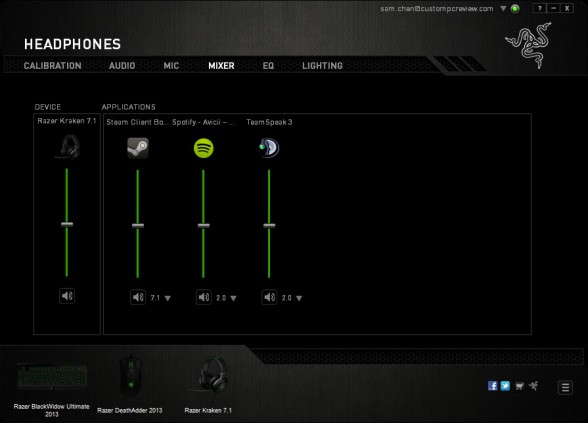 One problem with a lot of headsets and software suites that feature virtual surround sound  is that once it's enabled, it's enabled for everything that's outputting audio at the moment. Unfortunately, this means that along with the game, VOIP audio and music audio are also put through the virtual surround algorithms, which sometimes produces undesirable echos and sounds where they shouldn't be. Fortunately, Razer allows you to enable or disable virtual surround by application, so if you play a game you can have virtual 7.1 while VoIP applications and music applications can be set to output in non-enhanced 2.0 audio. Why more companies haven't incorporated such a feature is beyond me. Good job Razer.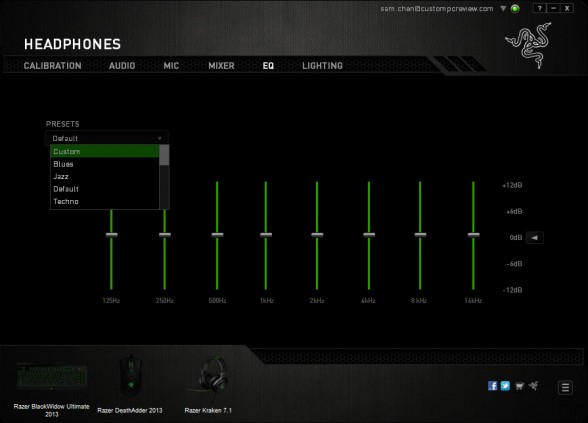 As expected, there's also an equalizer with a number of presets along with the ability to create a custom preset as well.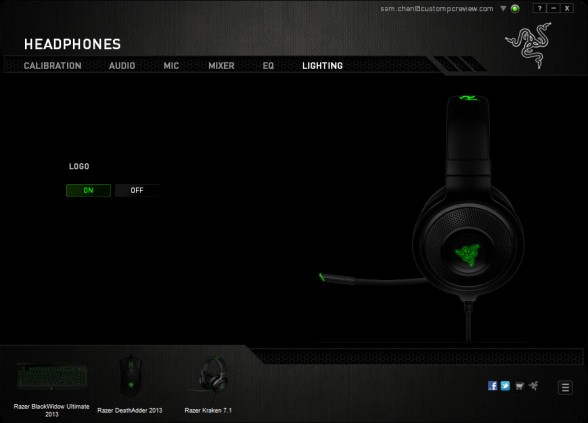 The Kraken 7.1 includes some accent lighting on the logos and the microphone, so you can also choose to turn the lighting on and off.
[section label=4. Performance]
Razer Kraken 7.1 Performance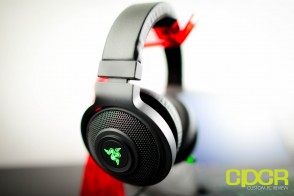 For the majority of testing on the Kraken 7.1, I played the recently released Payday 2, which is an awesome 4 player co-op FPS based off conducting heists on banks and other criminal activities. Because parts of the game involve elements of stealth as well as team coordination, it's important to be able to clearly hear teammates through VoIP applications as well as in game sounds especially when enemies come creeping up or when a drill breaks and requires repair. During gameplay, I really don't have much to complain about with the Kraken 7.1. It does a fantastic job relaying all types of audio efficiently and the in-game surround sound works very well with Razer Surround although I'm not so sure Payday 2 has the best surround track out there.
As usual I also put the Kraken 7.1 through some movie testing as I happened to recently pick up Tom Cruise's latest movie, Oblivion on Blu-Ray. While the movie itself was just alright, the 7.1 channel DTS Master HD audio track is simply one of the best movie audio tracks I've had the pleasure of experiencing this year. With Razer's virtual surround software stitching together an excellent representation of an actual 7.1 surround sound system and the headset being naturally bass enhanced, the movie watching experience was completely immersive from beginning to end.
In addition to movie and game testing, I also tested the Kraken 7.1 with a wide range of music ranging from a wide variety of genres such as hip hop, EDM, top 40's, classical, etc. Unfortunately, the Kraken 7.1 like most other Razer headsets is heavily tuned on bass, which tends to overpower everything else. Because of this, the mids and the highs sound muddy and have a general lack of clarity, which I'm not a huge fan of, especially for critical listening. Those listening to hip hop, top 40's and EDM though might enjoy the sound signature of the Kraken 7.1 depending on your preferences.
As for the microphone, Razer's decision to drop a digital microphone into the Kraken 7.1 has really paid off as the microphone on the Kraken 7.1 does sound significantly better than the microphone on every Razer headset I've reviewed so far. In fact, it sounds better than every other gaming headset I've reviewed so far with the exception of the Plantronics GameCom 780, which matches the sound quality. Apart from sound quality, the digital microphone also eliminates most of that static noise you generally get from the analog microphone, which I've found is due to a combination of the analog microphone itself along with interference from the audio chipset.
[section label=5. Conclusion]
Razer Kraken 7.1 Conclusions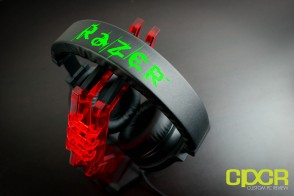 Alright, so wrapping this up, I think I'm not alone when I say that the Kraken 7.1 is one pretty good looking headset. The very modern design with the simple logo and the stealthy color scheme fits well with the rest of Razer's lineup and personally I'm a huge fan of what Razer has done with their 2013 linup. While the design is quite aesthetically pleasing, it's also quite functional as well as it was among the most comfortable headsets I've used even for extended gaming sessions.
That said, with the Kraken 7.1 Razer did go with leather earcups so your ears will get warm after a couple hours of gameplay. I would definitely like to see Razer offer cloth ear cushions even as an additionally available accessory for those who don't necessarily game in loud environments. Speaking of things I'd like to see on the Kraken 7.1, I'd also like to see some in line or on the earcup volume controls. While it's alright for those with keyboards that have the volume up and down buttons, it's quite a PITA for those who have to tab out to go into the Windows volume manager in game just to change the volume settings. Additionally, I'd also like to see a steel headband be included rather than plastic. If there's anything that could be a weak point on the headset, I'd have to say it's the headband. For a headset priced at nearly $100, I'd really expect to see all of these features included, but sadly it's not.
As for sound quality, I'd have to say that I'm once again not overly impressed here, but given the fact that Razer targets gamers rather than audiophiles, I think the audio quality is acceptable. In testing, I found that the Kraken 7.1 is tuned from the factory to be quite heavy on the bass, which kinda overpowers the highs and the mids. While this is fine in fast paced movies or games, I find it a bit lacking in critical listening applications such as music. Those looking for a pair of headphones for music will be much better off shelling out a bit more for a pair of headphones designed for critical listening such as the Audio Technica ATH-M50 or the Beyerdynamic DT770 and pairing it with a quality desktop microphone instead.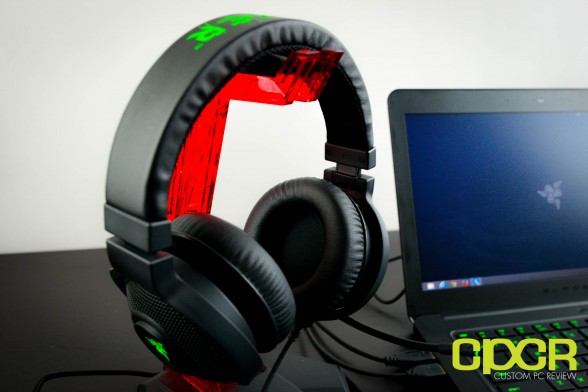 Pricing on the Razer Kraken 7.1 Gaming Headset is $99.99, which definitely puts it up there as one of the more expensive gaming headsets on the market. Personally I would've liked to see it priced at least $10-$20 lower, which I think is a bit more fair as the design between the Kraken 7.1 and the Kraken Pro aren't that different, yet the Kraken 7.1 commands a $20 premium over the Kraken Pro. Again, remember that any headset can be used with Razer's Surround software, including the standard Kraken Pro, so technically you can just download Razer Surround and purchase the cheaper Kraken Pro to get 7.1 virtual surround on the Kraken Pro, which should sound the same as the Kraken 7.1. That said, the Kraken 7.1 does include a superior microphone, does offer some cool accent lighting, and includes a USB connection as well which for some of you may be worth the cost. Overall, the Razer Kraken 7.1 is a decent sounding headset that features a beautiful yet comfortable design and is worth recommending if the price is right.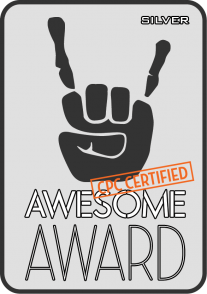 Sample provided by: Razer