[section label=1. Introduction]
Back with a Bang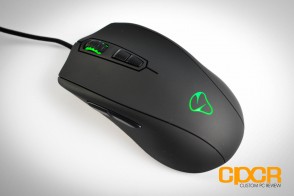 Only a couple years ago, gamers looking for quality gaming peripherals pretty much only had the choice between three major peripherals manufacturers – Logitech, Razer and SteelSeries. Sure there were various cheapo Chinese-made clones that were sold here and there, but for the most part nobody else had anything really competitive in the space.
With the increasing popularity of PC gaming and gaming in general, a number of companies have entered the PC gaming peripherals market, but none of them seem as promising as a little startup from Sweden by the name of Mionix. Now unlike a number of larger companies who enter the market by unveiling a hundred different products then cut the unpopular products depending on run rates, Mionix takes more of the quality over quantity approach by focusing all their efforts only on a couple, very well designed products.
Now the last couple years seemed to be a great years for Mionix. They introduced the very popular NAOS series of gaming mice, a variety of different mousepads, and were forward thinking enough to be among the first peripherals manufacturers to produce mechanical keyboards with the Zibal 60, but for the better part of 2012 and 2013, Mionix was fairly quiet. There were no new product introductions and for the most part, we thought Mionix was done. That is until late-May of 2013, when Mionix announced that they were going to unveil a new gaming mouse by the name of the Avior 8200.
Today we'll be reviewing the Mionix AVIOR 8200, which is the first mouse in Mionix's AVIOR lineup. Compared to Mionix's NAOS, the AVIOR 8200 family follows a completely different design philosophy. Besides the new 8200DPI laser sensor, the chassis used for the AVIOR family is an ambidextrous design, which of course means it'll include support for both right and left-handed gamers. Additionally, the AVIOR also caters to both claw and palm grip types by featuring a medium arch and a long body.
Mionix AVIOR 8200 Features and Specifications
Ambidextrous design
Suited for palm or claw grip
4 layer rubber coating for maximum grip
72MHz, 32-bit ARM processor
8200 DPI laser sensor
128kb built-in memory
Adjustable polling rate
9 programmable buttons
Customizable LED lighting system
[section label=2. A Closer Look]
A Closer Look at the Mionix AVIOR 8200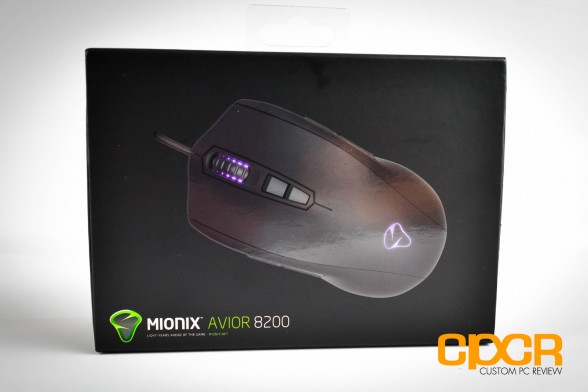 The packaging for the Mionix AVIOR 8200 is definitely among the better packages we've seen. Mionix seems to have some inspiration from Razer's packaging department.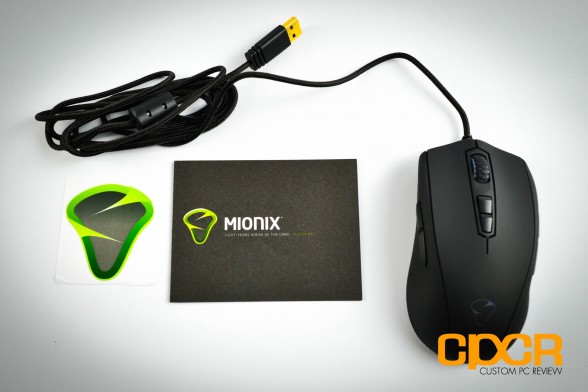 Not surprisingly there aren't a whole lot of accessories to be found. Aside from the mouse itself, there's only a thin instruction manual and a sticker.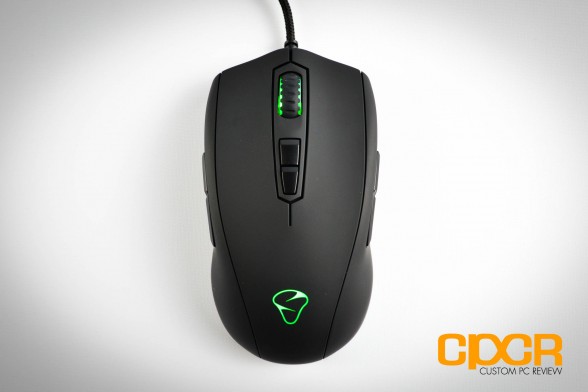 Out of the box, the AVIOR 8200 looks pretty good. It features a sleek, streamlined design with a smooth matte black finish which helps reduce fingerprints on the mouse. It's an ambidextrous design so the mouse is symmetrical and should be great for both right and left handed users. Lighting is pretty simple with only the scroll wheel and the logo lighting up. Although the default LED color is green, a multitude of colors can be selected via the software interface.
As for the button layout, we've got the left and right click buttons along with two DPI adjustment buttons and a scroll wheel button. The sides of the mouse curves in a bit to give your fingers a larger, more comfortable resting/clicking area.
Since it's a symmetrical mouse, both sides are identical with two buttons on each side.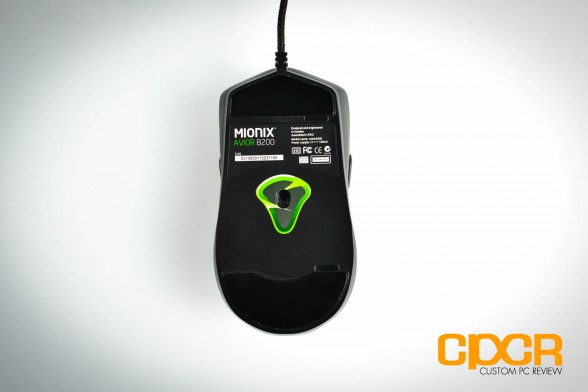 The belly of the AVIOR 9800 holds the popular Avago ADNS-9800 laser sensor we've seen on other mice. The Mionix 8200 also comes with HUGE Teflon feet, which easily covers ~30% of the bottom surface. There's a little notch next to each feet to make removing/replacing them easier.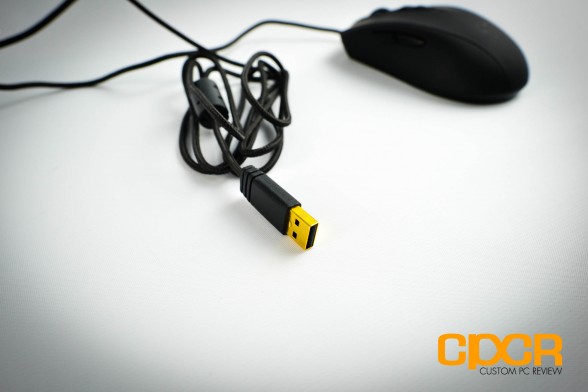 The AVIOR 8200 uses a gold-plated USB plug to reduce the possibility of corrosion over time. The cable is braided so it can handle a bit of abuse.
[section label=3. Software]
Mionix AVIOR 8200 Software
Mionix's software interface is fairly similar to what we've seen on previous Mionix products such as the NAOS series. It gets the job done, but it's not the most polished interface we've seen.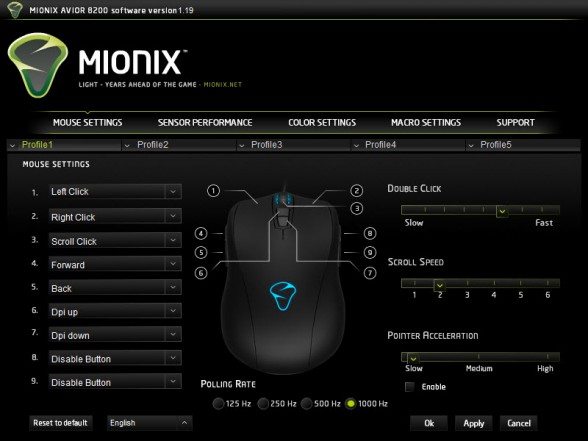 The Mouse Settings tab lets you change button functions, polling rates, etc.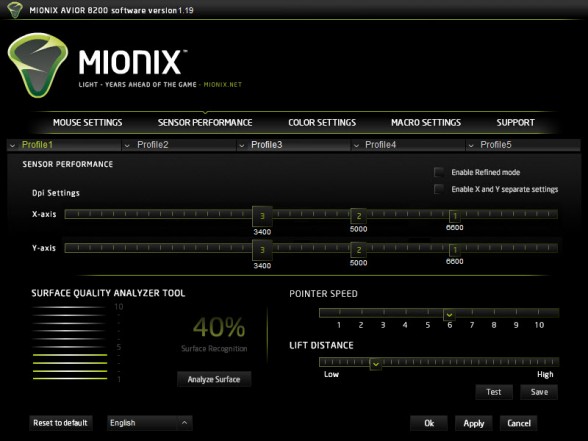 The Sensor Performance tab goes into more fine tuning of the sensor. It also includes a Surface Quality Analyzer Tool, which runs your mouse through a test to see if the surface you're using is any good with the mouse. My EpicGear Compoxite HDST Mousepad only scored 40%, which I took with a grain of salt since the mouse performed quite well in testing and I've used a number of different ADNS-9800 powered mice without issue with this mat as well.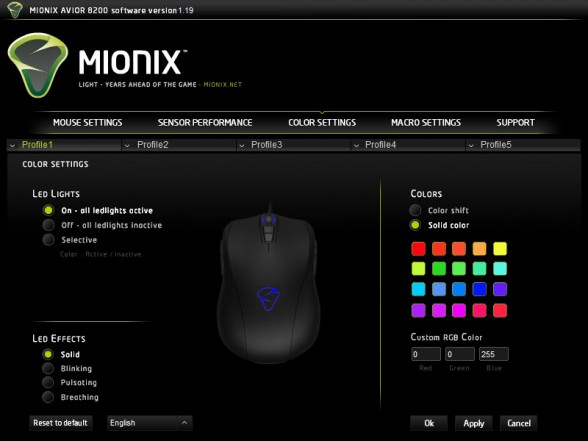 The Color Settings allows you to adjust the color of the LEDs on the AVIOR 8200. It's very basic compared to some stuff we've seen from guys like ROCCAT, but at least you've got an option.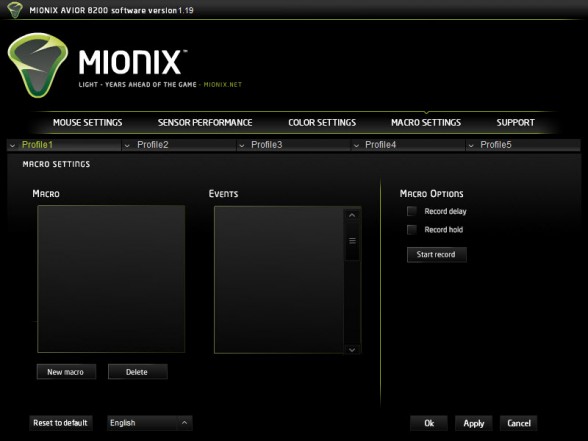 The Macro tab allows you to record macros and store them within the on-board memory on the mouse. You can then assign the macros to the mouse buttons in the Mouse Settings tab.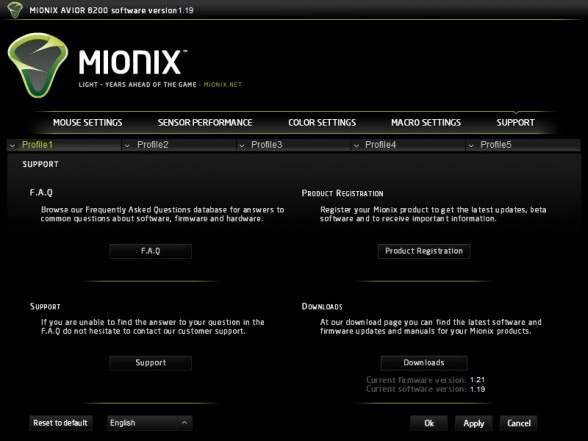 The last tab is the Support tab. It condenses the FAQ and driver download page together. Nothing too special. Let's move on.
[section label=4. Performance]
Mionix AVIOR 8200 Performance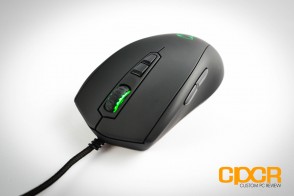 As a palm grip user, the Mionix AVIOR 8200 felt very familiar right out of the box. It's very ergonomic and the raised back of the unit feels very good in the palm. Claw grip users may have a little trouble with the AVIOR 8200 since it's got a very long body, but it's definitely light enough for it to work. Fingertip users would probably be better off with a smaller mouse, but the AVIOR 8200 is fairly light, so it might work for shorter gaming sessions.
The AVIOR 8200 uses a matte finish, which isn't necessarily known for its grippiness, but I didn't feel it slip at all in my long gaming sessions. The large left and right buttons were tactile and responsive due to Mionix's choice in using high quality Omron mechanical switches.
After orienting myself with the AVIOR 8200, I set the sensitivity to 3400DPI and fired up Battlefield 4 (raw mouse input, acceleration off) to test for its in-game sensor performance. Fast twitch aiming felt quick and snappy thanks to its light-weight body and at 3400DPI, I didn't feel any jitter, prediction or angle snapping issues. In fact, the sensor's excellent stability proved great during intense fire-fights, which is something we've seen time and time again with the Avago ADNS-9800. No surprises there.
That said, it wasn't all unicorns and rainbows as I still ran into two small annoyances. First is that that my ring finger would sometimes press the outer side buttons when I'm turning. This is most noticeable in claw grip position and is a bit awkward and uncomfortable. The second annoyance is that there's no visual (at least none in game) or audio indication when you switch DPI settings, so you have to rely completely on the feel. It's not a huge huge deal, but having been using the ROCCAT Kone XTD as my main mouse for the past couple months, I've gotten quite used to the announcer announcing my switch to 4000 DPI when hopping into a vehicle.
In addition to Battlefield 4, I also tested the AVIOR 8200 with a fair amount of Starcraft 2 as well. The this test is mainly used to test for button responsiveness and maneuverability. The AVIOR 8200's buttons stood up to the rapid clicking without erroneous inputs or lag. Clicking felt responsive and tactile thanks to the main Omron switches onboard, and I felt no mushiness or input lag throughout testing. Again, the light-weight chassis was easy to control in both palm and claw grip styles. Gliding the mouse along my mouse pad required minimal effort thanks to its large Teflon feet, which is especially useful when quickly moving around the map.
Since I haven't thoroughly tested Battlefield 4 for inherent acceleration/prediction in game, I used Team Fortress 2 (with raw mouse input enabled) to test for acceleration. Typical of the ADNS-9800 sensor, I found it to have a bit of positive acceleration. It's definitely not drastic though. Again, similar to other mice using the ADNS-9800.
To test for jitter and sensor stability, I also drew a few lines in MS Paint. The sensor remained consistently stable through all DPI ranges, and the jitter only became slightly apparent at the maximum DPI setting of 8200DPI. Given how difficult it was to draw straight, I'd say there's very little if any prediction.
[section label=5. Conclusion]
Mionix AVIOR 8200 Conclusions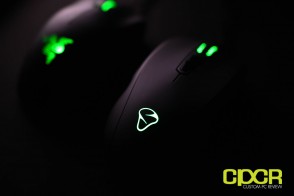 I feel like the AVIOR 8200 is really designed to cater to a different type of gamer than the NAOS, which is heavier in weight and can't be used by left handed gamers. Featuring a medium arch and a long body on the AVIOR 8200, even people who prefer palm grip will feel right at home. It's really not too common that we see such comfortable ambidextrous mouse designs and we applaud Mionix's ergonomics engineers for their good work. Claw grip users who prefer smaller mice may have a bit of trouble adjusting to the long body of the AVIOR 8200, but the light-weight chassis and its ergonomic design should be great as long as a more comfortable palm grip is your main grip of choice.
The chassis of the mouse is expertly crafted and feels very solid. It didn't produce any cracking sounds no matter how much I pressed on its sides, but due to its simplistic design and lack of macros, the AVIOR 8200 may not be the go-to for hardcore MMO or MOBA gamers who want tons of macros. You know who you are…
Sensor performance of the AVIOR 8200 is great. The Avago ADNS-9800 once again proved its worth by staying consistently stable at all DPI settings. In Battlefield 4, the sensor made aiming feel very controlled and accurate, but typical of the ADNS-9800 sensor, it showed a bit of positive acceleration. I think most people wont find it an issue, but if all you've used is optical gaming mice in the past, you might want to stick with a new mouse with an optical sensor instead. Mionix recently unveiled a couple new optical sensor versions of their mice, which we hope start testing soon. Although a bit loud, the AVIOR 820o's buttons were quick and tactile. The travel distance was perfect and I didn't feel any depression "mushiness". The chassis was lightweight enough to be dragged from one end of the mouse pad to the other without hassle, aided by its gigantic Teflon mouse feet of course.
Though I ran into a couple small software issues that could be attributed to either Mionix's software or Windows, I think the only real consideration for most people is the fact that you generally "lose" the functionality of one side of the mouse since it's quite difficult to hit buttons with your ring/pinky fingers, and sometimes it's easy to accidentally trigger those pesky side buttons as well. Since this is a typical thing for people when using ambidextrous mice, I think it's more of something to consider when buying a product like this. Of course, the said buttons can be disabled through the Mionix software, but in that case you don't "really" get use all nine buttons.
The Mionix AVIOR 8200 is generally available at around $80 or so which is the average going rate of a premium gaming peripheral like this. If you're a gamer in the market for something that's simple, comfortable, and offers great performance, I'd definitely give the Mionix AVIOR 8200 a shot.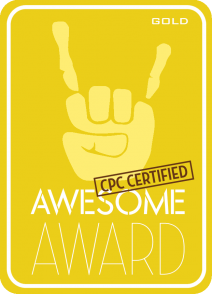 Sample provided by: Mionix
Available at: Amazon