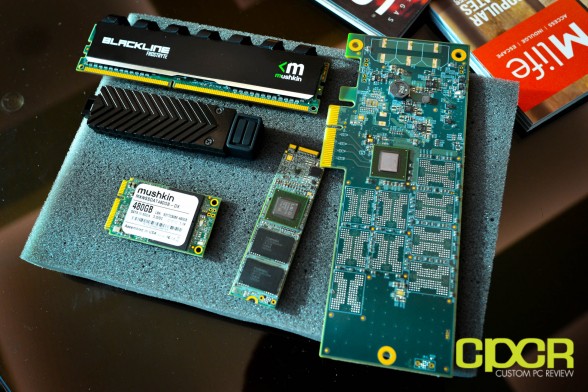 CES 2014 is on and we recently visited Mushkin to take a look at some of their latest products!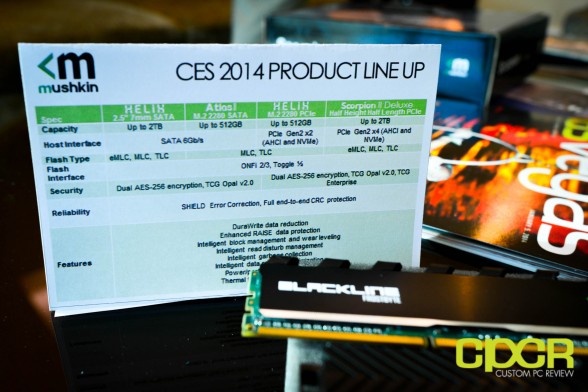 Here's a quick glance at what we can expect from Mushkin's current and upcoming SSD lineup. Like in the past, all SSDs will be SandForce based.
We were first shown the Atlas Deluxe mSATA SSD which isn't something particularly new, but with Micron's new L85A 128Gb NAND, Mushkin is now able to cram a whopping 480GB into a single board design using four 8x128Gb NAND packages. The current Atlas features the SandForce SF-2281 VB4 controller, but we wont be surprised to see a SandForce SF3700 powered model in the future as well.
The Scorpion II line of PCI-E drives will come in the HHHL (Half Height Half Length) formfactor with SandForce's latest SF3700 controller. With the upcoming controller, it will be capable of transfer rates of up to ~1,800 MB/s. The specific drive shown here is using Toshiba's 19nm Advanced Toggle 2.0 NAND. Since the drive is designed for use in enterprise applications, options will be available for adding capacitors for power loss protection.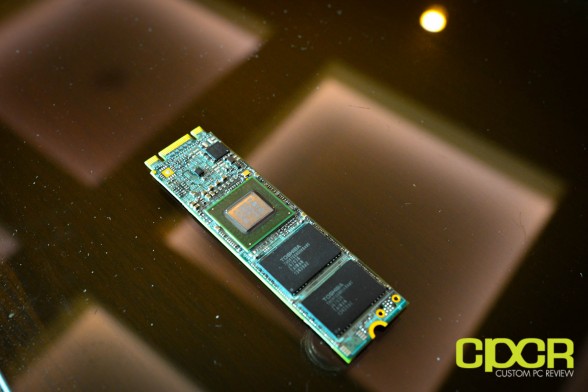 New for the upcoming year is the Helix M.2 formfactor SSD which will come in either M.2 SATA or M.2 PCIe configurations. The M.2 PCIe configuration allows OEMs and end users to achieve transfer rates exceeding the 6Gb/s barrier set with the SATA 6Gb/s interface. By interfacing using PCI-E x4 interface and the SandForce SF3700 controller, the drive should be capable of achieving up to 1.8GB/s.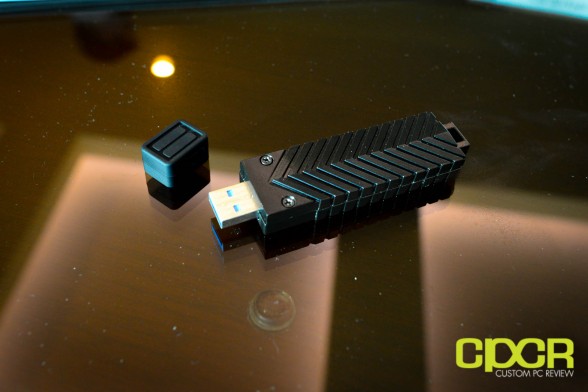 In continuation of the current Ventura Ultra line of USB 3.0 SSDs, Mushkin showcased its latest 480GB Ventura Ultra SSD. Despite its thumb-drive profile, it has a SandForce SF-2281 VB4 controller on-board and can reach maximum speeds of 455/s read, 445MB/s write, and around 39,000 IOPS. The drive is expected to come in at a very appealing $300 when it becomes available in the near future.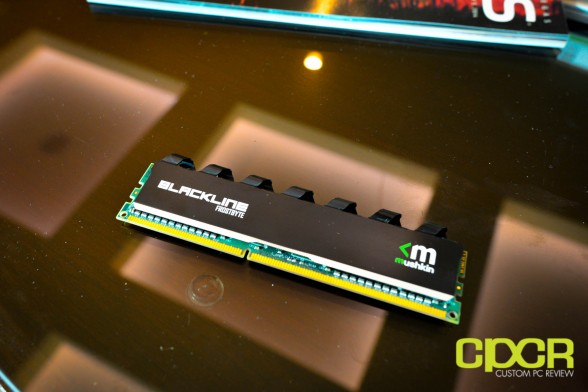 Additionally, Mushkin showcased some new Blackline memory as well with the new Frosbite II RAM cooling system. The all aluminum cooler has a spiral helix at the top of the heat spreader to control and dissipate accumulated heat more efficiently.