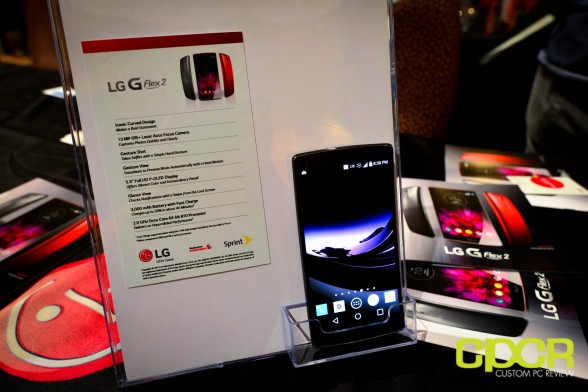 At CES 2015, LG uncovered the highly anticipated LG G Flex 2 smartphone, the successor to the popular LG G Flex. Like its predecessor, one of the biggest features of the LG G Flex 2 is that it continues to carry the signature curve on the rear which is more ergonomic than flat designs, but is now uses a more compact 5.5 inch screen. The self-healing material on the rear has also been carried over from the LG G3 to the G Flex 2.
Hardware has been drastically overhauled as well. To keep up with the performance demands of the latest smartphones on the market, the LG G Flex 2 rocks a 5.5 inch 1080p P-OLED screen, Qualcomm's latest 64-bit Snapdragon 810 SoC along with Adreno 430 graphics, and LTE support as well. The model on the show floor had 32 GB of internal storage with 2GB of memory, but LG will also have a 16GB model as well.
The battery size on the LG G Flex 2 has been reduced from a 3,900 mAh unit on the original G Flex to a 3,000 mAh unit. The good news is that the power efficiency of the Snapdragon 810 should be able to compensate for the smaller battery and extend the battery life enough for all day use. The rear camera is a 13MP Optically Stabilized camera with laser autofocus, while the front-facing camera enables gesture controls for added selfie convenience.
No word on release date or pricing for the LG G Flex 2, but looking at the premium specs, I'd expect a price tag similar to the current gen LG flagship smartphones.