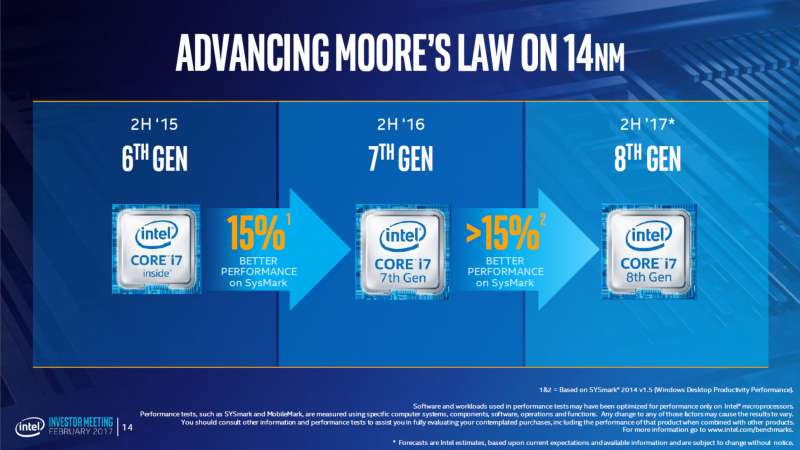 Remember the slide Intel recently presented at their annual investor day conference that may have looked a bit strange? The one above where it shows "ADVANCING MOORE'S LAW ON 14nm" with 8th Gen Intel Core i7 right underneath showing a >15% performance increase in SysMark? While many have chalked it up to a typo, it seems like it actually confirms that not all of Intel's upcoming 8th Generation processors may be manufactured on Intel's 10nm manufacturing node.
In a recent tweet sent out by Motley Fool Senior Technology Specialist, Ashraf Eassa, Eassa had some interesting bits to share about his experience at the investor conference.
https://twitter.com/TMFChipFool/status/829830541440491521
According to his tweet, Eassa confirms that at least some of the upcoming 8th Generation Core Processors will use an updated/enhanced 14nm process which he dubbed 14nm++. This confirms that there was no typo in Intel's original slide presented at the conference. This also means that Intel will be using the 14nm node for four generations of Core processors starting from Broadwell which was released back in 2015. Seems like Intel has decided to switch from Tick-Tock, to PAO (Process-Architecture-Optimization) to PAOO (Process-Architecture-Optimization-Optimization)?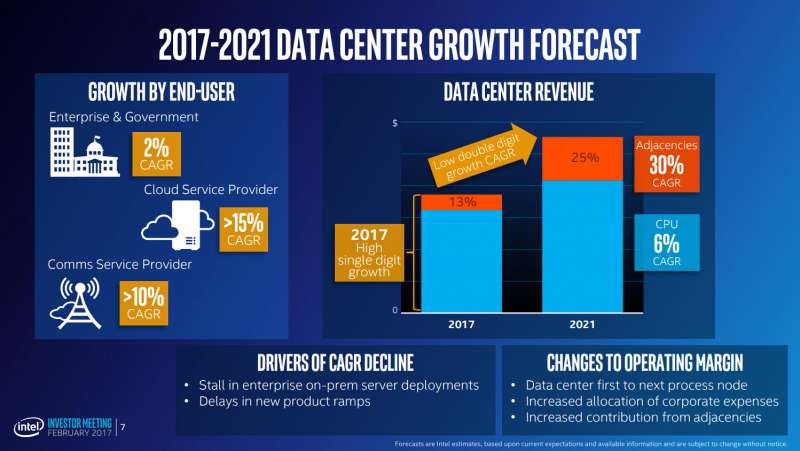 So where is 10nm Cannonlake actually going? Well, it looks like Intel will put Cannonlake on high margin Xeon processors first before consumer parts. Diane Bryant, Intel's Executive VP and General Manager of Intel's Data Center division, displayed a slide with the statement "Data center first for next process node".
https://twitter.com/TMFChipFool/status/829837989240909824
So what might Intel's 8th Generation Core Processor lineup look like? Well, it seems like Intel will manufacture its low power chips at the 10nm node and its server chips on 10nm node, but its mainstream desktop and enthusiast chips may stay at 14nm for one more generation.
Source: Intel