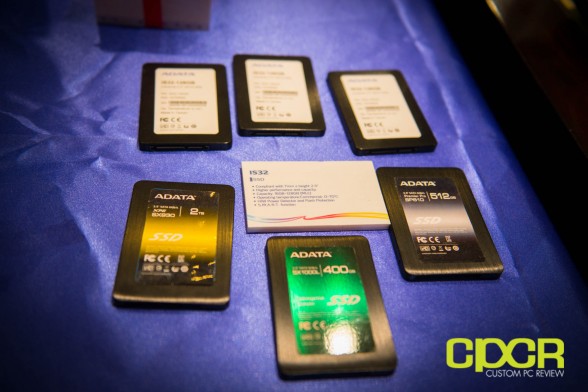 ADATA always brings a ton of cool technology to CES and CES 2014 is no different. Along with their full line of SSDs, ADATA showed off some new SandForce SF3700 powered SSDs such as the 2TB XPG SX930 pictured above. While the XPG SX930 will be using SATA 6Gb/s interface, ADATA tells us that similar SandForce SF3700 powered 2TB SSDs will be available with faster interfaces as SATA-Express, SFF-8639, and M.2 become more readily available.
To show off the true potential of PCIe storage, ADATA hooked up one of their latest SandForce SF3700 powered SSDs and benchmarked it at a phenomenal 1,800+ MB/s. ADATA tells us that performance on the upcoming SF3700 powered M.2 formfactor SSDs can also reach this level of performance although ADATA only had SATA based M.2 formfactor SSDs on display.
No word on pricing as of now, but we're hearing from various sources that SandForce is targeting a June launch for SF3700 powered SSDs pending finalization of the SF3700's firmware. This makes sense as Computex is the last major computer hardware show prior to the holiday season.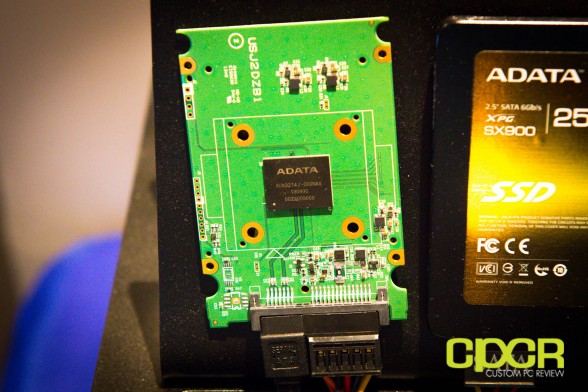 Among other vendors showing off uSSDs, ADATA is also showing off their own uSSD implementation as well. The idea of a uSSD is to implement an entire SSD (controller + NAND) into a single IC the size of a typical NAND package. This will allow uSSDs to be implemented into smartphones, tablets, and other portable devices further reducing size, weight, and power consumption.
While this isn't all that exciting in the desktop PC space, it should be huge in the system integrator and mobile markets as more and more mobile devices demand faster storage that can only be provided via a SSD solution. ADATA's uSSD will come in capacities of 8GB up to 128GB and carry performance up to 400 MB/s read/180 MB/s write.
http://www.youtube.com/watch?v=FWyfZthbRHs