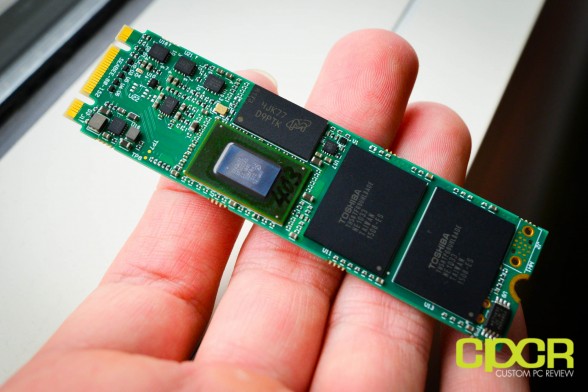 If you've been following the SandForce story over the past couple years, you'll know that it's been quite a ride for SandForce and their upcoming SF3700 SSD controller. Shortly after announcing the LSI SandForce SF3700 back in late 2013, LSI, the then owner of SandForce controller technology, was acquired by Avago who then turned around and sold LSI's Flash Components Division to Seagate within the same year. As such, the SandForce SF3700 controller faced multiple delays which may or may not have been expected given SandForce's original expectation of SF3700's arrival by the end of last year.
Obviously an end of 2014 launch of the SF3700 didn't happen and after meeting with Kent Smith, Sr. Director of Product Marketing for SandForce Controllers now at Seagate, it's again not expected to happen until at least the FMS timeframe (~August). It's really a huge bummer, but that being said, it wasn't all a disappointment as we were greeted with a little surprise this time around.
Rather than a release of the long awaited SandForce SF3700, we were greeted with the launch of a brand new SSD controller, the Seagate SandForce SF3500 series.
Seagate SandForce SF3500 Series Flash Controller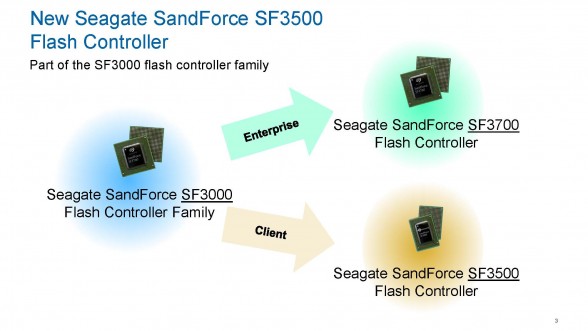 The Seagate SandForce SF3500 series controller will be SandForce's newest controller designed specifically for the client SSD market. Unlike the SandForce SF3700 series which is designed with maximum features and maximum performance in mind, the SandForce SF3500 series focuses on cost, power consumption, then features and performance.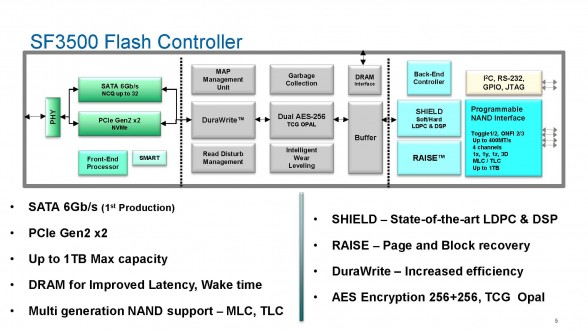 In terms of controller design, the SandForce SF3500 carries over a lot of the new features and benefits that were developed for the SandForce SF3700. If you take a look at the block diagram between the SF3700 and the SF3500, most of the core features of both controllers are very similar. This includes the modular design, SHIELD, RAISE, DuraWrite, etc. Those interested in learning more about the SandForce SF3700 can take a look at my in-depth article explaining these features on the SF3700 controller.
There are however a couple of major differences with the SandForce SF3500 series controller.
The biggest difference is that the SandForce SF3500 will use a 4-channel controller design rather than the 9-channel design of the SF3700. This means it'll have significantly lower performance, significantly lower cost, and it'll also lose RAISE level 2 which guards against a full die failure.
The SandForce SF3500 series will also include a PCIe Gen 2 x2 interface rather than a PCIe Gen 3 x4. This is done from a cost and necessity standpoint. SandForce tells us that their partners just don't see a huge market for ultra high performance PCIe SSDs and that cost is currently one of the most important aspects to a client controller. Once a significant enough demand is there for PCIe Gen 3 x4 or whatever new interface is needed SandForce believes they can easily spin a controller with whatever interface is needed thanks to their modular controller design.
Finally, the SandForce SF3500 series will also have a DRAM interface which is a first for any SandForce SSD controller. SandForce tells us that this is required because the 4-channel controller will need a DRAM buffer to maintain its performance whereas current 8-channel SF2200 series and the 9-channel SF3700 series designs do not.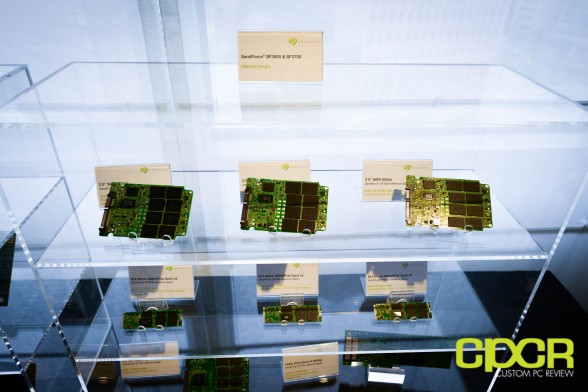 … and here's some reference boards carrying the SandForce SF3500 series controllers.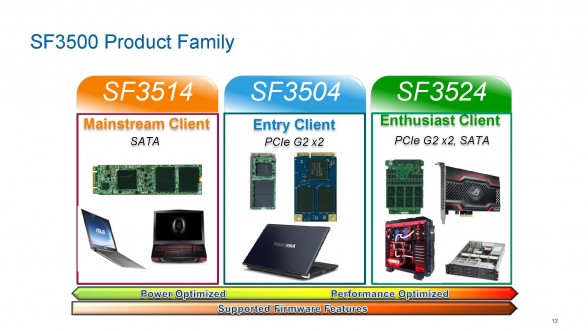 The SandForce SF3500 series will come in a variety of different flavors.
The first is the SandForce SF3514 which is the mainstream client model which will only include a SATA interface and is primarily designed for the mainstream market where low power consumption is the top priority.
A step above (strangely with a lower model number) is the SandForce SF3504 which is similar to the SF3514 in that it's designed for the mainstream market with low power consumption being a top priority, but this controller offers the faster PCIe Gen 2 x2 interface.
The last controller is the SandForce SF3524 which is the flagship SF3500 series controller designed for the enthusiast client market. It'll focus on performance and will be offered in both PCIe Gen 2 x2 and the SATA interface.
SandForce SF3500 Performance
In a demo of an early reference model of the SandForce SF3500 paired with the latest Toshiba 15nm Toggle Mode MLC, the drive was able to reach 515.31MB/s in what I'm told is a 80%/20% read/write workload. This is pretty good performance for a mixed workload, but no additional performance tests were displayed at this time and no additional performance figures were provided at this time either.
Final Thoughts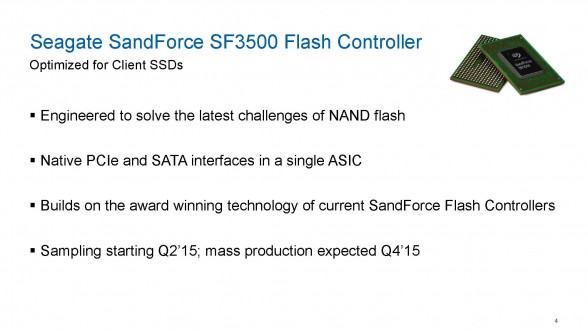 Overall the new SandForce SF3500 series controllers look great. When I originally wrote about the design of the SF3700 series, it was the fastest, most advanced SSD controller I've ever seen and while I can't say the same for the SF3500 series anymore, I'm confident that it's still going to be a market leader if it were to be released sometime this year. However, the real question is will it arrive on time.
According to SandForce, it will and we should be seeing SandForce SF3500 series products in the FMS timeframe. I hope it does because fool me once, shame on you. Fool me twice, well you get the drift.
**Update 06/10/2015**
Not to give any of you false home, but just wanted to point out since I may not have been entirely clear in the article that only SandForce SF3700 drives are expected to go into full production in the FMS timeframe (mid-August). SandForce SF3500 drives are actually expected to go into full production in Q4 with availability from SandForce partners coming sometime in December. SandForce partners are already being sampled with the SandForce SF3500, so what we should hopefully be seeing in the FMS timeframe is some near final SandForce SF3500 based prototypes ready to begin rolling off the production lines.