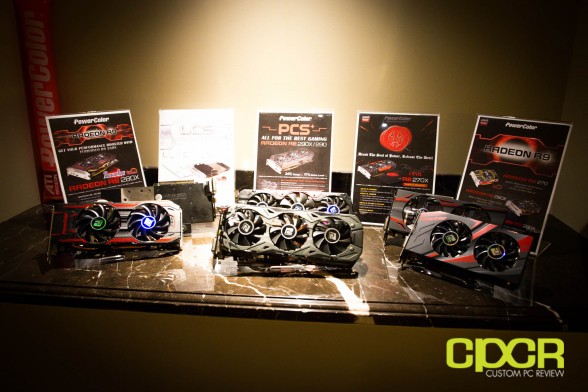 For AMD GPU partners, custom R9 290X and R9 290 designs were the main attraction for CES 2014 and it's not much different for PowerColor.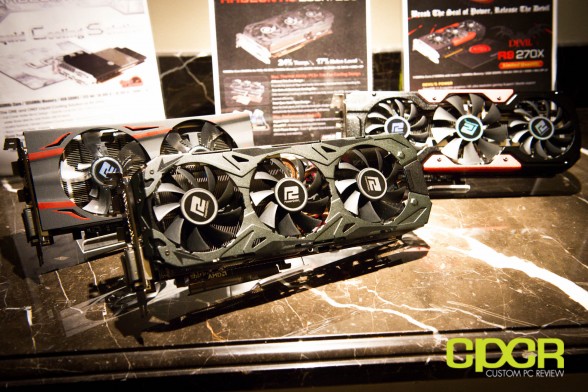 While PowerColor had a full array of graphics cards on show, the main attraction is the PowerColor R9 290X PCS+, which was prominently featured on display.
The R9 290X PCS+ is a custom PowerColor R9 290X design which uses an extremely beefy PCS+ cooler featuring a dual aluminum fin, five heatpipe, three 80mm fan design. Unfortunately, because of the cooler's size, the card will take up three slots; however, the improved cooler design will allow PowerColor to ship the R9 290X PCS+ overclocked to 1050MHz core/5,400MHz memory out of the box. PowerColor claims that their cooler design reduces temperatures and noise levels by 24% and 17% respectively against the stock AMD cooler.
PowerColor didn't allow us to remove the cooler for further inspection of the internals, but it's more than likely to carry some form of custom power delivery system considering it's going to be one of PowerColor's flagship custom cards.
The PowerColor R9 290X PCS+ is expected to retail at $670 and will be available sometime this month. 
PowerColor also showed off their custom R9 290X LCS which is their out of the box liquid cooled custom R9 290X. The R9 290X LCS will feature an EK full cover waterblock and the card will be overclocked an additional 10MHz core over the already overclocked R9 290X PCS+ taking it to 1060MHz core right out of the box.
The R9 290X LCS should already be available for purchase at your favorite retailers although it's probably in the hands of some crypto-currency miner by now.
http://www.youtube.com/watch?v=8bvU0UL-Y08