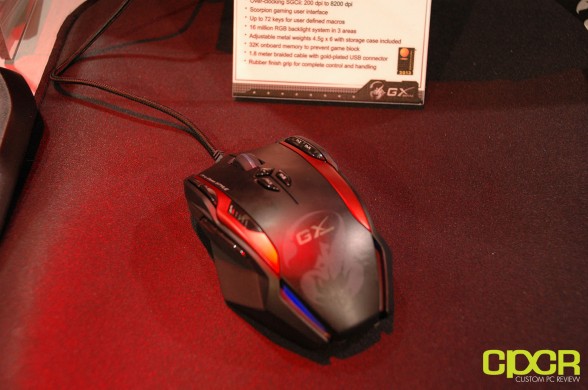 Genius entered into CES 2013 with its MMO and RTS gaming mouse called the Gila. At first appearance, the Gila seems to be designed purely for an aesthetic technocrat but upon hold, it fits naturally into your hand. Being an ambidextrous mouse, I'll admit I wasn't expecting the mouse to feel as good as it did but it was comfortable in both a claw and palm grip. I was able to try out some Battlefield 3 with this mouse and it was very easy to aim for headshots with it. The laser tracking was very precise, though the representatives at the time were unable to tell me exactly what kind of laser was built into the device. Given the DPI though, I'm thinking probably the Avago ADNS-9800.
Speaking of DPI, the Gila touts a DPI range of 200 to a whopping 8200 for both precision aiming and quick movements. The Gila also supports an instant DPI shifting feature (as seen in mice like the R.A.T. series and the Corsair Vengeance M60) that allows users to instantly lower DPI while the button is depressed and resume normal DPI upon its release. All of the buttons, however, are completely customizable and even the lighting on the mouse itself can be adjusted via the full RGB spectrum (16 million colors). The button layout will definitely take some getting used to but as the buttons are spaced around the mouse rather than compacted all in one area, it makes repetitive strain less likely of a possibility.
As stated earlier, the Gila is designed with MMO and RTS gamers in mind and, as such, there are a variety of buttons–12 to be exact–and up to 72 macros features available to the device. Each macro or function bound to each button is bound directly into the mouse itself. This means for games which may try to prohibit macro usage for whatever reason, the Gila will be able to override because it is a feature of the hardware rather than the software. While some might consider this an unfair advantage or cheating, but it can easily been seen as a better tool for the job.
Physically, the mouse itself isn't the lightest, so those preferring lighter mice might want to think twice before making the purchase, but if you find that the mouse still isn't heavy enough for you, Gila has an adjustable weight system that allows for up to 27g of additional weight spread over six 4.5g weight increments that can be inserted in to the mouse.
The Gila is a winner of CES 2013's Innovation Award and one can surely see why. The design is a unique rendition of a familiar ambidextrous feel and offers a wide variety of button customization. It'll be interesting to see what other products Genius decides to issue into the market but one thing is for sure, I can't wait to see what else they have in store.
For more information about the Genius Gila, please check out the product page here.