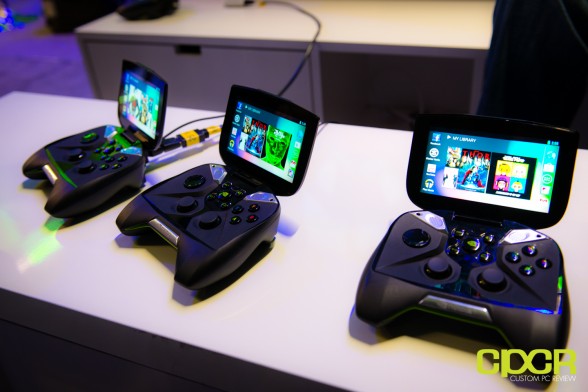 Among the most popular introductions at this year's CES was the Nvidia Project Shield, which is Nvidia's newest Tegra 4 powered gaming console. This introduction is exciting in a number of ways. The first is that Nvidia is entering the gaming console market. Nvidia has been traditionally known for producing top tier graphics cards and mobile processors, so the move into mobile gaming seems like a logical step for the company. The second exciting thing about Project Shield is that it includes Nvidia's newest Tegra 4 ARM processor.
Let's talk a little about both of these exciting new introductions.
Tegra 4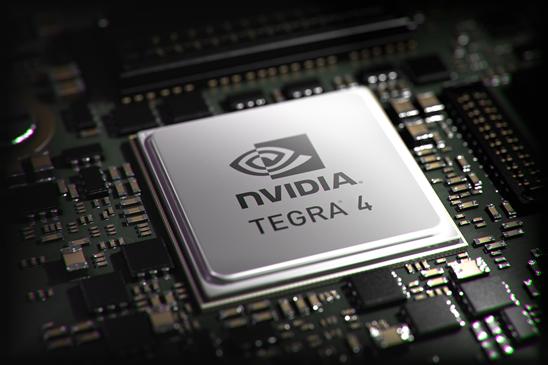 So before we dive into Project Shield, let's first talk about the exciting new hardware powering it. As mentioned earlier, Project Shield is powered by Nvidia's new Tegra 4, which was launched alongside Project Shield at CES this year. The monster mobile processor contains whopping five core ARM Cortex A15's with four "performance cores" running at a blazing 1.9GHz while the fifth, "battery-saver" core runs at a lower clock speed for maximum power savings.
"Tegra 4 harnesses ARM's most advanced CPU cores ever, plus a second-generation battery saver core, to deliver record levels of performance and battery life. This Variable SMP architecture invented by NVIDIA, enables four performance cores to be used for max burst, when needed, with each core independently and automatically enabled and disabled based on workload. The single battery-saver core handles low-power tasks like active standby, music, and video playback, and is fully transparent to the OS and applications." – Nvidia
Additionally, the Tegra 4 will also come with 72 custom GeForce GPU cores, which should give it a significant boost in graphics performance compared to the Tegra 3. The Tegra 4 also includes improved photography capability as well as Nvidia's very own Icera i500 LTE capability, but let's talk about Project Shield instead for now.
Be sure to check out the Tegra 4 product page for more details.
Project SHIELD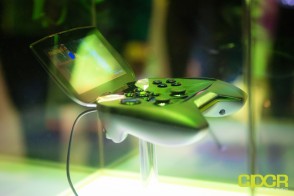 For most CES attendees, Project SHIELD was locked away behind a glass cage, but luckily I was able to get some intimate behind the closed doors hands on time with the unit itself. Nvidia had a couple demo units for Michael and I to play with – two set up to run games via the Android interface and one for streaming games from a demo PC.
A large part of the bulky console consisted of the (very) full sized controller, which I'm assuming includes all the Tegra 4 goodness inside. The shape of the controller was very similar to that of the XBOX 360 controller, except the joysticks and buttons were covered by the flip-up 5″, multitouch, 720p display. It weighed about 1 LB or so and was definitely much more comfortable to hold than it looked behind glass walls.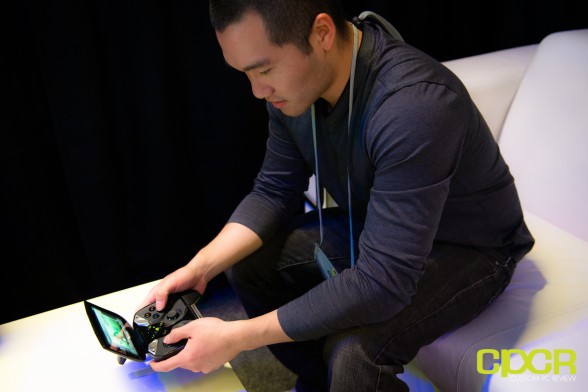 The first unit I picked up was running through a modified Android Jelly Bean interface. Most of my hands on time with the Project Shield in Android mode was spent playing HAWKEN, which isn't launched on Android just yet, but just so happens to be running just fine on Project SHIELD – as it should, considering Nvidia's own Project SHIELD promotional video just so happens to include footage from HAWKEN. The experience with HAWKEN running on the Project SHIELD was quite fluid and smooth. Graphics looked very good as well, probably due to the Tegra 4's enhanced graphics/processing capabilities, but I can't say for sure since I've never seen what HAWKEN looks like when running on a Tegra 3 device. Alongside HAWKEN, I also played a couple rounds of Real Boxing in Android mode and once again, graphics performance was superb. The game's graphics reminded me of Fight Night Round 4 from a couple years back, so graphics performance on the Project SHIELD is definitely within striking distance of current generation console graphics.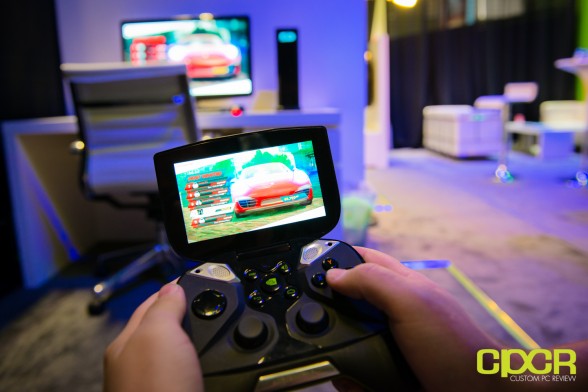 Next up, I picked up the unit that was streaming Need for Speed: Most Wanted straight from a PC that was about 10 feet away. To be honest this is probably the most exciting feature about the Project SHIELD, reason being that Tegra 4 based tablets, phones, etc. coming in the near future will probably run the Android games just as smooth as Project SHIELD would. That said, the way PC streaming works is if you own a Nvidia GeForce GTX 650 graphics card or better, you can stream any PC games straight onto Project SHIELD. I'm not sure if every game out there is supported, but we do know Need for Speed: Most Wanted is. With the GeForce GTX 650 or better graphics card, your PC will do the heavy lifting of running the game and the Nvidia GeForce graphics card will encode the output into a video stream in real time and Project SHIELD would receive what's now essentially a video stream. It's pretty much how cloud gaming services such as OnLive or GeForce GRID works, except your PC is now the cloud. Pretty sweet, right?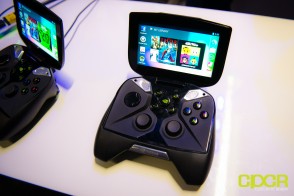 Testing Need for Speed: Most Wanted, the most critical thing I wanted to test for was latency. After all, sending a video stream through WiFi then sending control inputs back through WiFi is probably going to take a bit longer than sending a video stream through a DVI cable and sending control inputs back through a USB cable. That said, I wasn't able to detect any lag at all during my time playing on the Project SHIELD, which to me is definitely a good sign. However like I said, I was only about 10 feet away from the PC and I'm assuming the router probably wasn't all that far away either. I'd definitely like to see more testing when wireless signals aren't all that strong since wireless signals in the real world run into interference issues and don't forget the issue of people simply having houses that are too big for a single access point. Gotta love them first world issues, right?
The buttons and joysticks on the Project Shield were responsive and the rounded contours of the controller was comfortable. Nvidia has also included a couple bumper buttons on the device as well, so you're pretty much getting a full on controller. Unfortunately as the Project SHIELD demo devices were still very much pre-production units, I wasn't allowed to take pictures of the bottom or rear or the unit with all the I/O ports. The two speakers though were fairly decent for a portable gaming console, definitely better than what you'd find on any tablet these days, and for better audio performance, there's also a 3.5mm headphone jack onboard as well. While there was an absence of grip coating, the Project SHIELD definitely stayed firmly in my hands. Of course, it would be nice if Nvidia added some sort of rubber grip coating to the final product. Dropping the Project SHIELD would probably suck a lot more than dropping a controller. Just saying… Oh and I forgot to mention the SHIELD also has a mini-HDMI port as well, which allows Project SHIELD to be connected to your television while streaming so you can play your favorite games on a larger, more luxurious screen.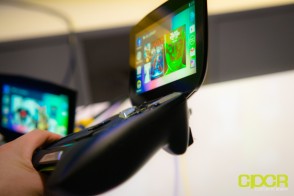 Nvidia reps told me that they're hoping for Project SHIELD to see a launch prior to E3 this year, so probably around Q2 to Q3. Price is still to be determined and it seems like Nvidia is extremely receptive to pricing right now, so be sure to drop a comment in comments section below with what you think the cost of Project SHIELD should be and what the cost actually will be. Obviously do take into consideration how much Android devices with similar specs to Project SHIELD cost and remember that Nvidia won't be making royalties from games off Project SHIELD, so they won't be able to sell the device below cost like Microsoft, Sony and Nintendo does with their gaming consoles. Unfortunately, Nvidia doesn't have any plans to release a LTE version of the Project SHIELD either, but they are receptive to demand here as well, so again, be sure to drop a comment below if you'd like to see LTE as well.
Final Thoughts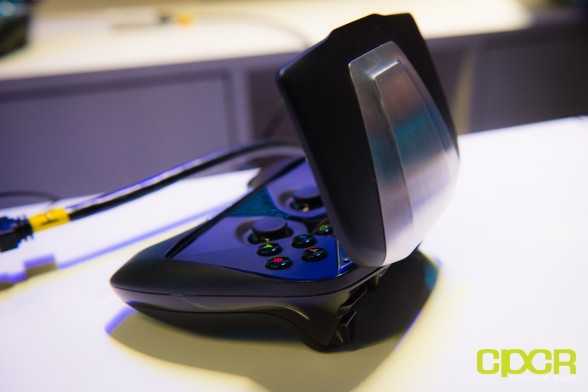 Overall, I think Nvidia's Project SHIELD is a cool little device, but personally I'm a lot more interested in the technology behind Project SHIELD than the actual device itself.
Let me explain…
With Project SHIELD, I think Nvidia has essentially showcased technology that would allow each and every Nvidia powered gaming PC connected to the internet to serve as a personal gaming cloud service. With many areas of the world already wired for ultra fast, low latency internet, this means one day we will no longer need to pull out 15LB beast notebooks in order to play our games. In the future, gaming on the go may simply be an internet connection to our home PC (possibly even through a 4G LTE connection) which would run every game in our game library. Of course, it would also depend on Nvidia continuing development of this technology and eventually releasing it somehow.
Hopefully with this, I'll be able to see the day when Battlefield 4 is capable of being played off a 10.1″ 1080p Tegra powered tablet. Would be nice…
For more information about the Nvidia Project SHIELD, be sure to check out the product page here.