Warning
: Undefined array key "width" in
/var/www/vhosts/custompcreview.com/public_html/wp-includes/media.php
on line
1381
Warning
: Undefined array key "width" in
/var/www/vhosts/custompcreview.com/public_html/wp-includes/media.php
on line
1386
Warning
: Undefined array key "height" in
/var/www/vhosts/custompcreview.com/public_html/wp-includes/media.php
on line
1386
Warning
: Undefined array key "width" in
/var/www/vhosts/custompcreview.com/public_html/wp-includes/media.php
on line
1381
Warning
: Undefined array key "width" in
/var/www/vhosts/custompcreview.com/public_html/wp-includes/media.php
on line
1386
Warning
: Undefined array key "height" in
/var/www/vhosts/custompcreview.com/public_html/wp-includes/media.php
on line
1386
Warning
: Undefined array key "width" in
/var/www/vhosts/custompcreview.com/public_html/wp-includes/media.php
on line
1381
Warning
: Undefined array key "width" in
/var/www/vhosts/custompcreview.com/public_html/wp-includes/media.php
on line
1386
Warning
: Undefined array key "height" in
/var/www/vhosts/custompcreview.com/public_html/wp-includes/media.php
on line
1386
Warning
: Undefined array key "width" in
/var/www/vhosts/custompcreview.com/public_html/wp-includes/media.php
on line
1381
Warning
: Undefined array key "width" in
/var/www/vhosts/custompcreview.com/public_html/wp-includes/media.php
on line
1386
Warning
: Undefined array key "height" in
/var/www/vhosts/custompcreview.com/public_html/wp-includes/media.php
on line
1386
Warning
: Undefined array key "width" in
/var/www/vhosts/custompcreview.com/public_html/wp-includes/media.php
on line
1381
Warning
: Undefined array key "width" in
/var/www/vhosts/custompcreview.com/public_html/wp-includes/media.php
on line
1386
Warning
: Undefined array key "height" in
/var/www/vhosts/custompcreview.com/public_html/wp-includes/media.php
on line
1386
Warning
: Undefined array key "width" in
/var/www/vhosts/custompcreview.com/public_html/wp-includes/media.php
on line
1381
Warning
: Undefined array key "width" in
/var/www/vhosts/custompcreview.com/public_html/wp-includes/media.php
on line
1386
Warning
: Undefined array key "height" in
/var/www/vhosts/custompcreview.com/public_html/wp-includes/media.php
on line
1386
Warning
: Undefined array key "width" in
/var/www/vhosts/custompcreview.com/public_html/wp-includes/media.php
on line
1381
Warning
: Undefined array key "width" in
/var/www/vhosts/custompcreview.com/public_html/wp-includes/media.php
on line
1386
Warning
: Undefined array key "height" in
/var/www/vhosts/custompcreview.com/public_html/wp-includes/media.php
on line
1386
Warning
: Undefined array key "width" in
/var/www/vhosts/custompcreview.com/public_html/wp-includes/media.php
on line
1381
Warning
: Undefined array key "width" in
/var/www/vhosts/custompcreview.com/public_html/wp-includes/media.php
on line
1386
Warning
: Undefined array key "height" in
/var/www/vhosts/custompcreview.com/public_html/wp-includes/media.php
on line
1386
Warning
: Undefined array key "width" in
/var/www/vhosts/custompcreview.com/public_html/wp-includes/media.php
on line
1381
Warning
: Undefined array key "width" in
/var/www/vhosts/custompcreview.com/public_html/wp-includes/media.php
on line
1386
Warning
: Undefined array key "height" in
/var/www/vhosts/custompcreview.com/public_html/wp-includes/media.php
on line
1386
Warning
: Undefined array key "width" in
/var/www/vhosts/custompcreview.com/public_html/wp-includes/media.php
on line
1381
Warning
: Undefined array key "width" in
/var/www/vhosts/custompcreview.com/public_html/wp-includes/media.php
on line
1386
Warning
: Undefined array key "height" in
/var/www/vhosts/custompcreview.com/public_html/wp-includes/media.php
on line
1386
Warning
: Undefined array key "width" in
/var/www/vhosts/custompcreview.com/public_html/wp-includes/media.php
on line
1381
Warning
: Undefined array key "width" in
/var/www/vhosts/custompcreview.com/public_html/wp-includes/media.php
on line
1386
Warning
: Undefined array key "height" in
/var/www/vhosts/custompcreview.com/public_html/wp-includes/media.php
on line
1386
Warning
: Undefined array key "width" in
/var/www/vhosts/custompcreview.com/public_html/wp-includes/media.php
on line
1381
Warning
: Undefined array key "width" in
/var/www/vhosts/custompcreview.com/public_html/wp-includes/media.php
on line
1386
Warning
: Undefined array key "height" in
/var/www/vhosts/custompcreview.com/public_html/wp-includes/media.php
on line
1386
Warning
: Undefined array key "width" in
/var/www/vhosts/custompcreview.com/public_html/wp-includes/media.php
on line
1381
Warning
: Undefined array key "width" in
/var/www/vhosts/custompcreview.com/public_html/wp-includes/media.php
on line
1386
Warning
: Undefined array key "height" in
/var/www/vhosts/custompcreview.com/public_html/wp-includes/media.php
on line
1386
Warning
: Undefined array key "width" in
/var/www/vhosts/custompcreview.com/public_html/wp-includes/media.php
on line
1381
Warning
: Undefined array key "width" in
/var/www/vhosts/custompcreview.com/public_html/wp-includes/media.php
on line
1386
Warning
: Undefined array key "height" in
/var/www/vhosts/custompcreview.com/public_html/wp-includes/media.php
on line
1386
Corsair Graphite 600T White Edition Mid Tower
         A case can be very telling of the components inside, so why not give a case that has "awesome" written all over it? Improved upon the popular and successful Corsair Graphite 600T, the special White Edition features a new removable acrylic side window as well as a beautiful, high-quality paint job. With a roomy interior and 8 expansion slots, this case can take ATX form factor motherboards and the largest graphics cards. Cable management is a breeze with plenty of openings leading to the back of the case. And with two 200mm fans (and room for more), the case will keep the interior cool. More info here.
The Corsair Graphite 600T White Edition Mid Tower is currently available on Amazon.
MSI GTX 580 Lightning Xtreme Edition
For the gamers on your list who accept nothing less than the absolute best, try putting the MSI GTX 580 Lightning Xtreme Edition under their Christmas tree. No, MSI didn't go overboard when they put both "Lightning" and "Xtreme" in to the name of one graphics card—- this card is blazing fast. With an 832MHz overclock on Nvidia's flagship GPU and 3GB of GDDR5 memory, it rips through even the most demanding games. Cooling on the card is no slouch either: the extremely efficient Twin Frozr 3 Heatsink will keep the GPU ice cold under heavy load, and the sexy design gives the interior of the case extra style points.
Besides being a speed demon, the GTX580 Lightning Extreme also has two very unique features that distinguishes itself amidst the sea of GTX580s: Temperature Sensitive Fans and Dust Removal Tech. The temperature sensitive fans will dynamically change its color from blue to white when the air flow is warmer than 45C, giving you a visual indication of the temperature within the case. The Dust Removal Tech (as MSI coins it), spins the fans in the reverse direction for 30 seconds, removing dirt stuck on to the heat sink.
The MSI GTX 580 Lightning Xtreme Edition is currently available on Amazon.
Samsung Galaxy Tab (10.1 in)
With only a 3MP rear camera (this, however, does not spell disastrous image quality), no built-in USB ports, and no SD card ports, you are probably scratching you head at the $500 price tag and wondering if we have gone insane for putting this on our list. True, the Samsung Galaxy Tab 10.1 doesn't have all the bells and whistles, but what you get is a tablet with an exciting, bright and vibrant TFT display and an Nvidia dual core Tegra 2 processor that ensures a zippy experience. Its chassis is both sleek and attractive. And with a depth of 8.6mm, it is just as thin as the Apple iPad 2. Full specification sheet here.
The Samsung Galaxy Tab (10.1 in) is currently available on Amazon.

Razer BlackWidow Mechanical Gaming Keyboard
Know someone who's hands are glued to the keyboard 24/7? Give their fingers a treat with the Razer BlackWidow. Equipped with clicky Cherry MX Blue switches that are adored by gamers as well as typists, the Razer BlackWidow is a huge step-up from the regular non-mechanical dome switch keyboards. And with a solid build quality, this plank will last for years to come. Full review here.
The Razer Blackwidow Mechanical Gaming Keyboard is currently available on Amazon.
ThinkGeek LED Binary Watch
For the true grandmaster computer genius of the century, there's the binary watch. If the person receiving this is as geeky as they look, they'll accept it without pressing their eyebrows together in confusion. More information here.
The ThinkGeek LED Binary Watch is currently available on Amazon.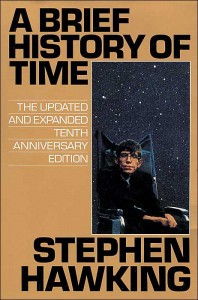 A Brief History of Time – Stephen Hawking
No life of a geek is complete without reading this fascinating title. Hell, even if you aren't a geek, you should pick a copy up anyway. This book is an introduction to the incredible world of cosmology through the eyes of one of the world's most brilliant minds. Avid reader or not, anyone who receives this book should have a thoroughly enjoyable experience.
A Brief History of Time is currently available on Amazon.