[section label=1. Introduction]
Razer BlackWidow, Revamped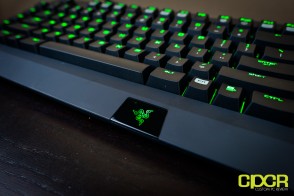 Contrary to popular belief, mechanical keyboards have been around for an extremely long time, and as much as you loved that IBM Model M you had back in the day (yes, that's mechanical!), they were more expensive to manufacture and thus more expensive to purchase in comparison to the "newer" (at the time) membrane keyboards on the market.
Since price is always an important factor when purchasing a new product, keyboard manufacturers, OEMs, and us (consumers) shifted towards membrane keyboards instead. Problem is, well membrane keyboards suck – they break often and the keys feel mushy. In applications such as gaming, where timing and keyboard reliability is critical, the demand for mechanical keyboards was obvious.
While I generally like to credit Das Keyboard for starting the big "resurgence" back to mechanical keyboards for general use, I also like to give credit to Razer and their BlackWidow line of keyboards for really driving awareness of mechanical keyboards in the gaming world. First unveiled all the way back in late 2010, the original Razer BlackWidow/BlackWidow Ultimate was probably the first mechanical keyboard oriented for gamers on the market and it quickly became one of the most popular as well.
Today we will be reviewing the Razer BlackWidow Ultimate 2013 Edition. This is Razer's first refresh of the BlackWidow Ultimate since its introduction in late 2010 and while most of the core features are identical (Cherry MX Blue keyswitches, dedicated macro keys, USB/audio passthroughs, game mode, etc.), there are a number of key improvements to the design.
The glossy finish is now a matte finish.
Razer is now offering 10KRO (key rollover) rather than 6KRO.
The BlackWidow 2013 is designed from the ground up to work with Razer's new cloud based Synapse 2.0 software.
Razer is now going with green rather than blue backlighting, which better fits Razer's company colors of green and black.
That said, it's no longer 2010 and a whole slew of manufacturers have entered the mechanical keyboard market with their own offerings. Does the Razer still have the edge? Hit the jump to find out!
Razer BlackWidow Ultimate Edition 2013 Specifications
Full mechanical keys with 50g actuation force
individually backlit keys
1000Hz Ultrapolling / 1ms response time
Programable keys with on-the-fly cacro recording
Gaming mode option for deactivation of the windows key
10 customizable software profiles with on-the-fly switching
5 additional macro keys
Gaming optimized key matrix for minimized ghosting
Multi-Media Controls
Braided fiber cable
Audio-Out / Mic-in Jacks
USB-Passthrough
Approximate Size: 475mm/18.70″(Width) x 171mm / 6.73:(height) x 30mm /1.18″ (Depth)
Approximate Weight 1500g / 3.31lbs
[section label=2. A Closer Look]
A Closer Look at the Razer BlackWidow Ultimate Edition 2013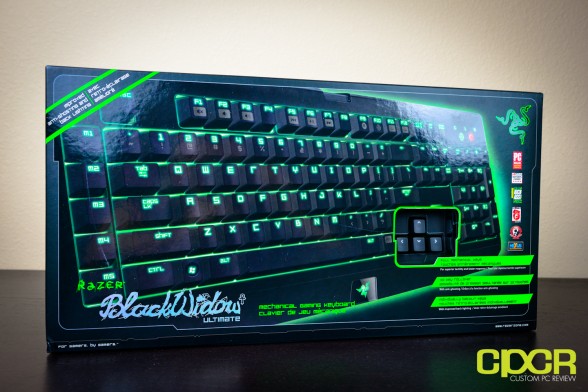 Here's a look at the packaging for the BlackWidow Ultimate 2013. The easiest way to tell between this new edition and the old one is the backlighting. The BlackWidow Ultimate 2013 has green backlighting while the older BlackWidow Ultimate had blue backlighting. This is reflected on the packaging.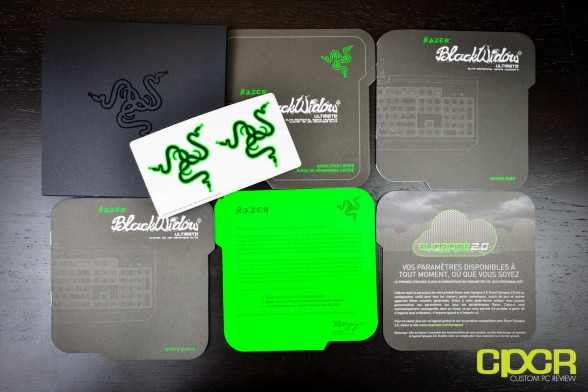 As usual, we get some Razer stickers as well as several booklets providing the necessary documentation for your BlackWidow Ultimate Edition 2013. Razer is now sticking with the Synapse 2.0 software for the majority of their products, so it can be downloaded via Razer's website.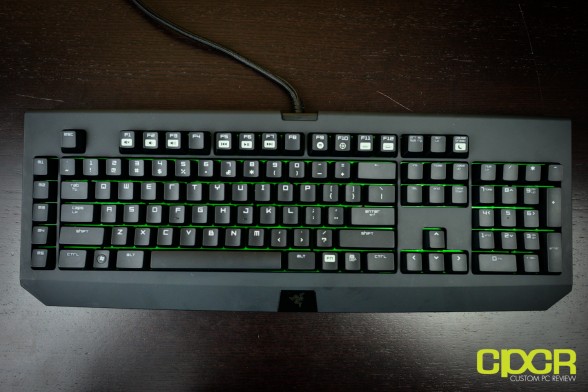 Here we get a full view of the keyboard. You will quickly notice that not much has changed in terms of the layout from the 2013 version compared to the previous BlackWidow keyboards. Why change a good thing, right? You are still getting the standard North American layout with its long shift/enter and back slash keys. The keyboard feels quite sturdy and the green logo and led keys will definitely be attractive for gamers.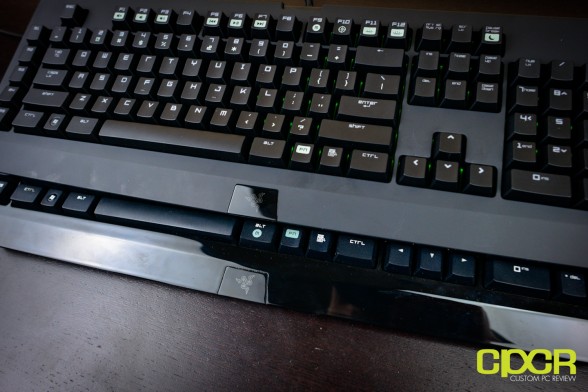 The most notable difference between the 2013 edition of the BlackWidow Ultimate and the older BlackWidow Ultimate is that the BlackWidow Ultimate 2013 has a nice matte finish rather than a glossy finish. Here we can see a comparison between the older BlackWidow standard against the new BlackWidow Ultimate. Personally, I find that the matte finish is a lot better as it's much more resistant to dust/fingerprints than the older glossy finish.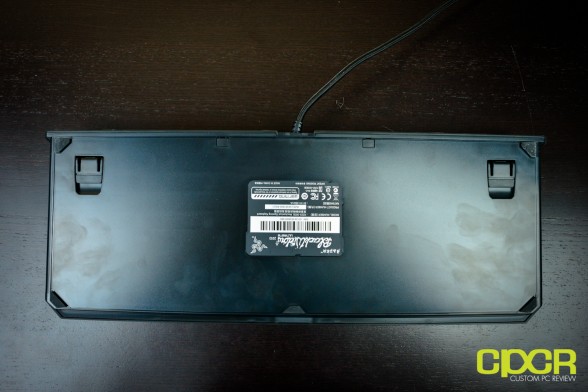 At the bottom of the BlackWidow Ultimate Edition 2013 you will notice five small rubber feet that provide slippage protection. I wish that Razer had kept the rubber feet from the BlackWidow Tournament Edition since those were slightly larger and provided better traction. Granted the smaller size/weight of the BlackWidow Tournament Edition might have factored into the decision to go with larger rubber feet, but nevertheless bigger rubber feet are always better.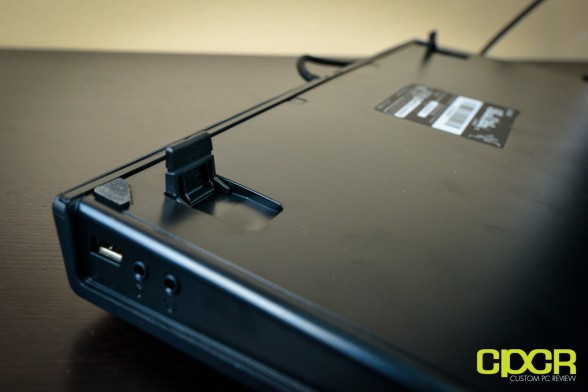 In addition to the rubber feet, the BlackWidow Ultimate Edition 2013 comes with two stands that allow you to raise the keyboard to your liking. These are also rubber coated as well to make it as non-slip as possible.
Taking a look at the cables that come attached to the keyboard we see two USB connectors (one for the keyboard and one for the USB pass through) as well as the audio and mic connectors. All cables are braided cable for greater durability and all connectors are gold plated in the usual Razer fashion as well.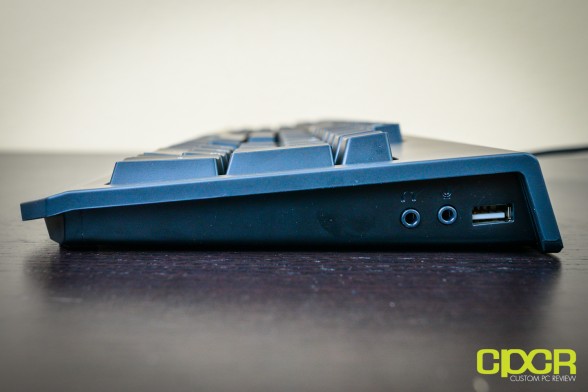 Along the right side of the keyboard you will get both the headphone/mic pass through along with a single USB pass through. Since there's only a single USB port, the port itself doesn't have any maximum power restrictions.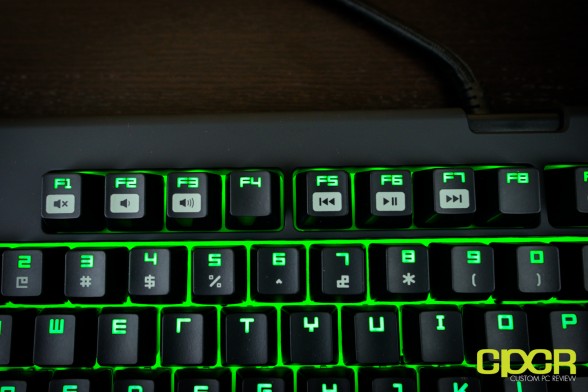 Along the top of the keyboard we get a number of dual function F-keys/media keys. Fn + F1-F3 are designated for the volume control while the Fn + F5-F7 keys allow you to skip tracks as well as play and pause your favorite songs and videos. While the F keys themselves are backlit, only the F key characters are cut, so the media key portion of the key doesn't actually light up.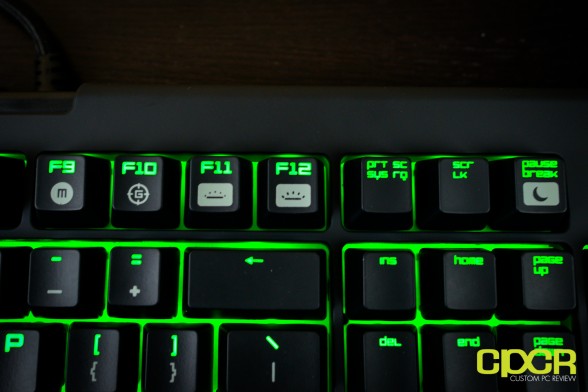 At the top right of the keyboard we find the another set of "special" keys. As mentioned earlier, only the F keys are cut so the special function portion of the key doesn't actually light up.
Pressing Fn+F9 will allow you to record macros on the fly (more on this later). Pressing the Fn+F10 will allow you to go into "gaming" mode. In this mode the keyboard will shift into 10KRO as well as disable the windows key so that you don't accidentally press it during intense gaming.
The F11 & F12 keys will adjust the lighting from the individualized LED keys as well as the glowing Razer logo located at the center of the keyboard. Pressing Fn+Pause Break quickly and conveniently put your computer to sleep.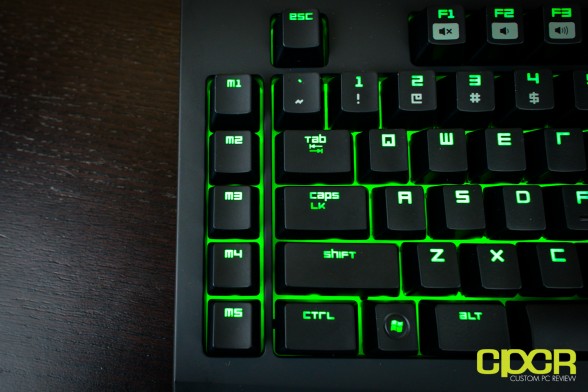 On the left side of the BlackWidow Ultimate 2013 we also get 5 dedicated, programmable macro keys. These macro keys will allow you to conveniently store presents and record commands both for games and regular use. This is actually a very unique feature as very few mechanical keyboard manufacturers include dedicated macro keys with their keyboards.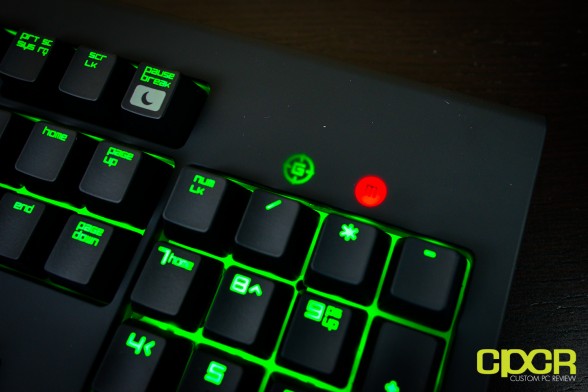 As mentioned previously, the five macro keys may be recorded on the fly. The entire process for this is quite easy. With the software installed (without the software, this doesn't work) simply hit FN + F9, record the macro, choose the macro key (M1-M5), and you're done. On the fly macro recording. Sweet. Above, you can see that we also get a macro indicator light next to the game mode indicator light letting you know macro recording is in process.
When in game mode, there's also the game mode indicator light as you can see above.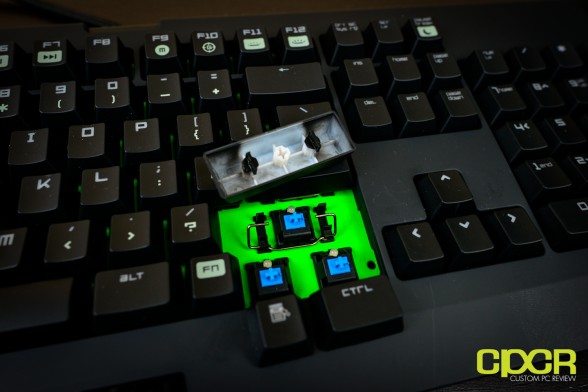 Removing a couple of keycaps, we get a closer look at the Cherry MX Blue keyswitches. These are the same switches used in the older Razer BlackWidow keyboards as well, but different from those used in any of the BlackWidow Stealth Edition keyboards (Cherry MX Brown). On top of each Cherry MX Blue keyswitch is an individual green LED as well, which will give the keyboard very even, very bright backlighting. This is important as some companies don't individually backlight their keyboards to save costs, but this results in backlighting that's uneven and poor in uniformity. Also notice how Razer made the entire keyboard's background all green. This is actually pretty cool as it helps enhance the green glow of the keyboard.
Another thing worth noting is that under the longer keys (shift, spacebar, enter, etc.) Razer is using Costar stabilizers, which is my most preferred type of stabilizer as it allows for a more uniform feel when pressing.
At the bottom right of the keyboard you also get the Fn button which allows you to take advantage of all the combo keys on the keyboard.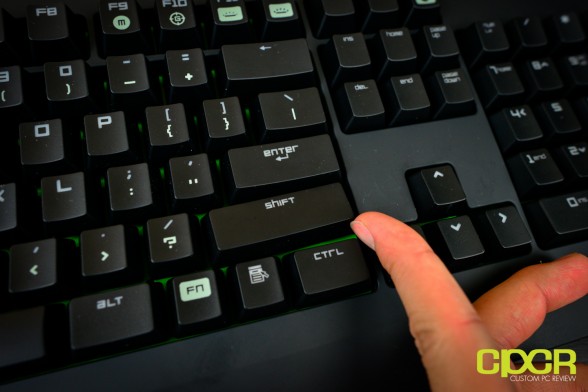 Similar to other BlackWidow keyboards, we do get a bit of key wobble, especially on the longer keys. Personally, I don't think this is a huge issue as I don't feel it hinders my ability to type fast or game well, but those who are anal about their keyboards may want to take note.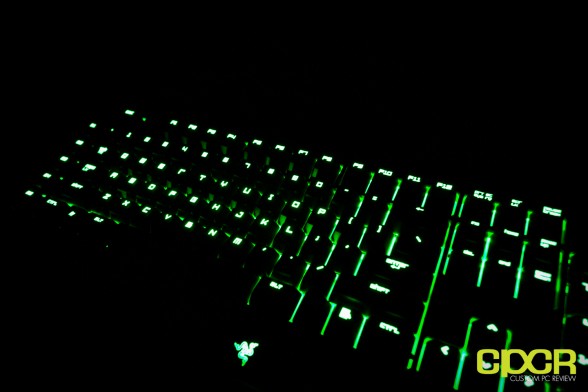 Plugging the keyboard in, we can see that the Razer BlackWidow Ultimate 2013 looks extremely nice with very bright, very even green backlighting.  Unfortunately, green is the only color option for the keyboard, so those who have a blue or red theme may want to opt for something else. That said, the green here matches the green on a number of other Razer peripherals, so if you've already got a Razer mouse or a Razer headset, it might just be time to make it a set.
[section label=3. Software]
Razer BlackWidow Ultimate 2013 Software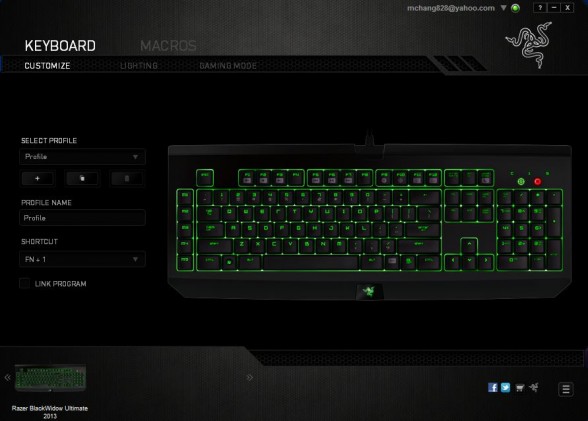 Like most other Razer peripherals, Razer has gone with the Synapse 2.0 software for the BlackWidow Ultimate 2013. For those of you who don't know Synapse 2.0, it's Razer's new universal could based gaming peripheral software which allows you to not only configure the keyboard, but also allows you to save all the settings to the cloud. This allows you to access your settings anytime anywhere as long as the Synapse 2.0 software is installed and there's an internet connection, of course. What is cool about Synapse 2.0 is that if you have multiple Razer devices you can save all their profiles and the software will automatically detect the devices plugged in.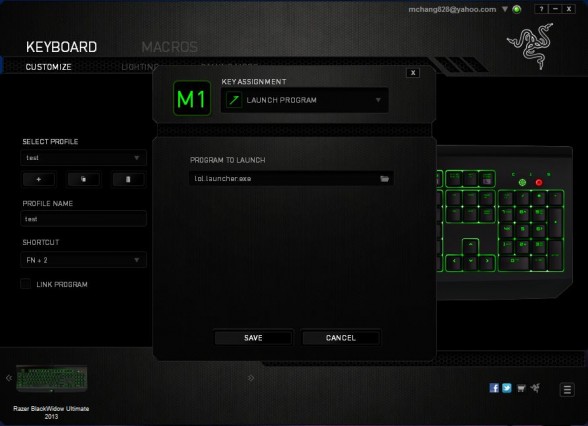 The Synapse 2.0 software is quite easy to use for configuring the keyboard. Simply select the key you want to edit, then choose from a drop down menu what actions the selected key should perform and then save it. Here you can see I have saved the M1 macro key to start up League of Legends when I press the selected key down. You can then save the profile with a unique name and whenever you plug in your device you will be able to enjoy your settings wherever there is an internet connection. Cool.
[section label=4. Performance]
Razer BlackWidow Ultimate 2013 Performance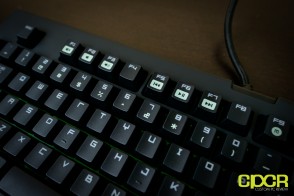 Like its predecessors, the Razer BlackWidow Ultimate 2013 performed flawlessly through a variety of tests. I first took the keyboard for a spin playing League of Legends and was definitely impressed with the keyboard's performance. Having Cherry MX Blue switches meant I would get both tactile and auditory (click) feedback, which gave me better confirmation of when my hero's powers were executed. This is especially helpful during hectic battles where a number of different keys need to be executed individually, so confirmation that a specific key was pressed or not is quite helpful.
In FPS testing, I didn't ghosting at all. In Left 4 Dead 2, no matter how madly I pressed the melee button every key was registered and I was able to hack a path through the onslaught of zombies without any issue. Crouching while moving while switching weapons in CS:GO worked very well too, which pretty much sums up what a keyboard needs to do.
Overall, all this was quite expected since at this point as I'm quite familiar with Cherry MX Blue switches, and for the most part Cherry MX Blue is Cherry MX Blue irregardless of the keyboard manufacturer. One thing that's important though is that Razer does have 10 key rollover (10KRO) on the BlackWidow Ultimate 2013. Typically the limitation for USB is 6KRO, but a number of manufacturers these days have found ways to circumvent this limitation to add 10KRO, 20KRO or even NKRO on their keyboards. In order to test the 10KRO, I played a number of round of fighting games such as Street Fighter IV, and I had no issues, even with two frustrated players on the keyboard button mashing away. Having the ability to feel buttons being actuated and hearing them as well helps a lot, especially when executing long combo sequences.
In terms of typing speed I usually do a couple of tests to see what kind of speed improvements I get comparing a regular membrane keyboard with the mechanical keyboard I am testing. To test this, I "scientifically" did a number of very simple typing tests on typrX first with the membrane keyboard of my laptop (worst case scenario), then with the Razer BlackWidow Ultimate 2013 to see what kind of typing speed improvements I would achieve.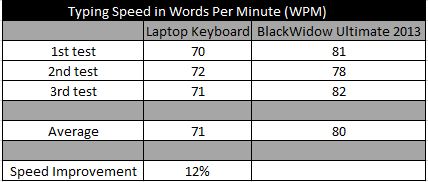 As you can see I had a speed improvement of about 12% which has been around the improvement range I have had with the different mechanical keyboards I have tested. In short, I truly believe that if you already know how to touch type that a mechanical keyboard such as the Razer BlackWidow Ultimate 2013 will allow you to not only type faster but also type more accurately in the future.
[section label=5. Conclusions]
Razer BlackWidow Ultimate 2013 Conclusions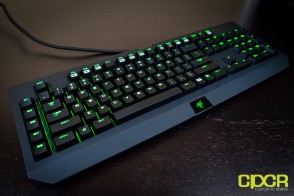 As we have come to expect of Razer BlackWidow keyboards, the Ultimate 2013 edition did not disappoint in terms of performance. In all my testing, I didn't find any ghosting during gameplay and every key registered accurately. 10KRO "gaming mode" worked quite well, which is an improvement over the standard 6KRO from the older BlackWidow keyboards. I was also glad to see that the Windows key gets disabled when "game mode" is enabled, which is quite useful for those who frequently hit the Windows key by accident, but still find the Windows key useful when not in game.
In terms of typing performance, I experienced around a 12% improvement in my typing speed changing from my laptop keyboard to the Cherry MX Blues on the BlackWidow Ultimate 2013. The funny thing is that when I first heard about mechanical keyboards, I thought that there was absolutely no way that a keyboard could possibly improve typing performance. Let's just say I was wrong…
In terms of design and aesthetics, I definitely love the beautiful green backlit keys Razer has gone with this time around. The matte finish is also a huge improvement for the keyboard as well. The matte finish is something that a number of people (myself included) wanted to see over the glossy finish on the older BlackWidow keyboards, and I'm extremely pleased that Razer is actively listening to their customers and making changes to their products based on consumer feedback. Other features such as five dedicated macro keys and USB/headphone/microphone pass throughs are helpful as well. While I touched upon the "game mode" earlier, it's also nice that Razer didn't remove the Windows key (which I use quite often) like some keyboard manufacturers and instead just gives you an option to disable it.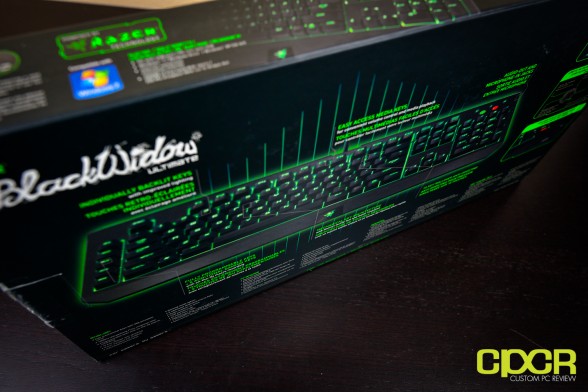 One thing I did wish that the BlackWidow Ultimate 2013 came with though was a palm rest. After having gotten used to typing on keyboards that include a palm rest like the Logitech's G710+, Max Keyboard's Durandal G1NL, Cooler Master's CM Storm Trigger and Azio's Levetron Mech 5, the palm rest was indeed missed. It's definitely nice that Razer designs the BlackWidow series keyboards naturally at an angle though. It's quite comfortable even without putting the stands up, which gives the keyboard much more stability while gaming.
In terms of durability, I think overall Razer does quite a good job. The braided cable is solid (as always) and the keyboard body is solid as well. The keys do feel a bit on the cheap side, and the key wobble definitely isn't a good thing, but overall the keyboard should be able to stand up to normal abuse, so I don't think this will be an issue. I've been using the old BlackWidow standard edition quite a bit in the office for well about a year now and I haven't been able to break a keycap… yet (knock on wood!)
Currently the Razer BlackWidow Ultimate 2013 is available on Amazon for $121.99 and at this price range, it's very competitive with other high end mechanical keyboards on the market. Competitors in this segment include the Logitech G710+ and the CM Storm Trigger, both of which are excellent alternatives. Those who don't need the backlighting or USB/headphone/microphone passthroughs can also opt for the Razer BlackWidow Standard 2013, which is priced a bit lower, currently at $96.37.
Bottom Line
For those of you looking on getting into the mechanical keyboard game, you should definitely give the Razer BlackWidow Ultimate 2013 a good, hard look. It works well, it looks great, and it's priced right. Highly recommended!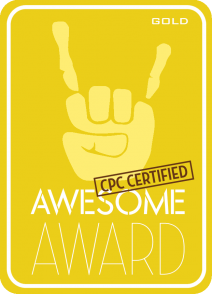 Sample provided by: Razer