Solid Memory at a Reasonable Price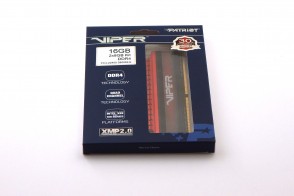 Several years ago, we reviewed the Patriot Viper 3 which was a great memory kit with aggressive styling, good performance, and a reasonable cost. Since then, we've seen the launch of DDR4 alongside several new platforms which support the new memory including Intel's Skylake and Broadwell-E platforms.
The switch to DDR4 brings on several new features, the most notable benefit is that DDR4 dies are expected to be significantly higher density than DDR3, allowing manufacturer to achieve higher capacities per DIMM. DDR4 also operates at higher frequencies yet requires lower operating voltages paving way for higher performance memory as well. For server and workstation applications, DDR4 also offers enhanced error correction capabilities.
Today we'll be taking a look at the Patriot Viper 4, which is Patriot's newest enthusiast DDR4 memory.
Patriot Viper 4 Specifications
| | |
| --- | --- |
| Manufacturer | Patriot |
| Model | Viper 4 |
| Capacity | 16GB (2x8GB) |
| Type | 288-Pin Non-ECC DDR4 |
| Frequency | 2800 MHz |
| Timings | 16-18-18-36 |
| Voltage | 1.2v |
| Warranty | Lifetime |
Patriot offers the Viper 4 in a variety of capacities, frequencies, timings, etc. but the kit we'll be reviewing today is the Patriot Viper 4 DDR4 clocked at 2,800MHz. On paper, this is a significant step up from the standard 2,133MHz DDR4 we typically see from memory makers. Our specific kit is the 16GB kit (2x8GB), which is generally the recommended amount of memory for most high-performance PCs today. Users with higher performance requirements will find that Patriot offers the Viper 4 in kits up to 32GB running at 3,000MHZ.
A Closer Look at the Patriot Viper 4 DDR4 2,800MHz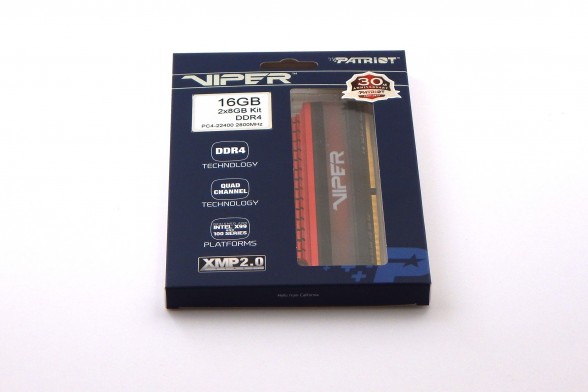 The dark blue and white retail box contains a single clamshell that protects the product from shipping damage. As with their older memory kits, Patriot Memory modules are 100% Hand Tested to ensure that they work out of the box. It also comes with a reassuring lifetime warranty.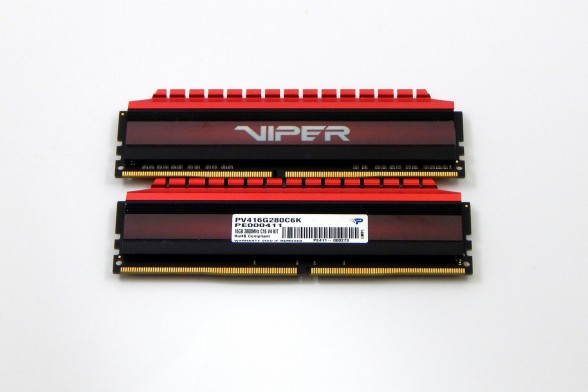 No instructions are prepared in the box, but installing memory literally hasn't changed for well over the past decade. The Viper 4 series uses a black and red aluminum heat spreader with raised fins at the top. Currently, there's no additional color options for the Viper 4. The entire RAM module sits at 43mm tall, and while this may not pose a problem to most tower heatsinks, users looking to use low-profile coolers may want to double-check the ruler.
I was also impressed that they've used an all black PCB, many times companies will try to cut corners and use green PCBs which are much less attractive in my opinion and look rather cheap.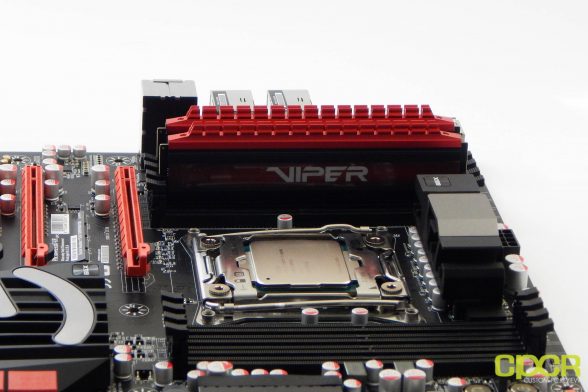 The Patriot Viper 4 is also a semi-low profile kit of RAM and had no trouble with clearance on both the Hyper 212 Evo or Phanteks PH-TC14PE. Of course, I would highly recommend checking compatibility with your specific cooler.
Haswell-E Testing Setup
Special Thanks to EVGA, Phanteks and XFX for Sponsoring our test bench.
Initial Boot and Overclocking
Upon first boot using the XMP settings, the motherboard set the memory to 2800MHz 16-18-18-36 as rated. Tweaking the memory's settings a little further, we were able to hit 3,000MHz with slightly relaxed 17-18-19-38 timings. Those who don't mind tinkering a bit more may be able to get slightly higher OCs although my goal was to reach a stable and easy to reach OC via onboard XMP profiles.
Due to the nature of high memory overclocks, I had to adjust the CPU frequency to reach my overclock. I was able to hit 2,800MHz with the CPU set to 4.07 GHz and 3,000MHz at 4.12 GHz. These were the closest CPU frequencies I could get at the speeds tested. Overclocking this kit to 3,000MHz stable was done with relative ease.
Patriot Viper 4 DDR4 2,800MHz Performance
SuperPi 32M
SuperPi is a single threaded benchmark utility that simply calculates pi for us and records the time to calculate 32 million digits after the decimal point. It's a fairly good CPU/memory stability testing tool as well.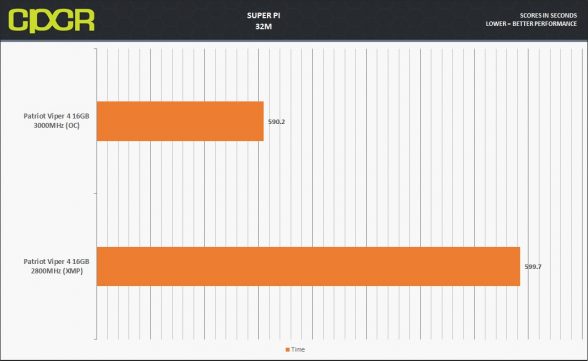 Performance Analysis
We see the Patriot Viper 4 at 3,000Mhz sitting slightly ahead of the XMP profile. We see only a 10 second gain in a near-10 minute benchmark. This performance delta is negligible in real-world performance.
AIDA 64
Our AIDA64 testing consists of three benchmarks: Queen, PhotoWorxx and AES. Queen involves measuring computer performance by calculating the Queens problem in chess, AES involves measuring computer performance through AES data encryption and Photoworxx measures computer performance through common tasks performed during photo processing.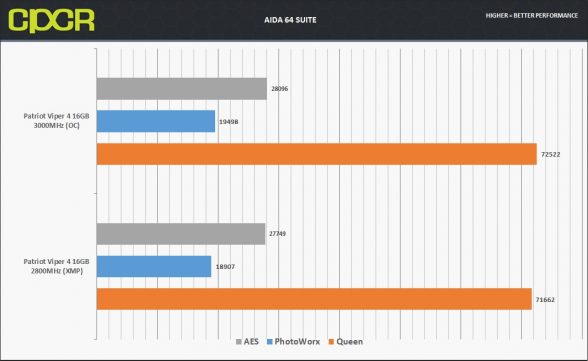 Performance Analysis
Again, more of the same. Our Patriot Viper 4 kit barely gains any performance from the OC likely due to the looser memory timings needed to get stable 3,000MHz
H.265 4k Handbrake Benchmark
For those on the cutting edge of Video encoding H.265 allows even greater file compression at no quality loss, although incredibly system intensive it is the future of video compression and we test it here using Handbrake.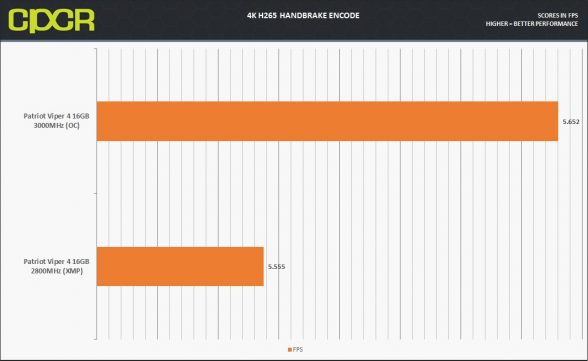 Performance Analysis
We see a roughly 10% performance gain here which is to be expected between the  2% overclock and almost 8% memory OC.
Gaming Benchmarks
Crysis 3
Crytek's third installment of the legendary series Crysis, like its predecessors, still serves as one of the best looking and most graphically intensive games to date. Offering photo-realistic textures, advanced lighting, and massive environments which mix together lush organic plant life and foliage with large, damaged and/or demolished buildings.
We test the game in a 60 second run during the first indoor area, which features a few firefights, explosions, and some stealth play. It is not the most graphically intensive portion of the game, but it is one of the most easily repeatable for our purposes.
Settings
Results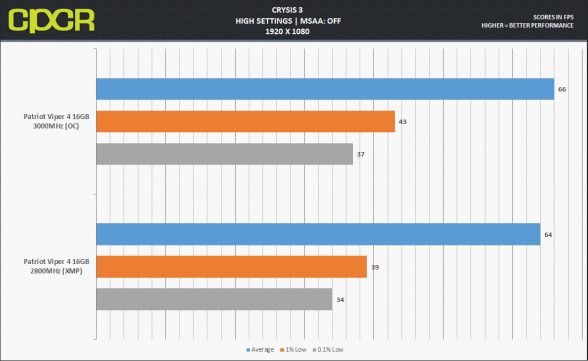 Performance Analysis
There's a slight but noticeable uptick in FPS on our overclocked kit. Minimum 1% and .01% are bumped up by around 9%.
The Witcher 3: Wild Hunt
CD Projekt RED's The Witcher series has long been accredited with being some of the most beautiful, and graphically demanding PC titles and its latest installment, The Witcher 3: Wild Hunt, is no exception. With beautiful, large open-world environments, detailed charter designs, high-resolution textures, and advanced features such as God Rays, Volumetric Fog, and a slew post-processing effects, this is definitely one impressive looking game.
We test The Witcher 3 with a 60 second lap around the first village you come across in the campaign. This is one of the best places for testing as it exhibits some of the game's most graphically intense features such as God Rays, and Volumetric Fog while offering very little variance, which is difficult to find in most open-world games.
Settings
Results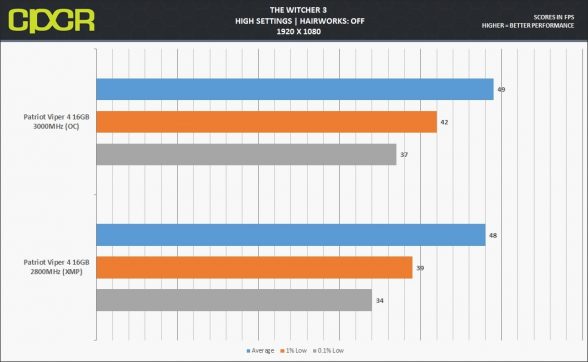 Performance Analysis
In Witcher 3, we see a gain of between 5-10% in the minimums and one frame higher on the average with the overclock.  Our Patriot Viper 4 does a solid job overall. It's not a huge gain but again nice to have for some tinkering.
Patriot Viper 4 DDR4 2,800MHz Conclusion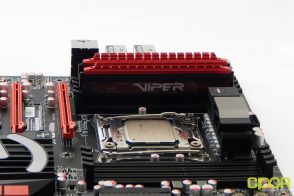 Ever since Intel switched over to their ever so efficient integrated memory controller, we haven't seen huge improvements due to faster memory. Sure we do see some minor improvements here and there, but in the real world, the performance improvement is fairly negligible.
That said, at the end of the day what is important is the compatibility of memory with different motherboards and cooler setups and I think the Patriot Viper 4 does a stellar job here. We had no issues throughout all of our testing. Aesthetics is also fantastic on this kit as well as I was pleased to see black PCB's and heat spreaders that are short enough for most CPU Coolers on the market. Furthermore, the fins up top may be removed to allow even more clearance should the need arise.
In terms of overclocking, I had some decent luck with the Patriot Viper 4 kit on my Haswell-E test bench getting the memory to 3,000MHz stable. That said, on the Gigabyte test board I'm working on I couldn't get higher overclocks to work without volting the kit to 1.25V. I'm sure with a bit more tinkering the setup shouldn't have an issue running 3,000MHz at 1.20V stable.
Currently, the Patriot Viper 4 2,800MHz 16GB Kit kit is available online for $74.99. While this is slightly more expensive than 2,133MHz kits, it's very much in line with other 2,666MHz and 2,800MHz kits out on the market. Additionally, with Patriot Memory you do get some value added features such as hand tested modules and a lifetime warranty.
With all that said and done the Patriot Viper 4 is a winner thanks to its solid value at just under $75. It has great performance, aggressive styling, and no compatibility issues to speak of. Recommended!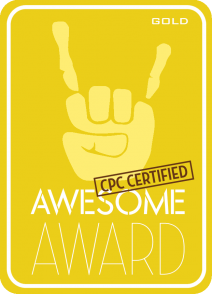 Sample provided by: Patriot Memory
Available at: Amazon