[section label="Introduction"]
The Devil is in the details…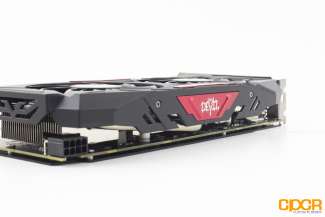 When AMD released the Radeon RX 470 in August of last year, high demand coupled with low supply meant that it almost didn't make much sense thanks to its inflated pricing at the time. However, in the months since, pricing has dropped quite a bit and with recent driver updates, the performance of the Radeon RX 470  has significantly improved in performance as well. Is the RX 470 worth considering for someone looking for a sub-$200 1080p gaming graphics card?
Today, we're going to see about answering that question as we look at the PowerColor Radeon RX 470 Red Devil 4GB, which is one of the more premium and fully-loaded RX 470 GPUs on the market today.
Radeon RX 470 Specifications
Manufacturer
AMD
Model
Radeon RX 480
Radeon RX 470
Radeon RX 460
Codename
Polaris 10
Polaris 10
Polaris 11
Architecture
GCN 4.0
Fabrication
14nm FinFET
Core  Clock (MHz)
1266/1120
1206/926 (1270MHz)
1200/1090
Compute Units
36
32
14
Stream Processors
2304
2048
896
Texture Units
144
128
56
ROPs
32
32
16
Framebuffer
4GB/8GB
4GB
2/4GB
Memory Type
GDDR5
Memory Interface
256-bit
256-bit
128-bit
Memory Clock
7/8 Gbps
6.6 Gbps (7.0 Gbps)
7.0 Gbps
TDP
150W
120W
<75W
Launch Price
$199/$239
$179
$99/$119
*PowerColor non-reference specifications highlighted in bold. 
Taking a look at the chart above, we can see that the AMD Radeon RX 470 Red Devil appears to exceed the reference specifications quite a bit, offering a roughly 6% increase in memory bandwidth as well as 5.3% increase in maximum GPU clock speed. These changes bring it closer to the reference AMD Radeon RX 480 4GB numbers, but of course it is still lacking in the number of compute units compared to its bigger brother.
[section label="A Closer Look"]
A Closer Look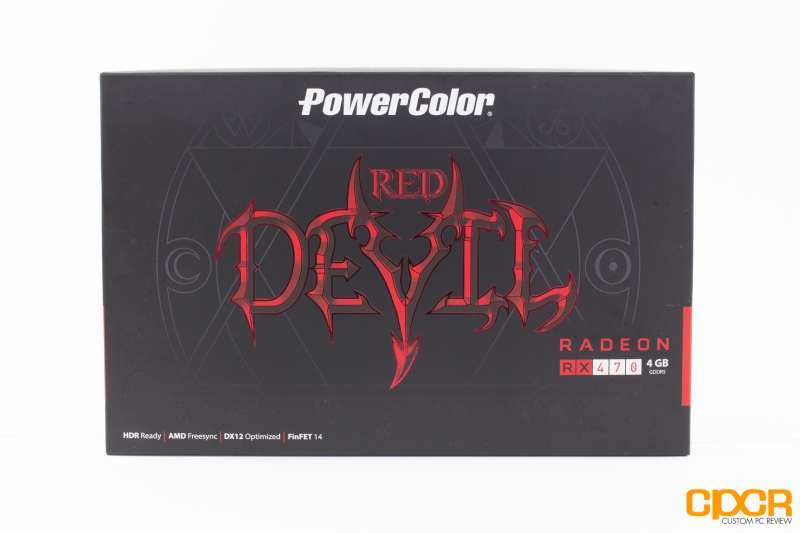 Starting with the packaging for PowerColor Radeon RX 470 Red Devil, we've got a black and red themed box with "Red Devil" logo slapped right on the front with a nefarious looking graphic behind it which is meant to look like something out of the occult.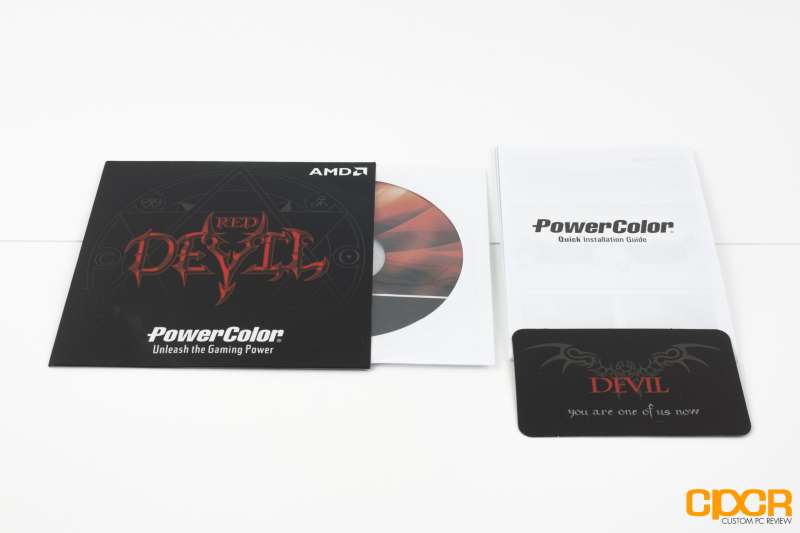 Included in the packaging, we get a user manual, quick installation guide, a driver installation disc (don't use this, download the latest drivers from the AMD website guys), and a membership card with a special code on the back which allows you to sign-up for PowerColors "Devil Club" a special insider program for PowerColor customers where you can enter competitions for prizes, leave feedback and even requests for features you'd like to see in future products. There's not a whole lot to do here, but it's a neat addition which we hope PowerColor continues to improve upon.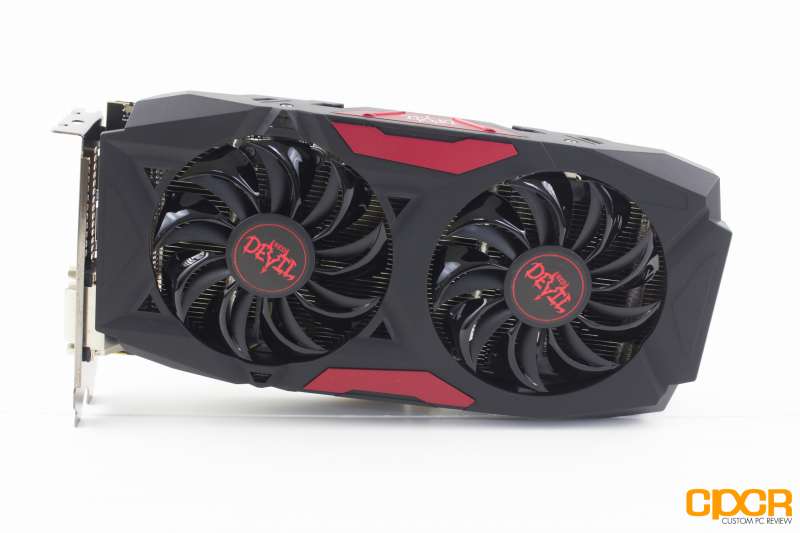 The PowerColor Radeon RX 470 Red Devil features a dual 90mm fan design which utilizes the company's "Double Blade III" fans, these fans feature a unique design where each blade is effectively two blades in one. This increase in fan blades is meant to increase airflow and reduce dust deposition. Each fan also features dual ball bearings, which is meant to increase the lifespan of the fan as well as the efficiency.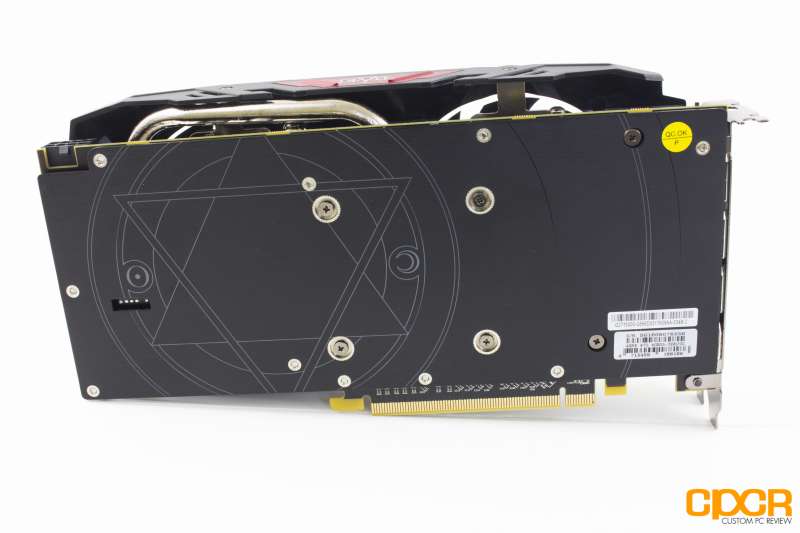 Around back, we have a really cool looking premium backplate which is mostly all-black but features an etched design of a six-sided star, which is a signature of the devil series. It is worth noting that despite the "Devil" branding, this star is not a pentagram and actually most resembles the Star of David. Funny.
The card measures just over 10″ long and features a fully black and red color scheme, with a shape of a six-sided star also on the fan shroud around one of the fans. The whole thing looks only slightly over-the-top, and is fairly in line with PowerColor's usual styling. One area they dropped the ball a bit is on the side where the "Red Devil" logo appears. While this logo actually looks quite nice, it is the wrong side up, making it unreadable once installed in a system. This is an easy oversight to make, but one that probably could have been avoided.
Taking a look at the rear I/O, we have the fairly standard 3x DisplayPort 1.4 (HDR-certified), 1x HDMI 2.0, and 1x dual-link DVI- connector.
At the other end of the card, we have 1x 8-pin PCIe power connector which is different from the reference 6-pin which would imply this card is capable of higher overclocks and also draws more power compared to reference models
After removing the cooling shroud from the PCB, we get a better look at the internal layout of the graphics card and the cooling system itself. Taking a look at the cooling shroud, it is a fairly simple affair with 2x 8mm and 2x 6mm copper nickel-plated copper heat pipes which protrude from a large nickel-plated copper base and extends into a large aluminum heatsink which covers nearly the entire length of the card. There's also a second cold-plate which is attached directly to the heatsink and is made for cooling the VRM.
Next we have a shot of the Polaris 10 GPU, which looks identical to that of the Polaris 10 GPU found on the RX 480 we reviewed last year. In addition, there's also 8x 512MB SK Hynix GDDR5 memory chips, which give us our 4GB framebuffer.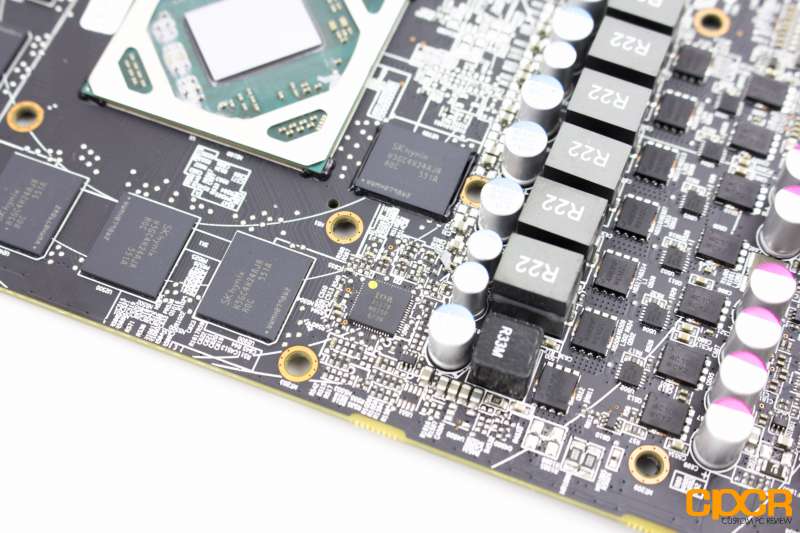 Taking a look at the graphics cards power delivery system, we have a 6+1 phase design which is made up of an International Rectifier IR3567B all-digital PWM controller, as well as ON Semiconductor NTMFS4983NF 30v, single N-channel MOSFETS. PowerColor claims that each of these phases can provide up to 25W each, rather than the traditional 22.5W you'll find on other boards, which can allows for greater overclocking potential.
[section label="Testing Setup and Methodology"]
Testing Setup
Haswell-E X99 Test Bench
Special thanks to Phanteks, DEEPCOOL, Asrock, and Crucial for supplying vital components for this test bench.
Testing Methodology – 2017
With major GPU releases from both AMD and NVIDIA that fully support the latest APIs such as DirectX 12 and Vulkan, and a number of new games available which take advantage of these new features, we decided it was a time to update our GPU testing suite to more accurately represent the modern gaming landscape. Replacing FRAPs in our toolset is OCAT (Open Capture and Analytics Tool) which is an open source GUI frontend for PresentMon, the results captured by OCAT are identical to that of PresentMon, however, the ease of use provided by the GUI and its overlay greatly help in reducing the time in our testing process.
Like with any good graphics test suite, ours is constantly evolving to suit the current gaming landscape. With incremental changes adding new titles and benchmarks we believe are necessary. Our first update for 2017 replaces the aging Crysis 3 with Deus Ex: Mankind Divided, a title that supports both DX11 and DX12, which we believe is very important for accurately gauging performance in modern hardware. In addition, Gears of War: Ultimate Edition is replaced by Gears of War 4 because of its use of the newer, Unreal Engine 4.
The following games/benchmarks will be tested:
All titles will be benchmarked a minimum of three times per configuration with the average of those results being displayed in our graphs. Performance will be measured in average FPS as well as the 99th (1% low) and 99.9th (0.1% low) percentiles. Those results will be gathered from the frame time data that is recorded using both OCAT, however they will be converted from milliseconds (ms) to frames per second (FPS) in order to simplify things. Data gathered from benchmarking tools is analyzed using Microsoft Excel.
All titles are tested at "High" to "Very High" settings at resolutions to be determined by the GPU's market-segment. In the case of this review, it will be 1080p.
All benchmarks are conducted using the latest available drivers at the time of testing. In the case of this review, they are the AMD Radeon Crimson ReLive Edition 17.1.1 and the NVIDIA GeForce Game Ready 378.49 drivers.
Initial Boot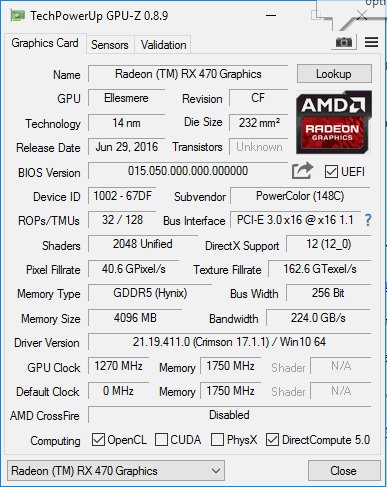 [section label="Overclocking"]
Overclocking
AMD WattMan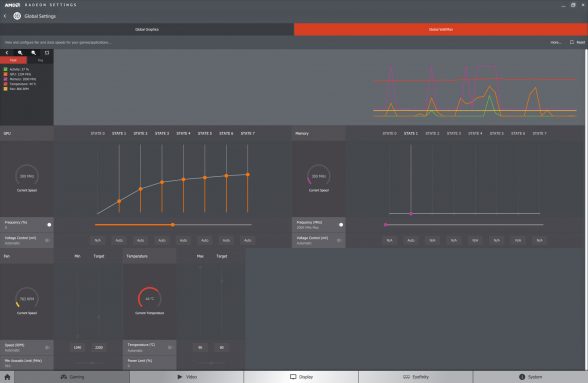 Using AMD's WattMan overclocking utility which is built into the Radeon Crimson software package, we were able to overclock our sample from 1270MHz on the GPU clock to 1340MHz. We left the Memory Clock and Voltage untouched as we wanted to stick to our usual "quick and dirty" overclocking methods.
[section label="3DMark"]
Performance
3D Mark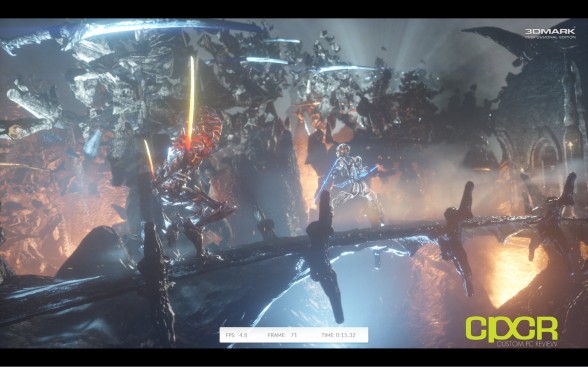 The new 3D Mark, now referred to as just 3D Mark, is Futuremark's latest update to the popular 3D Mark series of benchmarks. The updated 3D Mark now includes multiple benchmarks for cross-platform support as well as updated graphics to push the latest graphics cards to their limits.
Fire Strike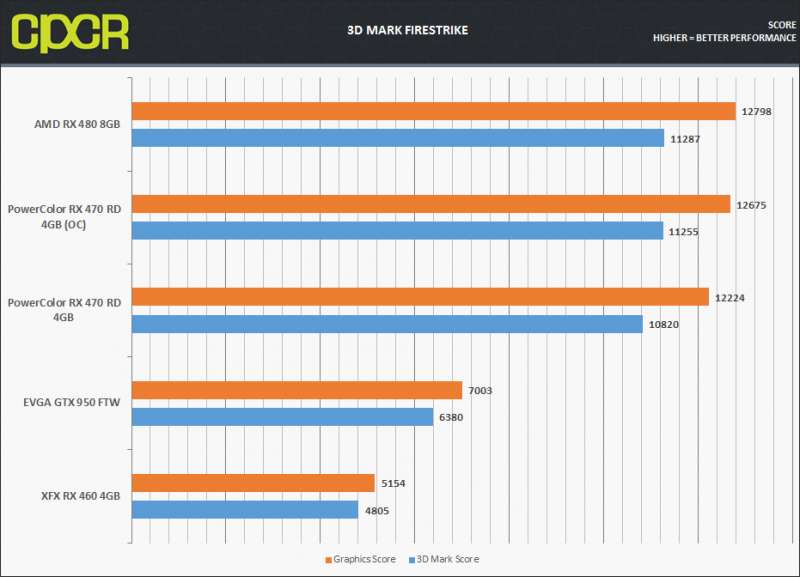 Time Spy

The EVGA GTX 950 FTW was omitted from the results due to frequent crashing which left us unable to complete the benchmark. Despite our best effort, we weren't able to solve the issue in a timely fashion.
[section label="Deus Ex: Mankind Divided (DX11/DX12)"]
Deus Ex: Mankind Divided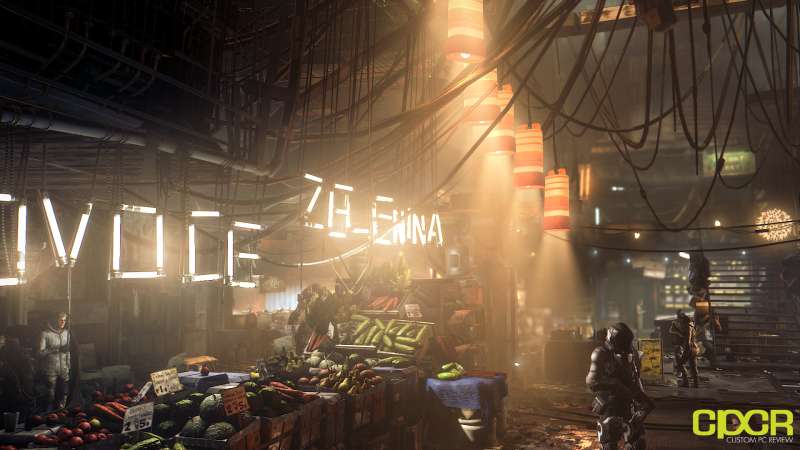 Mankind Divided is the latest in the legendary first-person stealth action series, Deus Ex. Developed by Eidos Montreal and built using their brand new Dawn Engine which is based on IO Interactive's impressive, Glacier 2 engine. It features support for both DX11 and DX12 like most of Square-Enix's other 2016 titles and like those tiles was ported to PC by Nixxes. It is a fairly graphically intensive game, and is easily one of the most demanding in our test suite.
Settings
Results (DX11)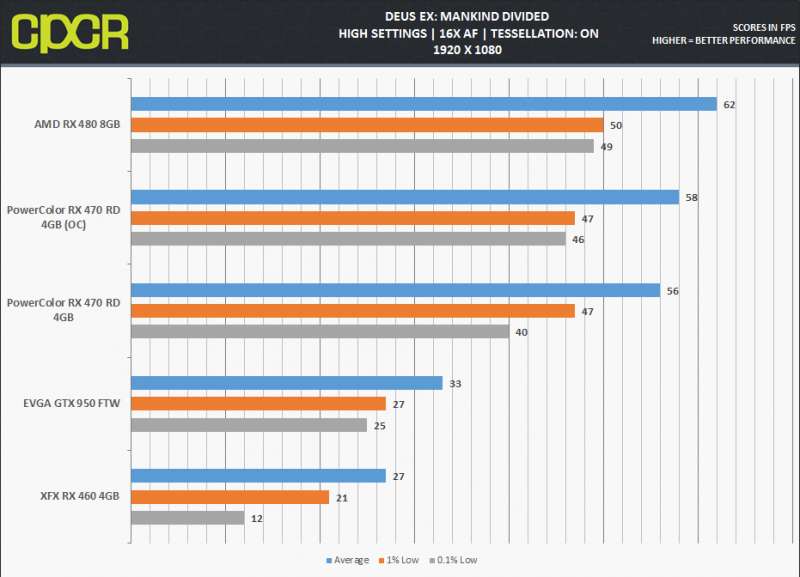 Results (DX12)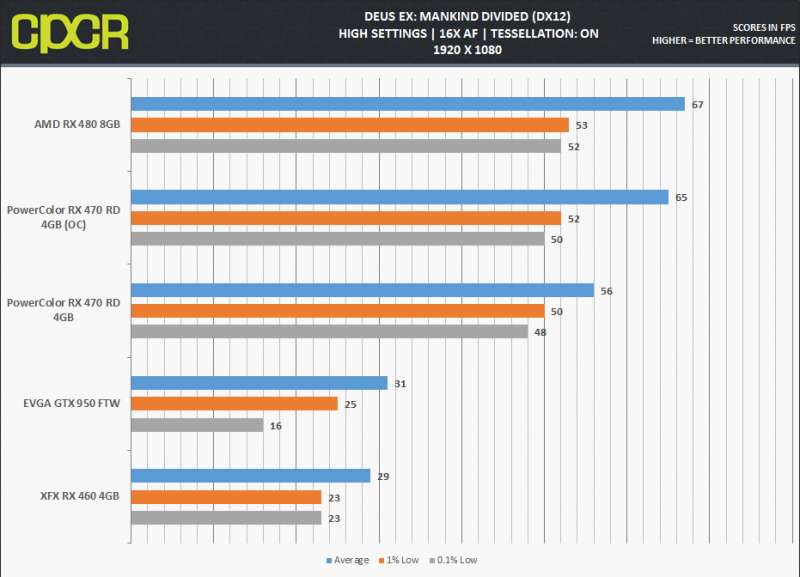 [section label="Rise of the Tomb Raider (DX11/DX12)"]
Rise of the Tomb Raider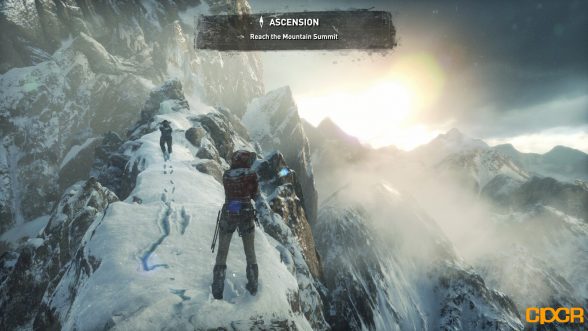 The follow-up to Crystal Dynamics' award-winning Tomb Raider reboot, Rise of the Tomb Raider takes users across the world to a variety of exotic locales with even more tombs. With physically-based rendering, HDR and adaptive tone mapping, deferred lighting with localized Global Illumination for realistic lighting, volumetric lighting enables God Rays and light shafts, Rise of the Tomb Raider is hard on even on high end modern graphics cards.
We test Tomb Raider using the game's built-in benchmarking tool.
Settings
Results (DX11)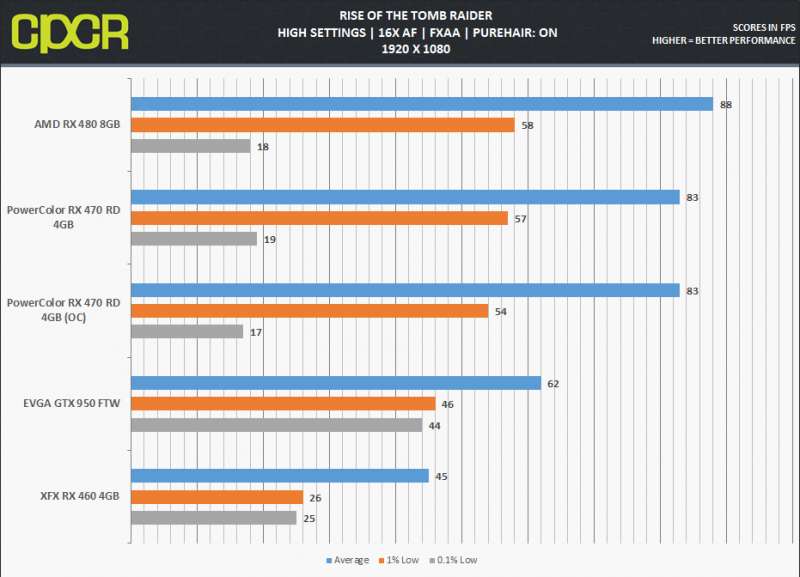 Results (DX12)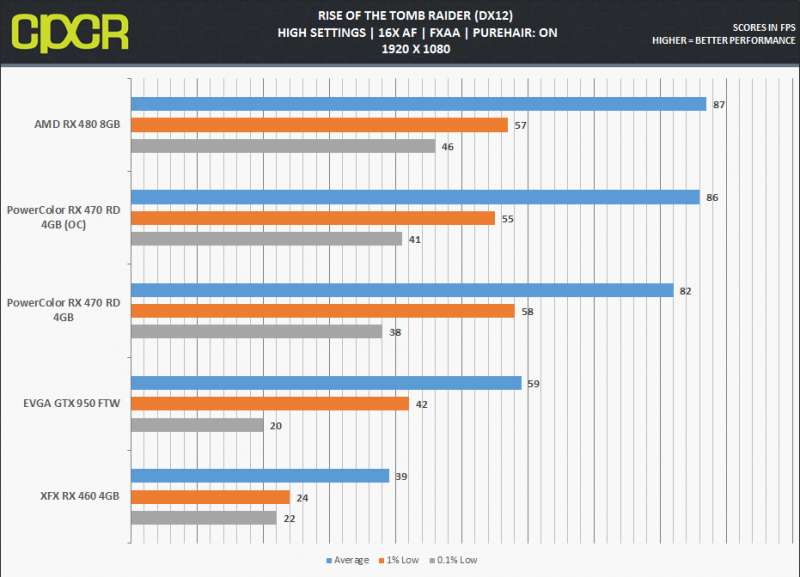 [section label="Grand Theft Auto V"]
Grand Theft Auto V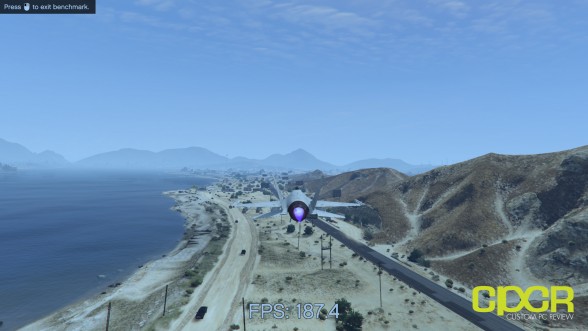 The hotly anticipated PC release of Rockstar Games' fifth installment of their Grand Theft Auto franchise easily proves once again that when it comes to open-world games, no one does it better. With lots of new features and graphical enhancements built specifically for the PC version, it's no wonder it took them so long to optimize it. With advanced features such as tessellation, ambient occlusion, realistic shadows, and lighting, mixed with the largest open-world map in franchise history, this is one beautiful, well-optimized PC title.
We test Grand Theft Auto 5 using the last scene in the game's built-in benchmarking tool.
Settings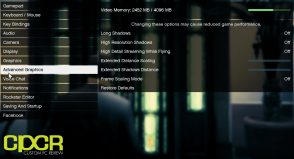 Results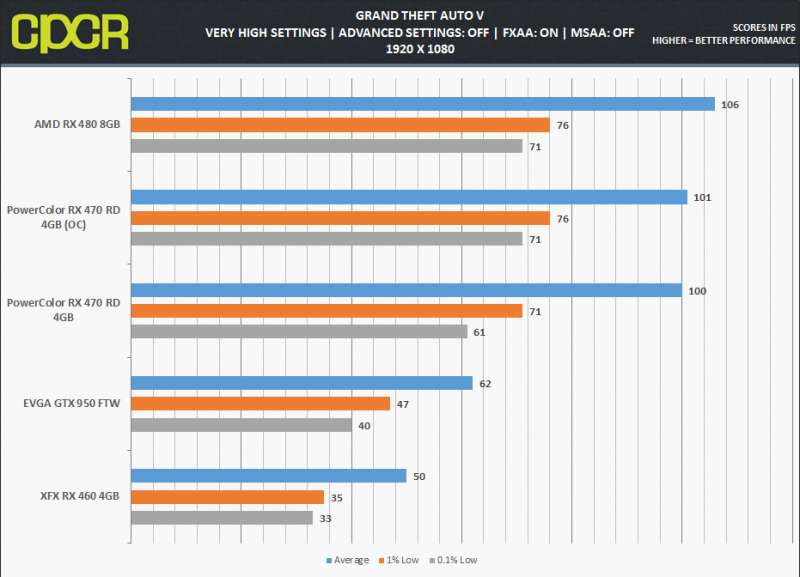 [section label="The Witcher 3: Wild Hunt"]
The Witcher 3: Wild Hunt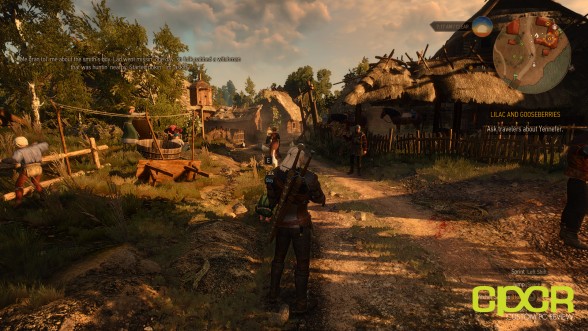 CD Projekt RED's The Witcher series has long been accredited with being some of the most beautiful, and graphically demanding PC titles and its latest installment, The Witcher 3: Wild Hunt, is no exception. With beautiful, large open-world environments, detailed charter designs, high-resolution textures, and advanced features such as God Rays and Volumetric Fog, in addition to a slew post-processing effects, makes this one really impressive looking game.
We test The Witcher 3 with a 60 second lap around the first village you come across in the campaign, this is one of the best places for testing as it exhibits some of the game's most graphically intense features such as God Rays, and Volumetric Fog. The test loop also offers very little variance making it a very repeatable benchmark, which is difficult to find in most open-world games.
Settings
Results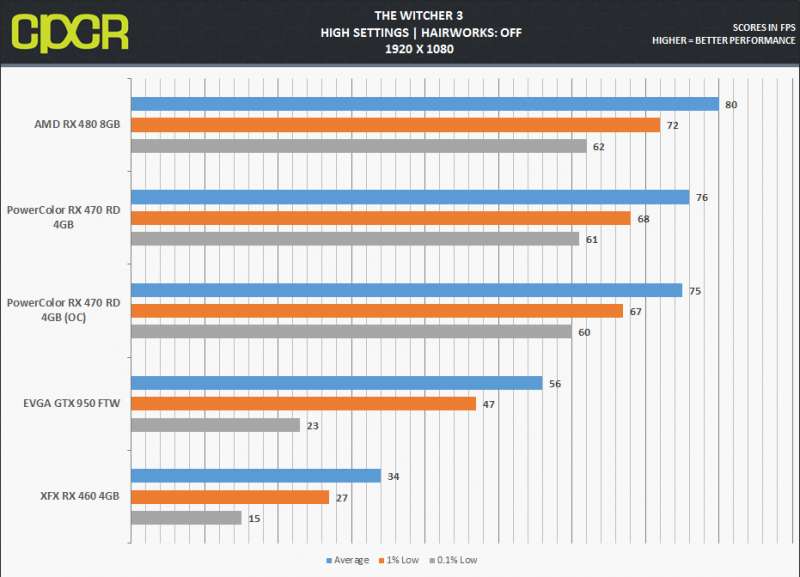 [section label="Project CARS"]
Project CARS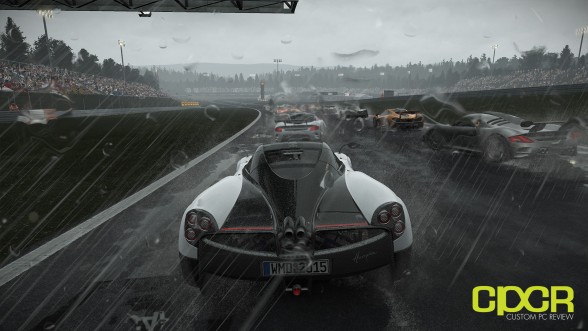 Next-gen racing simulator Project CARS was met with much anticipation when developer Slightly Mad Studios first announced the community assisted project. While it may not be the definitive choice for racing sim enthusiasts, it is easily one of the best-looking racing games available, featuring photorealistic vehicle models, real-world tracks, and realistic rain and weather effects. Despite some initial performance issues on AMD hardware which have been mostly patched, it is still one of the best racing simulators available for testing graphics performance.
We test the game using the in-game replay system. The race takes place on the Nürburgring race track with fixed whether effects transitioning from overcast, to thunder storms.
Settings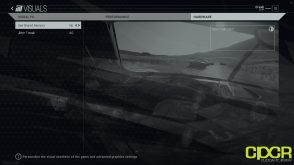 Results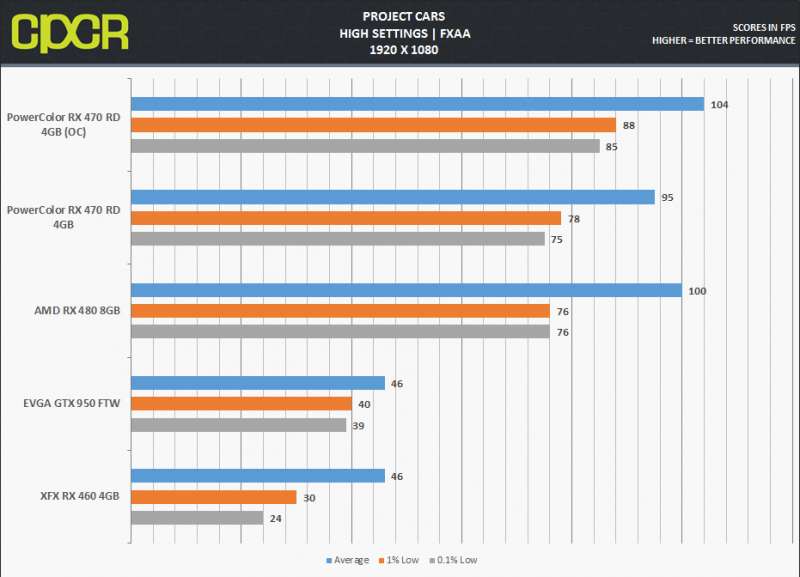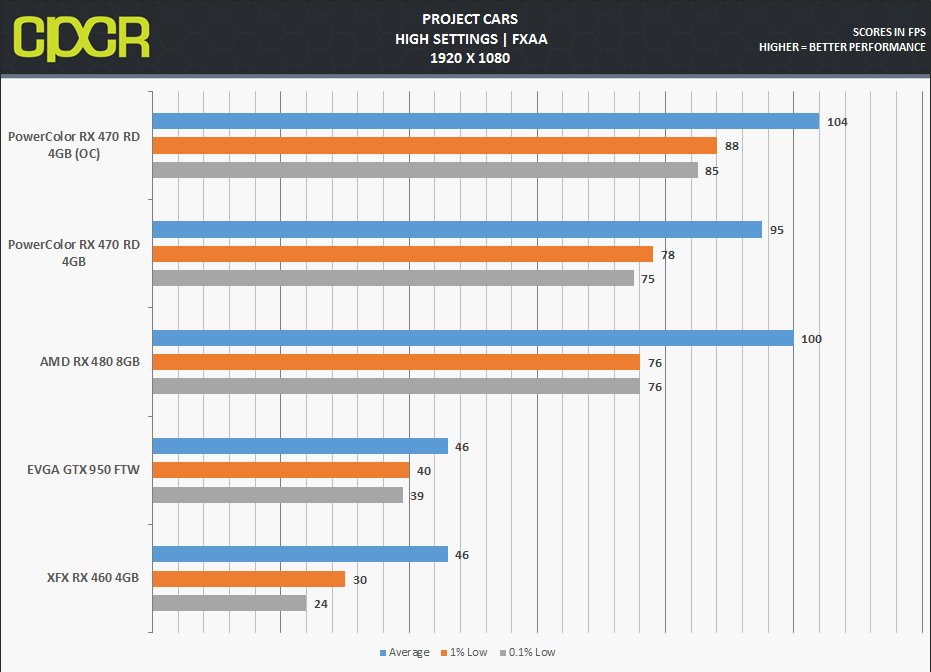 [section label="DOOM"]
DOOM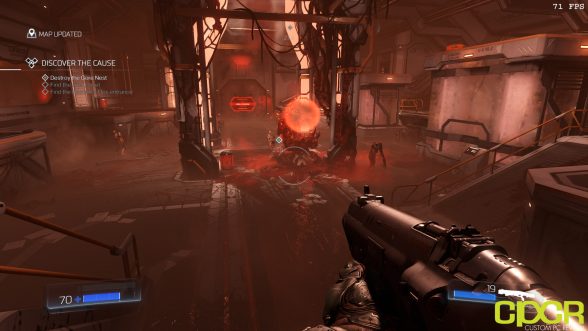 The latest installment of Id Software's legendary DOOM series. The new DOOM brings with it the latest graphics technologies and a fully uncapped frame rate thanks to the all new id Tech 6 game engine. With some of the best graphics available on PC today, DOOM brings to life its hellish environments and demons for a truly jaw-dropping experience.
We test DOOM using a 60-second run during the first mission of the game.
Settings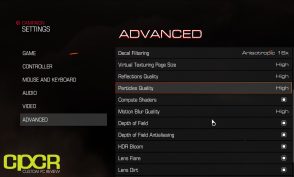 Results (Vulkan)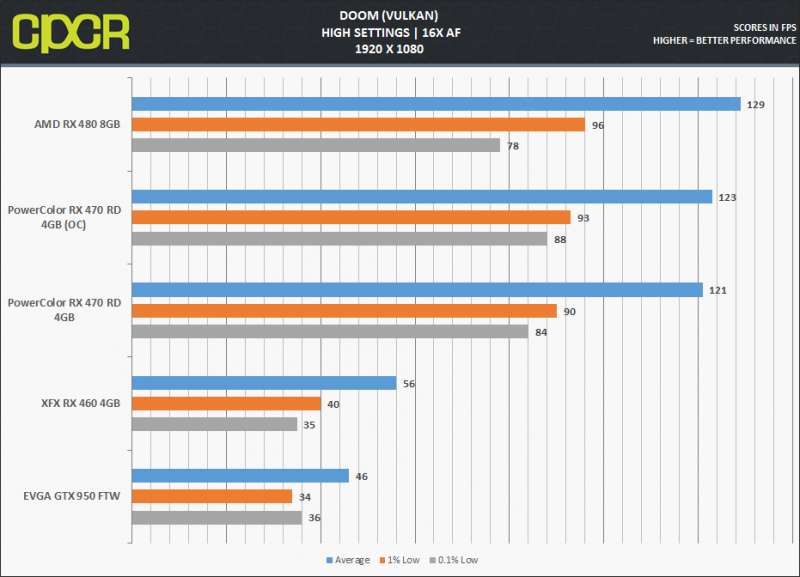 [section label=" HITMAN (DX11/DX12)"]
HITMAN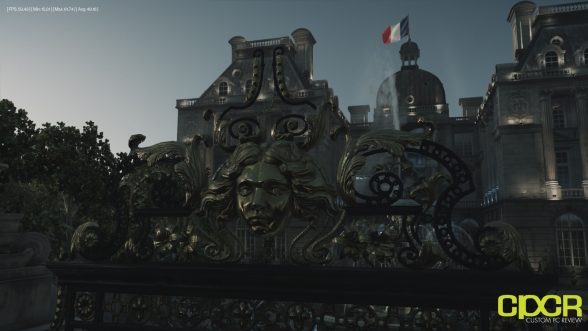 The follow-up to 2012's Hitman: Absolution, simply titled HITMAN, the latest game in the series by developer IO-Interactive takes users on an episodic adventure to compete online against other players. The new game also brings with it support for Microsoft's latest DirectX 12 API.
We test HITMAN using the game's built-in benchmarking utility.
Settings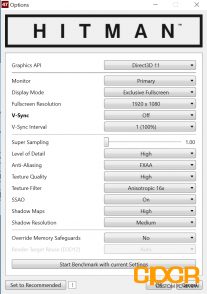 Results (DX11)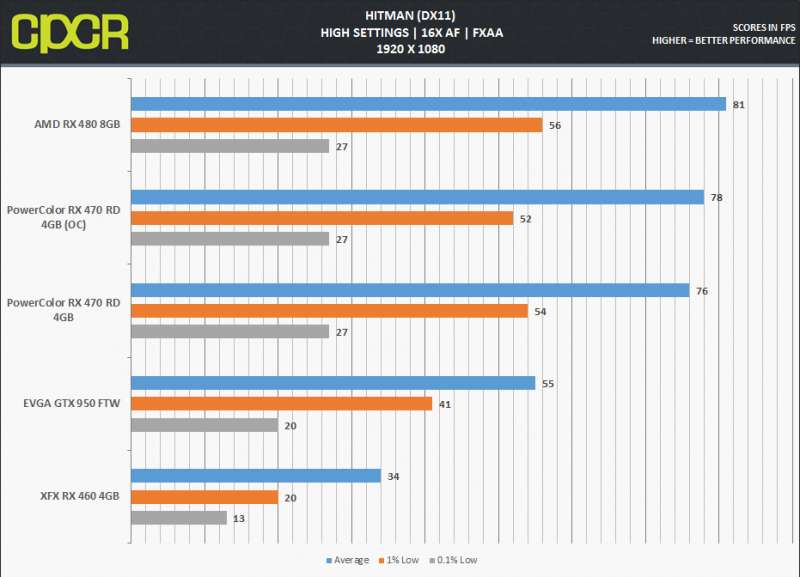 Results (DX12)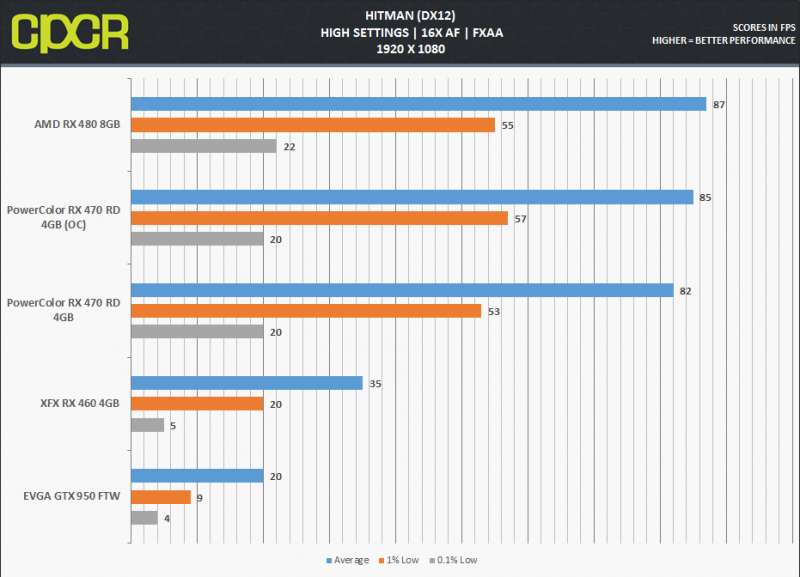 [section label="Gears of War 4 (DX12)"]
Gears of War 4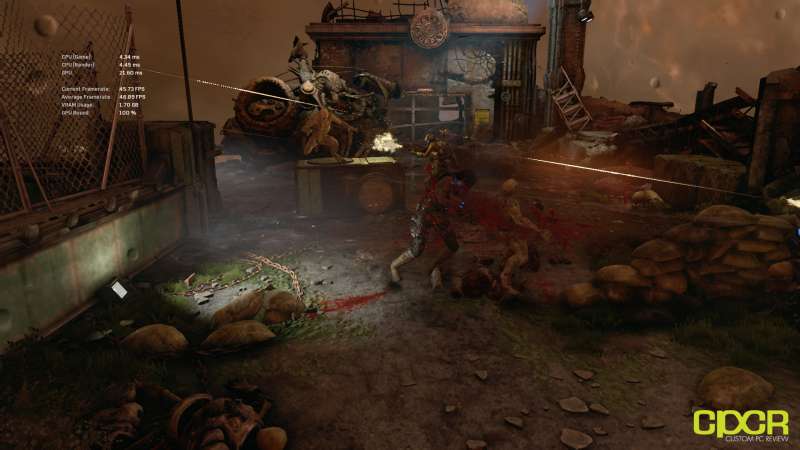 Gears of War 4 is the latest installment in Microsoft's long-running third-person shooter franchise. As the first of the series to launch simultaneously on both Xbox consoles and PCs, Gears of War 4 is based on Epic's Unreal Engine 4 and fully supports DX12, making it one of the most well optimized PC titles of 2016 offering a plethora of graphics options which can be adjusted for scaling across large varieties of hardware.
We test Gears of War 4 using the game's built-in benchmark utility.
Settings
Results (DX12)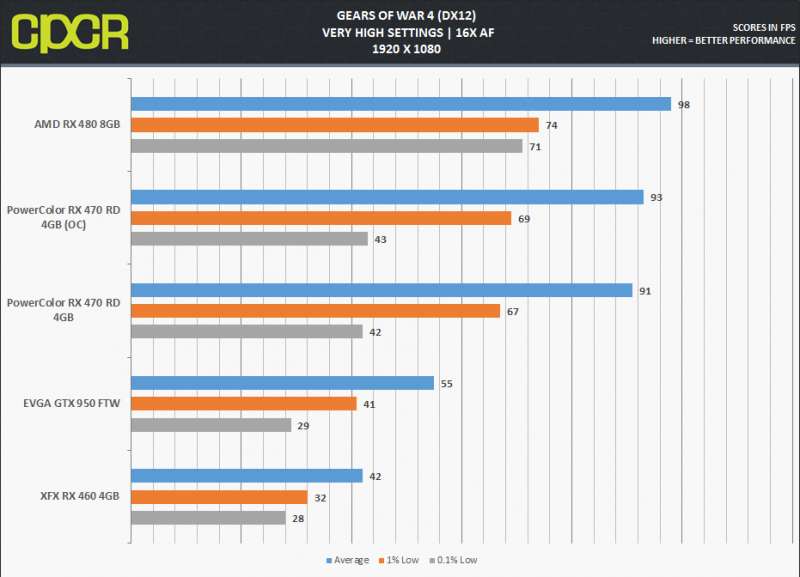 [section label="Ashes of the Singularity (DX12)"]
Ashes of the Singularity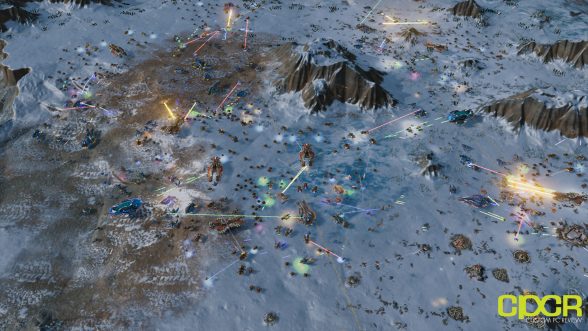 Oxide's Sci-Fi RTS game, Ashes of the Singularity is a staple in any graphics review as it provides one of the best implementations of latest DirectX 12 API, complete with Asynchronous Compute for improved performance and even explicit multi-GPU support which allows for mixing multiple graphics cards for additional performance.
Settings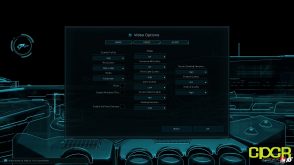 Results (DX12)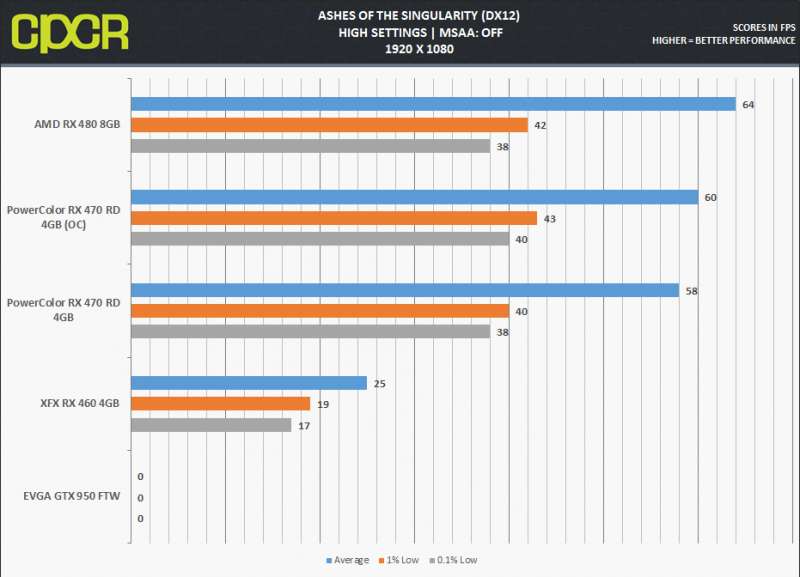 Unfortunately, this is yet another case where the EVGA GTX 950 FTW had to be omitted due to crashing which left us unable to benchmark the title.
[section label="Temperatures"]
Temperature Testing
For idle temperature, we'll be taking a reading when the graphics card is idle for 5 minutes after a cold boot. Load temperatures are taken after a full 30-minute burn using Furmark.
While some of you aren't huge fans of Furmark as it creates an ultra heavy, unrealistic load on the graphics card, we feel like it's a more useful tool as it differentiates between graphics cards that have extremely well-designed coolers and ones that simply have cooling solutions that simply pass the test, if you will. Most games these days generally don't create enough of a load/heat to even exceed temperatures where the fans would spin up on most custom coolers so it's difficult to adequately rank cooling solutions without using a tool like Furmark. During all tests, the GPU intake air temperature is approximately 25° Celsius.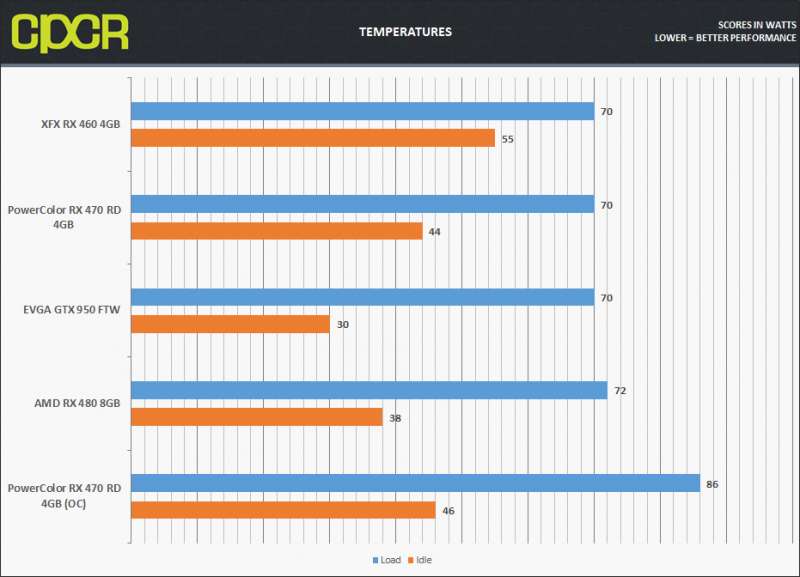 Temperature wise, the card's cooling had no issues keeping it relatively cool at stock. While overclocked it did reach much higher temps, but it wasn't really an issue while gaming and never caused any thermal throttling. All and all, it is a solid cooler which keeps fairly quiet even while under intense loads.
[section label="Power Consumption"]
Power Consumption
For power consumption testing, we'll be measuring full system power while idle along with full system power with the graphics card running at full load using Furmark. All power consumption measurements will be measured at the outlet with a simple P3 Kill A Watt meter.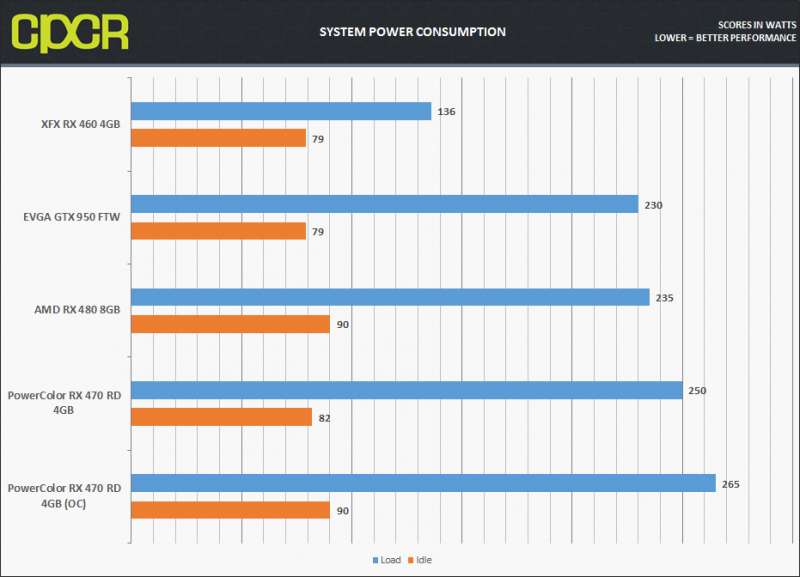 Taking a look at the above chart, it seems the PowerColor Radeon RX 470 Red Devil does seem to draw more power than the reference AMD Radeon RX 480 8GB at stock and while overclocked. While our testing methods are at the outlet and measure complete system power, it is unlikely this disparity is within the margin of error. What is more likely is that the higher factory overclocks and other power delivery enhancements made to this particular card leads to an increased power draw at load.
[section label="Conclusions"]
Conclusions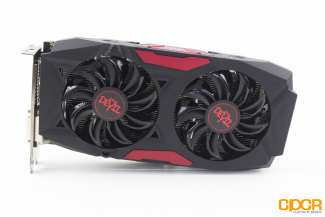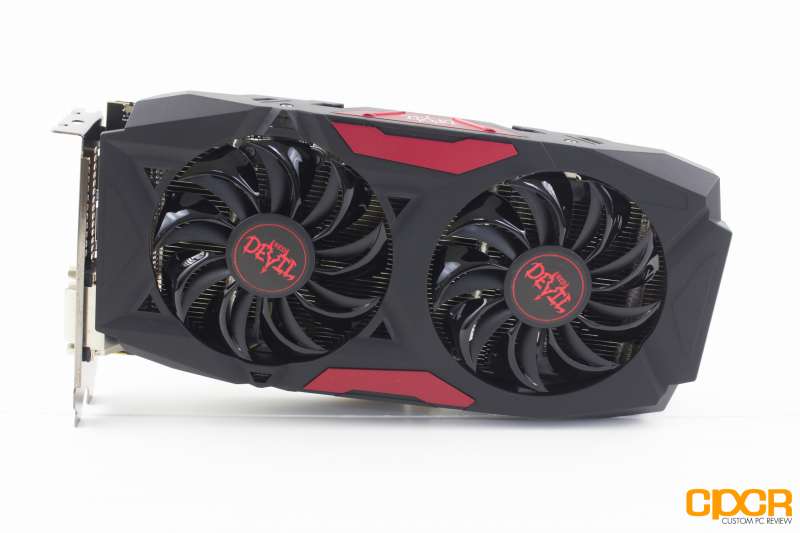 I really like the PowerColor RX 480 Red Devil. It is a well-built card with premium overclocking enhancements such as a quiet and fairly robust cooling system, upgraded all-digital power delivery system, and a cool backplate. Performance wise, it seems to keep up with the AMD Radeon RX 480 in most titles at 1080, which would be a huge feat if it wasn't for the fact that they are priced very similarly.
If deciding between the 4GB variants of the AMD Radeon RX 470 and AMD Radeon RX 480 wasn't confusing enough, current pricing doesn't help at all. At the time of writing, the PowerColor Radeon RX 470 Red Devil 4GB is available for $165, while the PowerColor Radeon RX 480 4GB Red Dragon can be had for just $160 (after $20 mail-in rebate). While the Red Devil is the nicer card overall, with the aforementioned dual-fan configuration and a premium backplate, the RX 480 Red Dragon will still offer decidedly better performance in games, especially at resolutions above 1080p. Still, the choice isn't that clear as there are a number of tradeoffs to be considered.
That being said, if pricing of the AMD RX 480 4GB models go back up, or the PowerColor RX 470 Red Devil goes even lower in pricing (doubtful at this point), then it is clearly a no brainer which you should choose. Of course, we weren't able to test the RX 470 Red Devil against its logical competitors on the green team, which includes the Nvidia GeForce GTX 1060 3GB and Nvidia GeForce GTX 1050 Ti, but looking at the specs, the Radeon RX 470 will sit somewhere between those two in terms of pricing and performance. Still, that is a test we'll have to conduct in the future when we get our hands on a pair of those cards.
With all that said, if you're on the fence, I have absolutely no issues recommending the PowerColor RX 470 Red Devil to anyone in the market for a 1080p gaming powerhouse under $200.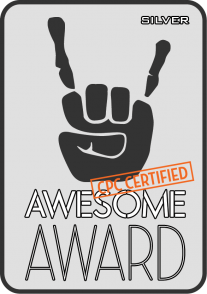 Sample provided by: Powercolor
Available at: Amazon