[section label=1. Introduction]
Budget Friendly Mouse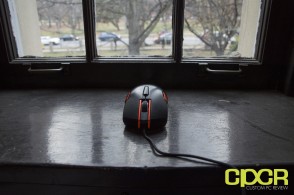 Gaming mice come in various price tiers and we are often too caught up in the bells and whistle featured on flagship models. It's always nice to see companies return to the basics with entry level products that deliver the necessary fundamental features at an affordable price. However, designing an affordable gaming mouse brings with it an unique set of challenges as tradeoffs occur and manufacturers have to strike a balance between cost and performance. Keeping that in mind, let's review the Cougar 250M gaming mouse.
| | |
| --- | --- |
| Manufacturer | Cougar Gaming |
| Model | 250M |
| Sensor | ADNS-3050 Optical Sensor |
| CPI Range | 500/1000/1250/1750/2000/4000 DPI |
| Switches | OMRON Gaming Switches |
| Backlighting | Yes (RGB Mouse wheel) |
| Polling Rate | 1000 Hz |
| Interface | USB 2.0 |
| USB Cable | 5.9ft Braided |
| Dimension | 42mm in x 68mm x 135mm |
| Weight | 100g (0.220 lbs) |
| Warranty | 1 Year |
| Additional Features | Ambidextrous Grip |
| Pricing |  $29.99 |
[section label=2. A Closer Look]
A Closer Look at the Cougar 250M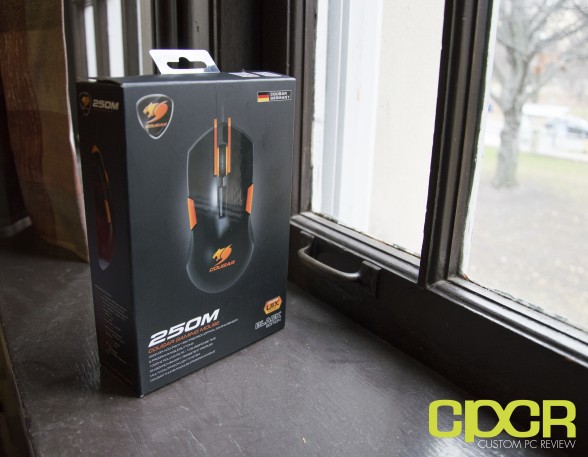 The box is…a box. No fancy packaging here.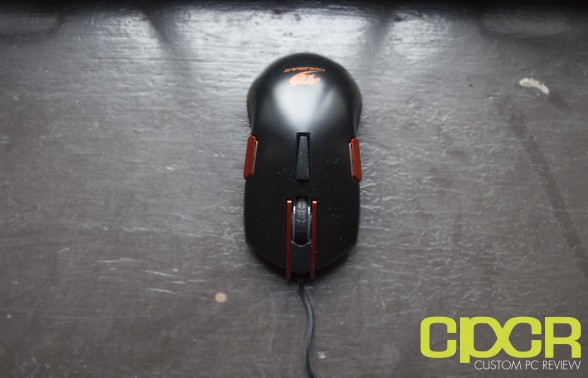 The Cougar 250M has an ambidextrous design so even though there are two customizable thumb paddles, you will only be able to use one comfortably. The non-tapered shape is not ideal ergonomically and users with larger hands may find it uncomfortable during extended uses. Nevertheless, the orange accent pieces give it a energetic gaming aesthetic.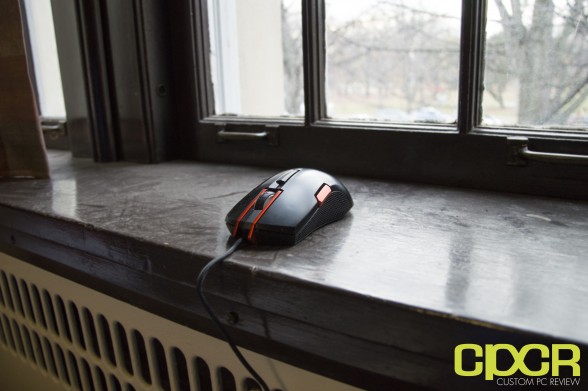 Weighing just 100 grams, the 250M is a very light mouse and feels very easy to navigate.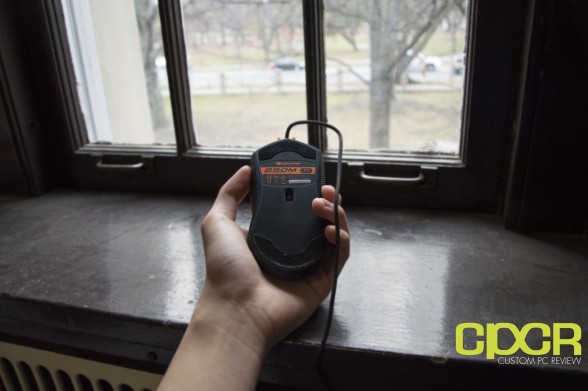 Two large teflon pads at the bottom of the mouse keep it gliding smoothly while the Avago ADNS-3050 optical sensor is adequate for most gaming.
RGB has become almost ubiquitous with gaming peripherals, and the 250M is no exception with its backlit "gaming grade" mouse wheel. It does add a sense of personalization and a welcomed feature.
[section label=3. Software]
Cougar UIX System
The Cougar UIX system is the company's proprietary software suite for all their products and includes drivers for their peripheral product line. Setting up was pretty easy with fast downloading and installation. The software is functional, although, somewhat outdated in terms of aesthetics. There is space for multiple profiles to suit different tasks as users' key binds change depending on the program and/or game that is being used. You are limited to the two thumb paddles primarily for macros and, realistically, you would most likely be using just one of them as it is awkward to press the  one that is on the other side your thumb.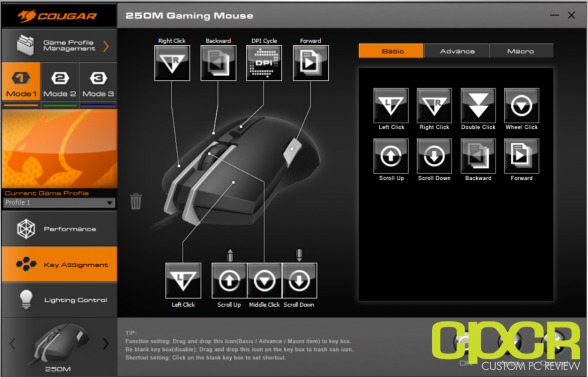 Cougar takes full advantage of the RGB hype with a pretty nice backlight mouse wheel. Changing the color is as easy as going  into the lighting menu ad selecting something from the color wheel.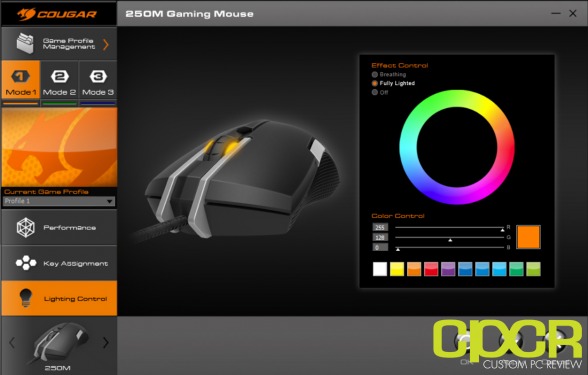 The DPI settings are locked at 500/1000/1250/1750/2000/4000, which should be satisfactory for most gamers. Personally I felt that I would like to have smaller and more consistent increments for optimal customization as I found myself having to change around in game settings to rediscover the sweet spot I have grown accustomed to.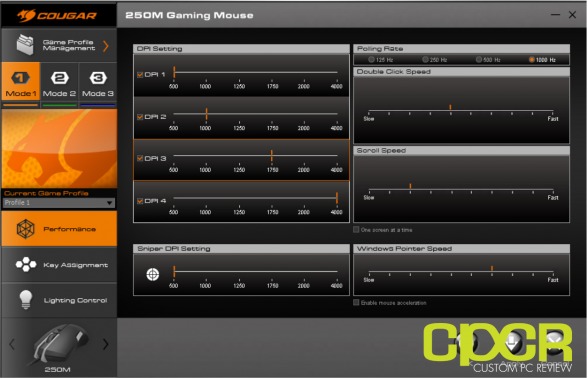 My main complaint about the software and my general experience with the 250 is the fact that I was prompted to keep the mouse plugged in after I installed the software if I wished to open the software suite. Since I am using a much more mobile setup with my gaming laptop, I often disconnect and reconnect my peripherals. The fact that the software just ends up not recognizing the hardware after I reconnect the mouse is a major inconvenience. However, for users who have a stationary setup, this won't be nearly as troublesome.
I would brush this aside as a minor issue if the mouse could run driverless like the Finalmouse, but for something requires you to install a proprietary software suite that is marketed to compete against Steelseries Engine and Razer Synapse, the UIX is disappointing at best.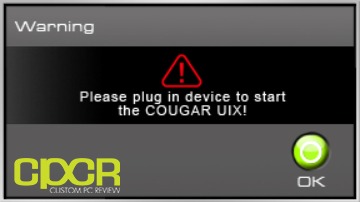 Note: I have contacted Cougar about the problem and they were happy to provide assistance. Unfortunately, a solution, other than having to reinstall the software every time I reconnect the 250M, could not be found and I doubt a typical customer would have the same customer service I received.
[section label=4. Performance]
Performance
For testing the feeling of the switches and higher DPI settings, I jumped in a few games of League of Legends to see if the 250M would hold up in the ever so popular MOBA genre. I was pleasantly surprised to discover that the Omron gaming switches were satisfyingly clicky and have stayed tactile despite more than a month of rigorous use.
Testing the Cougar 250M in Counter Strike: Global Offensive, the Avago ADNS-3050 optical sensor felt  familiar to the sensor on my Razer Deathadder 2013. This is probably because the Razer Death Adder also uses an optical sensor from Avago. Thus, the learning curve was much easier for me as I got used to the tracking within a week of using it. This similarity did not encompass the lift-off distance, which was rather unfortunate as I found myself bothered by how the sensor would continue to track my movements even though I had lifted it up quite high. Since I play on very low DPI (400-800 to be exact), I tend to use up a lot of space on my desk-pad and lifting my mouse has become a habit. But having to lift up the mouse almost twice the height of that with my Deathadder was a huge nuisance. The in-game result would be lots of unnecessary missed shots during firefights and plenty of frustrating wasted opportunities.
The 250M held its own in the drawing test with minimal jitteriness throughout different DPI settings. Tracking is accurate throughout my experience. I was pleasantly suprised to see the sensor tracking well on lighter colored surfaces in comparison to some other optical mice I have used in the past.
[section label=5. Conclusions]
Affordable, If You Have Patience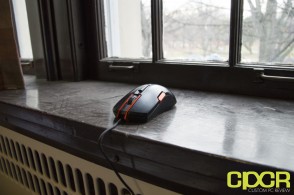 The Cougar 250M has a lot going for it in terms of aesthetic design and price to performance. Claw and hybrid grip users will find the medium sized symmetrical shell appealing as it is quite comfortable even after 3+ hour long gaming sessions. The Omron switches are tactile and has a medium stiffness, which puts less strain on your fingers when tapping repeatedly. The deflection time is good as well; the switch is very responsive and bounced right back. The two thumb paddles allow for convenient macro shortcuts such as press to talk hotkeys and in-game keybinds.
Alas, this is where good news ends and the bad begins. The first problem I observed while testing was the lift off distance. Sure the tracking is good, especially for the value, but the higher than normal lift off distance was frustrating to say the least. If you happen to play FPS games at lower DPI settings, it's more than likely you may end up running into the same problem when trying to adjust mouse position.
Secondly, the UIX software is a mixed bag. My initial experience was satisfactory as it did exactly as advertised with all the standard customization options. Sure I wish that the DPI increments would be smaller for more precise tuning, and sure it wasn't the prettiest software suite, but it got the job done at the start. Transporting my gaming setup revealed a persistent problem in which the software simply did not recognize the mouse if I unplugged and reconnect it. Combined with the slow customer support system and Cougar's limited forum, this became the primary point of concern that made it obvious to me that Cougar's 250M lacked the certain refinement I was seeking for a consumer ready product.
In a market where refurbished discounts, surprise sales and group purchases are common enough that many higher end gaming mice can be found near the $30-$45 price tag, I simply cannot recommend the 250M in its current state.
Sample provided by: Cougar
Available at: Newegg