Warning
: Undefined array key "width" in
/var/www/vhosts/custompcreview.com/public_html/wp-includes/media.php
on line
1381
Warning
: Undefined array key "width" in
/var/www/vhosts/custompcreview.com/public_html/wp-includes/media.php
on line
1386
Warning
: Undefined array key "height" in
/var/www/vhosts/custompcreview.com/public_html/wp-includes/media.php
on line
1386
Warning
: Undefined array key "width" in
/var/www/vhosts/custompcreview.com/public_html/wp-includes/media.php
on line
1381
Warning
: Undefined array key "width" in
/var/www/vhosts/custompcreview.com/public_html/wp-includes/media.php
on line
1386
Warning
: Undefined array key "height" in
/var/www/vhosts/custompcreview.com/public_html/wp-includes/media.php
on line
1386
[section label=1. Introduction]
Untz, Untz, Untz, Untz…
When Razer first announced the Tiamat 7.1 all the way back in August of 2011, I was super excited for it as it was the first 7.1 gaming headset to be put into mass production. However, while I was looking through the press release, I found another announcement hidden deep within the Tiamat 7.1 announcement which also detailed the release of the Tiamat 2.2, which is a headset similar to the Tiamat 7.1, but instead of having 10 drivers, it only had 4 – two of which are used as the speaker drivers and two of which are used as subwoofer drivers.
While having true 7.1 capability in a headset like the Tiamat 7.1 is great for positional audio, getting 10 drivers to fit into a single enclosure usually means there are sacrifices to be made in audio quality. After taking a look at the Tiamat 7.1's product page to find that the headset would be using 30mm front drivers, 30mm center drivers, and 20mm surround drivers, I was quite frankly a bit put off. Since most music is recorded in stereo rather than 7.1, music would be played solely through the two 30mm front drivers, which if past experience is any indication, would sound terrible.
That said, it seems like I'm not the only one who thought this would be an issue as Razer also quietly introduced the Tiamat 2.2, which to me seemed like an announcement that should be just as big as the Tiamat 7.1. Anyway, it's now been a year since the initial announcement of the Razer Tiamat 2.2 and it's finally time to review it. Good? Bad? Let's go!
Razer Tiamat 2.2 Specifications
Headphones
Drivers: 4 x 40mm Neodymium Magnets with Titanium Coated Diaphragm
Frequency Response: 20 – 20,000Hz
Impedance : 32Ω
Sensitivity @ 1kHz : 109 ± 3dB
Input Power: 60mW
Microphone
Frequency Response: 50 – 16,000 Hz
Sensitivity @1kHz: -36 dB ± 2dB
Signal-to-Noise Ratio: 50 dB
Pick-up Pattern: Unidirectional
[section label=2. A Closer Look]
A Closer Look at the Razer Tiamat 2.2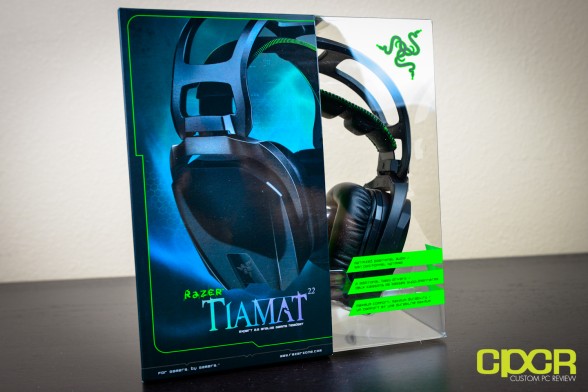 Here's a look at the Razer Tiamat 2.2's packaging. As usual, Razer has done an excellent job here.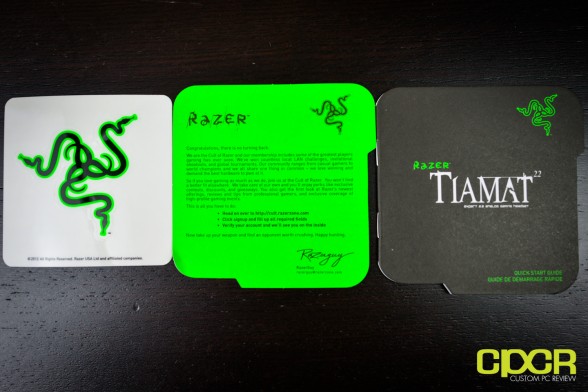 Since this is an analog headset, there aren't really any accessories other than some documentation and the usual Razer sticker.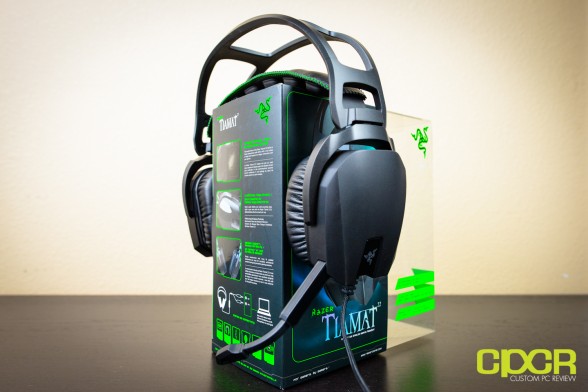 Let's take a look at the Tiamat 2.2 itself. The overall design is very modern with its sharp angles and a matte black finish. While the headset's frame is constructed entirely of plastic, it does feel very durable and is both fingerprint resistant/dust proof. Carrying a weight of approximately 325 g (0.72 lbs), it's not too heavy either. I think Lucius Fox would approve.
Unlike most headsets on the market, Razer has gone with a suspension style headrest with the Tiamat 2.2, which is very reminiscent of the popular SteelSeries Siberia v2 headset. The entire suspension headrest is made of a very soft leather material and Razer has put chunks of foam padding along the inside of the headrest for extra comfort. Additionally, similar to what we've seen with the Razer Blackshark reviewed not too long ago, Razer has also stitched the edges of the headrest which contrasts very well with the rest of the headset.
Moving a bit lower, we can see that Razer has put a retractable microphone on the Tiamat 2.2, which is great for when the microphone isn't needed. Additionally, the bottom of the earcup also features a Razer logo printed on a small piece of glossy finish.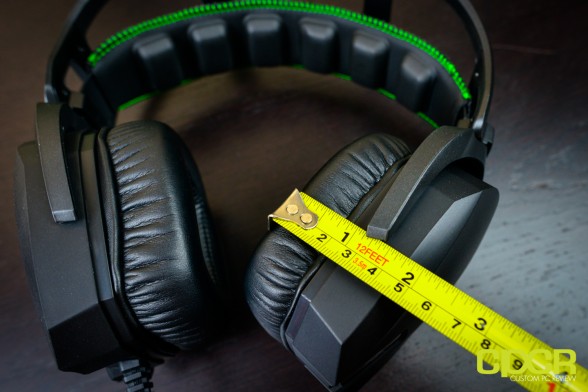 For each earcup's padding, Razer went with foam (most likely memory foam) and covered it with leatherette, which is great for noise isolation and also helps create a better bass response as well. Here we can see that Razer has really gone all out when it comes to comfort as each earcup has an inch worth of foam.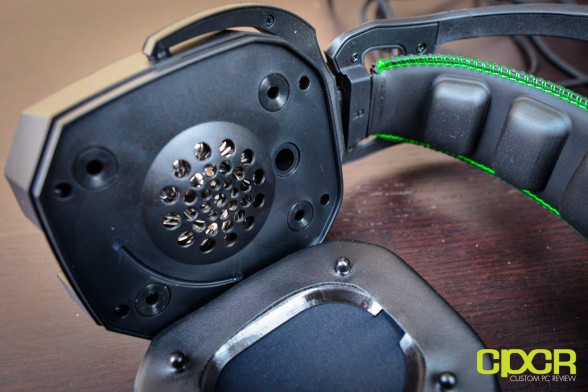 Razer has designed the earpads to be removable, so for those who sweat profusely during gaming sessions, Razer will more than likely be able to sell you replacement earpads down the road.
Underneath the earpad we get a glimpse of the titanium coated diaphragm, which is an extremely interesting choice in material for a headset like this. Titanium is an extremely strong, extremely lightweight, extremely corrosion resistant, yet extremely durable material typically used for building stuff like aircraft and spaceships. When used in speaker applications, it helps give the assembly a lot more rigidity, which reduces distortion and helps increase durability. Titanium is typically is the material of choice used in compression drivers which are used in PA systems, loudspeakers, megaphones, etc.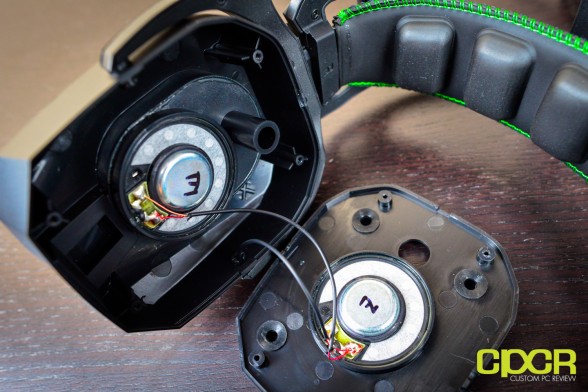 Since I've never seen a 2.2 headset before, I decided to open up the left earcup as well to take a look at what Razer has done here. Each earcup houses two 40mm drivers which sit back to back. Additionally, Razer has also put in a small ported sub enclosure for the 40mm subwoofer driver to give you that extra boom boom pow.
As this is an analog headset, the Tiamat 2.2 comes with 3.5mm jacks for the headphone and microphone. Additionally, Razer has also built an inline volume control pod into the cord, which is capable of both adjusting the volume and muting the microphone.
The cord is braided for better durability and tangle management. For some reason, Razer decided to go insane with the Tiamat 2.2's cord and included a 10+ feet of it. They should've went with an extension as 10 feet is way too much unnecessary cable.
[section label=3. Performance]
Razer Tiamat 2.2 Performance
Games and Movies
After quickly unboxing the Tiamat 2.2, the first thing I did was hook the headset up to the Creative Sound Blaster Recon3D PCIe sound card and fire up some Battlefield 3. After playing a couple rounds of Operation Metro, I was really impressed with what Razer has done with the headset. The soundstage was nice and wide  and teammates communicating through Skype were heard loud and clear. Unlike other headsets on the market though, what really set this headset apart was the crazy bass response as it will physically rumble your ears. I had to physically remove the headset from my head to make sure my Emotiva Ultra 12″ subwoofer wasn't on. Whoever decided to drop an extra two drivers into the Tiamat 2.2 is a genius. The SteelSeries 7H Fnatic I had been using prior sounded almost lifeless when I hooked it back up again.
For movie testing, I was able to get my hands on a brand new copy of The Hunger Games on Blu-Ray for testing. While the movie itself wasn't exactly my cup of tea (I'm more of a Battle Royale type of guy), the movie did include not only a top notch DTS-HD 7.1 audio track, but a Dolby Digital 2.0 audio track as well, both of which sounded excellent on the Tiamat 2.2.  (Even with the 7.1 track downmixed to stereo) The peppy and bright highs from the sound of Mockingjays chirping along with the booms of the cannons when a contestant was killed were all excellently reproduced by the Tiamat 2.2's creating a top notch immersive experience.
Music
Moving into some music testing, I took the Tiamat 2.2 off the Recon3D  and plugged it into the Audioengine D1 DAC for some critical listening. Since this is the first 2.2 gaming headset I've ever used, the first thing I wanted to do was test the bass to see just exactly how low the Tiamat 2.2 could output. While testing using mfx150's Bass Test, I found that the subwoofer in the headset is actually capable of outputting bass as low as 5Hz, although the bass is extremely distorted for anything under about 25 Hz. Surprisingly, this was similarly true with the SteelSeries 7H Fnatic.
Anyway, since I'm not a huge fan of doing things like sitting and listening to bass tests all day, the next thing I did was fire up foobar2000 to load up my typical variety of music for some listening tests (AC/DC, Journey, Usher, Two Steps from Hell and Skrillex). After already spending many hours with the headset testing both movies and gaming performance, I already had a feeling that the Tiamat 2.2 was going to be another one of those heavily colored headsets, and I was right. The headset is tuned to very bright highs, slightly boosted mids, and heavily exaggerated lows, which depending on your choice in music, could either make this the best sounding headset you've ever heard, or the worst. One thing I have to point out is that vocal clarity was actually surprisingly good with the Tiamat 2.2 (wonder if it has anything to do with the titanium coated drivers). I noticed this both when testing VoIP communications while using Skype and in music, which is something that doesn't usually happen with headsets containing 40mm drivers.
Despite all this, I still think this headset is awesome for music, but in a different way than usual. While most of the time I enjoy a flat, clean, perfectly balanced response in my music, I found myself really liking the Tiamat 2.2 as it's just crazy amounts of fun to listen to. Regular 2.0 stereo headsets and headphones are able to produce bass accurately, but you don't really feel it. You hear it, but you don't feel it. With the Tiamat 2.2, you hear it and you feel it. This makes a huge difference. This is why watching a movie or listening to a song on a headset always feels significantly different from watching a movie or listening to a song at a movie theater or a nightclub. What I've found is that the headset is best for music with a ton of low end such as club music, for example.  After spending 20 minutes listening to tracks from Usher, Akon, Lil John, Havana Brown and Far East Movement, I was ready to do the horse dance in Gangnam Style. No joke.
Microphone
Since it was requested through the Custom PC Review YouTube channel, I went ahead and recorded a sample clip from the Razer Tiamat 2.2's microphone. Overall quality was acceptable and it actually has a slight edge when compared to the SteelSeries 7H Fnatic, but gaming headsets simply don't have very good microphone quality. Good enough? Sure. Those looking to record commentaries, voiceovers, or podcasting though should definitely invest in something professional.
Comfort
Just looking at the headset, I had a feeling it would be comfortable and you know what? It was. The suspension headrest most well known from the SteelSeries Siberia v2 did an amazing job of securing the headset while the 1 inch thick earpads did a great job of not only keeping my ears comfortable, but also keeping a tight seal around my ears. In terms of comfort, the two gaming headsets I'd rank at the top for comfort is the Tiamat 2.2 along with the SteelSeries 7H Fnatic.
That said, I would rank the SteelSeries 7H Fnatic a tad bit higher in terms of comfort for two reasons. First, the earcups on the Tiamat 2.2 are made of leatherette whereas the SteelSeries 7H Fnatic uses their own proprietary cloth material. Unfortunately, leatherette allows little to no breatheability, which means your ears will get hot after a couple hours and it will be uncomfortable to keep the Tiamat 2.2 on for long periods of time. This is a problem with every headset that uses leatherette, so it's not limited to the Tiamat 2.2. Cloth replacements, please? Second, the SteelSeries 7H Fnatic is lighter. That said, I do believe the reason for the Tiamat 2.2's extra weight is its significantly stronger frame, extra subwoofer drivers, as well as the higher quality plastic used in its construction, so I'd say that's a tradeoff I'm willing to make.
[section label=4. Conclusion]
Razer Tiamat 2.2 Conclusions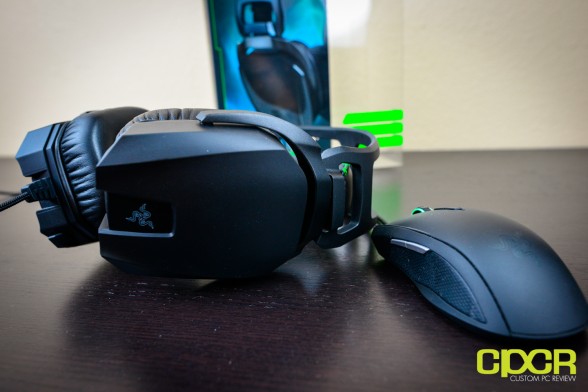 Razer's design team needs a pat on the back. Time and time again, they crank out some amazing designs and the Tiamat 2.2's awesome futuristic design is no different. In terms of materials, I'd have to agree with the choices made by the design team as well. The higher durability matte plastic, the braided cord and the titanium coating used for the diaphragm all seem like good, conscious decisions made by Razer dedicated to improving the headset's durability, which is something that unfortunately can't be said about a lot of gaming headsets out there. Additionally, it's also extremely comfortable as well and for those who follow my headset reviews, you'll know that I have a large head, large ears, and I wear glasses – just about the worst combination when looking for a comfortable headset.
That said, one thing I would really like Razer to offer is some sort of cloth earcup material. While leather is nice in loud environments for its superior noise isolation properties, I'd really like to have my ears surrounded by cloth as it breathes much better and can be worn for longer periods of time without getting hot and sweaty. After all, even the best headsets suck if you can't wear them. Luckily, the earcups on the Tiamat 2.2 are designed to be user removable, so hopefully Razer will introduce cloth earpads as either a separate accessory or have it included in future revisions. I'm keeping my fingers crossed on this one.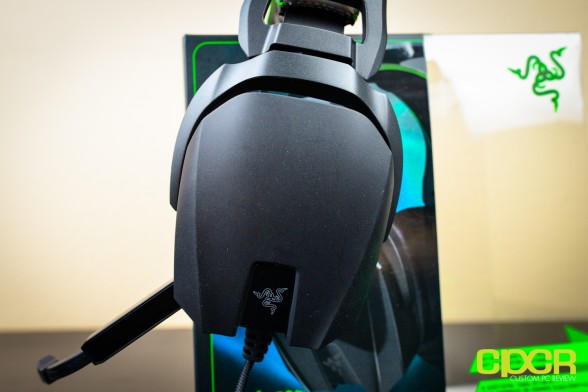 Razer is a gaming peripherals company, and in terms of audio performance, Razer has done an excellent job optimizing the Tiamat 2.2 for its primary purpose, gaming. The addition of 40mm drivers dedicated as subwoofers is one of the most innovative design choices I've seen in a while for a gaming headset and the deep, booming bass that can be produced really helps create a better sense of immersion in both movies and games. In terms of music performance, the Tiamat 2.2 is gobs and gobs of fun to listen to and the amount of bass that can be pumped out of these has put every other headset I've tested to shame. Need something to get your untz untz untz untz on? Get these.
Pricing on the Tiamat 2.2 is currently $99 at the Razer Store, which puts it in the premium tier for gaming headsets. That said, the 2.2 design is not available in any other gaming headset that I know of, which almost makes this headset sort of exclusive in a way. I really can't believe it took Razer almost a full year to finally get these things produced, but I'm sure glad they did.
Bottom Line
If you're a gamer, you like watching movies with things blowing up, and  you listen to party music all day, I can't think of a single headset (or headphones for that matter) that will put a bigger smile on your face than the Razer Tiamat 2.2. Highly Recommended!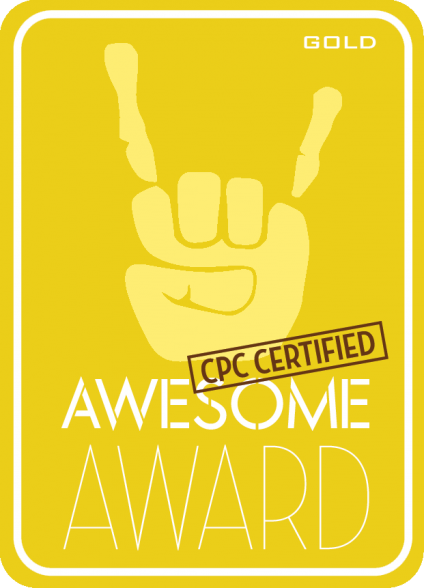 Special thanks to Razer for making this review possible.
The Razer Tiamat 2.2 Expert Analog Gaming Headset is currently available in the Razer Store.