Razer BlackShark Gaming Headset Review
Lock and Load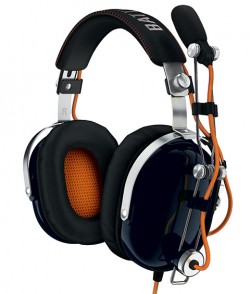 At this point, most of us probably shy away from branded products since most of them are simply obvious attempts by hardware manufacturers to make more money from their current lineup of products by overcharging game fans for what essentially is a product that's already offered except with a new paintjob. Of course, there are other companies then who produce branded products that are completely unique, which is why when Razer initially announced the BlackShark back in late May of this year, I was quite intrigued.
Contrary to some of Razer's previous branded gaming gear, the BlackShark is actually a unique design never before seen from Razer. This means that Razer didn't just simply just repaint a Carcharias or something, slap on a new logo, and attach a higher price tag than the base product. Inspired by the aviator headset used by military helicopter pilots, the BlackShark (AKA Kamov KA-50 Attack Helicopter) focuses on delivering superior sound performance with a high level of noise insulation. Its boom microphone is also detachable, and Razer even included a cap to cover up the microphone socket when it's detached allowing gamers to use the headset as a pair of headphones on the go.
Now, the BlackShark isn't actually a product completely new to me. When I visited Razer at E3 earlier this year, I was able to get a bit of hands on time with the new headset and came away with some fairly good impressions. Comfort and fit was good, the build quality was solid, noise isolation was top notch, and most importantly it sounded quite good despite it carrying only 40mm drivers underneath.
That said, I recently obtained a Razer BlackShark for a more thorough review, so were my first impressions spot on? Let's find out!
Specifications
Headphones
Drivers: 40mm neodymium magnets with copper-clad aluminum voice coil
Frequency response: 20Hz – 20KHz
Impedance: 29 Ω
Sensitivity @ 1KHz: 105dB ± 3 dB
Input power: 50mW
Cable: 1.3m rubber sheathed
Connector: 3.5 mm audio + mic combined jack
Microphone
Frequency response: 50Hz – 16KHz
Signal-to-noise ratio: 50dB
Sensitivity @ 1KHz: -37 dB +/- 4dB
Pick-up pattern: Unidirectional