7 Heatpipes: 1 CPU Cooler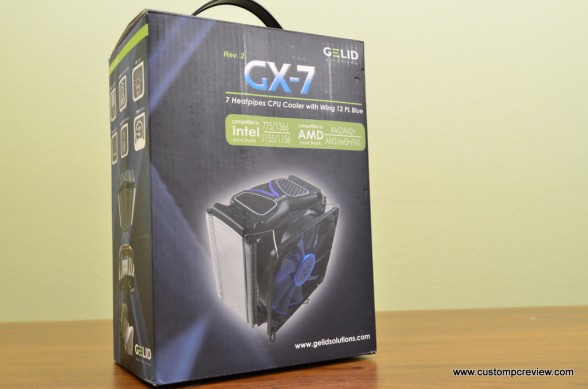 Gelid makes differentiating between their coolers easy by splitting them in to two categories: silent and gamer. The silent category usually sports a simplistic design and silent operation, while the gamer category sacrifices noise level for fancier looks and more robust cooling.
Today, we'll be taking a look at the Gelid GX-7 CPU Cooler. This cooler is listed under the gamer category, and is therefore designed to have much more cooling potential with a little less attention paid to operational noise. The cooler itself comes with seven 6mm heatpipes and a beautiful blue, LED lit, 120mm Wing fan.
What's most interesting about the design is that Gelid has managed to incorporate seven heatpipes into the array. For those who don't know, typically manufacturers don't stuff that many heatpipes into a CPU cooler. This is because most of the time there just physically isn't enough space for that many heatpipes. Additionally, at some point too many heatpipes into a single cooler just isn't very beneficial as it becomes more difficult to distribute heat evenly across all heatpipes making it just added cost without benefit.
However, it seems like Gelid was able to get around this problem by stacking 2 heatpipes on top of the 5 to theoretically maximize heat transfer. If you can't wrap that around your head, that's OK. We'll take a look at it soon enough. Seeing is believing, right?
Video Unboxing
Specifications
[box_light]
| | |
| --- | --- |
| Air Flow (CFM/CMH): | 75.6 / 128.6 |
| Bearing: | Nanoflux Bearing |
| Cable Length (mm): | 500 |
| Current (A): | 0.45 |
| DC Voltage (V): | 12 |
| Fan Dimensions (mm) | 120 (l) x 120 (w) x 25 (h) |
| Fan Speed (RPM): | 600 – 1800 |
| Heat Sink Dimensions (mm): | 130(l) x 65 (w) x 159 (h) |
| LED Color: | Blue |
| Life time MTTF at 40C (h): | 100'000 |
| Noise Level (dBA): | 10 – 26.8 |
| Number of LED: | 4 |
| Static Pressure (mmAq): | 2.66 |
| Warranty (years): | 3 |
| Weight (g): | 720 (heatsink and fan) |
[/box_light]
A Closer look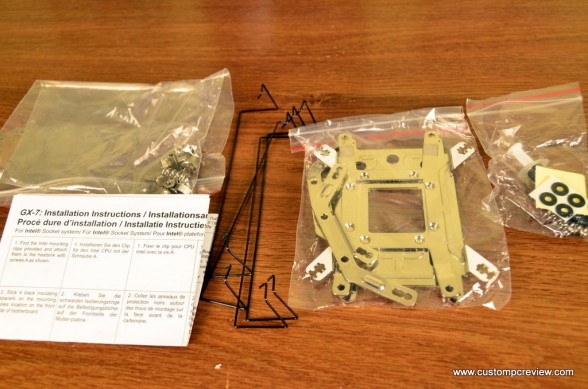 The accessories include mounting brackets, fan mounts, mounting screws, and an instruction manual, and a tube of their premium quality GC-2 thermal paste. Notice that there are 4 fan mounting brackets. That's because you can mount 2 fans in push/pull configuration on the cooler. Unfortunately, we didn't receive a second fan for testing, so we'll be testing this cooler in its default single fan configuration.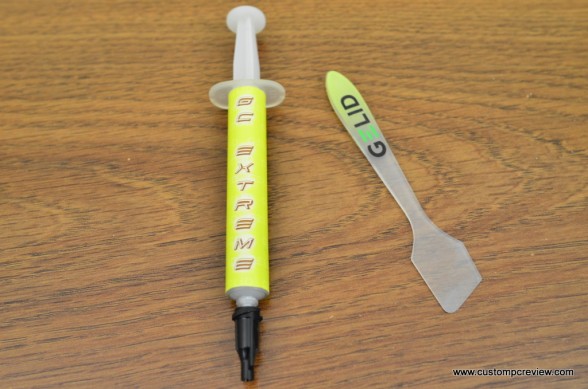 While both of the items above won't be included in the package, Gelid has included some of their flagship GC Extreme thermal compound for us to test with this cooler as well. Included with the GC Extreme thermal paste package, you also get a thermal paste applicator, which is pretty useful for applying that perfect layer of thermal paste.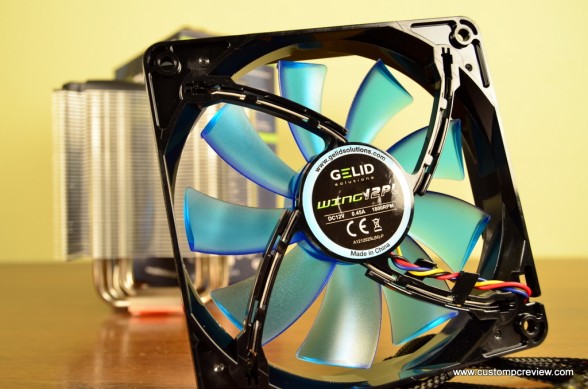 The fan that came with the cooler is a premium grade Gelid Wing 120 mm PWM fan. Spinning at 600-1800 RPM, it uses Gelid's patented NanoFlux bearing, which is both quiet and durable. The fan is also an LED fan , which means that they'll glow blue to give your setup a more awesome look. We all know this mathematical formula: LEDs + computer parts = Win!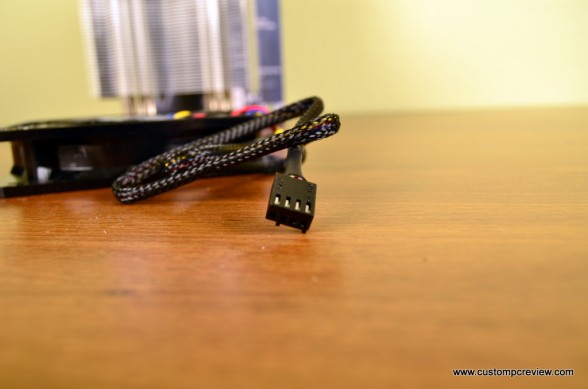 The cable on the fan is braided which means it's durable, causes less clutter, and looks awesome. Additionally, the connector is a 4 pin connector, which means it will have PWN functionality.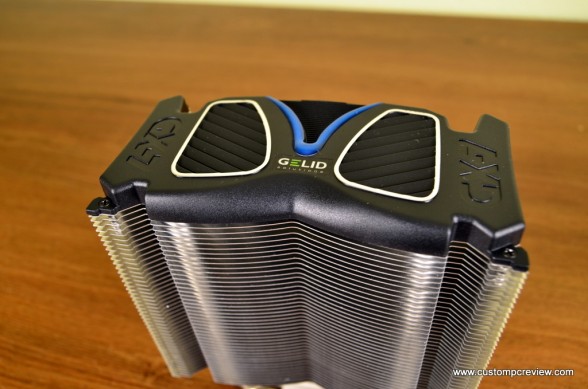 The heatsink is constructed out of high grade aluminum fins. The fins are quite densely packed together. The heat sink is covered by a Gelid cover to further enhance aesthetics. The cover is composed of entirely plastic. Cool? Let's move on…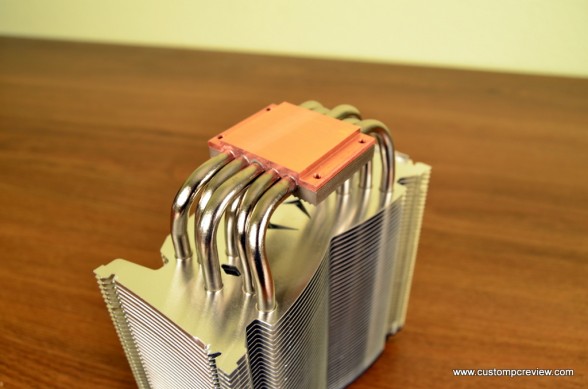 The copper contact plate is relatively smooth and scratch free. There were definitely a couple very small imperfections though, which isn't too confidence inspiring. (It's all in the small details, right?) Down here, we also see five heatpipes running through the contact plate as well. Unlike many coolers out on the market, this one doesn't utilize direct touch technology.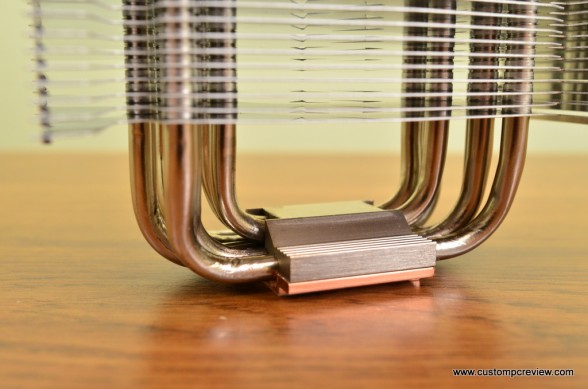 Here we can see exactly how Gelid was able to cram 7 heatpipes into the cooler. As you can see, only five out of the seven heatpipes actually touch the contact plate with the other two sitting on top of the five pipes.
Test Setup
CPU: Intel Core i5 2500K
Motherboard: Asrock Z68 Fatal1ty Professional Gen 3
Graphics: Intel HD3000 Graphics
Memory: Gskill Sniper 1866MHz DDR3 1.5v
Storage: Patriot Pyro SE 120gb
Power Supply: Corsair HX650
Case: HSPC High Speed Tech Station
Special thanks to HSPC for providing us with the High Speed Tech Station (Large) for our test bench.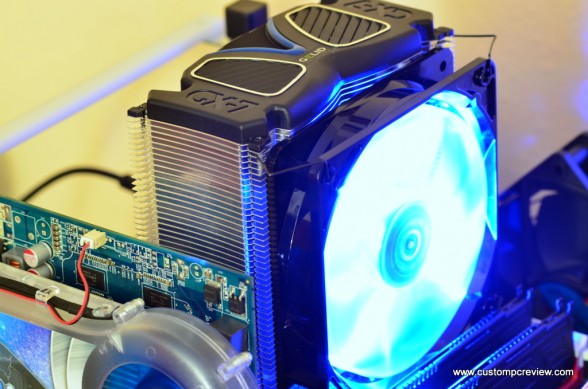 This cooler looks absolutely fantastic once it spins up. I absolutely love the bright blue LEDs! If you've got a large window on your case, this is perfect to show off your awesome build.
Performance
| | | | | |
| --- | --- | --- | --- | --- |
| CPU Cooler (Ambient 19°C) | Idle | Burn 3.4GHz Stock (1.104v) | Burn 4.7GHz OC (1.392v) | Burn 5GHz OC (1.520v) |
| Phanteks PH-TC14PE (3 Fans) | 24 | 38 | 57 | 72 |
| Xigmatek Prime SD1484 (2 Fans) | 25 | 40 | 62 | 78 |
| Corsair H70 | 27 | 42 | 67 | 83 |
| Noctua NH-C14 | 27 | 43 | 67 | 85 |
| Cooler Master V6GT | 26 | 41 | 68 | 85 |
| Hyper 212 Plus | 26 | 44 | 68 | n/a |
| Xigmatek Dark Knight | 28 | 44 | 69 | n/a |
| Gelid GX-7 Rev 2 (GC Extreme) | 27 | 43 | 70 | n/a |
| Gelid GX-7 Rev 2 (GC-2) | 27 | 44 | 72 | n/a |
| Arctic Cooling Freezer i30 | 27 | 45 | 75 | n/a |
Taking a look at these benchmarks, it looks like the seven heatpipe design of the GX-7 wasn't as groundbreaking as it seemed on paper. While running at stock clocks, the GX-7 was able to perform just fine, putting out some pretty good numbers when compared to many other CPU cooler out on the market; however, once the clocks on our i5 2500K were pushed up to 4.7GHz and beyond, the GX-7 didn't do quite as well. Additionally, I also tested the included GC Extreme thermal paste along with the GC 2 thermal paste and there was definitely a noticeable drop in temperatures. As you can see from the benchmarks above, the temperature dropped 2°C during the 4.7GHz, which is very good.
While I wasn't super impressed with the cooler, I was definitely impressed with the Gelid Wing 120mm PWM fan. It moved plenty of air (to the feel) and it's quiet. At the maximum 1,800RPMs the fan does make itself heard however, the PWM function works as intended and the fan does spin up and down as the temperature goes up and down.
Also, as you can see from the photo above, it looks really, really good. It's really a shame Gelid didn't include two fans with this cooler. These fans are absolutely superb and you do have the option of mounting a second fan for a push/pull configuration, which typically results in better cooling performance.
Conclusion
The Gelid GX7 had the looks and had what seemed like a very innovative design on paper, but ultimately the performance was a bit disappointing. Obviously, it's still a fantastic cooler if you're comparing it to the stock cooler included with most processors, but it was only able to match the Hyper 212 Plus. That's great, but the Hyper 212 Plus costs half as much and still performs better at higher overclocks. I suspect the major attributing factor to be that the GX-7's heatsink  is simply just plain not large enough to dissipate heat from 7 heatpipes, and that the single fan just couldn't push enough air.
On the plus side, the cooler was very silent, and while utilizing the PWM function, it's difficult to even notice the fan is even on. It was also able to keep the CPU under 80°C at full load at 4.7GHz, which means it'll still handle overclocks just fine. Unfortunately, this cooler is supposed to be a "gamer" cooler, not a silent cooler, and I was just expecting the GX-7 to pack much more of a punch in terms of performance. Yeah, the fans are awesome and the LED is bright and vibrant, but I'm not sure that's the major selling point for this cooler. Maybe I was just so excited to see all the heatpipes. Who knows?
Priced at $65 dollars on Newegg, the Gelid GX-7 does ask a bit more than what it can actually offer. Considering there are competitors priced more economically and performing just as well if not better, I don't see the GX-7 being competitive at the price that's being asked.
Bottom Line
Overall, the GX-7 isn't a bad CPU cooler, but there is room for improvement. It has some great looks and the fan itself is probably worth $25. As far as cooling performance, it was still able to match other coolers at stock clock speeds and it was able to keep the i5 2500K under 80°C during the 4.7GHz overclock. That's not bad. It's still miles ahead of the Intel stock cooler. However, I have to say there are better options out there for the price. While I wouldn't drop $65 on the GX-7, if you manage to find it on discount somewhere, I don't see why you shouldn't pick one up.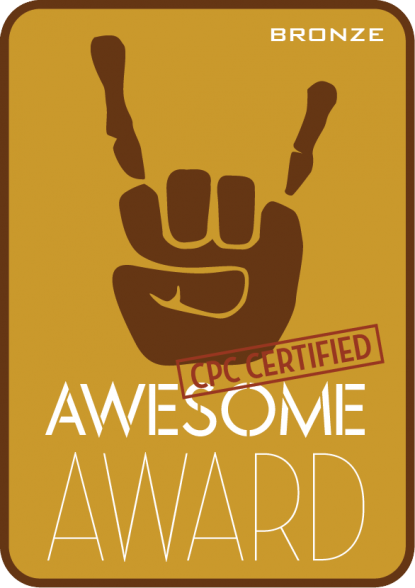 Special thanks to Gelid for making this review possible.
The Gelid GX-7 is currently available on Newegg.
[signoff1]