Warning
: Undefined array key "width" in
/var/www/vhosts/custompcreview.com/public_html/wp-includes/media.php
on line
1381
Warning
: Undefined array key "width" in
/var/www/vhosts/custompcreview.com/public_html/wp-includes/media.php
on line
1386
Warning
: Undefined array key "height" in
/var/www/vhosts/custompcreview.com/public_html/wp-includes/media.php
on line
1386
Warning
: Undefined array key "width" in
/var/www/vhosts/custompcreview.com/public_html/wp-includes/media.php
on line
1381
Warning
: Undefined array key "width" in
/var/www/vhosts/custompcreview.com/public_html/wp-includes/media.php
on line
1386
Warning
: Undefined array key "height" in
/var/www/vhosts/custompcreview.com/public_html/wp-includes/media.php
on line
1386
Warning
: Undefined array key "width" in
/var/www/vhosts/custompcreview.com/public_html/wp-includes/media.php
on line
1381
Warning
: Undefined array key "width" in
/var/www/vhosts/custompcreview.com/public_html/wp-includes/media.php
on line
1386
Warning
: Undefined array key "height" in
/var/www/vhosts/custompcreview.com/public_html/wp-includes/media.php
on line
1386
Warning
: Undefined array key "width" in
/var/www/vhosts/custompcreview.com/public_html/wp-includes/media.php
on line
1381
Warning
: Undefined array key "width" in
/var/www/vhosts/custompcreview.com/public_html/wp-includes/media.php
on line
1386
Warning
: Undefined array key "height" in
/var/www/vhosts/custompcreview.com/public_html/wp-includes/media.php
on line
1386
Warning
: Undefined array key "width" in
/var/www/vhosts/custompcreview.com/public_html/wp-includes/media.php
on line
1381
Warning
: Undefined array key "width" in
/var/www/vhosts/custompcreview.com/public_html/wp-includes/media.php
on line
1386
Warning
: Undefined array key "height" in
/var/www/vhosts/custompcreview.com/public_html/wp-includes/media.php
on line
1386
Warning
: Undefined array key "width" in
/var/www/vhosts/custompcreview.com/public_html/wp-includes/media.php
on line
1381
Warning
: Undefined array key "width" in
/var/www/vhosts/custompcreview.com/public_html/wp-includes/media.php
on line
1386
Warning
: Undefined array key "height" in
/var/www/vhosts/custompcreview.com/public_html/wp-includes/media.php
on line
1386
Warning
: Undefined array key "width" in
/var/www/vhosts/custompcreview.com/public_html/wp-includes/media.php
on line
1381
Warning
: Undefined array key "width" in
/var/www/vhosts/custompcreview.com/public_html/wp-includes/media.php
on line
1386
Warning
: Undefined array key "height" in
/var/www/vhosts/custompcreview.com/public_html/wp-includes/media.php
on line
1386
Warning
: Undefined array key "width" in
/var/www/vhosts/custompcreview.com/public_html/wp-includes/media.php
on line
1381
Warning
: Undefined array key "width" in
/var/www/vhosts/custompcreview.com/public_html/wp-includes/media.php
on line
1386
Warning
: Undefined array key "height" in
/var/www/vhosts/custompcreview.com/public_html/wp-includes/media.php
on line
1386
Warning
: Undefined array key "width" in
/var/www/vhosts/custompcreview.com/public_html/wp-includes/media.php
on line
1381
Warning
: Undefined array key "width" in
/var/www/vhosts/custompcreview.com/public_html/wp-includes/media.php
on line
1386
Warning
: Undefined array key "height" in
/var/www/vhosts/custompcreview.com/public_html/wp-includes/media.php
on line
1386
Warning
: Undefined array key "width" in
/var/www/vhosts/custompcreview.com/public_html/wp-includes/media.php
on line
1381
Warning
: Undefined array key "width" in
/var/www/vhosts/custompcreview.com/public_html/wp-includes/media.php
on line
1386
Warning
: Undefined array key "height" in
/var/www/vhosts/custompcreview.com/public_html/wp-includes/media.php
on line
1386
Warning
: Undefined array key "width" in
/var/www/vhosts/custompcreview.com/public_html/wp-includes/media.php
on line
1381
Warning
: Undefined array key "width" in
/var/www/vhosts/custompcreview.com/public_html/wp-includes/media.php
on line
1386
Warning
: Undefined array key "height" in
/var/www/vhosts/custompcreview.com/public_html/wp-includes/media.php
on line
1386
Warning
: Undefined array key "width" in
/var/www/vhosts/custompcreview.com/public_html/wp-includes/media.php
on line
1381
Warning
: Undefined array key "width" in
/var/www/vhosts/custompcreview.com/public_html/wp-includes/media.php
on line
1386
Warning
: Undefined array key "height" in
/var/www/vhosts/custompcreview.com/public_html/wp-includes/media.php
on line
1386
Warning
: Undefined array key "width" in
/var/www/vhosts/custompcreview.com/public_html/wp-includes/media.php
on line
1381
Warning
: Undefined array key "width" in
/var/www/vhosts/custompcreview.com/public_html/wp-includes/media.php
on line
1386
Warning
: Undefined array key "height" in
/var/www/vhosts/custompcreview.com/public_html/wp-includes/media.php
on line
1386
Warning
: Undefined array key "width" in
/var/www/vhosts/custompcreview.com/public_html/wp-includes/media.php
on line
1381
Warning
: Undefined array key "width" in
/var/www/vhosts/custompcreview.com/public_html/wp-includes/media.php
on line
1386
Warning
: Undefined array key "height" in
/var/www/vhosts/custompcreview.com/public_html/wp-includes/media.php
on line
1386
Warning
: Undefined array key "width" in
/var/www/vhosts/custompcreview.com/public_html/wp-includes/media.php
on line
1381
Warning
: Undefined array key "width" in
/var/www/vhosts/custompcreview.com/public_html/wp-includes/media.php
on line
1386
Warning
: Undefined array key "height" in
/var/www/vhosts/custompcreview.com/public_html/wp-includes/media.php
on line
1386
Warning
: Undefined array key "width" in
/var/www/vhosts/custompcreview.com/public_html/wp-includes/media.php
on line
1381
Warning
: Undefined array key "width" in
/var/www/vhosts/custompcreview.com/public_html/wp-includes/media.php
on line
1386
Warning
: Undefined array key "height" in
/var/www/vhosts/custompcreview.com/public_html/wp-includes/media.php
on line
1386
Warning
: Undefined array key "width" in
/var/www/vhosts/custompcreview.com/public_html/wp-includes/media.php
on line
1381
Warning
: Undefined array key "width" in
/var/www/vhosts/custompcreview.com/public_html/wp-includes/media.php
on line
1386
Warning
: Undefined array key "height" in
/var/www/vhosts/custompcreview.com/public_html/wp-includes/media.php
on line
1386
Warning
: Undefined array key "width" in
/var/www/vhosts/custompcreview.com/public_html/wp-includes/media.php
on line
1381
Warning
: Undefined array key "width" in
/var/www/vhosts/custompcreview.com/public_html/wp-includes/media.php
on line
1386
Warning
: Undefined array key "height" in
/var/www/vhosts/custompcreview.com/public_html/wp-includes/media.php
on line
1386
Introduction
Ok, so Arctic Cooling. For those enthusiasts out there, you've probably heard the name already and for those who haven't, well they make some pretty impressive pc cooling products. What you probably don't know is that they've been opening up their product offerings lately to include some pretty diverse stuff such as speakers, headsets and even media centers. Of course, that's for another day and another review.
Today we're going to do a thermal paste review and the thermal paste is going to be Arctic Cooling's newest MX-4 thermal paste. This is the newest iteration of Arctic Cooling's famous metal-free, non-electrically conductive, high performance thermal paste so in a nutshell, it should be pretty damn good and 100% safe to use as well even if you do manage to screw up or apply too much. We will also be comparing it with a couple other thermal pastes. Anyway, a little eye candy for you guys before we get into the numbers.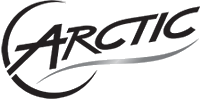 Packaging + First Look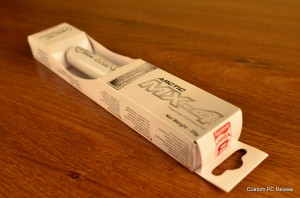 As you can see, Arctic Cooling decided to send me the beastly edition of the MX-4. An entire 20g's worth.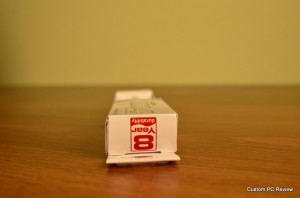 Awesome! 8 year durability. Pretty much guaranteed to outlast the useful life of your PC.
Yeah, we believe you, Arctic Cooling. Nothing like a large graph on the packaging to show 5 degrees difference.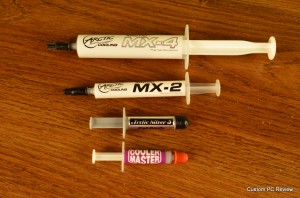 Just like how black translates to higher performance we associate big things to performance as well right?
Spreadability
I found the MX-4 to be very thin and spread very easily / evenly. In my testing, it was easier to work with than the MX-2 and about the same as the AS5. The Cooler Master stock thermal compound was by far the thickest and most difficult.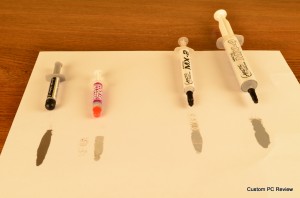 Specifications
Here's a quick list of the specifications of some of the thermal pastes we're going to be taking a look at today. I wasn't able to locate exact specifications to compare for Arctic Silver 5 or the stock Cooler Master thermal compound that came with the V6GT.
Arctic Cooling MX-4
Thermal Conductivity (W/mk)
8.5
Viscosity (poise)
870
Density (g/cm³)
2.5
Dimensions (Packaging)
4g: 160 L x 110 W x 20 H mm
20g: 182 L x 35 W x 20 H mm
Net Weight
4g / 20g
Gross Weight
0.08 kg
Arctic Cooling MX-2
| | |
| --- | --- |
| Viscosity (poise) | 850 |
| Density (g/cm³) | 3.96 |
| Dimensions (Packaging) | 4g: 160 L x 110 W x 20 H mm |
| Net Weight | 4g / 8g / 30g / 65g |
| Gross Weight | 0.13 kg |
Arctic Silver 5 (AS5)

Thermal Conductance:
>350,000W/m2 °C (0.001 inch layer)
Thermal Resistance:
<0.0045°C-in2/Watt (0.001 inch layer)
Average Particle Size:
<0.49 micron <0.000020 inch
Extended Temperature Limits:
Peak: –50°C to >180°C Long-Term: –50°C to 130°C
Cooler Master Stock Thermal Compound (Included with the V6GT)
Specs Unknown
Performance
Test Bench:
CPU – i7 2600K
CPU Cooler – Cooler Master V6GT
Mobo – Z68A-GD65 (G3) – Bios N.3
Memory – 16gb Corsair Vengeance DDR3 1600mhz 9-9-9-24
Case – HAF X (Side panel closed)
Prime 95 – 15 minute Burn
Temps measured through Core Temp (1.0 RC2)
All fan speeds measured through Speedfan. All rpm values rounded to the nearest hundred.
Test procedures:
1. All thermal pastes are applied and spread as evenly as possible to the CPU
2. The CPU is then run through a minimum 2 hour Prime 95 run then the system is shut off for a minimum of 20 minutes
3. The system is then started up and the minimum temperatures for all 4 cores is noted within the first 5 minutes.
4. The system is then run through 2x 15 minute Prime 95 tests. The average of the two is used as the final temperature. All temperatures are recorded in Celsius using CoreTemp.
**Note** Arctic Silver 5 recommends ~200+ hour curing time. Unfortunately due to time constraints that did not happen.
As you can see when the temperatures of the CPU is low during the 3.5ghz test, all 4 thermal compounds performed relatively alike.
As temperatures increased, the difference in temperatures became much more apparent. The MX-4 clearly led the pack at 59c with the Arctic Cooling's own MX-2 following behind at 61c. However, I didn't expect to see the Arctic Silver 5 perform the way it did. I will see if I can obtain a different sample of the AS5 and allow it the proper 200 hour curing time. Hopefully the results will be a bit different.
As we see from the numbers, thermal paste isn't really going to make the same amount of difference as a CPU cooler will, but if you want to squeeze every last bit of performance out of that CPU cooler, make sure to pick some up with your new computer purchase.
Final Thoughts
Arctic Cooling has already produced many revisions of their MX series thermal pastes and their expertise shows in the MX-4. The results from this thermal compound were very impressive and I have no doubt that as temperatures get even higher the temperature gap between the thermal pastes will grow even larger.
The MX-4 was also extremely easy to work with, extremely easy to clean and is non conductive so it's safe for even the most amateur computer builders. In addition, you may pick up a tube of the 4g paste for only $6.95 at Arctic Cooling's website making this an excellent deal.
All in all, this is an excellent thermal paste and is truly deserving of our top honors.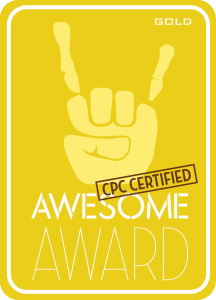 Currently the Arctic Cooling MX-4 Thermal Paste is available on the Arctic Cooling website or on Amazon.
The product sample used in this review was provided by the manufacturer.