Warning
: Undefined array key "width" in
/var/www/vhosts/custompcreview.com/public_html/wp-includes/media.php
on line
1381
Warning
: Undefined array key "width" in
/var/www/vhosts/custompcreview.com/public_html/wp-includes/media.php
on line
1386
Warning
: Undefined array key "height" in
/var/www/vhosts/custompcreview.com/public_html/wp-includes/media.php
on line
1386
Warning
: Undefined array key "width" in
/var/www/vhosts/custompcreview.com/public_html/wp-includes/media.php
on line
1381
Warning
: Undefined array key "width" in
/var/www/vhosts/custompcreview.com/public_html/wp-includes/media.php
on line
1386
Warning
: Undefined array key "height" in
/var/www/vhosts/custompcreview.com/public_html/wp-includes/media.php
on line
1386
Special Edition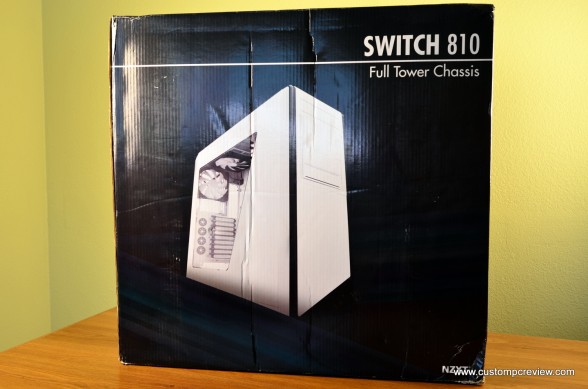 5-10 years ago, NZXT cases weren't well known at all. They had some innovative, but seriously crazy looking case designs such as the NZXT Guardian Green, which (may be due in part to its craziness) to this day is still a case I remember from the days when I was still in high school.
Over recent years, it seems like NZXT has gone a tad bit more conservative in their designs, but are still bringing plenty of innovation to the table. These days, NZXT is considered a top brand among PC builders with well many well known products such as the NZXT Phantom, the NZXT Sentry, and many more.
Today we'll be taking a look at one of NZXT's newest cases to hit the market – the Switch 810. Instead of pursuing eyebrow-raising designs with this case, NZXT went with a more traditional, more modest look. With no crazy front covers, crazily carved vent holes, light shows, or an exotic paint job, the Switch 810 is just looking to get the job done. Marketed as a "Hybrid" case (hence why it's named the "Switch"), the Switch 810 is optimized for water cooling, high air flow, or silence. At first glance, you'll probably only notice the huge side panel window. Seriously. Look at the box art. Looks like a plain white case right? Well, yeah you'd be right, but take a look on the inside and you'd be very pleasantly surprised.
http://www.youtube.com/watch?v=Ba7k1R9Aues
Specifications
| | |
| --- | --- |
| MODEL | Switch 810 |
| CASE TYPE | Hybrid Full Tower |
| FRONT PANEL MATERIAL | Plastic/Steel |
| DIMENSIONS (W x H x D) | 235 x 595 X 585 mm |
| VGA Clearance Maximum | 375mm (w/out fan), 350 (installed), 285 (full pivot) |
| COOLING SYSTEM | FRONT, 2 X 120/140mm (1x 140mm included)REAR, 1 X 120/140mm (1x 140mm included)TOP, 3 X 120/140mm (1x 140mm included)BOTTOM, 2x 120/140mmINTERIOR, 2x 120/140mm (1x 140mm included)SIDE, Large acrylic window |
| DRIVE BAYS | 4 EXTERNAL 5.25″ DRIVE BAYS6 INTERNAL 3.5″ DRIVE BAYSScrew-less Rail Design |
| MATERIAL(S) | Steel, Plastic |
| EXPANSION SLOTS | 9 |
| WEIGHT | 14.42 kg |
| MOTHERBOARD SUPPORT | E-ATX, XL-ATX, ATX, MICRO-ATX, Mini-ITX |
A Closer Look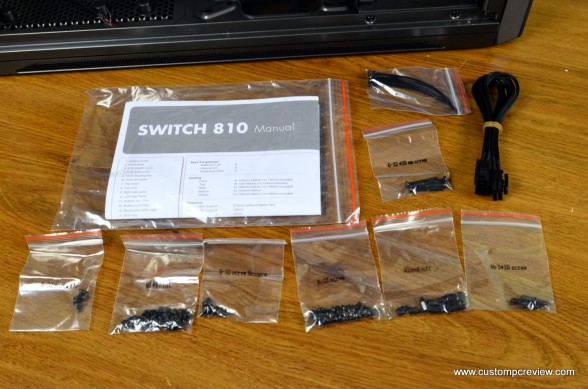 Starting with the accessories, we receive some documentation, case screws in labeled packages, cable ties, and an 8 pin extension cable.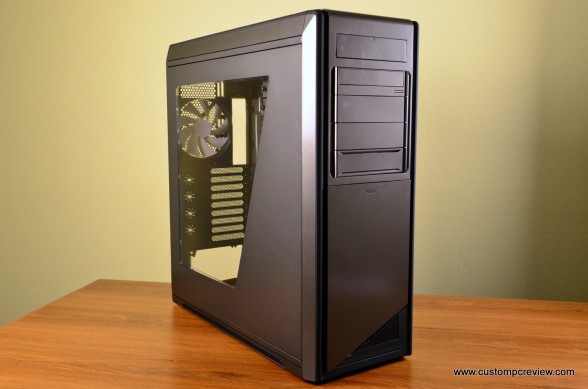 Above we have the NZXT Switch 810 in the Gunmetal paint option. As you can see, the case has a matte finish which is very fingerprint resistant. Additionally, the paint job seems to be very high quality. The colors on the plastic and steel pieces compliment each other very well and the black/grey color is an excellent fit for those looking for something that isn't too showy. .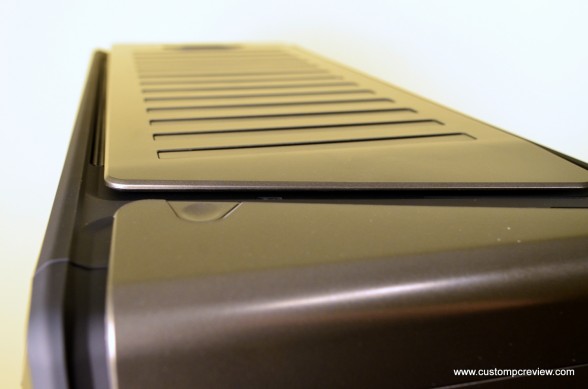 Up top, we only get a single power button as well as a recessed indicator LEDs right behind it. Other than that, the entire case is quite clean with all other front inputs covered. Behind this, notice all the vents in closed mode. The blocks any dust from entering the case.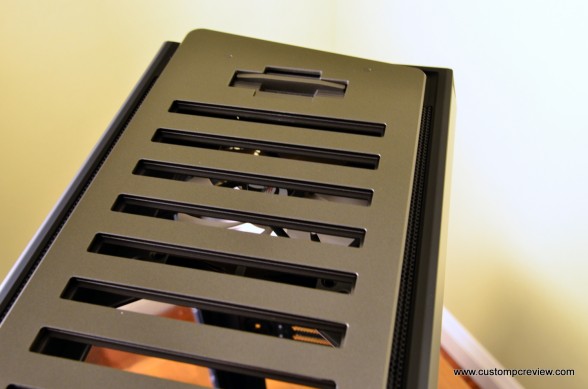 One of the many unique features on the Switch 810 is that the top vents can be opened when the PC is running and closed when not. NZXT calls it "Hybrid Fins", which is probably where the name Hybrid tower came from. The nice thing about the case is that it may be used with the "Hybrid Fins" in closed mode, which NZXT claims to reduce notice up to "40%-60%". Of course, closing the fins will probably generate higher heat, so there will be a trade-off here.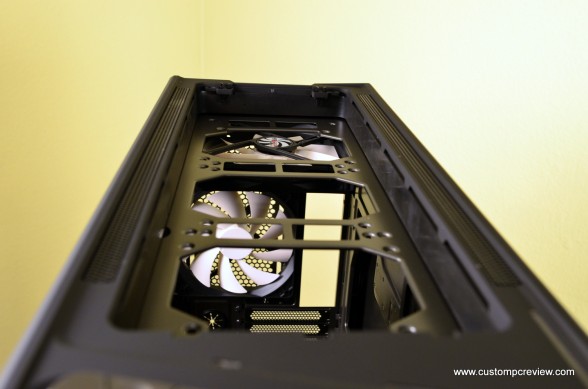 Right underneath the Hybrid Fins, the Switch 810 has the ability to support an internal 480mm water cooling radiator. There's also 90mm height's worth of space so both the radiator and fans can go in and stay completely hidden.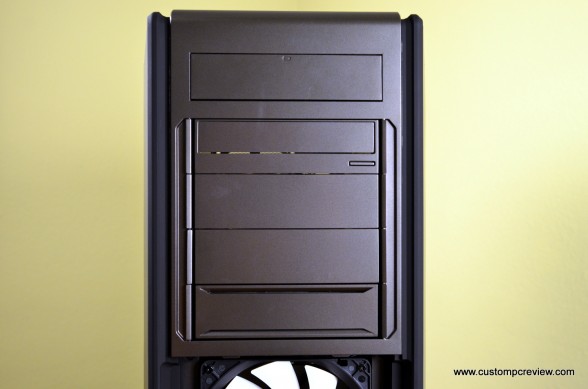 Moving to the front of the case, we get the front I/O ports with 4x 5.25″ drive bays sitting right below it. The I/O ports are covered with a swinging cover to give the case an even cleaner look.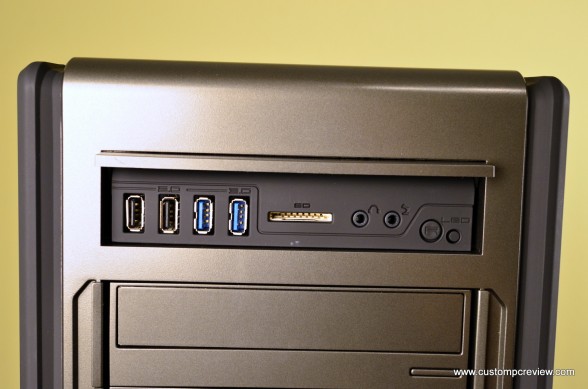 Under the front I/O cover, the Switch 810 includes 2x USB 2.0 ports, 2x USB 3.0 ports, an SD card port, microphone and headphone jacks, LED on/off, and a reset switch.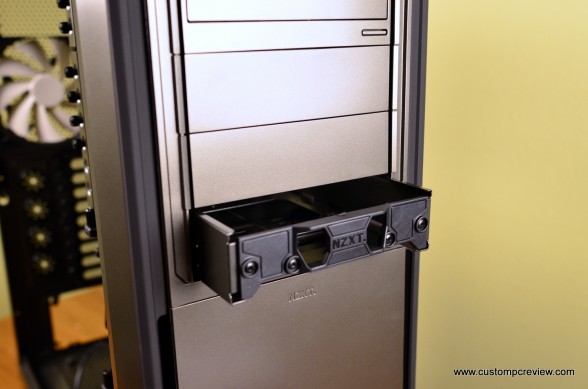 The bottom 5.25″ drive bay is a hot swap bay that can accommodate both 2.5″ and 3.5″ drives. This is something we've seen previously on cases such as the Cooler Master HAF X and it's nice that NZXT is also including one as well.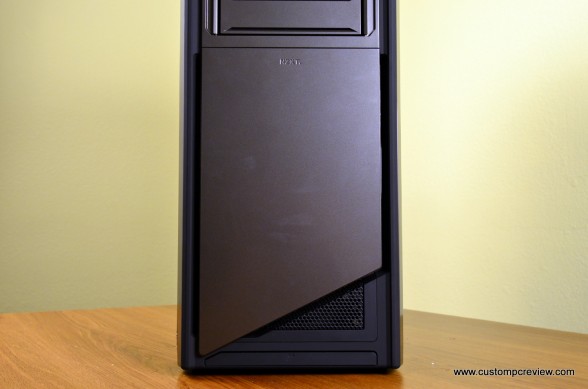 Right below the 5.25″ drive bays is a classy looking plastic piece that serves as a cover for the fans behind as well as a dust filter. Unfortunately the opening for air isn't that big, so it does leave you wondering if air flow is hindered at all due to this unique design.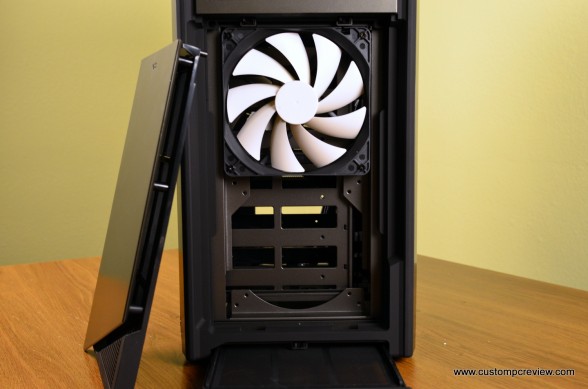 A Closer Look (Cont…)
The cover can be easily clicked into place and removed in a similar fashion. A single 140mm fan is included, but a second can be installed here as well. The front mounts also support 120mm fans if those are preferred. To further combat against dust intrusion, NZXT included another removable fan filter to the bottom of the case. This fan filter is very high quality and is easily installed or removed.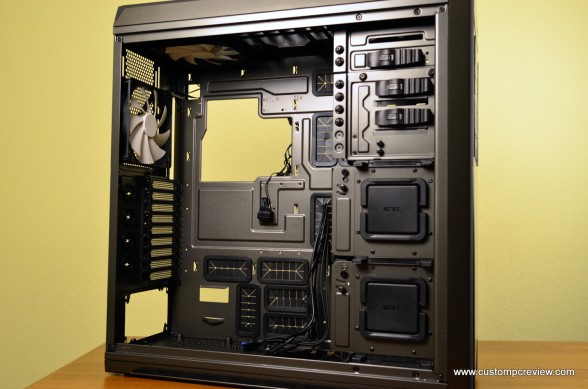 Each side panel is attached to the case via 3x thumbscrews. Removing the side panels, we can see that the interior of the case is also painted in the same gunmetal paint job as the rest of the case. Let's take a closer look.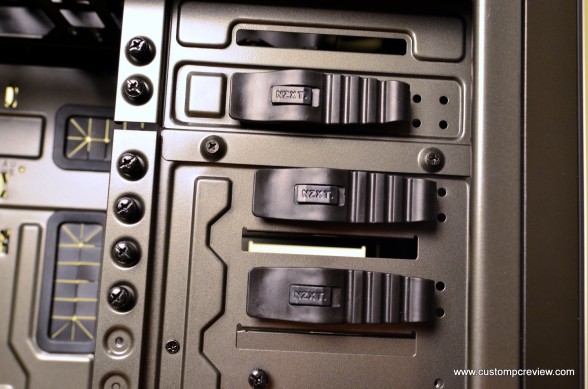 Starting at the 5.25″ drive bays, we can see that the top bay is meant for an optical drive as it sits a bit further back from the other two 5.25″ drive bays. That's because an optical drive front cover is meant to be used with the optical drive to help with aesthetics. NZXT also includes their screw-less mounting system for easy installation, but thumb screws are included as well for those who prefer using screws. Either way, a screwdriver is unnecessary.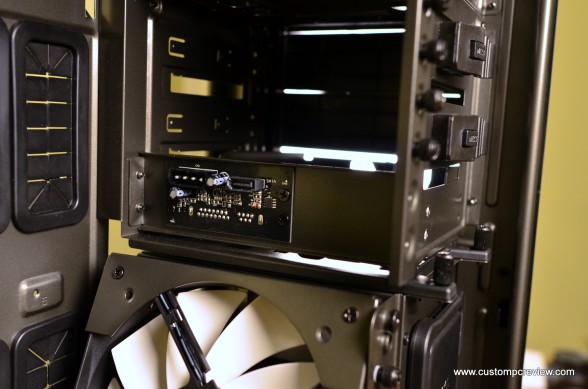 Below the three 5.25″ drive bays at the top is a hot swappable bay with support for 2.5″ or 3.5″ hard drives/SSDs. As you can see, an internal connector exists to interface the hot swap drive with your PC.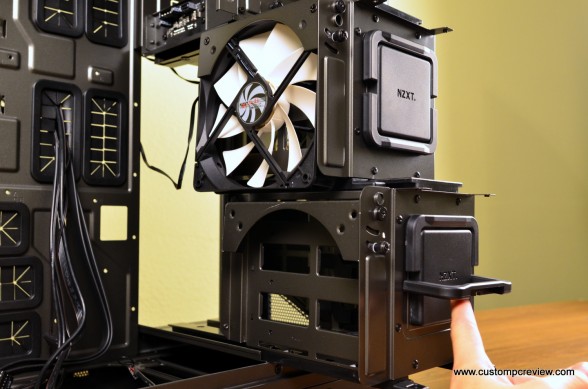 Further down below, we get two removable 2.5″/3.5″ drive cages which has support for three drives each. Additionally, each drive cage has support for a 140mm fan to help move air through the drive cages. Each drive cage is independent from each other so they can be removed separately.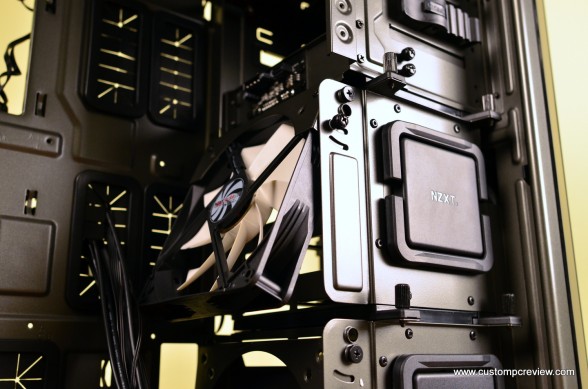 The interesting thing about these fan mounts is that they are rotatable up to 15° so air can be directed to specific parts of the case such as the CPU or the GPU. This was a feature seen on the NZXT Phantom 410 and it's great to see it again on the Switch 810.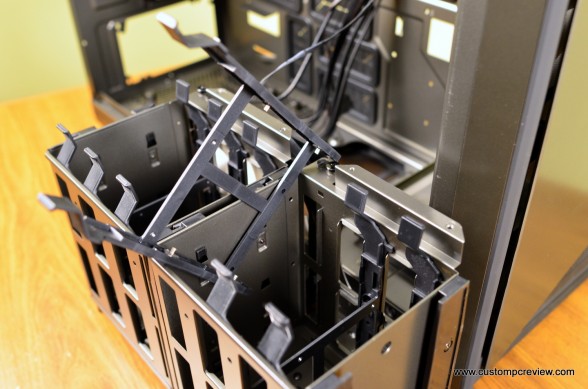 As you can see, each drive cage comes with three drive trays, which are tool-less for 3.5″ drives and thumbscrews may be used to attach 2.5″ drives for a completely tool-less install. If thumbscrews are not used, you may also use regular screws.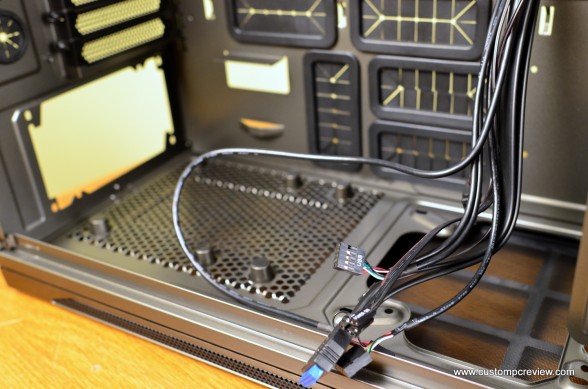 Here we've got a shot of the front panel connectors. Behind that we get the mount for the power supply. The entire bottom is filtered, so power supplies with even the largest power supplies can be installed. The power supply will sit on rubber grommets which helps absorb fan noise and additionally helps lift the power supply for better airflow.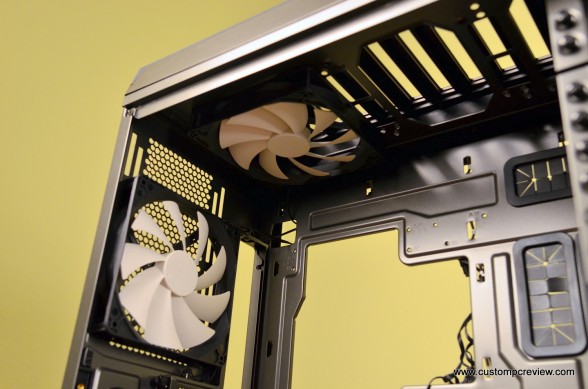 At the rear of the case, included is a pre-installed 140mm fan which can be adjusted upwards or downwards based on preference. Additionally up top, a single 140mm fan is included as well, but two more additional 140mm fans can be installed up top for a total of three 140mm fans.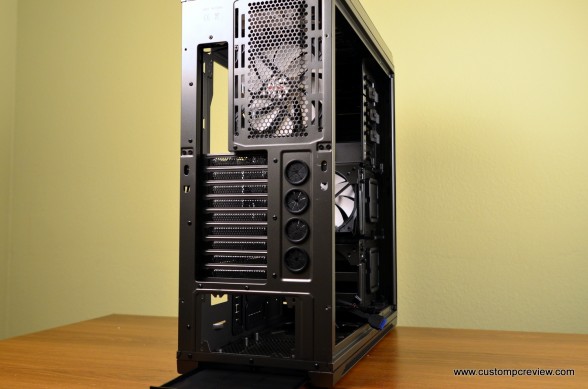 The back of the case is quite traditional looking. Start up at the top we get the I/O punch out, an adjustable 140mm fan mounting area (up and down), 9x expansion slots, 4x water cooling holes, the power supply punch out, and another removable fan filter that runs through half the bottom of the chassis. With both bottom fan filters installed, the entire bottom of the case is filtered.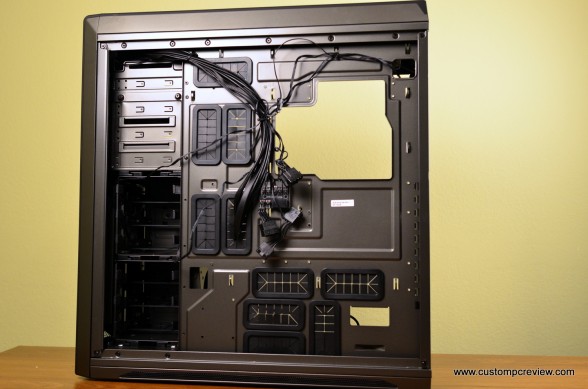 On the backside of the case, there's plenty of space for hiding your cables. There's a large cutout for easy CPU cooler installation and plenty of grommeted holes for routing cables.
One interesting thing to note is that there's a central fan hub right in the middle which will allow you to connect all your three pin fans to a single 4 pin molex connector. A total of 7x fans can be connected here. Weird enough, this hub provides no fan control, which makes you wonder why this was included in the first place.
Test System
CPU: Intel Core i7 3960X & Phanteks PH-TC14PE Cooler
Motherboard: Asrock X79 Fatal1ty Professional
Graphics: MSI Radeon HD6970 + ARCTIC Accelero Xtreme 7970
Memory: 16GB Kingston HyperX Genesis DDR3 2133MHz
Boot Drive: OCZ Vertex 3 120GB SSD
Storage Drive: Western Digital 1TB Caviar Blue
Power Supply: Corsair HX650
DVD Drive – ASUS OEM DVD Drive
Installation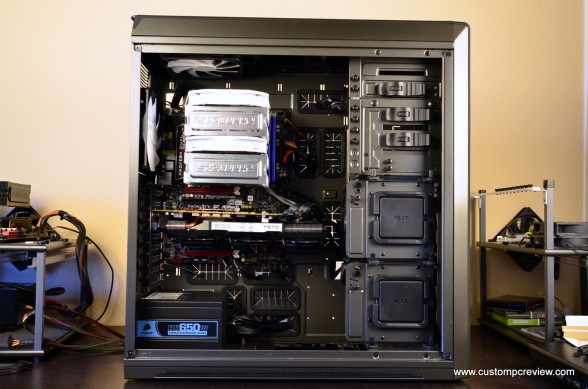 Overall install into the case was a breeze. Aside from the motherboard installation, an entire PC may be installed into the Switch 810 without any tools whatsoever. Despite the large size of the ASRock X79 Fatal1ty motherboard, ARCTIC Accelero Xtreme 7970 GPU Cooler, and Phanteks PH-TC14PE CPU Cooler, the NZXT Switch 810 is easily able to fit everything with plenty of room to spare. Cabling is quite neat as well despite the fact that I'm nowhere near the best person when it comes to cable management. Including basic cable management, entire installation time was probably less than 30 minutes from start to finish. It's quite obvious NZXT has gone out of their way to make installation easy and painless with the Switch 810, and the individually packaged / individually labeled hardware does help.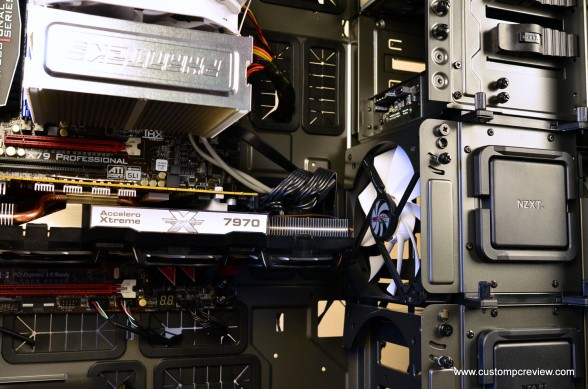 Although the Radeon HD6970 with the Accelero Xtreme 7970 GPU cooler measures nearly 13″ long, the GPU can easily fit with room to spare. The fan can be removed for additional space, and the entire HDD cage can be removed as well.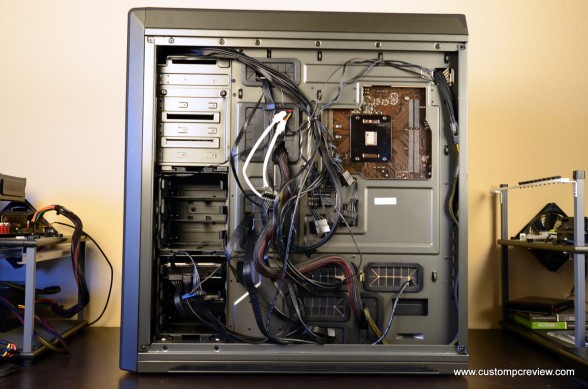 Moving around the back, cabling is an absolute mess, but even with cabling like this, the case door can still close effortlessly. Obviously, it's recommended that you organize cables a bit better than this, but it's something that you won't be able to see and it doesn't impact airflow at all. It does make cables easier to identify though if that matters to you.
Also notice that the hard drive trays exit in this direction. As expected, this is helps give the case a much cleaner look as cables won't be running anywhere near the window. This does mean that if you want to swap out hard drives, you'll need to open the right side panel instead of the left. This may be a tad bit annoying as connecting a SATA connector will require opening the left sidepanel.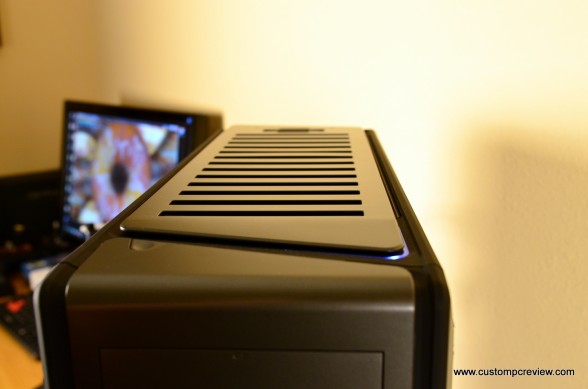 Once fired up, the indicator up at the top of the case glows blue. Very classy. There's also a blue HDD indicator light to the left that's currently not lit.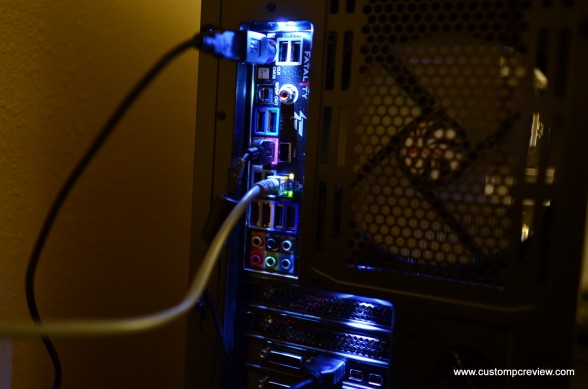 One neat feature NZXT added to the Switch 810 is a couple little LED lights in the back. This looks like a gimmick, but in dark lighting situations it's actually extremely useful. It's the little things, right?
Performance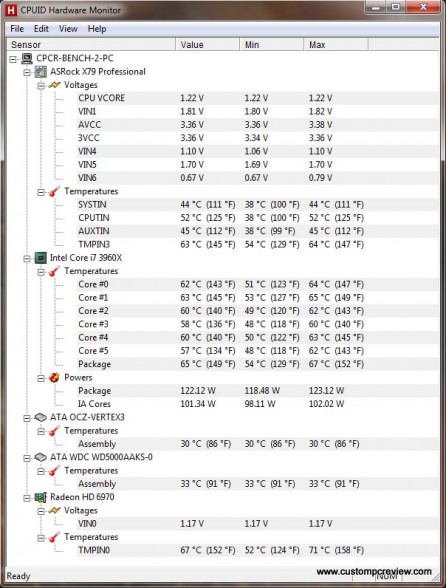 Once the test system was completely installed, I ran a full 30 minutes of AIDA64 stress test in combination with Furmark (Ambient 23°C) to create as much heat as possible for the case. Temperatures here were perfectly acceptable with each CPU core maintaining 65°C or lower. The Radeon HD 6970 on the other hand rocking the Accelero Xtreme 7970 was only able to hit a maximum temperature of 71°C, which I found to be very impressive. In comparison to the temperatures we saw on the NZXT Phantom 410, the Switch 810 was able to keep the GPU 6°C cooler! This is no doubt due to the push/pull 140mm fans pushing tons of air into the GPU.
When it comes to noise, the Switch 810 with its stock fans is loud. Because of the lack of any fan controls on the fan hub, every stock 140mm fan runs at maximum speed. Great cooling performance, but at a serious acoustic cost.
Conclusion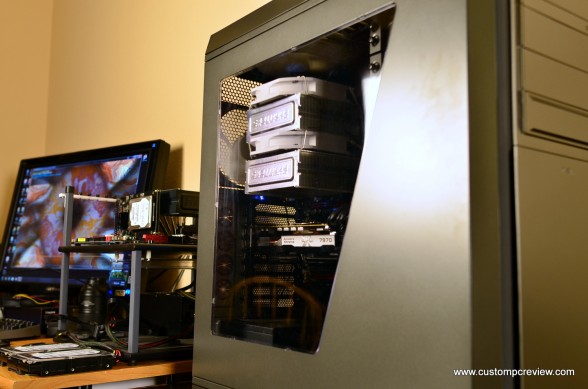 I've seen the original Switch 810 in glossy black and truth be told, I wasn't really sold with its looks. Glossy materials meant it was a huge fingerprint and dust magnet so maintenance was a huge pain. That said, after seeing the gunmetal edition of the exact same case, I'm quite impressed. Unfortunately, pictures don't do the case justice, but you can see that the entire case is covered in a high quality matte finish and the gunmetal grey along with the black accents is a color combination you simply can't go wrong with.
In the features department, you'll get no less either. From the stuff you'd expect such as full coverage high quality fan filters on all intakes, a huge window to show off your expensive gear, top-notch cable management, and full support for watercooling, this case has it all. Then just when you think the case already has it all, NZXT goes ahead and throws a couple more features at you such as the lit rear I/O and expansion slots along with the adjustable fan mounts on the hard drive cages. Unfortunately I wasn't able to install a full water cooling loop into this case, but it does advertise support for two water cooling radiators – one 420mm/360mm up top and one 140mm/240mm at the bottom. Both these radiators can be hidden inside the case, which is extremely rare for any case on the market today.
Similar to installation on other NZXT cases, installation into the Switch 810 was completely pain-free. Starting with the fact that everything is tool-less, installing hard drives, optical drives, expansion cards, etc. were all doable within minutes if not seconds. The large amount of space in the Switch 810 (which might not be a feature, but I'll include it anyway) makes life with this case easy as well. Ample cable management space in the back means that cables can just be tossed in with no regard for cleanliness and labeled screw packages make finding everything super easy. To date I've only seen two other companies with labeled screw package – Noctua and Phanteks. Why aren't other companies doing the same?
As far as the case's cooling performance, I have no complaints here either. The 2x 140mm fans in push/pull configuration up front was able to cool the GPU by an additional 6°C over NZXT's own Phantom 410 and the entire X79 system that was running in the case ran just fine with plenty of temperature headroom to spare for some overclocking.
It's hard to think of issues with such a fine case, but I'd like to point out a couple of things you might want to think about prior to purchasing this case. First is that the fan hub doesn't have any speed control whatsoever. Now, I know fan controls are doable with NZXT's case building skill set as we've seen it in many NZXT cases such as the Phantom 410. Why bother with the noise reduction features of "Hybird Fin Design" when the entire case's 140mm fans will run at full speed all the time? Second is that the case still sports tons of plastic. Now, this isn't a big deal to me but for those of you out there who don't like the look or the possibility of durability concerns with plastic, the Switch 810 might not be for you. Third is that when the vents up top are open, dust can easily get into the case through the areas that don't have fans exhausting air. This might not be a concern for those who keep the vents closed, but from my experience the case gets pretty hot with the vents closed, so it's definitely not recommended especially when doing the "heavy lifting". It's not a huge problem since most of us have dealt with a bit of dust, but it does suck having to carry a "Hybrid Tower Chassis" outside for some spring cleaning.
Last but not least, we'll have to talk about the price and currently the Switch 810 is priced at around $172.50 on Amazon. Competitors include the Cooler Master HAF X ($184.99), Cooler Master HAF 932 ($129.99), Cooler Master Storm Trooper ($149.99), and the Corsair Obsidian 800D ($259.99). Looking at these prices, it's easy to see that the Switch 810 is priced quite high, but isn't overpriced at all for the amount of features it carries. I would definitely like to see it at the $150.00 price point as I do think a lot of people won't be too happy to pay $170+ on a case that has as much plastic as the Switch 810, but overall I think it's still a competitive product. That said, it's nowhere as competitive as the NZXT Phantom full tower case which is currently priced at only $124.99. For the most of us who aren't going to be putting a fully custom water loop with a 420mm radiator in our cases, the Phantom or Storm Trooper is a perfectly acceptable choice full tower case.
Bottom Line
The NZXT Switch 810 Gunmetal is an outstanding case showcasing NZXT's ability to create a case that's as innovative as it's functional. While the high price tag and the plastic may turn some builders away from ultimately purchasing this case, it's one of the best cases for those looking for a case that offers top notch watercooling support.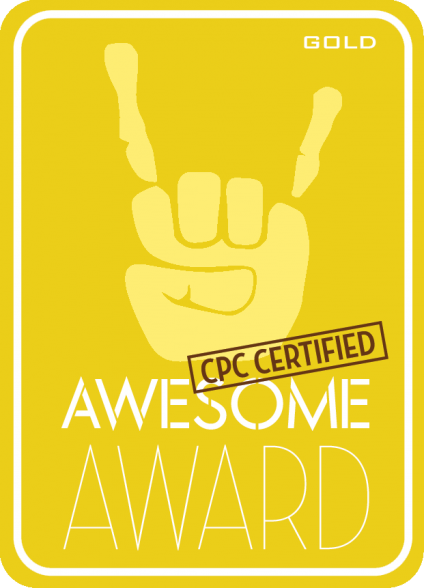 Special thanks to NZXT for making this review possible.
The NZXT Switch 810 SE Gunmetal is currently available on Amazon.