Warning
: Undefined array key "width" in
/var/www/vhosts/custompcreview.com/public_html/wp-includes/media.php
on line
1381
Warning
: Undefined array key "width" in
/var/www/vhosts/custompcreview.com/public_html/wp-includes/media.php
on line
1386
Warning
: Undefined array key "height" in
/var/www/vhosts/custompcreview.com/public_html/wp-includes/media.php
on line
1386
Warning
: Undefined array key "width" in
/var/www/vhosts/custompcreview.com/public_html/wp-includes/media.php
on line
1381
Warning
: Undefined array key "width" in
/var/www/vhosts/custompcreview.com/public_html/wp-includes/media.php
on line
1386
Warning
: Undefined array key "height" in
/var/www/vhosts/custompcreview.com/public_html/wp-includes/media.php
on line
1386
Warning
: Undefined array key "width" in
/var/www/vhosts/custompcreview.com/public_html/wp-includes/media.php
on line
1381
Warning
: Undefined array key "width" in
/var/www/vhosts/custompcreview.com/public_html/wp-includes/media.php
on line
1386
Warning
: Undefined array key "height" in
/var/www/vhosts/custompcreview.com/public_html/wp-includes/media.php
on line
1386
Warning
: Undefined array key "width" in
/var/www/vhosts/custompcreview.com/public_html/wp-includes/media.php
on line
1381
Warning
: Undefined array key "width" in
/var/www/vhosts/custompcreview.com/public_html/wp-includes/media.php
on line
1386
Warning
: Undefined array key "height" in
/var/www/vhosts/custompcreview.com/public_html/wp-includes/media.php
on line
1386
For the most part, it seems like SilverStone never rests in their ability to innovate. Over the years we've seen the chassis/cooling giant create some of the most uniquely designed products with some of the most innovative features such as the vertical exhaust, the inverted motherboard tray, removable motherboard trays, etc. so when I first saw this case through a YouTube video of somebody visiting the SilverStone booth, I wasn't too impressed. I mean, it was boxy, basic and it looked like something that was designed in the early 2000's. Been there done that, let's move on.
If that was your first impression too, then you'd be right on the money. Why? Well, this case is actually a refresh of the SilverStone classic, the SilverStone TJ04 (seen below), which had a mostly tool-less design, brushed aluminum front bezel, diamond cut edge, and a giant window. While cutting edge in 2004, it's not so cutting edge today.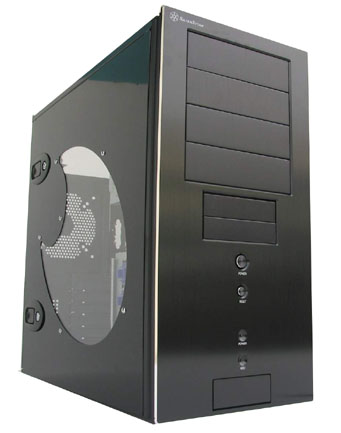 So, enter the SilverStone's newly designed Temjin TJ04-E. E of course for Evolution. While its still got some of the old school charms of the Temjin TJ04 on the outside, it's a completely different beast on the inside. So, is the new case worth your money? Let's find out!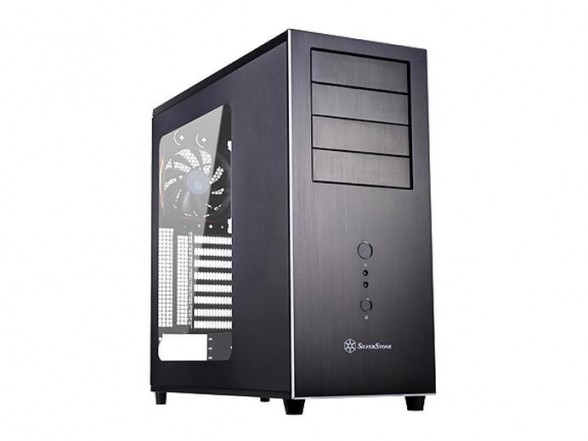 Video Unboxing and Overview
This case is quite interesting. While most manufacturers on the market make it a point to redesign cases entirely to give it that modern feel, that's not something we see here. There's no aggressive looking front panel, no crazy fan mount placements, and no, it won't come in white, pink, orange, green or blue.
That's not to say the case isn't gorgeous though. The smooth, brushed aluminum front panel has me drooling, and the sharp lines give this case a rigid and professional look. To add to its elegance, Silverstone also incorporates their classic diamond edge treatment to the front panel to enhance contrast and bring out that majestic feel. Additionally, the extra large acrylic side window is more than enough to show off all the components it holds.
The outside is where the simplicity ends though. As you'll see soon enough, the engineering ingeniousness starts the moment you remove the side panel. Lets take a closer look…
Specifications
[box_light]
Model No.

SST-TJ04B-E (Black)
SST-TJ04B-EW (Black + Window)
—
—

Material

Aluminum front panel, steel body

Motherboard

SSI-CEB, ATX (up to 12" x 10.9"), Micro-ATX

Multimedia

—

Drive Bay

External
5.25″ x 4
—
Internal
3.5″ x 9 (optional 3.5" x 8 + 2.5" x 1), 2.5" x 6

Cooling System

Front
—
Rear
1 x 120mm exhaust fan, 1200rpm, 21dBA
Side
Right:1 x 120mm intake fan, 1200rpm, 21dBARight:1 x 120mm fan slot (optional)
Top
1 x 120mm intake fan, 1200rpm, 21dBA1 x 120mm / 140mm fan slot (optional)
Bottom
1 x 120mm fan slot (optional)
Internal
—

Expansion Slot

8

Front I/O Port

USB 3.0 x 2 (backward compatible with USB 2.0)audio x 1MIC x 1

Power Supply

Standard PS2(ATX) *1

Operating system support

—

Expansion Card

Compatible up to 17 inches in length *

Limitation of CPU cooler

168mm

Limitation of PSU

—

Net Weight

9.6kg

Dimension

214mm(W)x489mm(H)x489mm(D)

Extra

—
[/box_light]
A Closer Look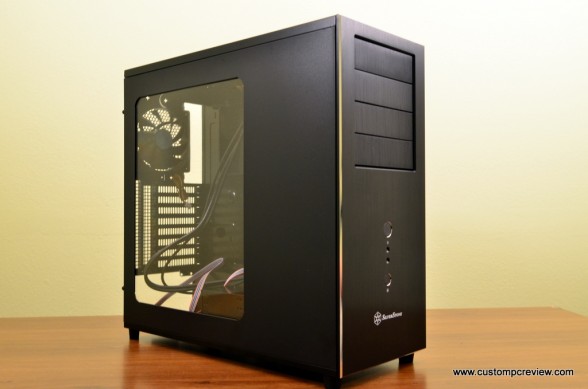 Once unboxed, the case looks great. It has a very traditional look that will probably appeal to those who are into simple and elegant cases. Additionally, its got amazing build quality, and will definitely last for years to come. Today we're also taking a look at the windowed version of the case, so on the left side panel (from front) you get a large window that allows you to see the guts of your system.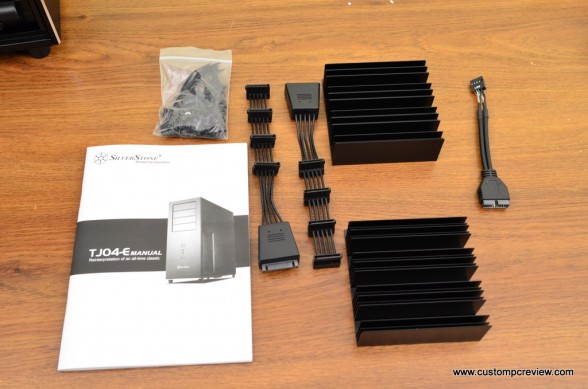 Here's the accessories package. You get a couple hard drive heatsinks which are pretty interesting. You also get the hard drive SATA extenders which are going to be useful for those with a lot of drives. But wait, there's more, you get a USB 3.0 to USB 2.0 front panel header adapter just in case you don't have a motherboard with a USB 3.0 header yet. You also get the typical highly detailed SilverStone users manual along with a huge bag of screws, standoffs, and cable ties.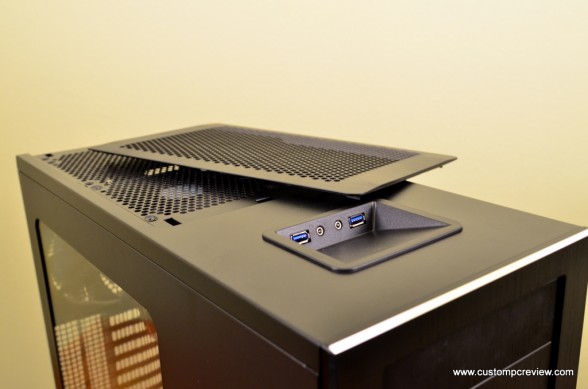 Around the top you get a fan filter covering two fan bays – a 120mm/140mm and a 120mm with a fan pre-installed. Up towards the front, you get a recessed panel with your front panel audio/mic ports and two USB 3.0 ports.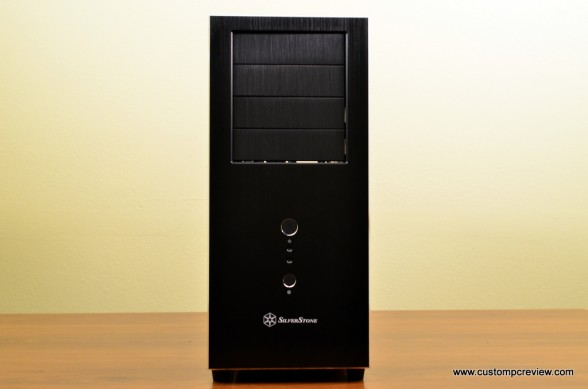 The entire front bezel is covered in brushed aluminum and looks extremely classy. Along with four 5.25″ bays up top, you also get your power/reset and power/HDD activity LEDs.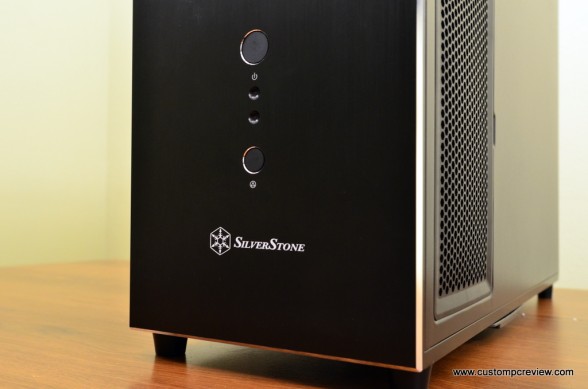 At the bottom you get that beautifully engraved SilverStone logo. Again, around the entire front bezel you get that diamond-cut edge treatment which looks fantastic as well. The case also sits moderately high, so it has plenty of room to breathe.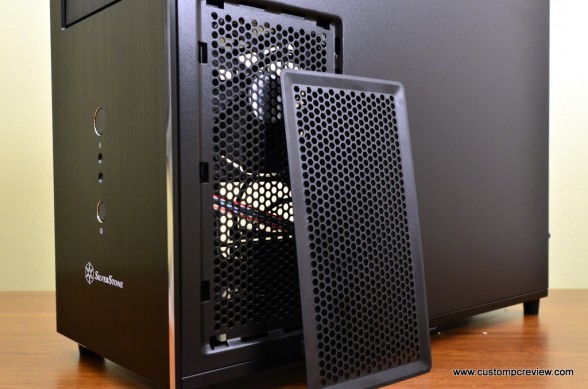 Along the right side panel (from front) you get a removable fan filter with a 120mm fan pre-installed. SilverStone has opted to put their front intakes on the side in order to make the front look clean. Safe to say you'd probably want to put this case somewhere where that side isn't blocked. This may be an issue for those who like to place their towers next to walls or tables.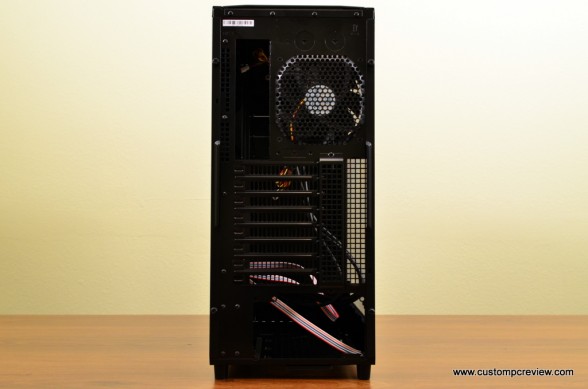 The back of the case is pretty traditional with the power supply mounted at the bottom. The board is also in its traditional orientation with the I/O cutout and 120mm fan mount up top. You've also got 8 expansion slots in the middle, which is pretty standard nowadays.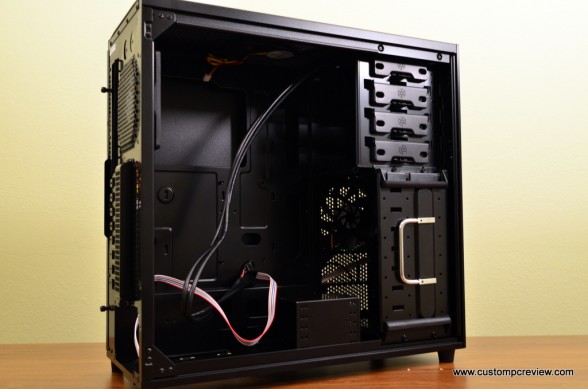 The side panels are easily removable by removing two thumbscrews. Once the side panels are removed, we get a good look of the interior of the case along with some of the "modern" features SilverStone has engineered into it. Unfortunately it seems like SilverStone has removed the easy release latches seen on the TJ04.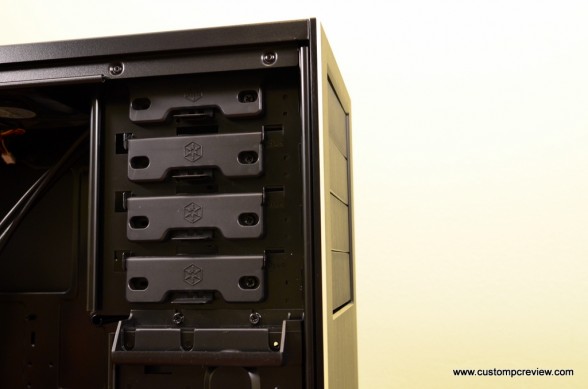 Here we see the four 5.25″ bays which include SilverStone's tool-less drive locking mechanism. I'm a really big fan of tool-less designs, so brownie points for SilverStone for sure!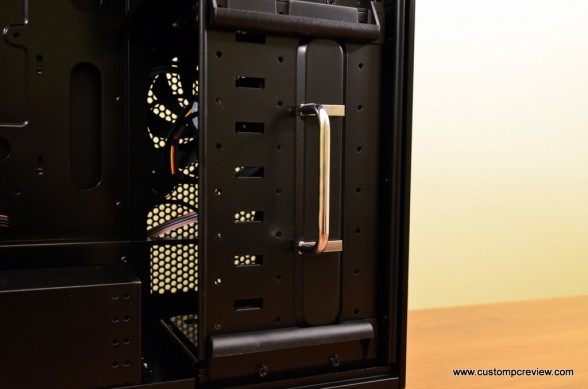 Below the 5.25″ drive bays we get a 3.5″ drive cage capable of fitting eight 3.5″ drives. Below that we get one more drive bay capable of fitting 3.5″/2.5″ drives. SilverStone has also thoughtfully included a handle on the drive cage, but in order to remove the drive cage, you'll need to remove 4 screws. Not cool…
[box_light]
Manufacturer's Addendum:
"…drive cage was designed for high capacity, so you will likely not find another case in the same size category that can fit as many hard drives as TJ04-E."
[/box_light]
Agreed.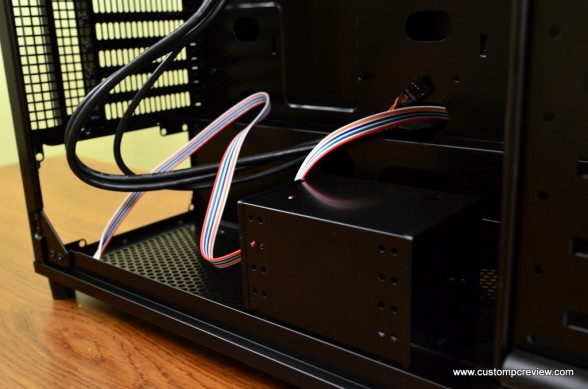 Here, we can see the power supply mount at the back along with the 2.5″ drive cage which holds up to six more 2.5″ drives. The drive cage is also removable to facilitate installation of extra long power supplies.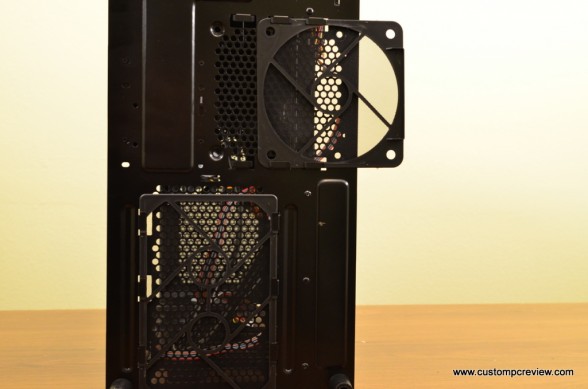 Along the bottom of the case, you get a couple high quality dust filters.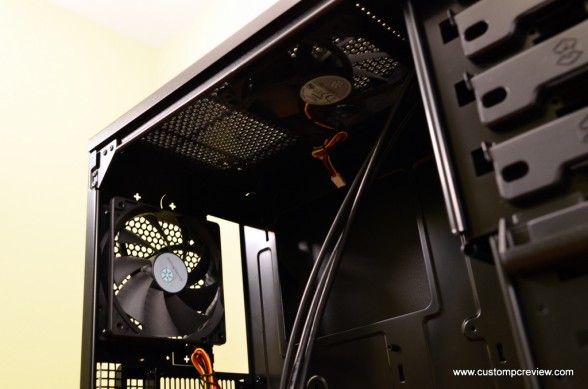 Here, along the back we get a 120mm fan next to the I/O punchout. Up top you also get two fan bays – one 120mm/140mm bay and one other 120mm bay with a fan pre-installed.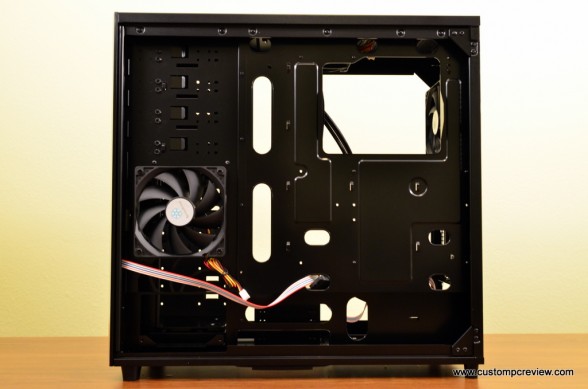 Moving around to the other side, the first thing we see is a 120mm fan around the front/side of the case for drawing in air along with a 120mm fan mount right below it for another. There's also a large CPU cooler cutout which is nice and plenty of cutouts for cable management. There's plenty of room back here, so even the thickest cables should easily fit.
Installation
Installation, in the usual SilverStone fashion wasn't anywhere near as easy as it should be. Expect to use that screwdriver A LOT and expect to crack open that users manual from time to time as well. SilverStone cases are definitely cases that you spend a lot of time building once and never touch again until that next big upgrade.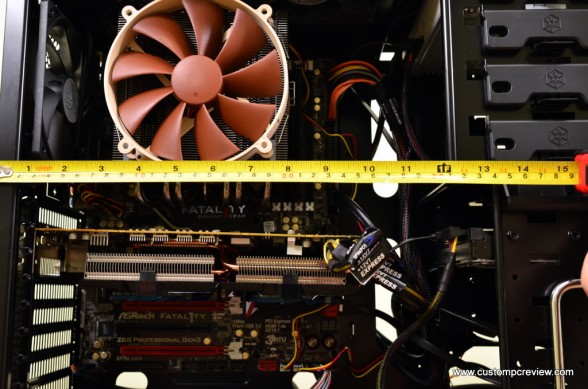 Here we see the mighty HD6970 along with a 3.5″ hard drive installed into the drive bay and everything fits perfectly fine with room to spare. Don't forget, the hard drive cage may be removed, so graphics cards of all sizes should easily be able to fit.
[box_light]
Manufacturer's Addendum:
"The cutout on one side of the drive cage isn't just for better cooling to the hard drives, it also helps accommodate any graphics cards.  So the description on page 4 where he said the hard drive cage may be removed to fit all graphics card is not really correct.  You don't have to remove the hard drive cage at all when there is interference, just move the hard drive to another slot in the drive cage.  Traditional case designs may require you to remove one of its hard drive cages and loosing up to 3 or 4 drive slots altogether.  The TJ04-E is definitely a lot more flexible in its drive layout."
[/box_light]
Oops! Looks like I screwed up on this one. I can definitely confirm that removing the drive cage is not necessary for the installation of larger graphics cards.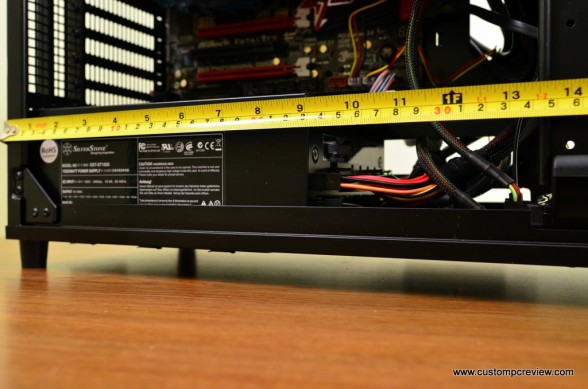 Along the bottom, we've installed the ultra large SilverStone Strider ST-1500 power supply which only fits after removing the 2.5″ drive cage. Pretty much anything smaller than that will install just fine even with the 2.5″ drive bay installed.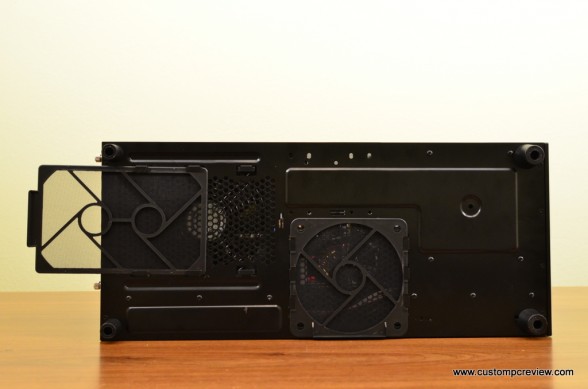 At the bottom we can see that SilverStone has designed the power supply dust filter with large power supplies in mind.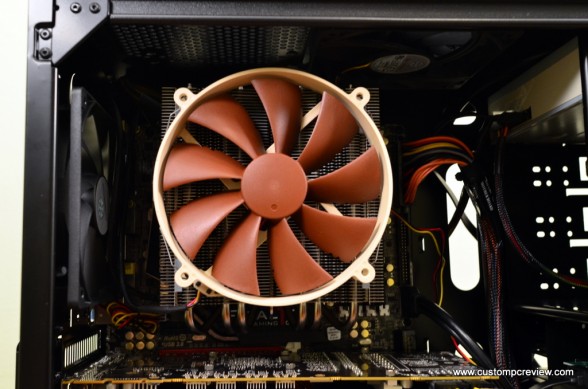 Here we've installed the large Noctua NH-C14 CPU cooler for reference. This is one of the largest CPU coolers on the market, so most CPU cooler should be able to fit with no issues. Since the top of the case includes space for dual 120mm fans, the 240mm res off the Corsair H100 res should fit here as well.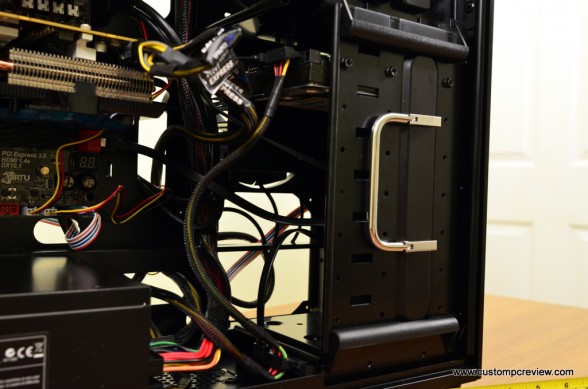 Here we see the 3.5mm drive cage. As you can see the drive cage is open on one side, so I'm not sure how safe it would be to move this case around considering hard drives are only bolted down on one side to allow for better airflow. Also notice the screws needed to attach the drives. I can't imagine what a pain it would be to have to screw in a full drive cage. Ouch….!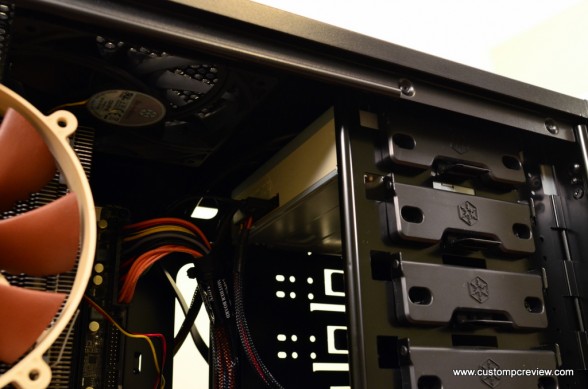 Up top we have the 5.25″ drive bays. Here we also have a OEM DVD drive installed. While the bays have tool-less installation, removing the brushed aluminum placeholder panel requires the use of a screwdriver. See the theme here?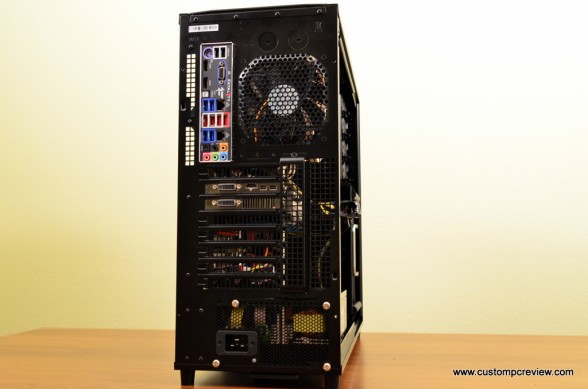 Here's a view of the back with everything installed. The case is quite porous so airflow is definitely going to be good. I still dislike how the expansion slots require screws… and I see no clear reasoning for the expansion slot cover. Seems like its only job is to force me to remove two more screws prior to accessing the expansion slots.
Cable management through the back is a breeze. I've done a terrible job here, but as you can see there's a ton of room and a ton of holes back here.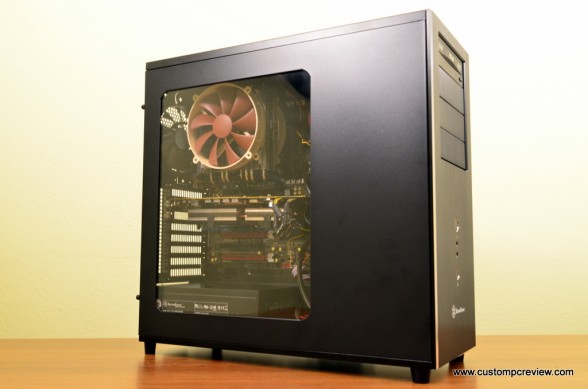 The entire system installed and ready to go. Installation definitely took longer than I'd have liked, but the end result is spectacular. The large window is definitely great, especially for those with higher end parts and want to show off. Too bad the stuff I have sucks, but imagine some LED strips and a CrossFire/SLI setup. ooOOoOOOoooooh.
Performance & Testing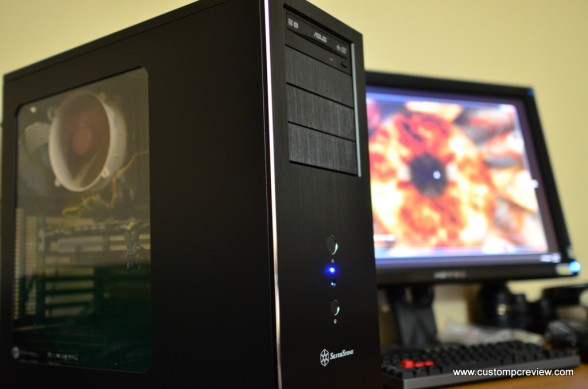 Here we see the TJ04-E in action. The blue LED looks quite nice and could definitely be a starting point for a blue colored theme inside the case.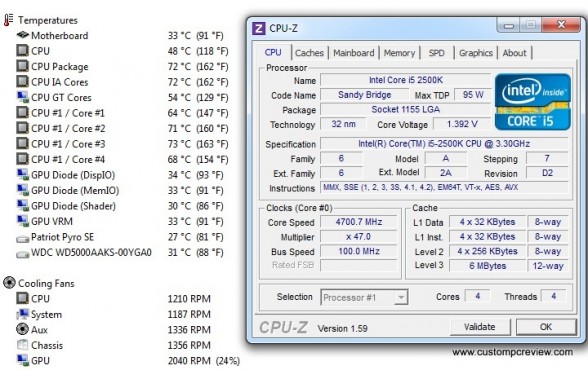 Here we've got a screenshot of some system temperatures with Prime95 running in the background for around 20 minutes. As you can see, the temperature of the warmest core only reached 73°C, which is only a 6°C difference when compared to the CPU cooler on a test bench. You can also see that the hard drive runs very cool at only 31°C. We were skeptics of the hard drive heatsink at first, but we did notice that having the hard drive heatsink installed typically yielded 2°C cooler temperatures on the single hard drive. Unfortunately I didn't have 8 drives to really test the heatsinks, but I can confirm that it does help even if you have a single drive.
[box_light]
Manufacturer's Addendum:
"In case he is wondering, we did test the hard drive cage extensively.  Here is a link from our Japanese distributor showing one of our tests:
[/box_light]
Looks like I was right on the money with this one. I saw about a 2°C drop on my Western Digital Caviar Blue as well. Definitely glad to have seen  similar results to the benchmark at the website above.
On a sidenote, it's interesting to see from the benchmarks that the Western Digital Raptor actually went up a degree. Wonder how that happened…
Conclusion
What's Hot
Well, there's a lot to talk about here so let's start with the aesthetics. SilverStone has gone with the clean, sharp look and it's definitely something I really appreciate. The entire front panel is covered in some very classy looking brushed aluminum and the side panel has a nice large window for you to show off your gear. That diamond cut edge treatment also looks fantastic and gives that entire front panel a very subtle bit of a shine. This case is definitely something I can imagine sitting in a professional environment such as a lawyer's office, or a boutique design studio. As usual with SilverStone Temjin series cases, this one is very high quality. The steel is thick and the entire thing feels like it's designed to take some punishment.
Next up is the cooling and the TJ04-E performed very well. There was plenty of air moving through the case during testing and it's pretty obvious SilverStone's engineering department gave airflow a bit of thought. The hard drive heatsinks are a nice addition as well. While I doubt they'll have a dramatic effect on the temperatures, it doesn't hurt to have them. Do note that there are no side panel fans on this case for your graphics cards, so if you are looking to drop in a SLI or CrossFire configuration, the TJ04-E may not be the best choice (It'll probably look really good through the window though).
[box_light]
Manufacturer's Addendum:
"Because we designed the intake fan on the right side of the case as opposed to on the front, cooler air actually gets to the graphics card area more easily (also keep in mind the unique cutout we made to the hard drive cage).  Traditional cases have intake fans on the front that needs to push pass hard drive cage panel twice in addition to whatever hard drives are installed so TJ04-E's design has no deficiencies when it comes to graphics card cooling.  We have designed many small form factor cases over the years that could handle SLI/CrossFire configuration so we are certainly capable of designing a mid tower case like the TJ04-E to handle the same setups with ease."
[/box_light]
Space and cable management are also an excellent in the TJ-04E. The largest GPUs, the largest CPU coolers and the largest power supplies will all easily fit in this case without issue. The back of the case includes plenty of space, and plenty of cutouts for cable management, so creating that clean look to show off in the window is very easy.
What's Not
SilverStone for some reason can engineer some of the craziest, most innovative things into their cases, but what they seem to have trouble with is tool-free designs. This amount of screw driver use in a $150 case is unacceptable. Even the $50 BitFenix Outlaw includes a large bag of thumbscrews to reduce the use a screwdriver. Can we at least have some thumbscrews next time? Pretty please?
As far as the fans go, they are definitely louder than I'd have liked when running at 100% and there's no included fan controller to quiet them down. Considering cheaper cases such as the Corsair Carbide Series 500r include such features at significantly lower price points, there's no reason why SilverStone couldn't do the same with the TJ04-E. Personally, I'd rather have an integrated fan controller than some hard drive heatsinks. Just saying…
Finally, speaking of the price point, the TJ04-E we've reviewed today, the windowed version is $159.99 and the non windowed version is $149.99. While pricing is no doubt due to its insane build quality, looking at the competition I just don't see this case as being that competitive. At this price point, there are plenty of other compelling choices out there such as the Corsair Obsidian 650D (easier to work with), Corsair Graphite 600T (easier to work with, fan controller), Cooler Master HAF X (full tower, better airflow, easier to work with) and Cooler Master Storm Trooper (full tower, better airflow, easier to work with).
Bottom Line
All that being said, if your wallet can weather the high price tag, this is absolutely a fantastic case. Its build quality, classy appearance, high quality dust filters, cooling performance, and cable management features are all excellent and deserves nothing less than my recommendation. But keep in mind, if you're planning to buy this case, be sure to pick up an electric screwdriver on the way. Trust me…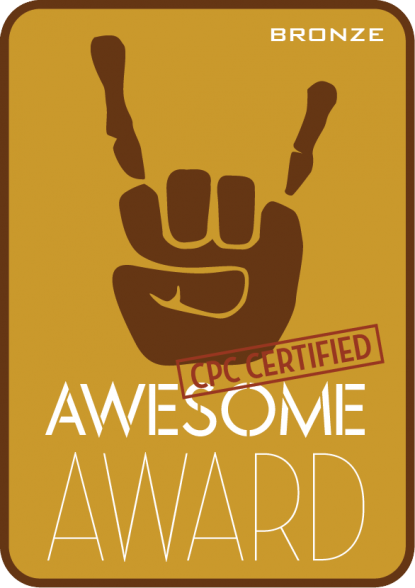 Both the SilverStone TJ04-E windowed and non window editions are currently available at Amazon.