[section label="Introduction"]
… Polaris 10 out of 10.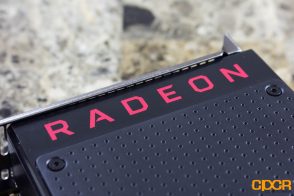 It would be a fair assumption that AMD named its new GPU after one of the brightest stars in the night sky because to them, that's exactly what this new GPU is. Huge strides have been made in its engineering, including a brand new architecture based on the new Samsung/GlobalFoundries 14nm FinFET process.
Over the past few years, AMD has been making aggressive pushes into the mainstream PC gaming market. With an all-new ad campaign entitled "The Uprising", which encourages gamers to join the "Radeon Rebellion" – this Rebellion, of course refers to the fact that AMD has decided that instead of debuting an all-new GCN 4.0 architecture with a high-end, top of the line graphics card to challege NVIDIA's Pascal based GTX 1080 and GTX 1070, they will instead focus on the lower-end mainstream and performance segments first. This is a very strategic move for AMD as mainstream Pascal GPUs are still in the pipeline making Nvidia's last generation mainstream Maxwell GPUs the only competition for AMD's latest chips.
To serve those markets, AMD has unveiled three new products – the AMD Radeon RX 480, RX 470 and RX 460. AMD is expected to be releasing the Radeon RX 480 now while the others are set to release at a later date. Very little is known about the Radeon RX 470 and the Radeon RX 460 at this point, but it shouldn't be too long now that the first chip in the family has arrived.
AMD Radeon RX 480 Specifications
GPU
RX 480
R9 380X
R9 390
R9 390X
Codename
Polaris 10
Antigua (Tonga) XT
Grenada (Hawaii) Pro
Grenada (Hawaii) XT
Architecture
GCN 4.0
GCN GCN 3.0/1.2
GCN GCN 2.0/1.1
Fabrication
14nm FinFET
 28nm
Core  Clock (MHz)
1266/1120
970
1000
1050
Compute Units
36
32
40
44
Stream Processors
2304
2048
2560
2816
Texture Units
144
128
160
176
ROPs
32
32
64
64
Framebuffer
4GB/8GB
4GB
8GB
Memory Type
GDDR5
Memory Interface
256-bit
256-bit
512-bit
512-bit
Memory Clock
7/8 Gbps
5.7 Gbps
6.0 Gbps
5.0 Gbps
TDP
150W
190W
275W
275W
Launch Price
$199/$239
$229
$329
$429
The AMD Radeon RX 480 is claimed to offer performance up to 5.8 TFLOPs with Memory Bandwidth of 224 GB/s or higher. As we can see in the chart above, the RX 480 offers roughly 20% higher reference clock speeds than previous generation Radeon graphics cards while consuming up to ~45% less power. When compared directly to its predecessor, the AMD Radeon R9 380X, we can see a roughly 12% increase in Stream Processors, and an up to 40% increase in memory clocks.
AMD has told us that the reference configuration for the Radeon RX 480 will sport 4GB of 7 Gbps memory, while they will also be shipping models with 8GB of 8 Gbps memory, which is what we'll be reviewing today. We've also been told that while board partners will be offering configurations which vary from these reference specifications, they will always offer memory clock speeds of at least 7 Gbps.
GCN 4.0 Architecture Improvements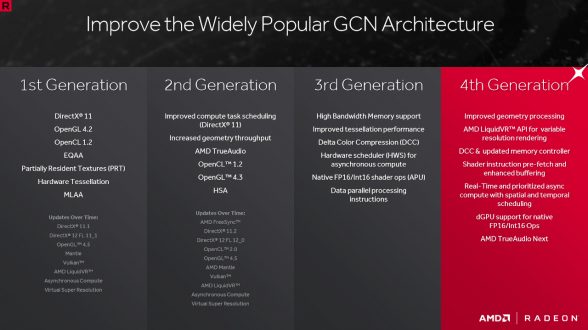 With GCN (Graphics CoreNext) 4.0, AMD has improved on a number of areas compared to the previous generations. These changes include improved geometry processing for increased performance in heavily tessellated environments, improved shader efficiency, with up to 15% more performance per CU compared to the R9 290 series, and an updated memory controller along with improved Delta Color Compression, which allows for a higher effective peak memory bandwidth.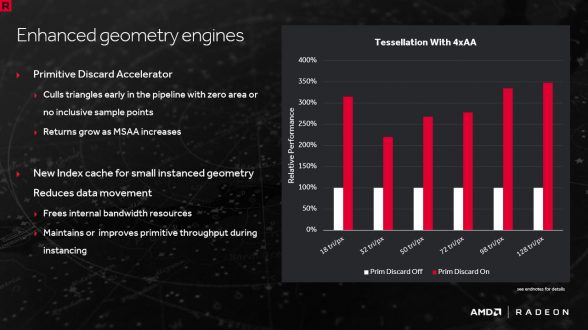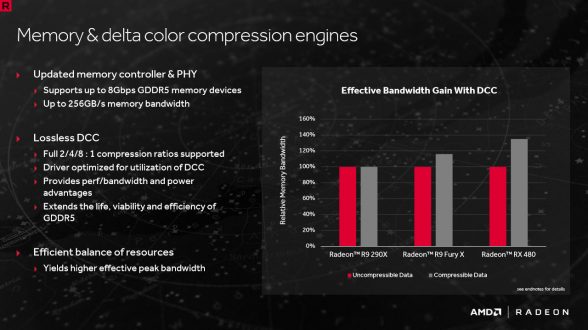 The block diagram reveals that Polaris 10 carries 4 ACE (Asynchronous Compute Engines), 2 HWS (Hardware Scheduler) and a single Graphics Command Processor. All of this feeds into the 4x Shader Engines which each include a Geometry Processor and a Rasterizer. Each Shader Engine also houses 9 CUs (Compute Units), for a total of 36.. These CUs share a single 2MB pool of L2 Cache and link directly to eight 32-bit GDDR5 memory controllers, which gives us our 256-bit bus.
The Radeon RX 480 has a few notable changes compared to the Antigua (Tonga) based R9 380X. Firstly, there's the reduction in ACE from 8 to 4, then the inclusion of these new Hardware Schedulers, which are used for Async Compute. Then, there's the increase in CUs per Shader Engine from 8 to 9, which changes the total number of Compute Units from 32 to 36.  There's also the increase in memory controllers, from 4x 64-bit to 8x 32-bit. This gives us the same total bus width, but allows for increased maximum memory capacities from 4GB to 8GB without the need for having memory chips on both the front and back of the PCB.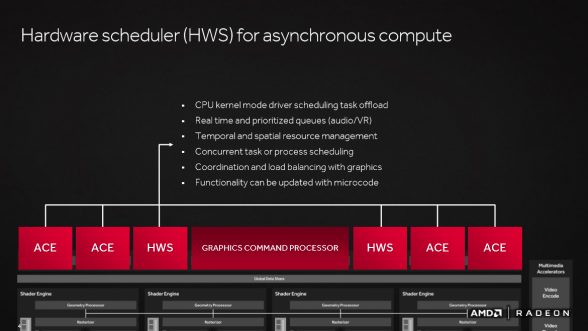 Now for some highlights of the hardware scheduler. We're seeing an expansion of the capabilities of Async Compute to include features such as real-time and prioritized queues for audio and VR. These new hardware features are targeted by new software APIs in AMD's LiquidVR.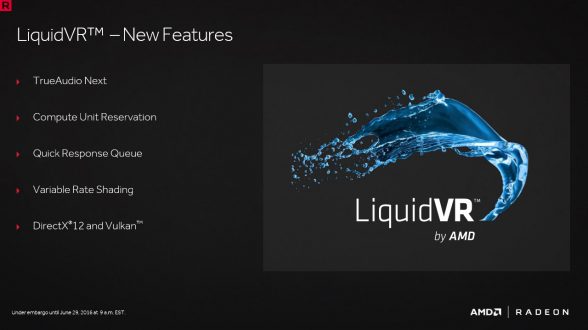 These new features include TrueAudio Next, Compute Unit Reservation, Quick Response Queue (QRQ) and Variable Rate Shading.
TrueAudio Next, is a the latest version of AMD's TrueAudio technology. It allows for real-time GPU audio physics processing using both Ray Tracing and Convolution in order to realistically simulate an environments unique audio physics. The sounds of gun shots or glass shattering in a large, empty room will sound very different from the same audio effects in a smaller, crowded room. This allows for much greater immersion in VR games.
Variable Rate Shading essentially allows for games to render different aspects of a scene in different resolutions or quality settings. This allows items at the center of the frame to be rendered in the maximum detail, while those in the periphery will be lower quality. This more accurately simulates how our own eyes work, as we mainly use our peripheral vision to detect motion rather than spot actual details in an image.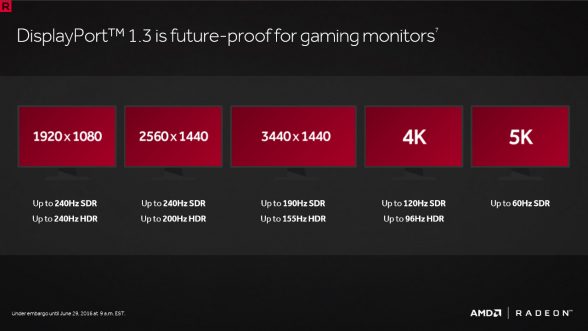 Finally, GCN 4.0 also supports the latest display connectivity standards including DisplayPort 1.3/1.4 HDR and HDMI 2.0b. These technologies enable support for higher resolutions, higher refresh rates and full HDR (high dynamic range) support for improved colors on displays that support it.
Now that we've got all that out of the way, let's take a closer look at the Radeon RX 480.
[section label="A Closer Look"]
A Closer Look at the AMD Radeon RX 480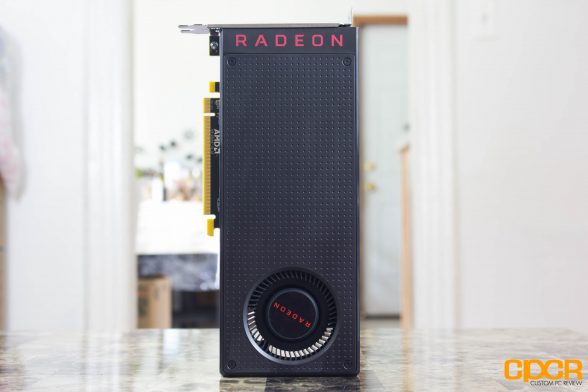 Our sample was provided directly by AMD, and therefore did not include any retail packaging. So getting right to the card itself, we see a design that is very similar (almost identical) to that of the reference 300 series cards, featuring an all black plastic, with dimpled pattern on the front for a very clean, industrial look. The only real change here is that of the font used for the Radeon logo found on the front, side and fan. Gone is the old, bold styling we're used to, in its place a much more subtle and modern design.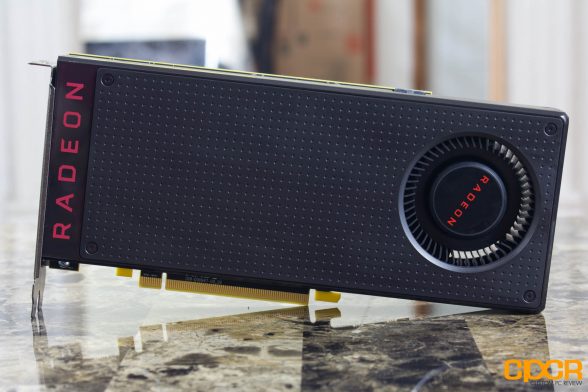 Taking a look at the side, we see a the card is powered by just a single 6-pin PCIe power connector, which is located a few inches offset of the rear of the card as the cooling shroud extends past the PCB. The card's total length is just about 9.5″, but the PCB extends just 7″. This leads us to the obvious conclusion that we will more than likely see some much smaller after market designs utilizing the reference PCB. I can imagine a single, large fan providing for a similar form-factor to that of the R9 Nano.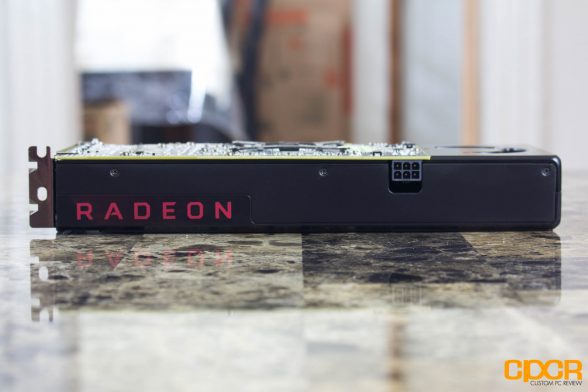 At the back of the card, we get a look at the PCB, which is not covered by any sort of backplate. This is not surprising for a reference design, but we have seen versions from companies such as XFX which include a custom backplate. Back here, we also get a look at the cut out for the fan, which allows for increased airflow and is ideal for dual card configurations, where the top card would normally be starved for air.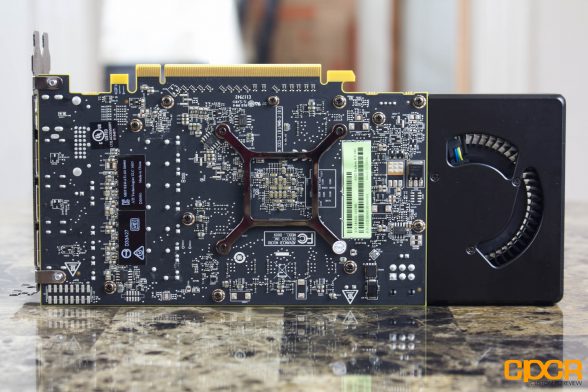 at the rear, we have a look at the connectivity options, which include 3x DisplayPort 1.3/1.4 HDR connectors and a single HDMI 2.0b connector. DVI is nowhere to be found, which is not surprising as DisplayPort is a much more versatile interface but it did have me searching for another DisplayPort cable to connect my second monitor with.
Removing the plastic cooling shroud, we get a look at the card's cooling solution. We have a small, aluminum heatsink which has some of the fins cut off at the back edge  to improve airflow. it also features a rubber gasket to help dampen sound. The all black VRM and Memory cooling plate, which reinforces the PCB also features angled channels to help direct airflow from the fan.
Tearing the cooler apart further reveals the PCB itself, which as we can see is much smaller than the fully assembled card. What's also interesting is the fact that both heatinks are not welded together as we've seen on the Hawaii cards. This allows for removal of the GPU heatsink, for modifications such as installation of an aftermarket liquid cooler, without any hard modifications to the VRM and memory cooling system.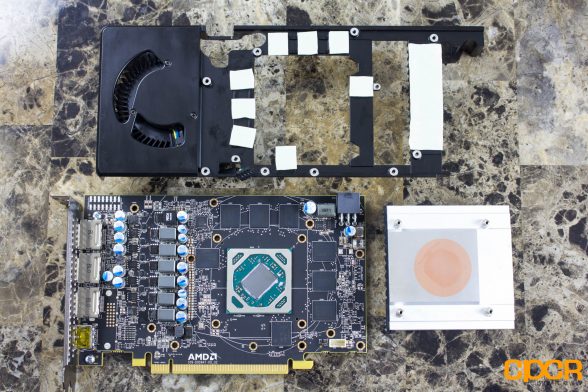 Removing the cooler also gives us a look at the rest of the card's components. This includes a 6+1-phase power design equipped with MDU1511 MagnaChip Semiconductor MOSFETs controlled by an International Rectifer IR3567B digital PWM controller.
Surrounding the AMD Polaris 10 GPU core is 8x 1GB GDDR5 memory chips manufactured by Samsung.
[section label="Testing Setup and Methodology"]
Testing Setup
Haswell-E X99 Test Bench
Special thanks to Phanteks, DEEPCOOL, Asrock, and Crucial for supplying vital components for this test bench.
Testing Methodology – 2016 Update
With major GPU releases from both AMD and NVIDIA that fully support the latest APIs such as DirectX 12 and Vulkan, and a number of new games games available which take advantage of these new features, we decided it was a time to update our GPU testing suite to more accurately represent the modern gaming landscape. We'll still be using FRAPS to log performance results in a number of DirectX 11 and OpenGL titles. However, we'll also be using PresentMon, which is an opensource command-line tool that works very similarly to FRAPS, but supports DirectX 12 and UWP-enabled titles.
The following games/benchmarks will be tested:
All titles will be benchmarked a minimum of three times per configuration with the average of those results being displayed in our graphs. Performance will be measured in average FPS as well as the 99th (1% low) and 99.9th (0.1% low) percentiles. Those results will be gathered from the frame time data that is recorded using both FRAPS and PresentMon, however they will be converted from milliseconds (ms) to frames per second (FPS) in order to simplify things. Data gathered from benchmarking tools is analyzed using FRAFS and Microsoft Excel.
All titles are tested at "High" to "Very High" settings at resolutions to be determined by the GPU's market-segment. In the case of this review, it will be 1080p and 1440p.
[section label="Overclocking with AMD WattMan"]
AMD Radeon RX 480 Overclocking
Initial Boot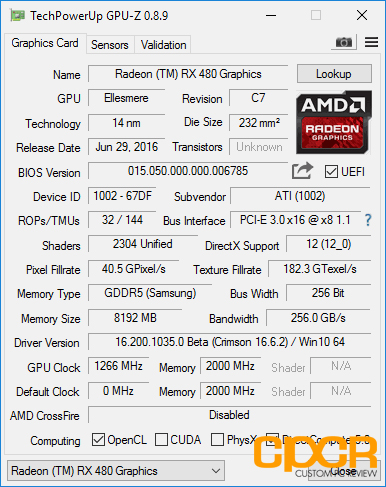 AMD WattMan
For overclocking the Radeon RX 480, we'll be using AMD's all new WattMan software, which replaces AMD's existing OverDrive utility and is included in the latest version of the Radeon Crimson driver. The new utility allows for increased customization and control of GPUs performance. It provides many of the features you'd expect from an overclocking utility, including hardware monitoring for the current temperatures, clock speeds, fan speed and usage. You can also adjust power limits, max and target temperatures, and manually adjust minimum and target fan speeds and acoustic limits.  
What's interesting about this software is rather than just having a simple GPU and Memory Clock values that can be increased or decreased for desired performance, AMD provides a Frequency Curve Control, which features multiple DPM states that can be adjusted all together for via a simple percentage slider or individually for finer control. Voltages can also be adjusted on a per state basis for both GPU and Memory, however there is a limit to the maximum amount of voltage allowed for the GPU it is 1150 mV and for the Memory it is 1000 mV.
Another neat feature is the fact that you can adjust these settings either globally or on a per application basis. This allows users to have more aggressive performance profiles for more demanding titles, while more subtle ones for games that don't require much horsepower. Combine that with Crimson's new Framerate Targeting controls and you have a completely customizable user experience.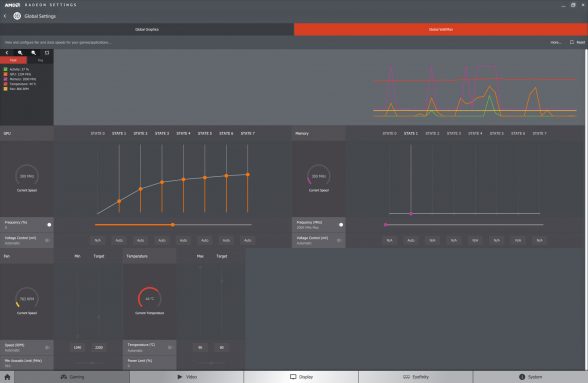 Unfortunately, my experience with the software is a bit of a mixed bag. While I very much like the user interface and the amount of control it offers. I did experience a number of random crashes when trying to use the software even without tuning anything. Now, admittedly, I am using pre-release drivers, so this is to be expected. I'm sure the experience of the final version will be much more stable. Now, what was severely disappointing was the actual overclocking experience I had with the RX 480. When using the WattMan software I was unable to increase the maximum GPU clock frequency above 1300MHz, without immediate display driver crashes. Now, i can't say whether this is the fault of the software or my particular RX 480 sample, but either way, the limited clock speed gains and general instability left me no choice but to omit overclocking results from our testing results. This is definitely something I will revisit in the coming weeks to see if driver updates, or other overclocking utilities help us fair any better.
[section label="Power Consumption and Temperatures"]
AMD Radeon RX 480 Performance
Power Consumption
For power consumption testing, we'll be measuring full system power while idle along with full system power with the graphics card running at full load using Furmark. All power consumption measurements will be measured at the outlet with a simple P3 kill-a-watt meter.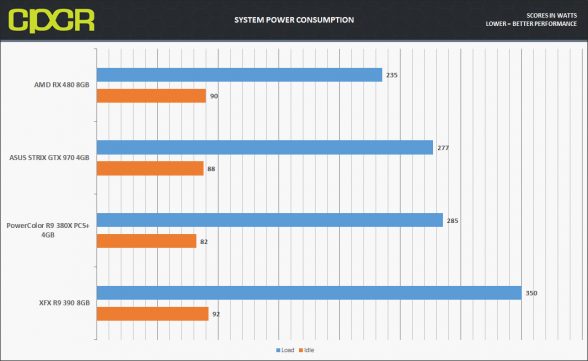 Taking a look at the chart above, we can see that the Radeon RX 480 is easily the most energy efficient card tested here, with a total system power draw of just 235 watts at load. It is worth remembering that these numbers are full system wattage, not just the cards themselves.
Temperature Testing
For idle temperature, we'll be taking a reading when the graphics card is idle for 5 minutes after a cold boot. Load temperatures are taken after a full 30-minute burn using Furmark.
While some of you aren't huge fans of Furmark as it creates an ultra heavy, unrealistic load on the graphics card, we feel like it's a more useful tool as it differentiates between graphics cards that have extremely well-designed coolers and ones that simply have cooling solutions that simply pass the test, if you will. Most games these days generally don't create enough of a load/heat to even exceed temperatures where the fans would spin up on most custom coolers so it's difficult to adequately rank cooling solutions without using a tool like Furmark. During all tests, the GPU intake air temperature is approximately 25° Celsius.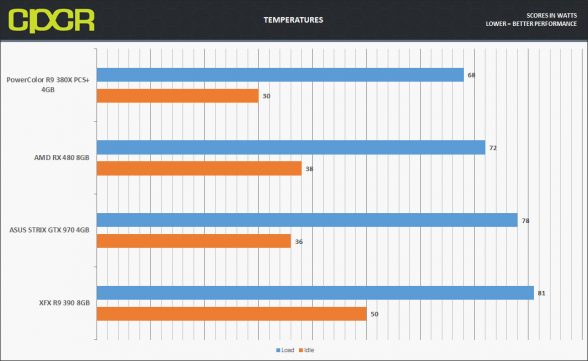 Looking at our temperature results, we see that the RX 480 is able to stay rather cool even under the most intense loads. For a blower style cooler, this thing is quite capable and even manages to stay cooler than our GTX 970 STRIX. While we don't conduct empirical sound testing, subjectively the noise levels for the GPU's fan are definitely a far cry from that of the reference Radeon R9 390. If I didn't know any better, I wouldn't have guessed this was a blower style cooler.
[section label=6. 3DMark FireStrike"]
3D Mark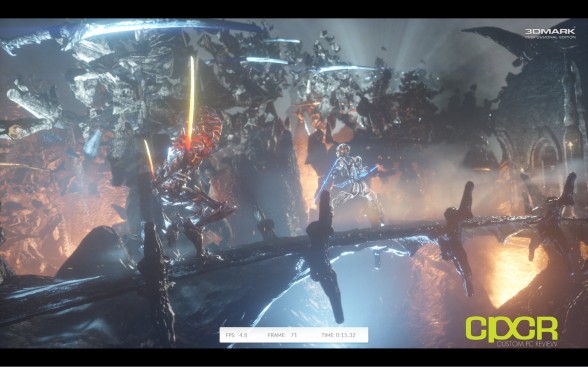 The new 3D Mark, now referred to as just 3D Mark, is Futuremark's latest update to the popular 3D Mark series of benchmarks. The updated 3D Mark now includes multiple benchmarks for cross-platform support as well as updated graphics to push the latest graphics cards to their limits.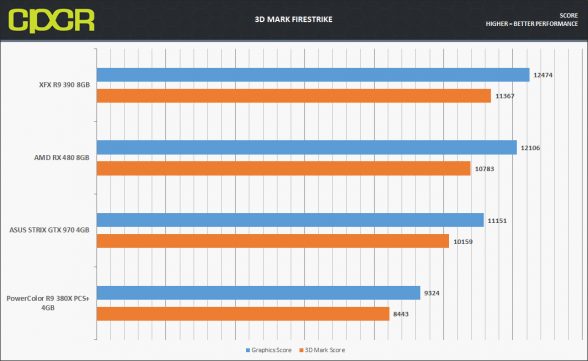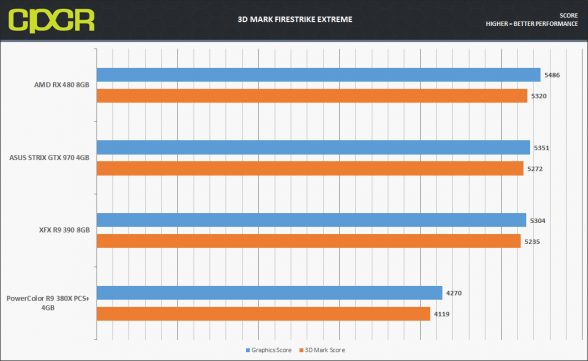 [section label="Crysis 3″]
Crysis 3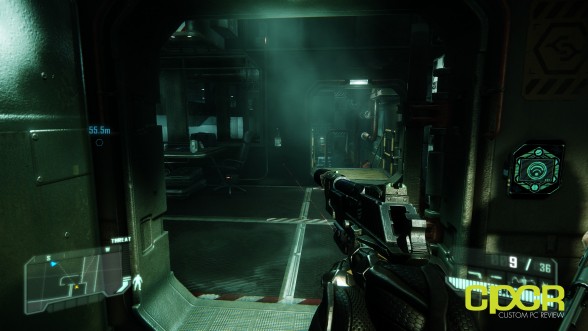 Crytek's third installment of the legendary series Crysis, like its predecessors, still serves as one of the best looking, and most graphically intensive games to date. Offering photo-realistic textures, advanced lighting, and massive environments, which mix together lush organic plant life and foliage, with large, damaged and demolished buildings.
We test the game in a 60 second run during the first indoor area, which features a few firefights, explosions, and some stealth play. It is not the most graphically intensive portion of the game, but it is one of the most easily repeatable for our purposes.
Settings
Results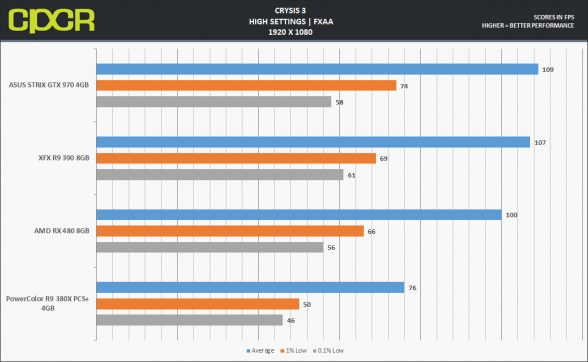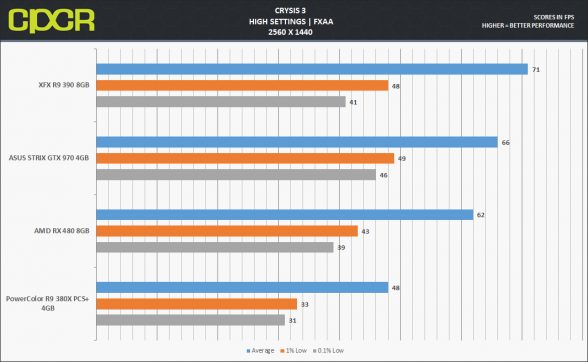 [section label="Rise of the Tomb Raider (DX11/DX12)"]
Rise of the Tomb Raider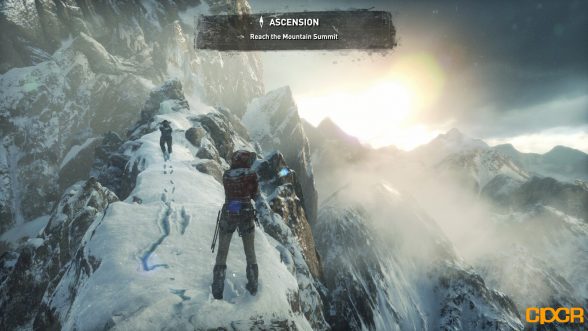 The follow-up to Crystal Dynamics' award winning Tomb Raider reboot, Rise of the Tomb Raider takes users across the world to a variety of exotic locales with even more tombs. With physically based rendering, HDR and adaptive tone mapping, deferred lighting with localized Global Illumination for realistic lighting, volumetric lighting enables God Rays and light shafts.
We test Tomb Raider using the game's built-in benchmarking tool.
Settings
Results (DX11)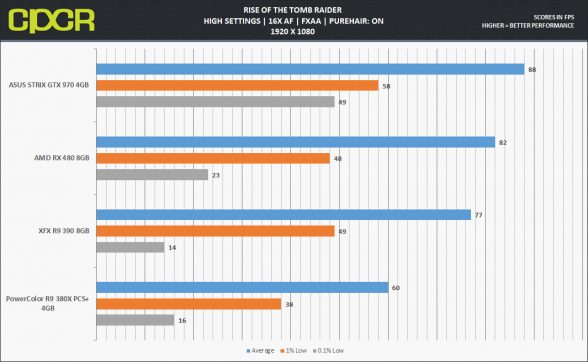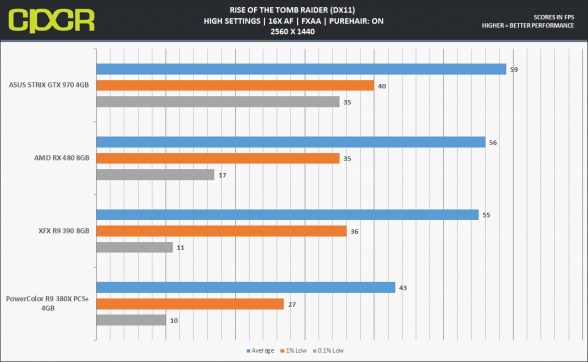 Results (DX12)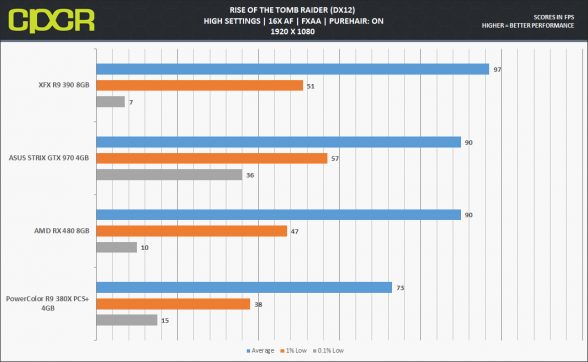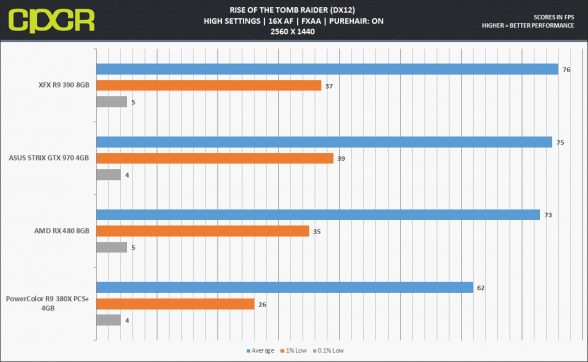 [section label="Grand Theft Auto V"]
Grand Theft Auto V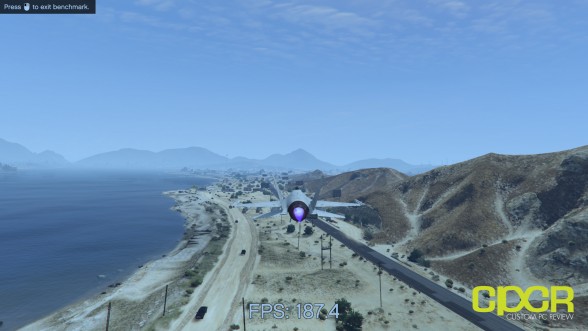 The hotly anticipated PC release of Rockstar Games' fifth installment of their Grand Theft Auto franchise, easily proves once again, that when it comes to open-world games, no one does it better. With lots of new features and graphical enhancements built specifically for the PC version, it's no wonder it took them so long to optimize it. With advanced features such as tessellation, ambient occlusion, realistic shadows, and lighting, mixed with the largest open-world map in franchise history, this is one beautiful, well-optimized PC title.
We test Grand Theft Auto 5 using the last scene in the game's built-in benchmarking tool.
Settings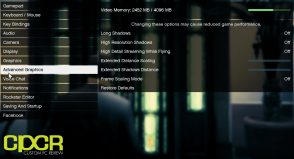 Results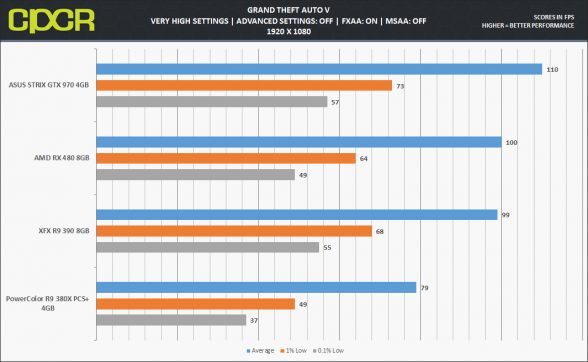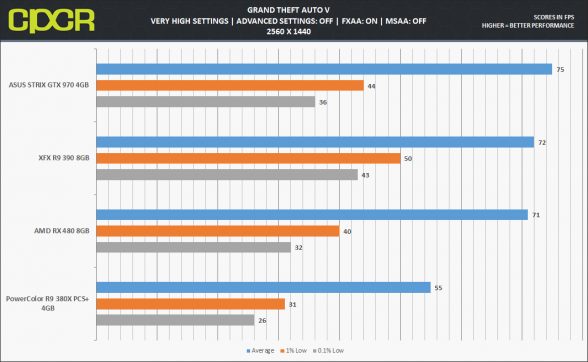 [section label="The Witcher 3: Wild Hunt"]
The Witcher 3: Wild Hunt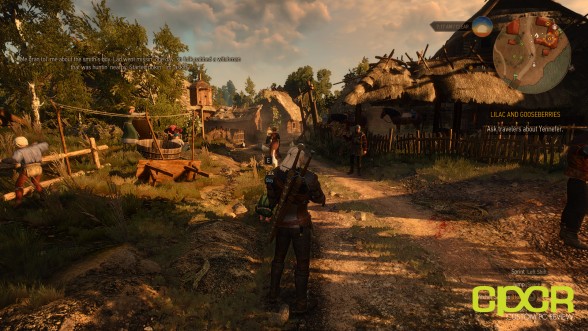 CD Projekt RED's The Witcher series has long been accredited with being some of the most beautiful, and graphically demanding PC titles and its latest installment, The Witcher 3: Wild Hunt, is no exception. With beautiful, large open-world environments, detailed charter designs, high-resolution textures, and advanced features such as God Rays, and Volumetric Fog, in addition to a slew post-processing effects, this is definitely one impressive looking game.
We test The Witcher 3 with a 60 second lap around the first village you come across in the campaign, this is one of the best places for testing as it exhibits some of the game's most graphically intense features such as God Rays, and Volumetric Fog, while offering very little variance, which is difficult to find in most open-world games.
Settings
Results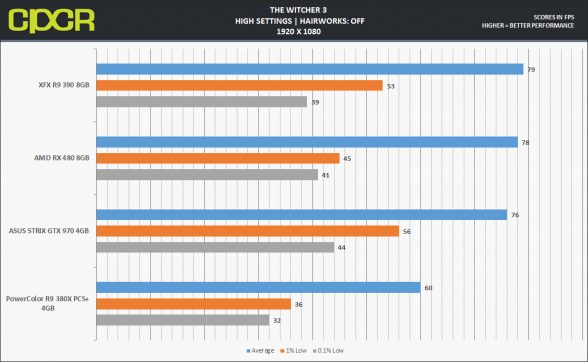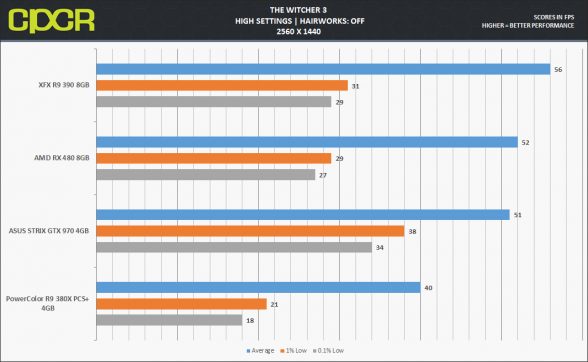 [section label="Project CARS"]
Project CARS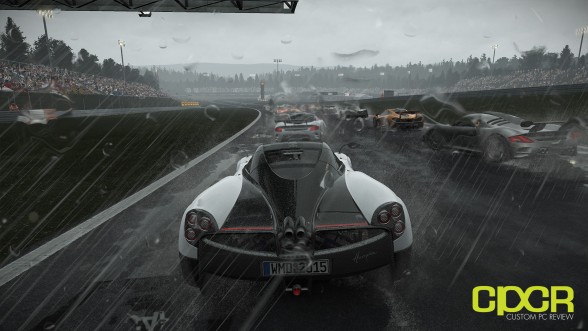 Next-gen racing simulator Project CARS was met with much anticipation when developer Slightly Mad Studios first announced the community assisted project. While it may not be the definitive choice for racing sim enthusiasts, it is easily one of the best-looking racing games available, featuring photorealistic vehicle models, real-world tracks, and realistic rain and weather effects. Despite some initial performance issues on AMD hardware, which have been mostly patched, it is still one of the best racing simulator available for testing graphics performance.
We test the game using the in-game replay system, the race takes place on the Nürburgring race track, with fixed whether effects transitioning from overcast, to thunder storms.
Settings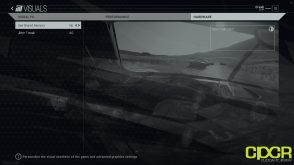 Results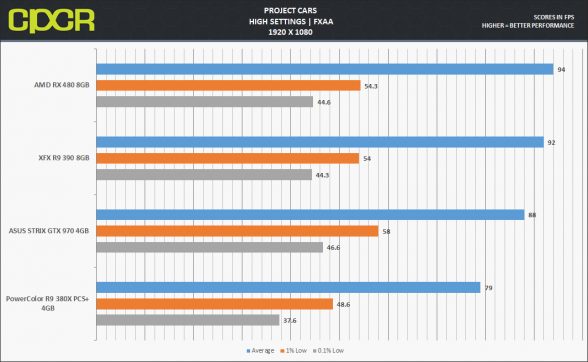 DOOM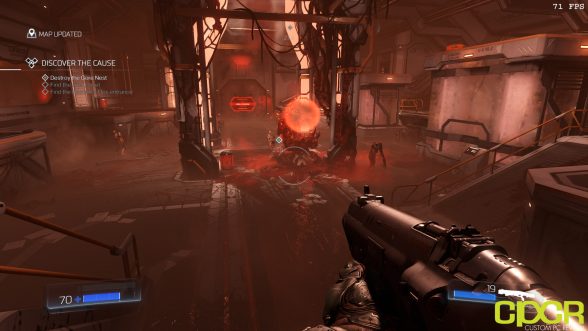 The latest installment of Id Software's legendary DOOM series. The new DOOM brings with it the latest graphics technologies and a fully uncapped frame rate thanks to the all new id Tech 6 game engine. With some of the best graphics available on PC today, DOOM brings to life its hellish environments and demons for a truly jaw-dropping experience.
We test DOOM using a 60-second run during the first mission of the game.
Settings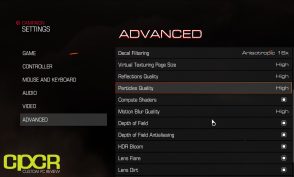 Results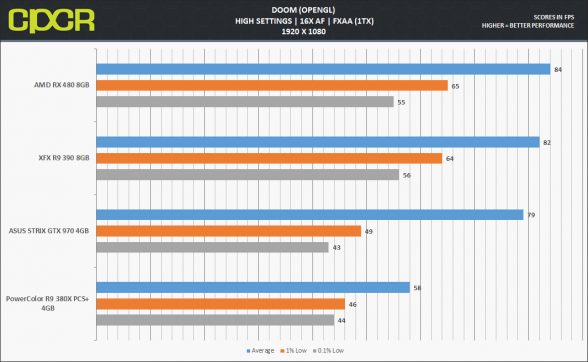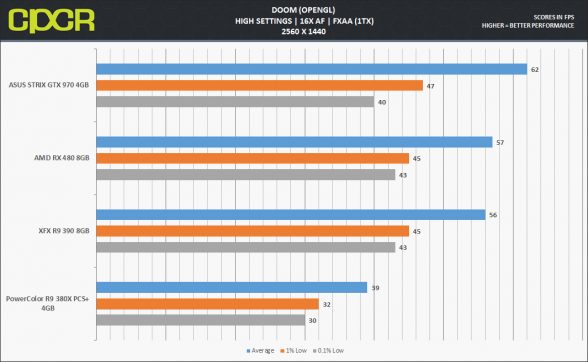 [section label=" HITMAN (DX11/DX12)"]
HITMAN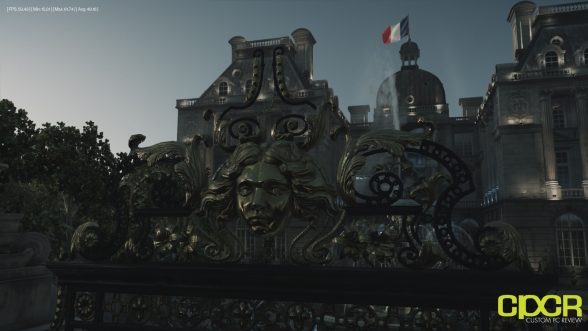 The follow up to 2012's Hitman: Absolution, simply titled HITMAN, the latest game in the series by developer IO-Interactive takes users on an episodic adventure to compete online against other players. The new game also brings with it support for Microsoft's latest DirectX 12 API.
We test HITMAN using the game's built-in benchmarking utility.
Settings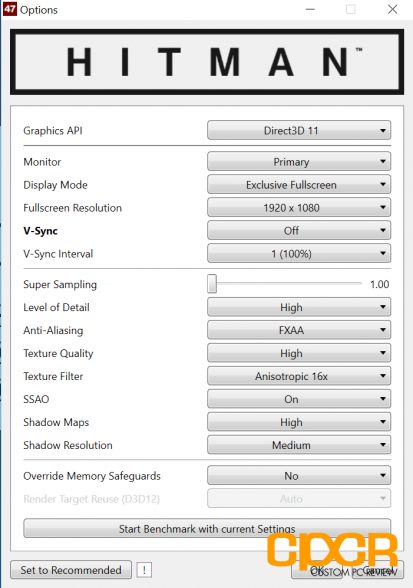 Results (DX11)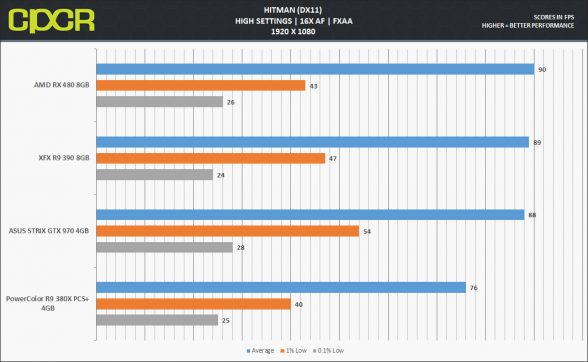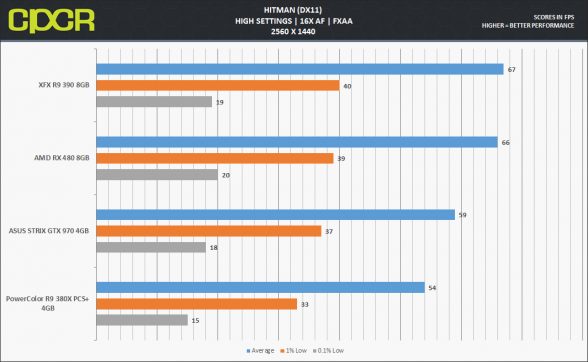 Results (DX12)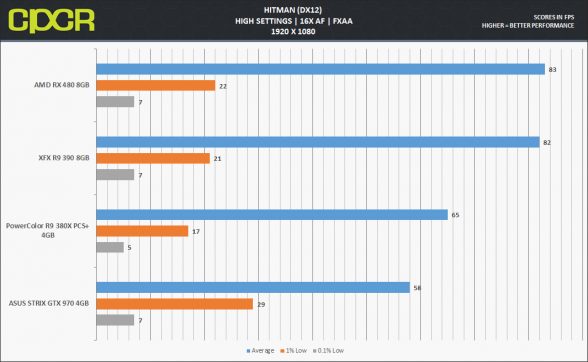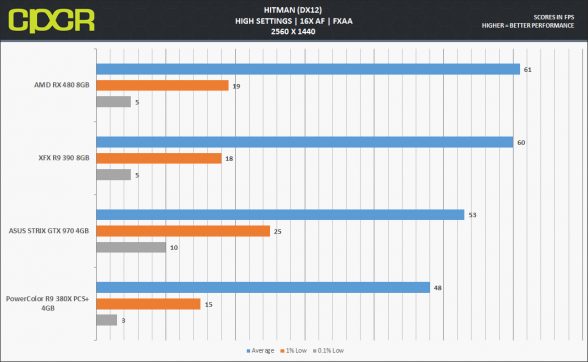 [section label="Gears of War: Ultimate Edition (DX12)"]
Gears of War: Ultimate Edition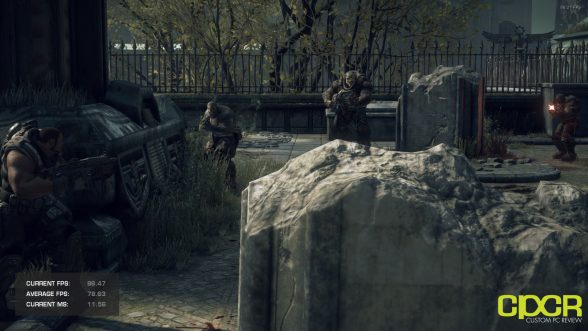 The remaster of the original Gears of War comes to PC, with completely updated graphics and reworked cinematics. Gears of War Ultimate Edition brings the classic, shotgun combat you know and love to the mouse and keyboard. The addition of DX12 support makes it a must have for any graphics benchmark.
We test Gears of War using the games built-in benchmark utility.
Settings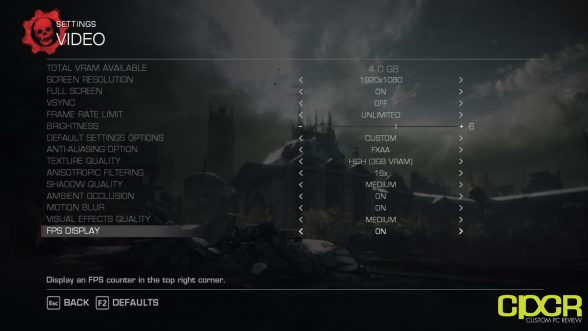 Results (DX12)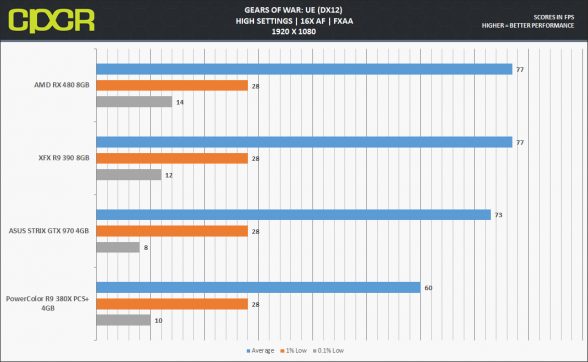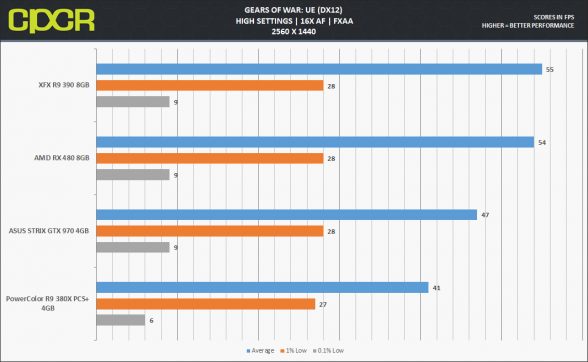 [section label="Ashes of the Singularity (DX12)"]
Ashes of the Singularity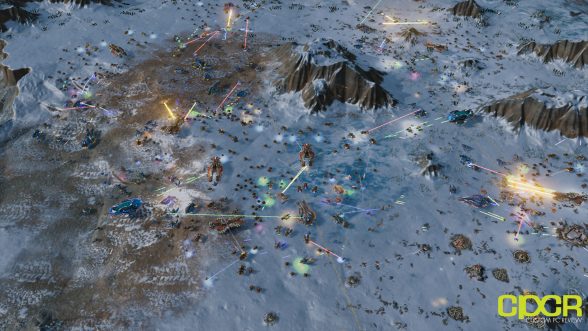 Oxide's Sci-Fi RTS game, Ashes of the Singularity is a staple in any graphics review as it provides one of the best implementations of latest DirectX 12 API, complete with Asynchronous Compute for improved performance and even explicit multi-GPU support which allows for mixing multiple different graphics cards for additional performance.
Settings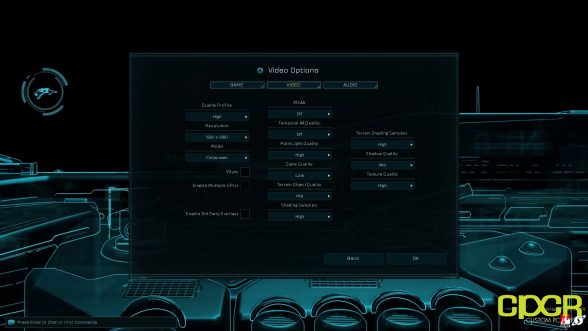 Results (DX12)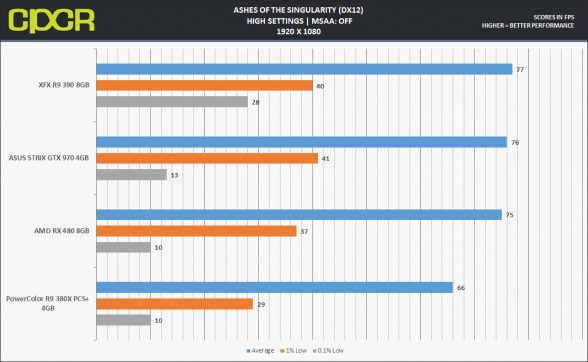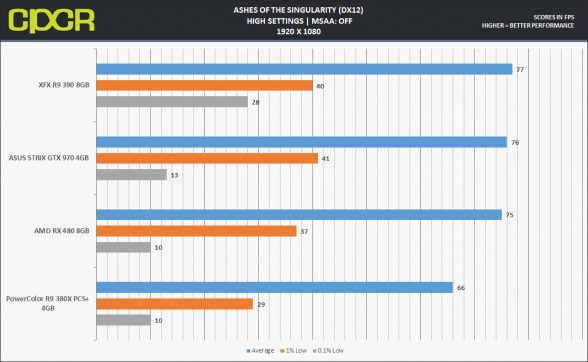 [section label="Conclusions"]
AMD Radeon RX 480 Conclusions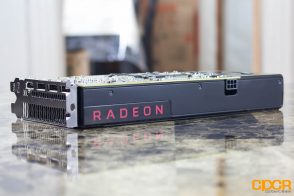 Looking at our results, it's fairly clear that AMD has a a real contender on its hands. The Radeon RX 480 provides performance on par with previous generation, high-end offerings for a price that is currently unmatched in the market place. The all new GCN 4.0 architecture and 14nm FinFET manufacturing process delivers massively improved power efficiency, and thermals that are sure to please even the most jaded users.
That being said, the card as we tested it, is definitely not perfect. I was personally disappointed with the overclocking abilities of my sample, however I'm not going to completely knock AMD for this one. They're delivering on an all-new manufacturing process, with a brand new architecture and my tests were conducted on pre-release overclocking software. It is entirely possible that the experience I had is an outlier, but it is definitely something I will revisit in the coming weeks as newer drivers and support from other overclocking utilities such as MSI Afterburner become available.  I'm also sure that what ever issues may exist with overclocking the reference model, they will soon be rectified by the slew of non-reference models that will be available from AMD's various partners sometime after the launch today. While we don't know exactly when that will be, I'd wager it'll be sooner rather than later.
That being said, aside from the gripes with overclocking, there's really not much to complain about with the Radeon RX 480.  The card delivers on all its promises and provides "VR Ready" performance to the masses. Speaking of VR, that is something that AMD has talked a lot about. The idea of making VR readily available to the vast majority of PC users was a key focus for them making the Radeon RX 480. That's definitely something I can commend them on, however, I'm not quite sure if the glass-ceiling for VR adoption was ever really the cost of graphics cards that can handle the application. Sure, a lower price to entry is definitely welcomed, but the GPU is still only one half of the hardware equation. With the high entry cost of VR headsets on the marketplace, I still think we're a ways out before VR is adopted by most mainstream PC gamers.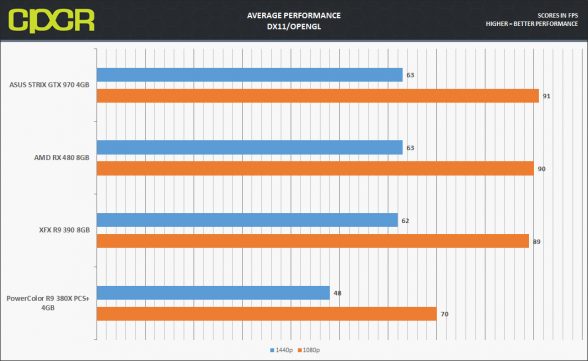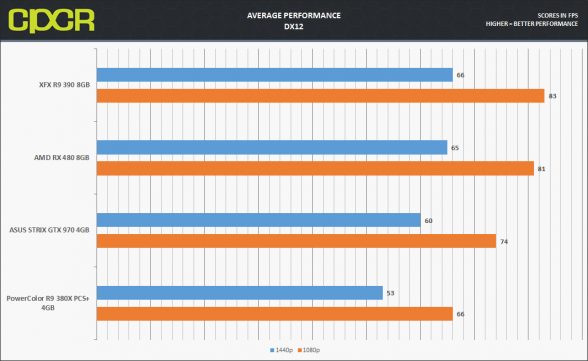 That being said, you don't have to own a VR headset to enjoy the full capabilities of the Radeon RX 480. In our tests, we found that the card is fully capable of playing games at both 1080p and 1440p. With the former allowing for frame rates that can take advantage of 120/144Hz monitors. The latter is still mostly a 60 FPS affair, but I doubt anyone would complain about that. While we tested the 8GB model which retails for $239, AMD has told us that performance of the 4GB ($199) model shouldn't be very different in most games at lower 1080p and 2K resolutions. That means that for $200, you can purchase a card with performance that rivals NVIDIA's massively popular GTX 970, and pair it with an inexpensive FreeSync monitor such as the Nixeus VUE24B  and enjoy smooth, 1080p, 144Hz gameplay for under $500.  Whether you're a fan of the Red Team or the Green Team, you have to admit, it's a pretty sweet time to be a PC gamer.
It's been a long wait, but the AMD Radeon RX 480 delivers fantastic bang-for-the-buck graphics performance in a cool and quiet package. Highly recommended!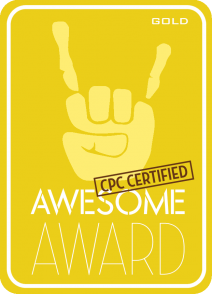 Sample provided by: AMD
Available at: Newegg