Warning
: Undefined array key "width" in
/var/www/vhosts/custompcreview.com/public_html/wp-includes/media.php
on line
1381
Warning
: Undefined array key "width" in
/var/www/vhosts/custompcreview.com/public_html/wp-includes/media.php
on line
1386
Warning
: Undefined array key "height" in
/var/www/vhosts/custompcreview.com/public_html/wp-includes/media.php
on line
1386
Warning
: Undefined array key "width" in
/var/www/vhosts/custompcreview.com/public_html/wp-includes/media.php
on line
1381
Warning
: Undefined array key "width" in
/var/www/vhosts/custompcreview.com/public_html/wp-includes/media.php
on line
1386
Warning
: Undefined array key "height" in
/var/www/vhosts/custompcreview.com/public_html/wp-includes/media.php
on line
1386
Warning
: Undefined array key "width" in
/var/www/vhosts/custompcreview.com/public_html/wp-includes/media.php
on line
1381
Warning
: Undefined array key "width" in
/var/www/vhosts/custompcreview.com/public_html/wp-includes/media.php
on line
1386
Warning
: Undefined array key "height" in
/var/www/vhosts/custompcreview.com/public_html/wp-includes/media.php
on line
1386
[section label=1. Introduction to the Cooler Master X6 Elite]
Cooler Master X6 Elite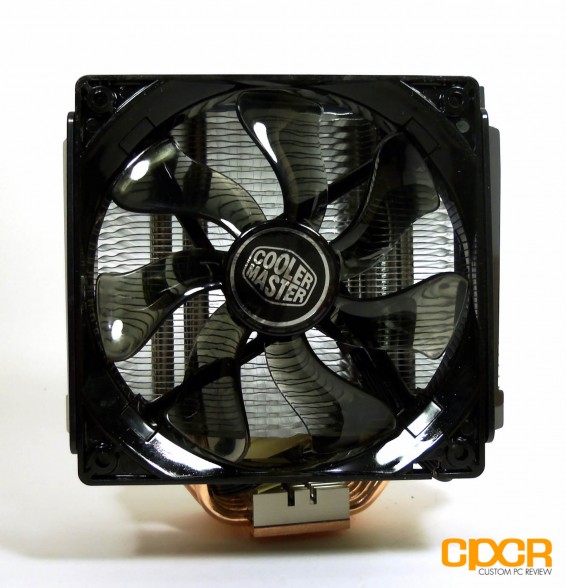 For nearly 20 years Cooler Master has been making some of the most well known computer performance peripherals and accessories on the market. It seems that lately they've put a lot of focus into their peripherals department, but today we're going to be looking at one of their latest CPU coolers, the X6 Elite.
The X6 Elite features six 6mm heatpipes, a 120mm fan with the ability to add another fan later in a push/pull configuration if you desire to, and a unique angled stance which we will talk a little more about later on. Cooler Master has priced the X6 Elite at just $42.99, and has included a two year warranty should anything happen.
The included seven blade 120mm fan is able to push out up to 70 CFM at 34.6 dBA, and has a 4-pin PWM (Pulse Width Modulation) connector which is directly controllable by your motherboard. It features a sleeve bearing fan which is rated to have a lifespan of 30,000 hours.
Specifications: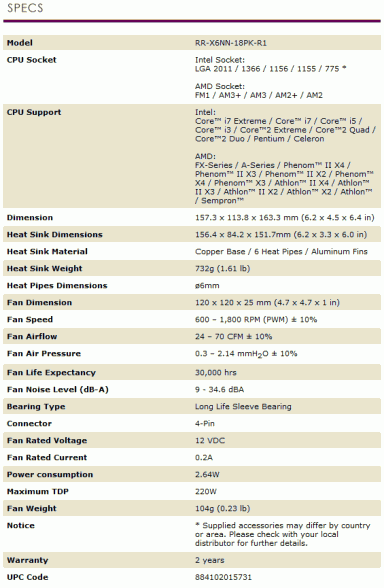 [section label=2. Unboxing the Cooler Master X6 Elite]
Unboxing the Cooler Master X6 Elite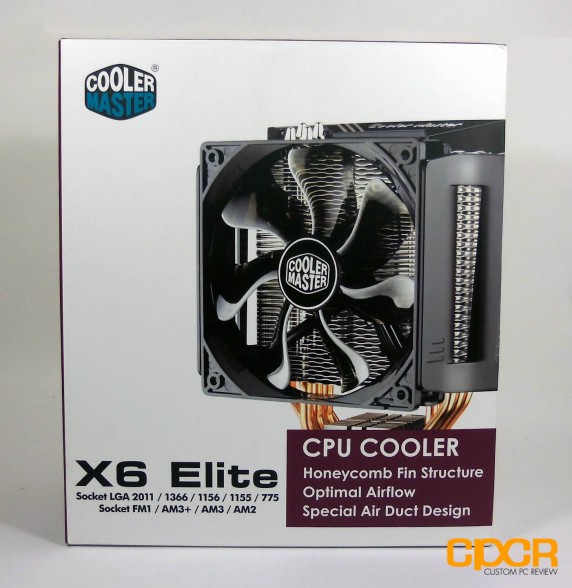 When we first take a look at the front of the box we have a graphic of the cooler, as well as a listing of compatible sockets that Cooler Master has included mounting hardware for. They also state that it has a special Honeycomb Fin Structure with optimal airflow and a special air duct design.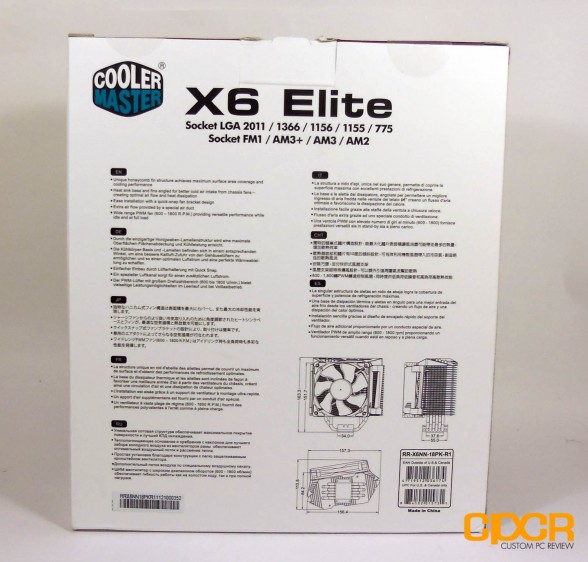 Spinning the box around, we can see that we have the supported sockets listed again, as well as a few graphics of the cooler in the lower right hand corner of the box.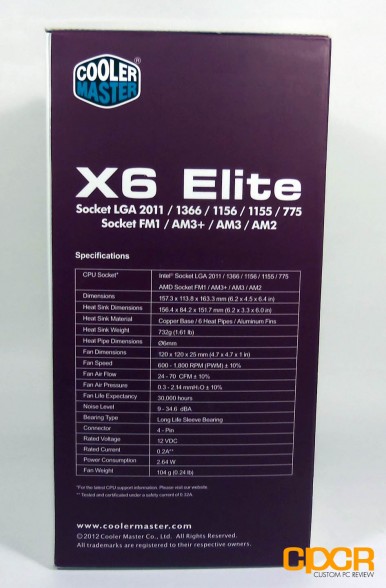 The sides of our packaging reveal a more in depth look at the specifications of the X6 Elite.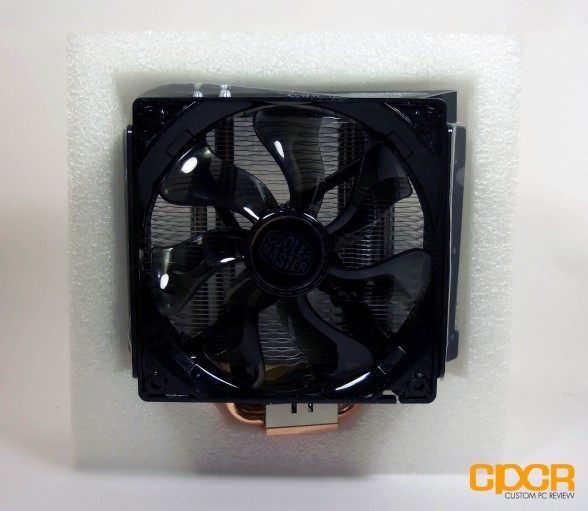 Once we remove the X6 Elite out of the box, we find it suspended very safely in a closed cell foam package.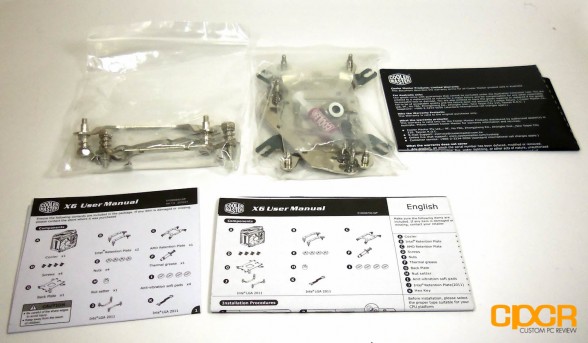 Our bundled accessories include our Intel and AMD mounting hardware, Intel and AMD installation guides and a warranty information guide.
[section label=3. Taking a Closer Look at the X6 Elite]
Taking a Closer Look at the X6 Elite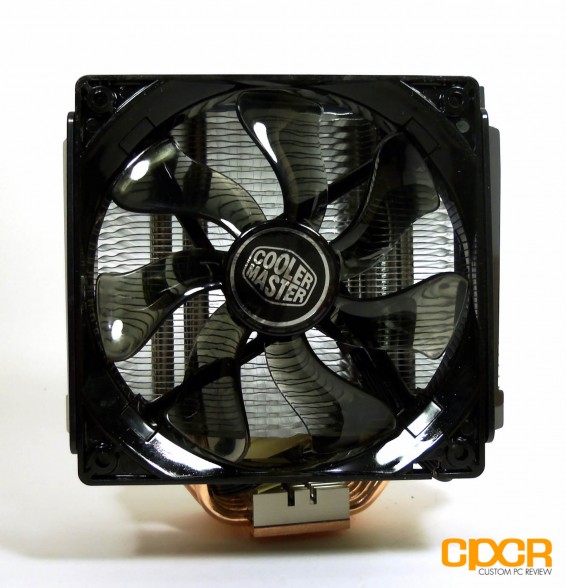 At the front of the cooler we get a 7 blade Cooler Master branded fan, capable of up to 70 CFM at 34.6dBA.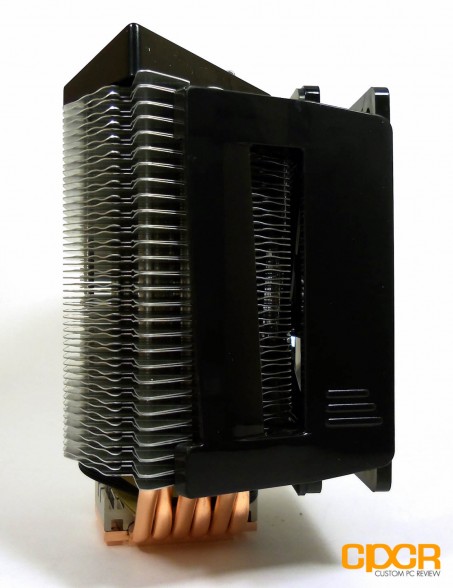 From the side we can see that the X6 Elite is very unique, featuring a new "honeycomb" style fin design. This allows for more surface area, and therefore better cooling potential.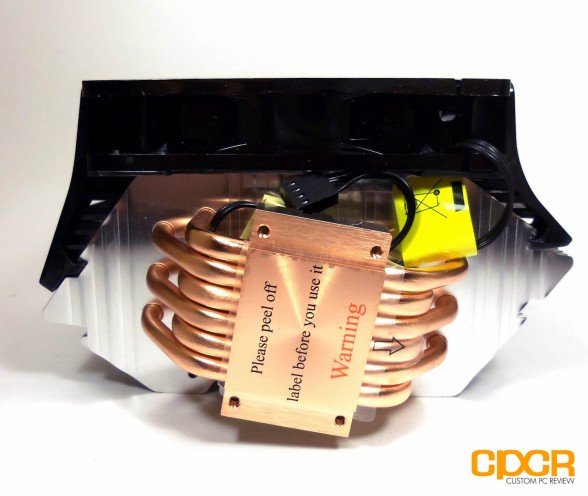 The base of the X6 Elite is flat, and here we can see the six 6mm heatpipes coming out of the base as well. You can also tell that the connection between the heatsink and the base isn't straight like we're used to seeing. This is because the X6 Elite is angled, which allows the cooler to better exhaust air out of the back/top of the case. The unique angle of the heatsink allows cooler air to be pulled from the lower front intake fan and hot air blown upwards at an angle straight out the back/top exhaust fans on many current cases.
[section label=4. Installing the X6 Elite]
Installing the X6 Elite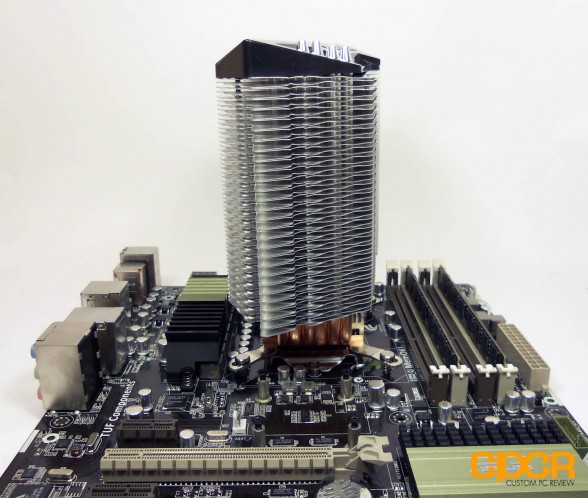 Installing the X6 Elite was pretty simple. It uses the same mounting mechanism that we've seen from previous Cooler Master CPU coolers. Simply screw on your socket specific mounting arms, put the screws through the holes in the motherboard and attach the nuts that are included.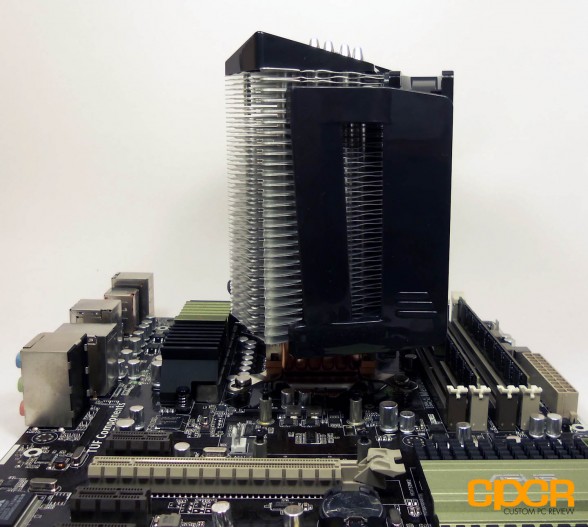 Here we can see the cooler installed, with the fan attached. The fan hangs very low, and therefore this cooler isn't compatible with high profile memory heat spreaders.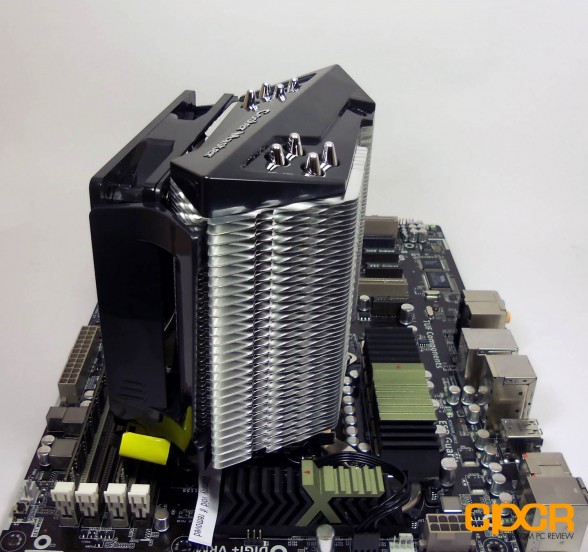 Lastly, here we can see the way the X6 Elite is angled. As I said it has a unique angled design to ensure it has proper airflow from front to back, without having to worry about hot air blowing around inside your case because it didn't make it out the rear or top exhaust fans.
[section label=5. Testing Methodology and Performance]
Testing Methodology and Performance
For all of my tests I'm going to be using Real Temp to monitor all temperatures. Idle temperatures will be measured after the computer has sat idle for 15 to ensure everything has fully settled. Load temperatures will be tested with Prime95 on the default blend settings, running for 30 minutes. Load temperatures will be calculated by averaging the temperatures from all four cores. For consistency, all heatsinks tested are using Arctic Cooling MX-2 thermal compound.
Test Setup
CPU: Intel Core i5 2500k
Motherboard: Asus P67 Sabertooth
Memory: 8GB Samsung DDR3 1600 MHz Low Profile
Storage: OCZ Agility 3 120GB SSD
Graphics: XFX Radeon HD7850 2GB
Power Supply: BFG Tech EX-1000
Case: HSPC Top Deck Tech Station (Large)
Special thanks to HSPC and OCZ Technology for sponsoring our test bench!
Testing the X6 Elite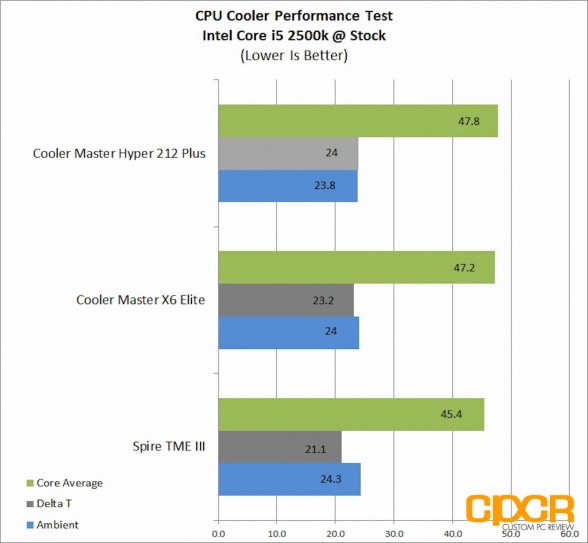 As you can see the X6 Elite came in right in the middle of our charts. It was able to perform very reasonably, giving us an average load temperature of 47.2ºC. However, our new testing methodology isn't focusing on just the load temperature, but moreover the Delta between load temperature and ambient temperatures. We can see that our change from ambient to load is just 23.2ºC. This is impressive,  considering it's not too far behind the Spire TME III which is a much larger, dual fan cooler!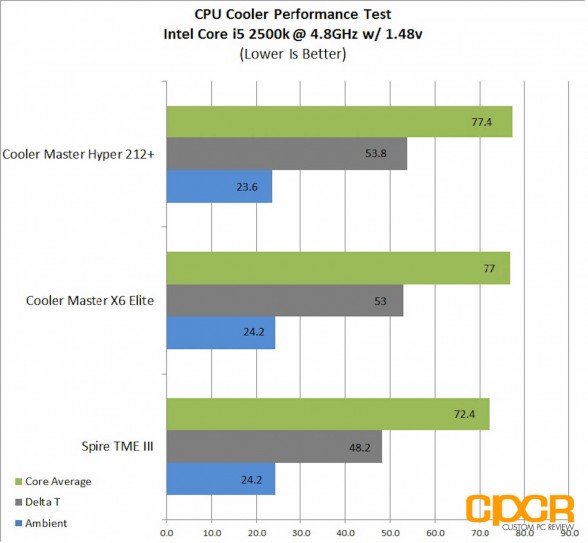 Once we take the clocks up to 4.8GHz ,we can see that the X6 Elite isn't quite as capable as the more beefy Spire TME III. However, it was able to outperform its little brother, the Cooler Master Hyper 212+, although not by much. With a delta of 53ºC over ambient, the X6 Elite lands right in the middle of our charts.
[section label=6. Conclusion]
Conclusion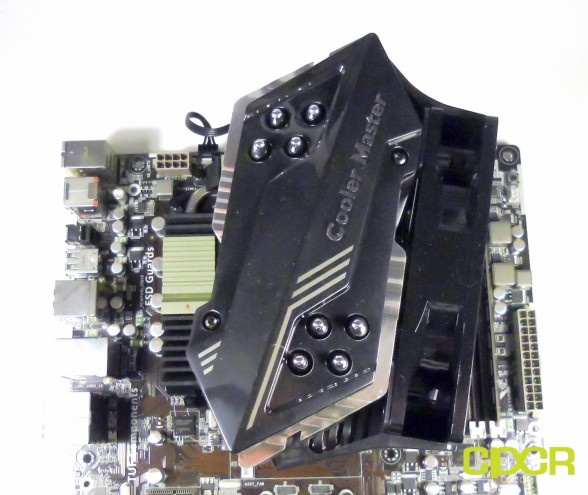 Cooler Master has been producing some top notch coolers and computer accessories for quite some time now, and the X6 Elite is no change to this. It brings solid performance and build quality without breaking the bank. Starting with the visual appearance of the X6 Elite, I can honestly say that it was very cool.  These days I seldom see a cooler that isn't a standard tower style cooler or an all in one water cooling unit, and it's always nice to see Cooler Master make attempts to innovate here. The top of the cooler has a unique shroud that looks like a shield, which helps mask the ugly, plain looking heatsink underneath.
Performance wise, the X6 Elite was pretty good as well. It did slightly better than the Hyper 212 Plus, which is expected but it ultimately wasn't able to beat out the beefy Spire TME III we reviewed a while back. The angled design seems to have paid off a bit as well as I can tell air does move in an angled direction, so it's definitely more than likely that hot air passing through the cooler will move out through the rear and top exhaust fans. This of course will depend on your specific case. The fins also had a unique honeycomb pattern to them, which allowed for more surface area which means more area to dissipate heat. As usual of Cooler Master, the build quality of the cooler was very solid and didn't have a cheap or flimsy feel either.
Installing the X6 Elite wasn't too bad, but I feel like the installation could have been better. The X6 Elite uses the same mounting system as the old Cooler Master V8, which isn't the most ideal mounting design to come to mind. I would love to see the X6 switch over to the newer mounting system used by the Hyper 212+ or possibly even see Cooler Master design an even easier mounting mechanism. While this mounting system might've been groundbreaking a couple years ago, the introduction of easy mounting systems from companies like Noctua, Phanteks, and even Spire have shown us how much easier it could be. Although doable, having to maneuver the motherboard around while trying to get the cooler into place is a bit more tricky than it needs to be.
Cooler Master has priced the X6 Elite at just $42.99 on Amazon and features a two year warranty through Cooler Master on both parts and labor. Price wise, I think the cooler is definitely quite competitive for the enthusiast cooling market, especially with many coolers falling in price categories much higher than this. That said, with a 0.8ºC difference in delta and a $17.07 difference in cost between the X6 Elite and the Hyper 212 Plus in our overclocked benchmark, I fail to see a huge reason why you'd want to go with the X6 Elite over the Hyper 212 Plus.
Bottom Line:
The Cooler Master X6 Elite brings looks, quality, and performance at an acceptable price. While we'd still recommend those on the market for a budget cooler to stick with our favorite budget cooler of all time, the Hyper 212 Plus, there's no reason not to spring for the X6 Elite – especially if you absolutely love the aggressive styling offered here.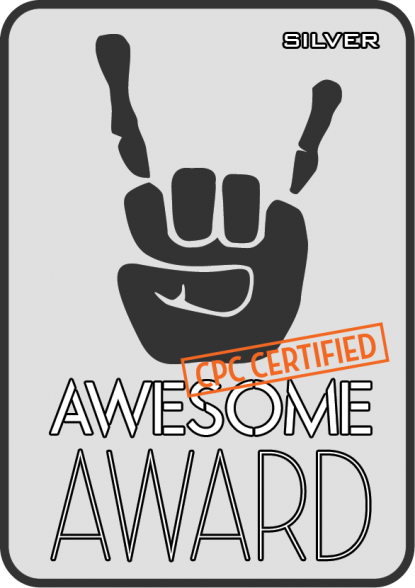 Special thanks to Cooler Master for making this review possible.
The Cooler Master X6 Elite is currently available on Amazon.