[section label=1. Introduction]
Same Ultimate Keyboard, Now with Razer Mechanical Switches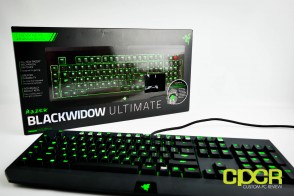 Back in late 2012, we received the opportunity to check out the 2013 refresh of the Razer Blackwidow Ultimate mechanical gaming keyboard which proved to be one of the best mechanical keyboards of its time as it not only had great styling, but great functionality and performance that well represented the Razer name in high performance gaming peripherals. Since then the Razer Blackwidow Ultimate continued to be one of our favorite mechanical gaming keybords, but with numerous competitors coming out with cheaper, similarly well performing mechanical gaming keyboards these days, there's definitely been room for Razer to step up their game.
Now earlier this year at CES, one very interesting thing we heard from a number of gaming peripheral manufacturers was that the Cherry MX switch patents were expiring sometime this year. Seemingly as a result, a couple vendors began asking us for feedback regarding the possibility of them producing their own mechanical switches while some vendors such as Thermaltake went as far as showing off keyboards with ready to go Cherry MX clone switches.
Razer Blackwidow Ultimate Specifications
| | |
| --- | --- |
| Manufacturer | Razer |
| Model | Blackwidow Ultimate |
| Key Switch | Razer Green |
| Keycaps | Laser Etched |
| Backlighting | All Keys Except Spacebar and Fn key |
| Key Rollover | 10KRO |
| Polling Rate | 1000 Hz |
| Interface | USB 2.0 |
| USB Hub | 1 Port, USB 2.0 |
| USB Cable | 6ft Braided, Gold Plated Connector |
| Dimension | 18.72 in x 6.74 in x 0.79 in |
| Weight | 3.31 lbs |
| Warranty | 1 Year |
| Additional Features | Game Mode, Media Keys, LED Backlit |
| Check Pricing | Click Here |
While a whole lot of manufacturers did a whole lot of talking about the future of their mechanical keyboards and switches, one manufacturer who didn't even mention mechanical keyboard at CES was Razer, so imagine my surprise when I received a press release out of the blue regarding Razer's new in-house mechanical switch along with a sample of the new 2014 Razer Blackwidow Ultimate with the new switches for review.
Safe to say I was quite excited to receive such an opportunity, so let's take a look at what the new Razer Blackwidow Ultimate has to offer.
[section label=2. A Closer Look]
A Closer Look at the Razer Blackwidow Ultimate 2014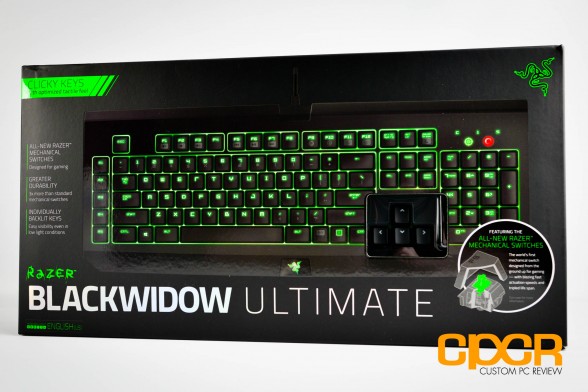 Here's the packaging for the new Razer Blackwidow Ultimate (2014 Edition). Razer doesn't call it the 2014 edition or the Razer switch edition, and the packaging is quite similar to last year's version, so be sure to watch out for indicators on the packaging that the keyboard is using the new Razer switch. For the purposes of our review, we'll be referring to the keyboard as the Razer Blackwidow Ultimate 2014.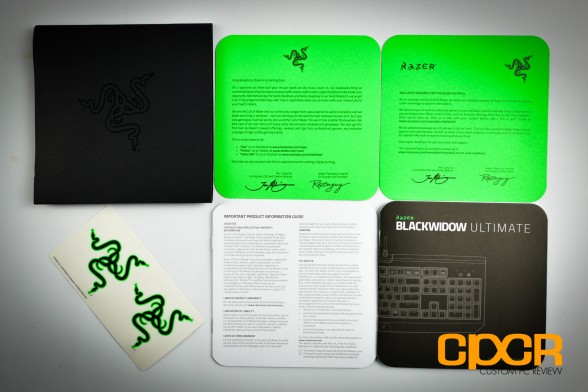 Accessories include the usual documentation along with a pair of Razer stickers.
Removing the Razer Blackwidow Ultimate 2014, we notice that on the outside, it's practically the exact same thing as the 2013 version. Of course, that's not a bad thing as the keyboard has a pretty sleek design with a nice soft touch matte black finish first introduced with the 2013 Razer Blackwidow Ultimate.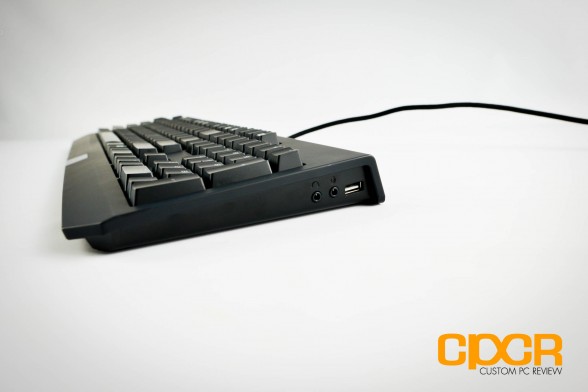 Swinging around to the side, we can see that the Razer Blackwidow Ultimate is naturally designed on an incline for more comfortable typing. We get a USB extension port along with 3.5mm headphone/microphone extension ports. Unfortunately the USB port is still USB 2.0 rather than the newer USB 3.0. This is probably because Razer is using the same chassis as the 2013 version of the Blackwidow Ultimate except with different switches.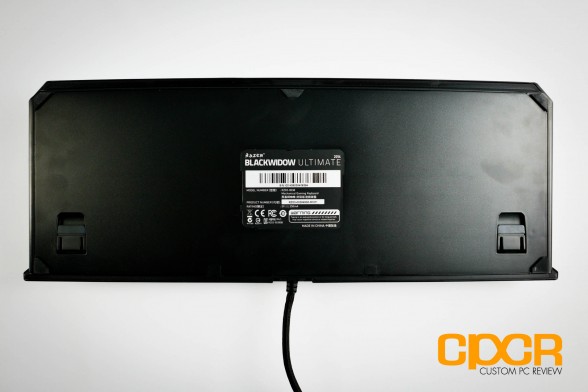 On the bottom of the keyboard, we get 5 small rubber feet to keep the keyboard from shifting. Although the keyboard is raised slightly by design, Razer includes two additional feet for additional height.
Doubling up with the F-keys, we also get audio controls, media keys, macro recording keys, game mode, light adjustments, and sleep key.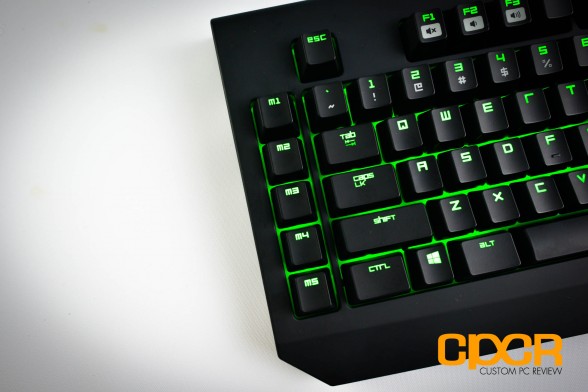 With the new Razer Blackwidow Ultimate, Razer has kept the five dedicated macro keys on the left side of the keyboard. First time users of the keyboard may find themselves often hitting the M5 macro key rather than the CTRL key, but you definitely get used to it in time.
Removing the keycaps, we get a first look at the Razer Green switches. The Razer Green switches from the outward appearance looks very similar  and almost identical to Cherry MX switches. Razer is also using very familiar Costar stabilizers with the longer keys on the Blackwidow Ultimate, which I find is preferable as it gives a more consistent feel to the rest of the keys on the keyboard.

Here's a closer look at a diagram of the Razer Green switch. The design itself appears to be identical to the Cherry MX design however, Razer has made a couple changes to the switch design to reduce the amount of distance to the actuation point in comparison to the reset. As seen on the diagram, this reduces the distance of key travel needed to actuate the key, which should increase the speed at which keys are registered.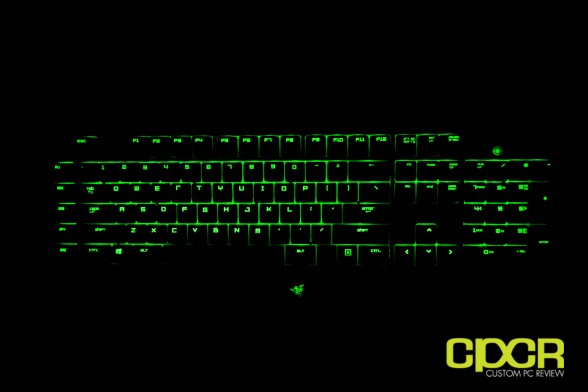 As usual, the Razer Blackwidow Ultimate is extremely bright in the dark. This is due to the fact that not only is every key except the spacebar and the function button backlit, but Razer also paints the interior of the keyboard green, which helps accentuate the green glow.
[section label=3. Software]
Razer Synapse 2.0
With pretty much every new Razer product, Razer is pushing their Synapse 2.0 software, which is a very comprehensive cloud based software suite that provides functionality and drivers to Razer products. Since I've covered Synapse 2.0 in the review of the 2013 Razer Blackwidow Ultimate and nothing's really changed, I'll simply be providing some pictures of the software.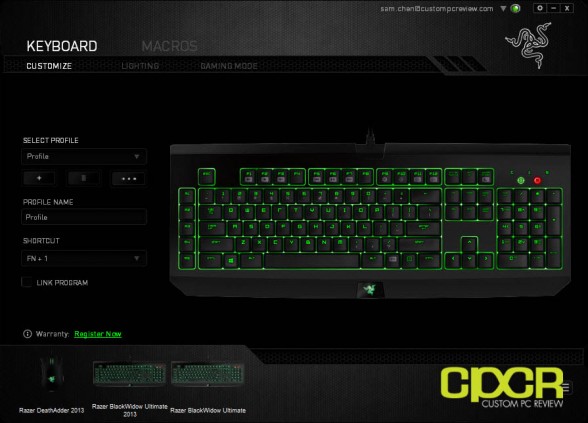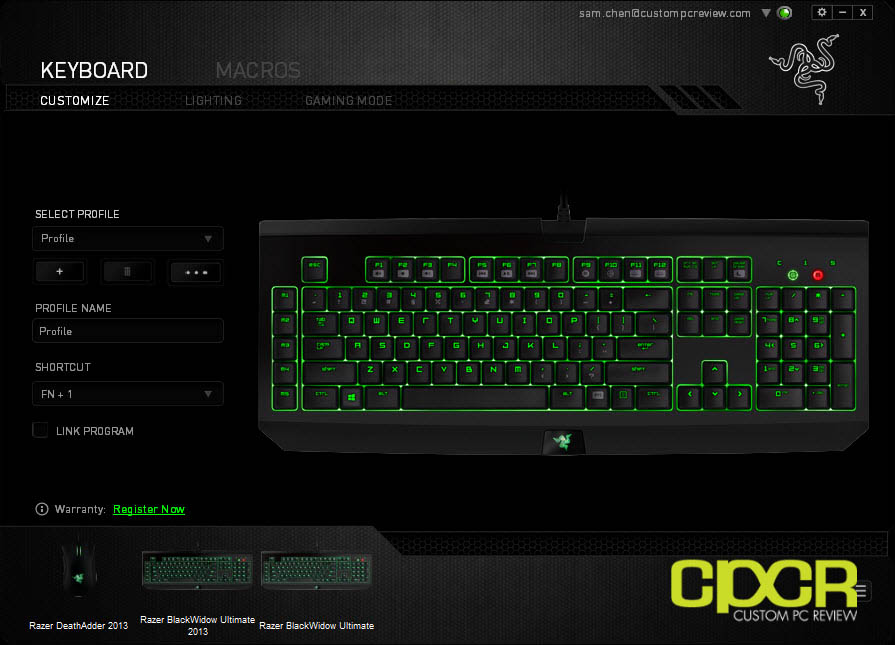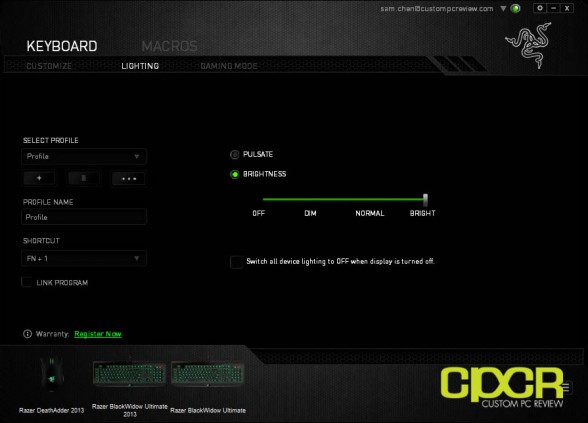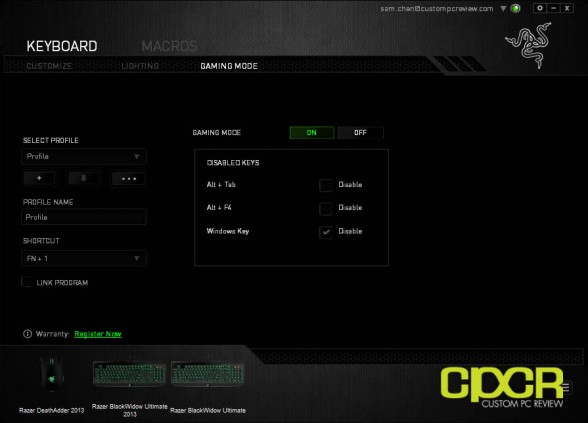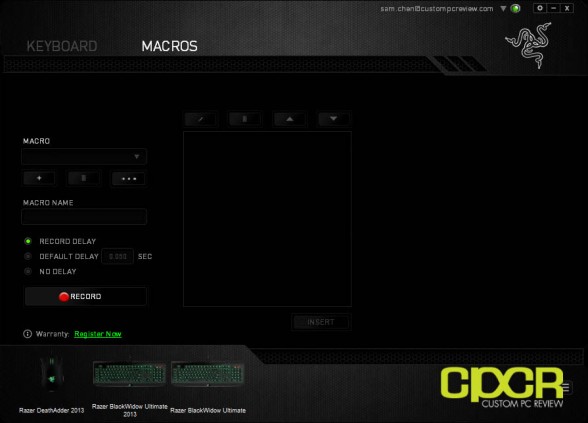 [section label=4. Testing and Performance]
Razer Blackwidow Ultimate 2014 Performance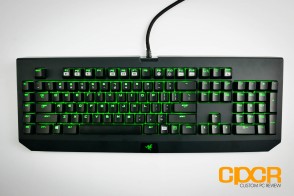 Along with the new Razer Blackwidow Ultimate, Razer introduced two new switches – the Razer Green and the Razer Orange which are basically tweaked clones of the Cherry MX Blue and the Cherry MX Brown switches that we should be oh so familiar with already. For our review, we received the Razer Blackwidow Ultimate with the Razer Green switches, which are most closely related to the Cherry MX Blue /Cherry MX Green in that you get both tactile and auditory feedback on every keypress. The major difference with the Razer Green switches is that Razer has tweaked their switch for a much shorter actuation distance which theoretically makes the Razer Green and Orange switches faster and more responsive. Razer is also increasing the life expectancy of the switches to 60 million keystrokes instead of Cherry MX's 50 million although that's a bit difficult to test without specialized equipment, so we'll  be taking Razer's word for it on that one.
After a few hours of getting used to the new keyboard/switches, I fired up some Battlefield 4, Thief and some League of Legends to see how the new switches felt in-game. While the new switch does take a bit of adjustment to get used to, the adjustment doesn't take very long for users of Cherry MX Blue or Brown switches and the end result is very positive. Because the Razer Green's actuation point is slightly higher than what Cherry MX uses, this ultimately leads to a faster response when a button is pressed and as long as the keys aren't being bottomed out, it allows for faster subsequent presses as well. The Razer Greens in practice almost feels like a very well designed hybrid of the easier to spam Cherry MX Black switches combined with the accuracy and tactile feedback with Cherry MX Blues. It's actually quite awesome and it really leaves you wondering why Cherry didn't think of making the slight adjustment themselves.
As for typing performance, the new Razer switch is noticeably faster as well. While Razer advertises the new switches at 50g actuation force similar to that of the Cherry MX Blue switch, it feels heavier to the touch as the tactile bump is higher – almost a bit like the actuation force needed for Cherry MX Blacks or Cherry MX Greens. However, unlike with Cherry MX Blacks or Cherry MX Greens, the nice thing about the Razer Greens is that while it has a heavier feel, it doesn't tire you hand out when used for extended typing sessions. The reason for this is because the actuation point is so high up that it only requires a small but deliberate tap for each keypress which makes it easy to type without bottoming out the keys. Because of this, in my testing using typrX I was able to consistently gain on average ~10wpm increase in typing speed when switching between the Cherry MX Blue version of the Razer Blackwidow Ultimate and the Razer Green version.
NKRO/Ghosting Testing
Additionally I also did some more synthetic testing of the Razer Blackwidow Ultimate 2014 using Microsoft's Keyboard Ghosting Test App. Developed by Microsoft's Applied Sciences Group, the app translates any keys I physically press into a virtual keyboard, allowing me to test for NKRO and any sort of ghosting issues inherent on the keyboard.

Although Razer advertises the Blackwidow Ultimate at 10KRO, in testing it was actually capable of up to 14KRO, which means the keyboard will register up to 14 keys that are pressed simultaneously. This should be more than enough for most users.
I also tested for ghosting as well using a number of different key combinations. No issues there. 
[section label=5. Conclusion]
Razer Blackwidow Ultimate 2014 Conclusions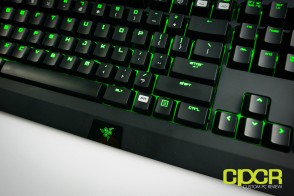 Since the overall design of the Razer Blackwidow Ultimate hasn't really changed much since the refresh back in 2013, I think the most important thing to focus on with the keyboard is the new in-house Razer green switches, and after spending a considerable amount of time with them on a full time basis I'd have to say I'm quite impressed. While switch design is basically a clone of Cherry MX's original design, Razer's tweak on the Razer Green switch for a higher actuation point than the Cherry MX Blue or Brown does make a significant enough difference to the keyboard that I'm finding it difficult to use anything else. The Razer Greens are definitely different in comparison to anything Cherry makes, yet the feel is so similar that it's very easy pick up for those who've used Cherry MX Blues or Browns in the past.
Performance wise, the main complaint of the Cherry MX switches, especially the Cherry MX Blues and Browns is that they're a bit slow due to their deep actuation points compared to cheaper membrane switches. This makes it difficult to do double taps or play rhythm based games. However, with the new Razer Green switches, Razer has reduced the actuation distance considerably and with tactile feedback as soon as the key is actuated, it's much easier to produce quick, deliberate and accurate double taps. Those still on the membrane switch bandwagon may find that the new Razer switch may really be worth your while especially if the ability to double tap is the reason why you haven't switched to mechanical keyboards just yet.
For the serious typists out there, I'd also recommend you give the new Razer switches a shot as well even if you're already comfortable with a keyboard with Cherry MX Blues or Browns. In my testing, I was able to increase typing speed by ~10wpm on average as the higher actuation distance and slightly heavier feel of the key increases the speed at which letters appear after a button is pressed. This in addition to initially heavier feel of the key makes it easier to not bottom out the keys while typing, thus increasing typing speed.
As for problems, I think the Razer Blackwidow Ultimate 2014 is pretty solid just like the 2013 version. Virtually nothing's changed since then and given the fact that I've been using the 2013 version on one of my systems for the past 2 years without any issue, it's a solid product that will last a while as long as you're not abusing it too much. Of course, I wouldn't mind seeing higher quality double injection molded keycaps someday and less key wobble, but overall I think Razer has done an overall great job with their Blackwidow Ultimate and I'm sure the sales will reflect this quite well.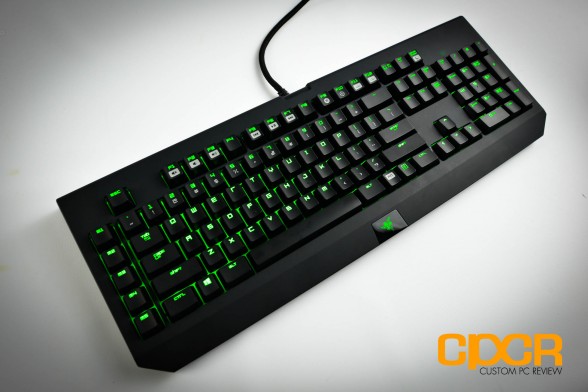 Pricing on the Razer Blackwidow Ultimate (2014 Edition, Razer Green Switches) is $139.99 which is definitely on the high side for a mechanical keyboard. Those who don't really care about backlighting can also opt for the vanilla Razer Blackwidow (2014 Edition), which doesn't include backlighting, but comes in at a more reasonable $99.99 with the Razer switches as well. Both keyboards are definitely pricier than what competitors are offering, but given how much I like Razer's new switch, I really can't complain too much. I'm sure clones of the Razer switch will come in due time and considering Razer has offered their switches for 3rd parties, hopefully somebody will take the offer and come out cheaper variation of the Blackwidow Ultimate with a simpler design and a significantly lower cost. Until then, if you're like me and you want a mechanical keyboard with a switch that's fast like a Cherry MX Black, but still want the tactile feedback of Cherry MX Blue, definitely be sure to check out the new Razer Green switches on the 2014 Razer Blackwidow Ultimate.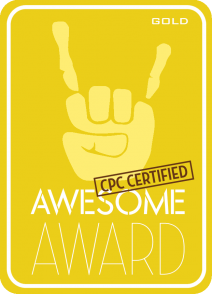 Sample provided by: Razer
Available at: Amazon