[section label=1. Introduction]
Tactic 3D Going Wireless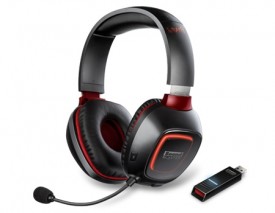 About a year ago, I reviewed Creative's Tactic 3D Sigma and was fairly impressed with it. It was durable, had great sound quality, and it came in at quite an affordable price. At the time Creative only introduced two models in the Tactic 3D line – the lower end Alpha, and the higher end Sigma. Today, Creative has really expanded on their Tactic 3D line, offering not only more PC gamer oriented headsets, but also game console oriented editions of their popular headset line such as the Tactic360 Sigma, Tactic360 Ion as well as the Tactic 3D Omega.
Today, we'll be reviewing the Creative Sound Blaster Tactic 3D Wrath wireless gaming headset. This headset is among Creative's newer Tactic 3D products to hit the market, and will include one very special feature – wireless. Yes, the headset will feature completely wireless operation meaning users will not only be able to use the headset to wirelessly steam audio, but will also will be able to use the microphone to engage in Skype, Ventrilo, Teamspeak, etc. conversations as well.
Whereas older generation wireless headsets had issues with interference, popping, cracking and hissing, Creative's new offering features their own wireless audio technology that Creative claims will deliver "lag and static free gaming sound for PC and MAC". Does the Tactic 3D Wrath cause wrath to other gaming headsets? Let's find out!
Specifications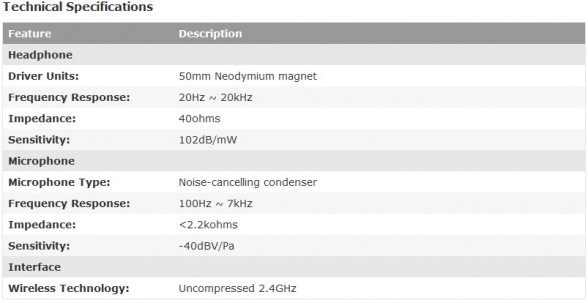 [section label=2. A Closer Look]
A Closer Look at the Tactic 3D Wrath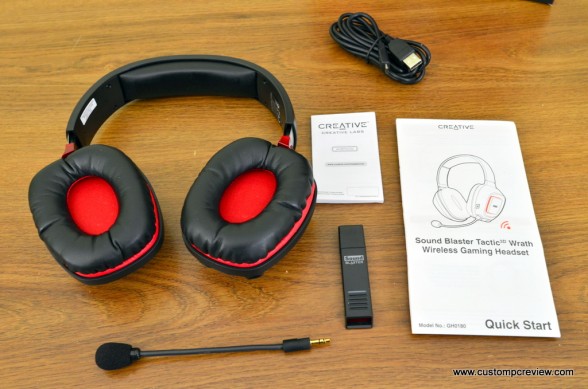 Included in the package we get some documentation, a usb cable for charging the headphones, a usb wireless transmitter, the headphones itself, as well as a detachable microphone.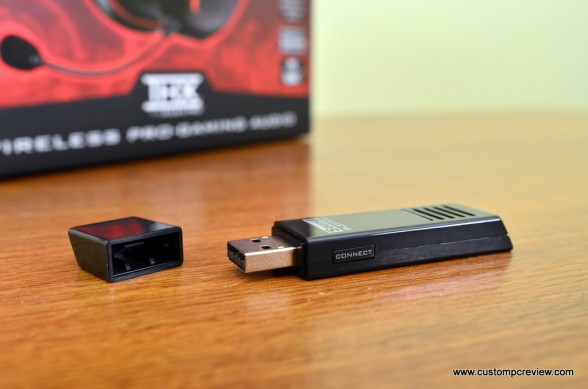 As you can see here,the wireless transmitter is pretty empty with only a connect button which helps establish a connection between the headset and the wireless transmitter. However, in my testing this button is unnecessary as the headset will automatically establish a connection as soon as the transmitter is in range. This allows you to hide the transmitter as it isn't particularly pleasing to look at.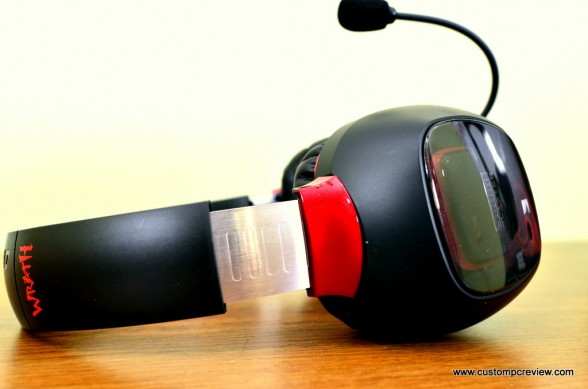 Here's a quick look at the headset itself. As you can see here, the Wrath is similar to the Sigma in that it has a steel core headband, so the headset itself feels extremely durable. Additionally it is styled in a red and black color scheme which looks rather nice especially if you're sporting a red and black themed system.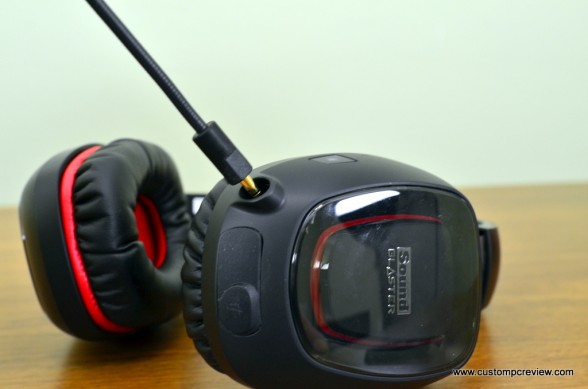 Similar to all other Tactic 3D headsets on the market, the Tactic 3D wrath also includes a detachable microphone. Unfortunately having a detachable microphone also includes the possibility of losing the aforementioned detachable microphone, so it would be nice to actually see the microphone permanently attached with some sort of method to keep it out of the way when not in use.
Also, notice that similar to the Tactic 3D Sigma the earcups are leatherette. This means while the headset will have better bass response and better noise isolation than other headsets, they do tend to become hot after a while as the leatherette does tend to seal in hot air very well.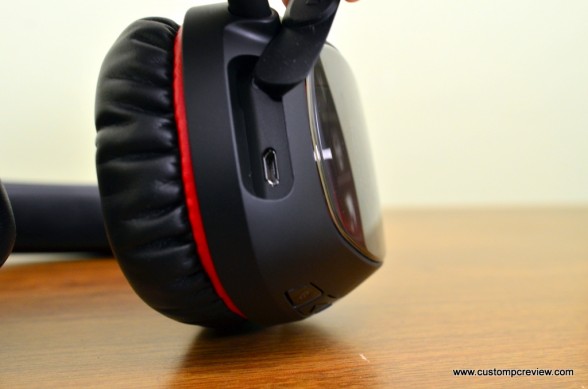 At the bottom of the headset, we also get a micro USB port for charging the headset itself. The headset may be used while charging to ensure that the headset can be used even during extended gaming sessions. Battery life on the headset is rated at 8 hours of continuous playback, so you shouldn't have any issues with the battery running out.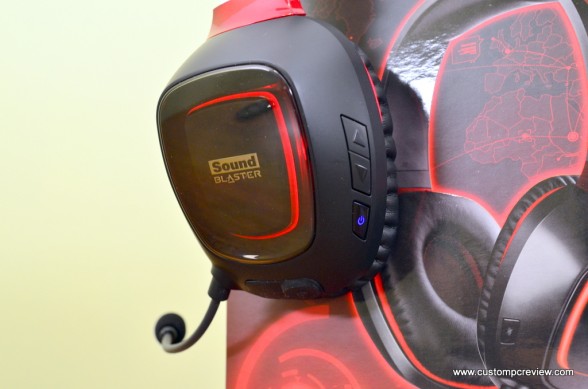 Around the back of the left earcup, we get volume up and down buttons as well as a power button. Additionally, the earcups on the headset light up red when in use which looks extremely cool. While it's unpictured here, the front of the left earcup also includes a microphone mute button which is useful during Skype conversations when you need to hit the bathroom without the whole world knowing.
[section label=3. Software]
Tactic 3D Wrath Software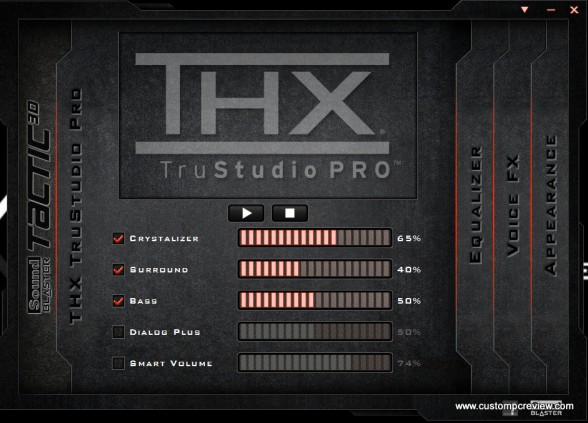 Included with the software is the THX TruStudio Pro sound processing suite, which is something I'm actually quite a big fan of. Considering Creative's extensive background in sound cards and sound processing, Creative has done a wonderful job with the THX TruStudio Pro giving gamers a simulated 5.1 or 7.1 surround sound experience using some pretty cool tricks such as delaying audio and adjusting volume to create that three dimensional surround sound audio effect in only two speakers.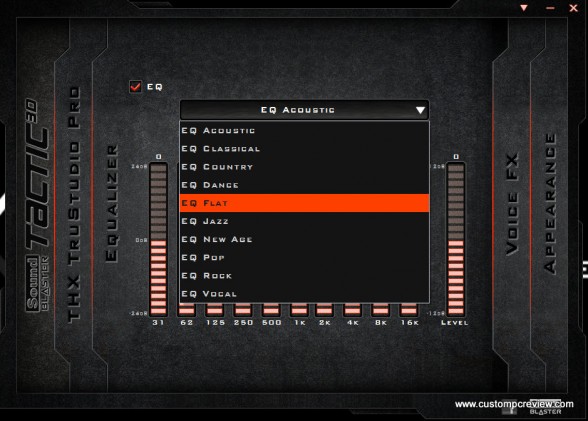 Also included is an equalizer with predefined presets for different genres of music such as acoustic, jazz, pop, rock, etc. Of course, for people serious about their audio, you'll want to manually adjust the equalizer to your preferred settings. Rest assured, the settings can be saved in a profile for easy access as well so your hard work won't be in vain.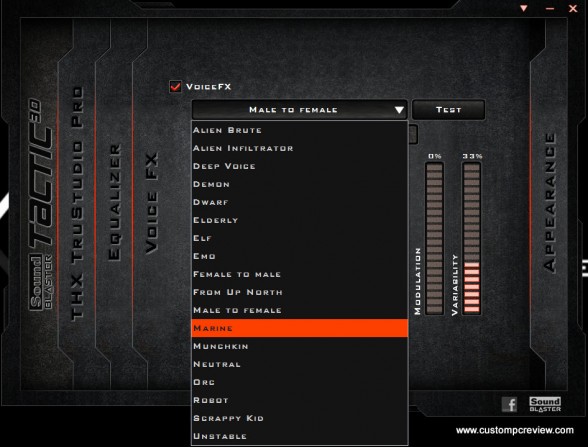 Finally, we also get Voice FX, which is the feature that most of you will probably get a huge kick out of. This feature actually works in real time to change your voice into one of the presets you see above. Any trolls in the house? This one's for you.
[section label=4. Performance]
Test Setup
CPU: Intel Core i7 2600K
Motherboard: MSI Z68A-GD65 (G3)
Graphics: MSI Radeon HD6970
Memory: Corsair Vengeance 16GB DDR3 1600MHz
Storage: Corsair Force 180GB SSD
Sound: Creative Sound Blaster Recon3D PCIe
Power Supply: Cooler Master Silent Pro Gold 800W
Case: Cooler Master HAF X
Tactic 3D Wrath Performance

Gaming and Movies
Moving onto actual headset performance, the first couple listening tests I conducted was of course in gaming and watching movies. In this test, I'm far more concerned about the headset's ability to deliver an immersive experience to the listener – more so than the ability of the headset to deliver pure audio quality.
As expected, since I have previously reviewed the very acoustically similar Tactic 3D Sigma, the Wrath was able to deliver in this department with a nice wide soundstage and powerful booming bass, which helped me feel like I was a part of the action. The greatest feature here at least for movies and gaming, is that the headset itself seems to be tuned for additional bass. A tank rolling by, an explosion 5 feet away or even an attack helicopter coming up near you can not only be heard, but felt as well.
Additionally, because the headset does include a USB soundcard in the transmitter, the headset also features Creative's THX TrueStudio Pro audio processing, which means you'll be able to hear simulated 5.1 or 7.1 surround sound from the Tactic 3D Wrath giving you an even more enhanced feeling of immersion.
Music
In addition to movies and gaming, I also tested the headset in music as well. Sound quality was definitely good here, but it just wasn't for me. Music coming out of the headset felt very bass enhanced, and since I typically prefer my headsets to have a more balanced acoustic signature, I wasn't the biggest fan. Now, I'm not saying the audio quality was bad. It's definitely going to be up to the listener to judge if sound quality is good, but the bass was solid and is great for those who primarily enjoy listening to bass heavy tracks such as pop and hip hop, but the enhanced bass does feel a bit unnatural and overpowering when listening to other genres such as rock and classical.
Wireless Performance
Wireless performance was overall quite astounding. For gaming and movies it's really difficult to tell you're on wireless at all. The headset was able to deliver tons of bass and while I was expecting some interference issues typically seen in 2.4GHz devices, I didn't encounter any issues at all. Wireless range was excellent as well. I was able to chat on Skype despite being 20 feet away and in another room. The wireless aspect also means that you aren't tethered to the computer anymore, which means you do have the ability to walk around the room and stretch while still talking to your friends.
Microphone
Microphone performance on the Creative Tactic 3D Wrath was very good as well. While I wasn't able to hear first hand the sound coming from the microphone, people on the other side of Skype conversations have generally commented on the higher microphone quality found on this headset versus other headsets. This means better dynamic range as well as voice clarity. Additionally, through the headset's software utility, you also get access to Voice FX, so you'll be able to troll your friends or guildies as well.
Comfort
While the headset excels in other areas, comfort isn't one of them – at least for me. While headset comfort does depend on the shape/size of the ears and the head, for me this headset didn't work out too well. I typically wore these headsets for about 2 to 3 hours before needing to give my head and ears a rest. I believe this to be caused by a number of reasons.
The headset's clamping point on the head is right around the temple area. This means if you wear glasses like I do, it will get a bit tight and painful after a couple hours. Now this problem does get better after the headset is broken in such as with my Tactic 3D Sigma, it doesn't completely go away, so that's something to keep in mind.
The headset uses leatherette earpads and there's no replacement for these at all. While leatherette earpads are great for blocking out noise, your ears may become hot and sweaty within a couple hours of intense gameplay. Since heat and sweatiness leads to discomfort, this is definitely another issue. I'd love to see Creative offer some sort of replacement earpads in another revision of the headset to alleviate this issue.
Finally, I also had a bit of issue with the dept of the Tactic 3D Wrath's earcups. While this may only be an issue with people with larger ears, the tips of my ear would touch the material on the inside of the earcup and after an hour or two of gameplay, the edges would become very itchy. This is extremely annoying, so I hope Creative is able to make the earcups a bit deeper on the next revision.
[section label=5. Conclusion]
Conclusion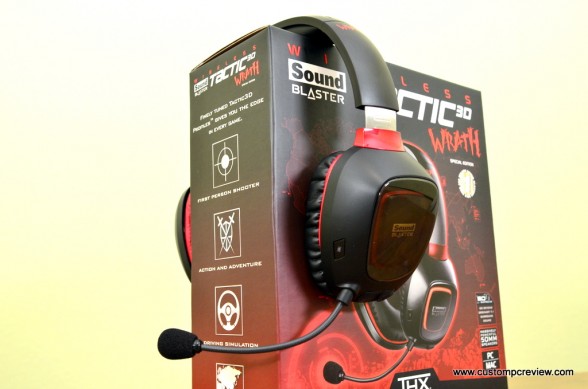 Well, I came into this review expecting the headset to deliver a certain type of sound, and that was exactly what I received. The Tactic 3D Wrath sounds pretty much identical to the Tactic 3D Sigma, with the similar/same 50mm drivers tuned for that extra load of bass. Unfortunately, while the extra bass really enhances the immersive experience for gaming and movies, that extra bass isn't really something I particularly prefer for music as the bass tuning does tend to overpower the highs and the mids. However, I feel that's going to be personal preference. If you're coming from other bass heavy headphones such as the Beats by Dr. Dre, you'll feel right at home with these. Additionally, with this headset you also get access to the Tactic 3D Wrath's software suite, which is quite decent as well. While it didn't have all the features of say the Recon 3D PCIe soundcard, I felt that it did have most of the more important features such as THX TruStudio Pro.
The biggest feature of the Tactic 3D wrath of course the headset's ability to work completely wirelessly, and I found this to work quite well. Range and audio clarity was fantastic as well, and people on the other side of Skype conversations couldn't even tell when I was walking over to the next room to grab a quick snack. Now I do have to mention that I did experience a slight hiss when no audio is being played through the headset however, the hiss goes away once some sort of audio is played so I didn't find it to be much of a problem. I definitely didn't experience much popping, cracking, or droupouts which existed with older wireless headsets from a couple years ago.
The biggest issue I encountered with this headset is actually the comfort, which is going to be purely subjective for the most part. I've got a big head, big ears, and I wear glasses – possibly the worst combination when it comes to finding a comfortable headset, and unfortunately the Tactic 3D Wrath just didn't make the cut. After 2-3 hours, the headset would become quite uncomfortable and the tips of my ears would actually touch the inside of the headset causing them to itch as well. However, when I had a friend test the headset, he didn't have any issues, so I'm inclined to say that comfort for the most part is going to depend on the user of the headset.

Finally, taking a look at the price on this headset, it's definitely not cheap coming in at around $141.51 on Amazon with other competing wireless headsets such as the Logitech F540 coming in at around $121.86 or the Turtle Beach Ear Force X41 coming in at around $119.99. While I haven't personally tested those headsets, so I can't comment on how they compare to the Tactic 3D Wrath,  it does seem like Creative's offering is a tad bit on the more expensive side.
Bottom Line
Overall, Creative's new Tactic 3D Wrath is an excellent headset if you're looking for a wireless headset, and you're a fan of headsets with bass heavy acoustic profiles. The main selling point of this headset is its wireless ability, and Creative has done a commendable job making sure wireless functionality works very well. Those who want the freedom to stretch or grab a quick bite without having to unplug themselves will certainly love this headset. However, if you're one of those people who have a hard time finding a comfortable headset, you might have some comfort issues with the Tactic 3D Wrath as well.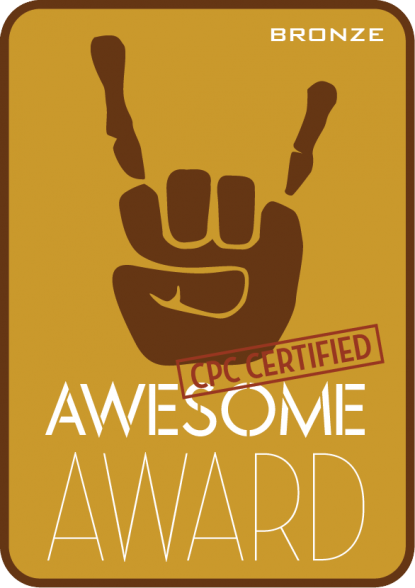 Special thanks to Creative for making this review possible.
The Creative Sound Blaster Tactic 3D Wrath wireless gaming headset is currently available at Amazon.