Warning
: Undefined array key "width" in
/var/www/vhosts/custompcreview.com/public_html/wp-includes/media.php
on line
1381
Warning
: Undefined array key "width" in
/var/www/vhosts/custompcreview.com/public_html/wp-includes/media.php
on line
1386
Warning
: Undefined array key "height" in
/var/www/vhosts/custompcreview.com/public_html/wp-includes/media.php
on line
1386
Warning
: Undefined array key "width" in
/var/www/vhosts/custompcreview.com/public_html/wp-includes/media.php
on line
1381
Warning
: Undefined array key "width" in
/var/www/vhosts/custompcreview.com/public_html/wp-includes/media.php
on line
1386
Warning
: Undefined array key "height" in
/var/www/vhosts/custompcreview.com/public_html/wp-includes/media.php
on line
1386
[section label=1. Introduction]
Patriot's Newest Viper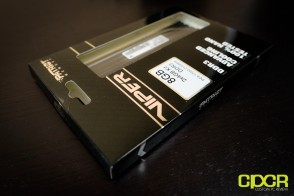 Founded in 1985, Patriot Memory offers a diverse variety of products ranging from SSDs to media players, but their most renowned product line is of course system memory. After all, the company's name includes the word memory.
Among Patriot Memory's memory products, the Viper lineup has established itself as the king of the hill with its gorgeous looks and uncompromised performance, so when Patriot gave us a sneak peek their newest Viper 3 memory kits at GESL 2012 last month, they certainly piqued our interest.
The Patriot Viper 3 lineup comes in 3 different speeds – 1600MHz, 1866MHz, and 2133MHz, and can be found in dual and quad channel kits with capacities ranging from 8GB-32GB. What's nice about the Viper 3 is that they all operate at 1.5V, so they're all within the voltage specifications of the Sandy Bridge/Ivy Bridge memory controller. Additionally, all sticks are hand tested to ensure reliability and comes with a lifetime warranty to ensure that in the unlikely event something goes wrong, Patriot will take care of it.
With that said, today we'll be reviewing the Patriot Memory Viper 3 8GB (2x4GB) DDR3 2133MHz dual channel kit with the Black Mamba heatspreaders.
Patriot Viper 3 DDR3 2133MHz Specifications
| | |
| --- | --- |
| Type | 8GB (2x4GB) Kit |
| Capcity | 240-Pin Non-ECC DDR3 |
| Frequency | PC3-17000 (2133MHz) |
| Timings | 11-11-11-27 |
| Voltage | 1.5v |
| Warranty | Lifetime |
| Check Pricing | Newegg |
[section label=2. A Closer Look]
A Closer Look at the Patriot Viper 3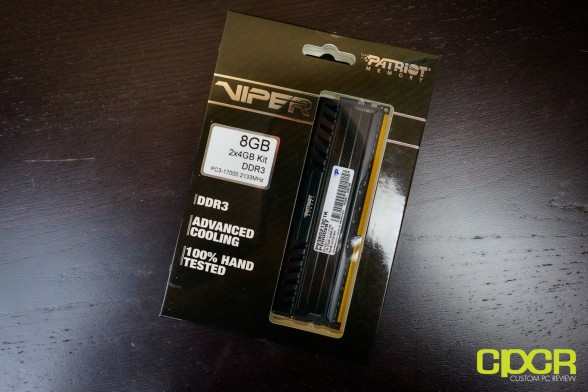 Here's a look at the front of the package. It's quite simple as Patriot has gone with the window on the right showing the memory module and specifications while displaying specifications and features on the left. One thing I have to point out here is that Patriot Memory modules are 100% Hand Tested to ensure that they will work properly out of the box.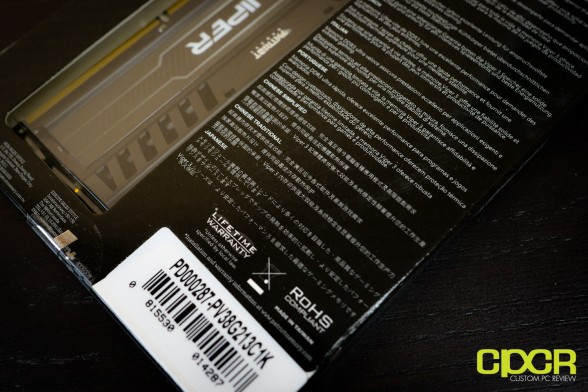 On the rear of the box we get another window showing the other side of the memory module along with some information in multiple languages. The part we care about here is that the memory has a lifetime warranty.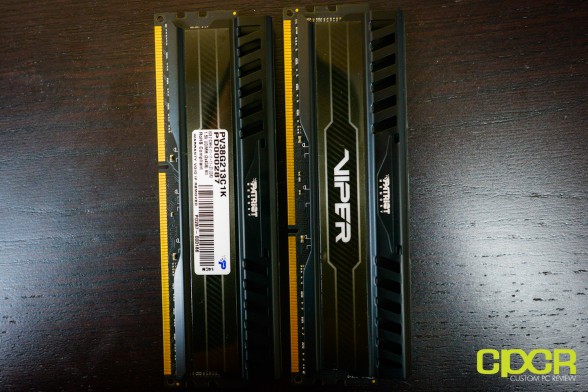 As with all memory kits, the Viper 3 doesn't come with any instructions or other extras for that matter. The kit we have here today is the "Black Mamba" kit which features a black heatspreader. One thing to notice here is that Patriot has opted to use a black PCB, which looks very good. This is a defnite bonus when compared to other manufacturers who try to get away with using cheaper green PCBs that simply don't look as good. +1 for attention to detail.
Overall, these are one of the best looking memory sticks we've seen to date.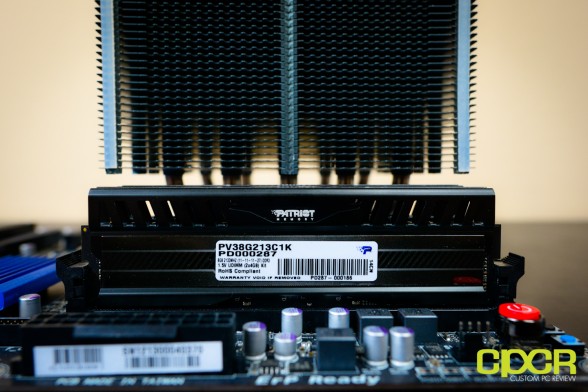 The semi-low profile of the Patriot Viper 3 allows for installation of large heatsinks. As you can see here our massive Phanteks PH-TC14PE has no compatibility issues with the memory kit installed.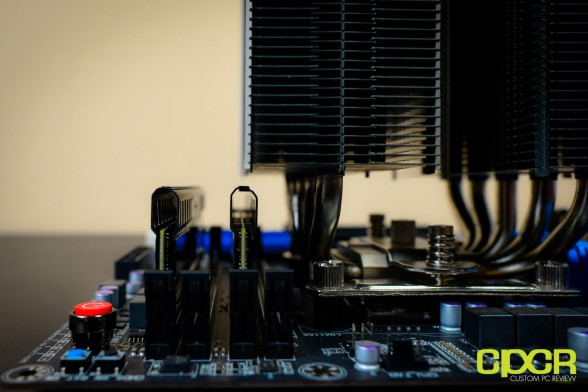 Here's another angle of the heatsink and the memory. There's plenty of clearance between the heatspreader on the memory and the Phanteks PH-TC14PE's heatsink. One thing worth noting here is the open chamber design on the Black Mamba heatspreader that allows for extra incidental airflow to run through the modules.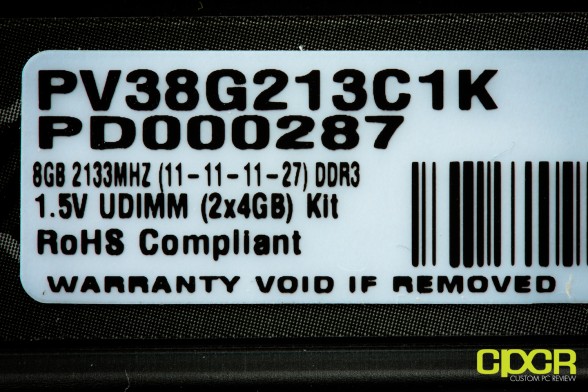 Here's the warranty sticker on the heatspreader showing the memory's specifications. We can see here that we've got 8GB (2x4GB) 2133MHz 11-11-11-27 DDR3 1.5V memory.
[section label=3. Test Bench and Setup]
Ivy Bridge Test Bench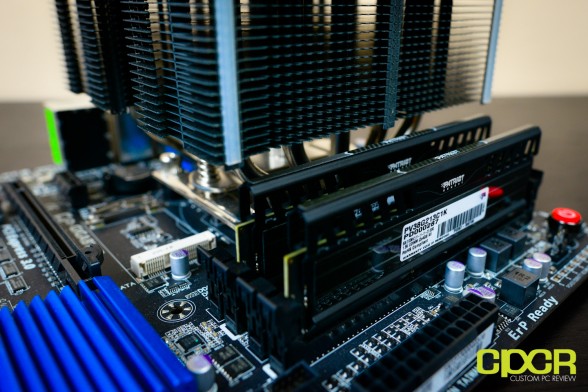 Special thanks to Gigabyte, Kingston, and HSPC for sponsoring our test bench!
Initial Setup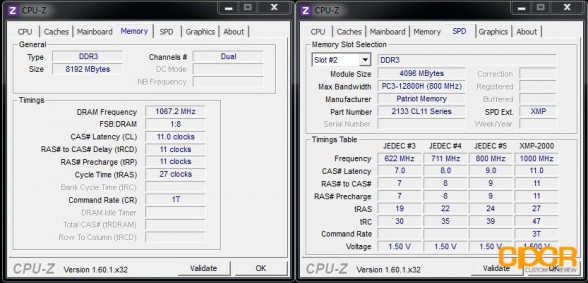 With our Gigabyte Z77X-UD3H motherboard, proper setup of the memory wasn't as easy as expected. Upon first boot using the XMP settings, the motherboard set the memory to 2133MHz 12-12-12-27 2T despite the memory being rated for 11-11-11-27-1T. Upon closer inspection of the memory's XMP profile, it seems that it's set to 1000MHz (2,000MHz dual channel) 11-11-11-28-3T. Because of this, I had to return to the BIOS to manually set the frequency and timings to the rated settings. Above is a CPU-Z screenshot of the memory's settings. Despite setting the memory to 2133MHz, it seems like the Z77X-UD3H actually sets the frequency slightly higher than 2133MHz.
Those who purchase this memory kit and are using the XMP settings, be sure to check the memory's frequency and timings in CPU-Z or some other monitoring utility to ensure that the memory is properly setup.
For our performance testing today, we'll be comparing the Patriot Memory Viper 3 2133MHz 8GB Kit against the following products. For consistency, turbo boost is turned off with the CPU locked to 3.4GHz. Each benchmark is run three times and the average of the three results are taken.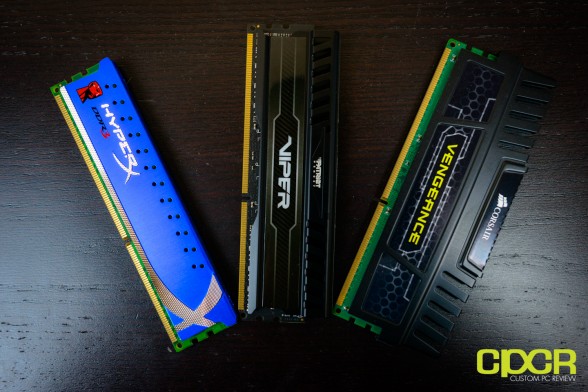 [section label=4. Performance and Overclocking]
Patriot Viper 3 Performance
AIDA 64 Cache & Memory Benchmark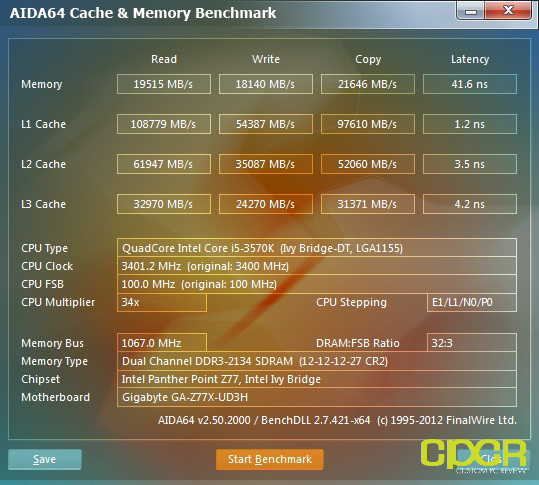 AIDA64 was quite interesting. Despite taking this screenshot at the same time as the CPU-Z screenshot above, AIDA64's cache & memory benchmark shows the memory running at 2134MHz at 12-12-12-27-2T. Strange. Most likely a small bug in AIDA64 than anything else.
SuperPi 32M
SuperPi is a single threaded benchmark utility that simply calculates pi for us and records the time to calculate 32 million digits after the decimal point. It's a fairly good CPU/memory stability testing tool as well.
The Patriot Viper 3 2133MHz sat smack dab in the middle in the SuperPi 32M benchmark. On average, it completed the benchmark 3 seconds faster than the slower Corsair Vengeance DDR3 1600MHz CAS 9 memory and trailed the Kingston HyperX 2133MHz CAS 11 memory by 2 seconds. Its lead against the Corsair Vengeance could be due to it's higher clock speed. But as you can see here, the difference is well within the margin of error.
AIDA64
Our AIDA64 testing consists of three benchmarks: Queen, PhotoWorxx and AES. Queen involves measuring computer performance by calculating the Queens problem in chess, AES involves measuring computer performance through AES data encryption and Photoworxx measures computer performance through common tasks performed during photo processing.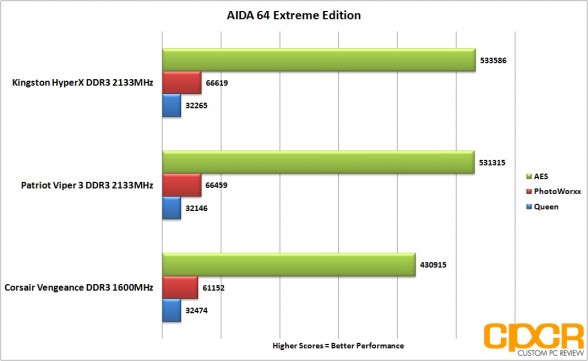 The Viper 3's high clock speed made a much more pronounced impact on its performance in the AIDA 64 Benchmark. It dominated the 1600MHz Corsair Vengeance in all three tests and stayed on par with the similarly spec'd Kingston Hyper X 2133MHz. According to AIDA64, both photo editing and AES encryption will see the most significant performance benefits through faster clocked memory.
x264 HD Benchmark v.5.0.1
x264 HD video tests how fast the system can encode a 1080p video into a high quality x264 video file. The most recent 5.0.1 release includes a more advanced benchmark script to stress test the newer multi-core processors.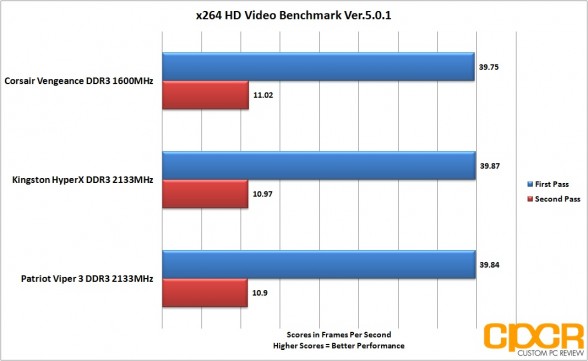 In the x264 benchmark, it seems like all three memory kits tested performed near identically. Despite this, in the pass 1 benchmark, it seems like the faster 2133MHz memory yielded slightly better performance while in the pass 2 benchmark, the Corsair Vengeance with tighter timings yielded slightly better results.
Patriot Viper 3 Overclocking
Overclocking on the Viper 3 2133MHz didn't go so well for me, so I don't really have much to show here. To start, I attempted to push the 2133MHz sticks to 2400MHz. With the stock timings of 11-11-11-27-1T and voltage at 1.5v, I had no luck as the system wouldn't boot at all. Setting the timings to 12-12-12-30-2T and setting the voltage to 1.65v, the system again wasn't able to boot at all. Finally, I set the timings to 13-13-13-34-3T and once again I had no luck getting the board to even finish POSTing.
Since I didn't have that much luck pushing the frequency, I decided to keep the voltage at 1.65v and see if I could tighten the timings while lowering the frequency. I dropped the frequency down to 1866MHz and tightened the timings to 9-9-9-24-1T. Unfortunately, this configuration failed to boot. Next, I loosened the timings to 10-10-10-30-2T and in this configuration the memory was able to get to the Windows boot screen, but ultimately wasn't able to boot despite pushing 1.65v. I was quite confident that if I loosened the timings a tad bit more, the system would boot just fine but I think the stock configuration of 11-11-11-27-1T at 1.5v is going to be the way to go.
[section label=5. Conclusion]
Patriot Viper 3 Conclusions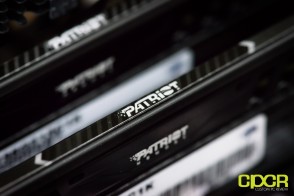 To be honest, with Intel's release of their Sandy Bridge and Ivy Bridge processors, ultra high performance memory hasn't really been that important lately. This is because the integrated memory controller is now so efficient at caching and offloading data onto the memory, that moving to higher performance memory simply doesn't yield the same results we've seen on older generation systems. Taking a look at the performance numbers between the three memory kits tested today, the difference is fairly marginal. For example, in SuperPi, the difference between the "slower" Corsair Vegeance 1,600MHz kit and the Patriot Viper 3 2133MHz kit is less than 1%. Similarly in the x264 video encoding benchmark, the difference between the kits were well under 1FPS. Relatively speaking, the Viper 3 performed quite well, but absolutely speaking, the performance difference isn't all that much.
Spec wise, I think the Viper 3 kits are one of the better spec'ed kits out on the market especially for those planning to use these memory modules on Sandy Bridge or Ivy Bridge processors. The reason for this is that the MCH (Memory Controller Hub) on Sandy Bridge and Ivy Bridge processors were only designed and validated to support 1.5v memory. By running 1.65v memory (which is what most 2133MHz kits are spec'd at), you're actually overvolting the memory controller, which may potentially reduce the lifespan of your processor.
In terms of overclocking, I didn't have much luck with the Viper 3 kit on my Ivy Bridge test bench, but I normally don't have too much luck with LGA 1155 platform anyway. Unfortunately, I wasn't able to get ahold of two 8GB kits to test on the X79 test bench, but I think for the overclockers out there, 2,400MHz should definitely be attainable with some tweaking.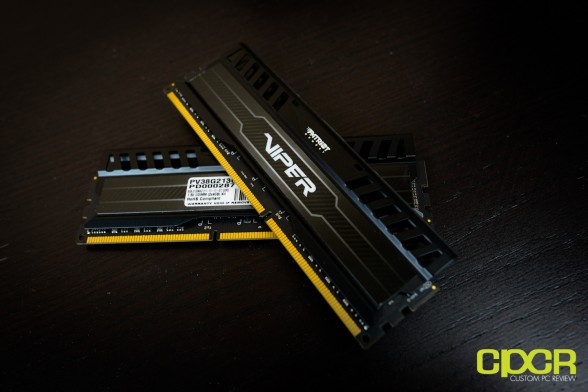 Alright so with that stuff out of the way, let's talk about what really matters for the general market when it comes to memory nowadays – pricing, appearance, design, and value add. In terms of appearance, I think the Viper 3 is among the best looking memory modules out on the market today. The heatsinks are made of durable high quality aluminum, and Patriot, unlike most other memory manufacturers out there, has gone the extra mile to use more expensive but better looking black PCBs instead of the usual cheapo green PCBs. Big thumbs up for that. Additionally, Patriot is also using heatsinks that are low profile enough to fit some of the larger CPU coolers yet still are still able to maintain that cool "high performance look" you'd expect from high end memory kits.
Then, there's pricing. Currently both the 8GB Viper 3 2133MHz and the 8GB Viper 3 1,866MHz kits are available through Newegg for $59.99 and $56.99 respectively. While this is slightly more expensive than 1,600MHz kits, it's very much in line with other 1,866MHz and 2133MHz kits out on the market. Additionally, with Patriot Memory you do get some value added features such as "hand testing" and a lifetime warranty.
Bottom Line
The Patriot Memory Viper 3 DDR3 2133MHz kit is a winner in my book. It has top notch looks, top notch performance, runs at 1.5v, has low enough heatspreaders so that it's compatible with many heatsinks out on the market, and it isn't priced too bad either. Highly recommended!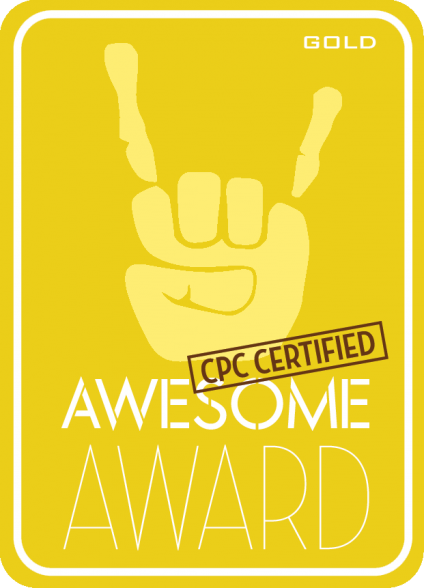 Special thanks to Patriot Memory for making this review possible.
The Patriot Viper 3 DDR3 2133MHz 8GB (2x4GB) Kit is currently available on Newegg.