[section label=1. Introduction]
Red + Blue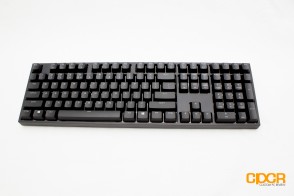 Mechanical keyboards have long established themselves as the go-to choice for gamers looking for ultimate reliability and performance. Cooler Master, a veteran in the gaming peripherals market, has been in the mechanical gaming keyboard market for many years and has recently released the Cooler Master Quick Fire XTi mechanical gaming keyboard which is the updated version of the aging (but still relevant) Cooler Master Quick Fire XT. The revision now comes with several new features to keep it competitive such as full-board, per-key programmable backlighting and four banks of programmable macros.
The biggest new feature for the Quick Fire XT is the new per key programmable backlighting. However, unlike many of their competitors, Cooler Master decided to go with just RB (Red/Blue) LEDs rather than RGB (Red/Green/Blue) LEDs which has become all the rage. Unfortunately, this limits the Quick Fire XTi to only 35 different color combinations rather than 16.8 million.
That being said, a product is nothing without features and function. So let's go ahead put the Cooler Master Quick Fire XTi under the scope.
Cooler Master Quick Fire XTi Specifications
| | |
| --- | --- |
| Manufacturer | Cooler Master |
| Model | Quick Fire XTi |
| Switch Type | Cherry MX Blue/Brown/Red |
| NKRO | Yes, Windows only |
| Keycaps | ABS |
| Backlighting | Red/Blue (35 Colors) |
| Connection | Micro USB |
| Weight | 1,114g / 2.46 lbs |
| Dimensions | 43.9(L) *13(W) *4.1(H) cm, 17.28(L) *5.12(W) *1.61(H) inch |
[section label=2. A Closer Look]
A Closer Look at the Cooler Master Quick Fire XTi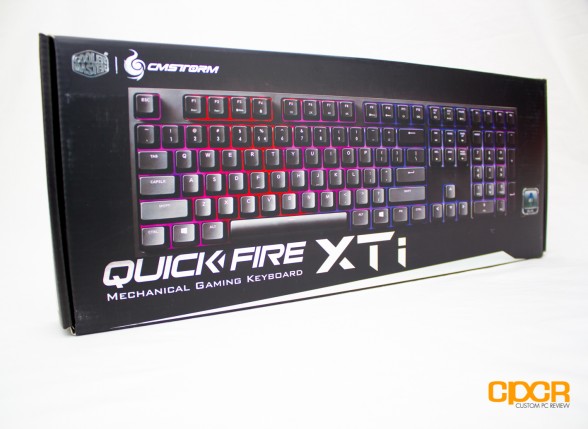 Here's a look at the packaging for the Cooler Master Quick Fire XTi.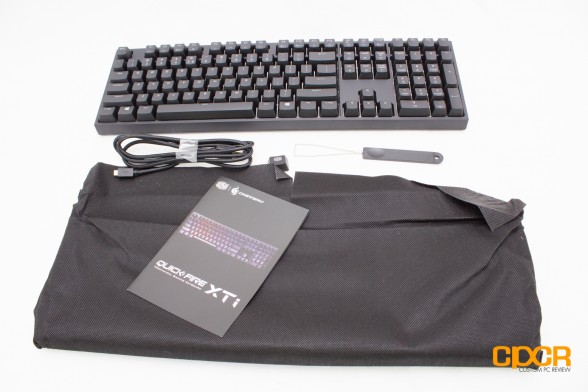 Included is the Cooler Master Quick Fire XTi itself, a set of USB cables, a keycap puller, and an instruction manual. The keycap puller is always nice although there's only one additional keycap included.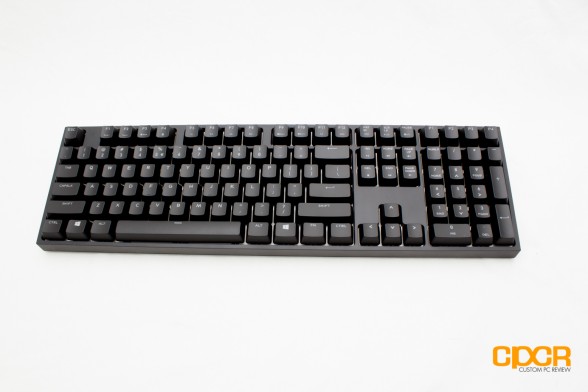 The Cooler Master Quick Fire XTi features a very modest appearance. The chassis has a matte black finish without any eye-stabbing logos. Had this been a few years ago, you'd have seen the logo even before seeing the keycap print. Personally, I really like the new direction Cooler Master has taken with its design. Simple and clean.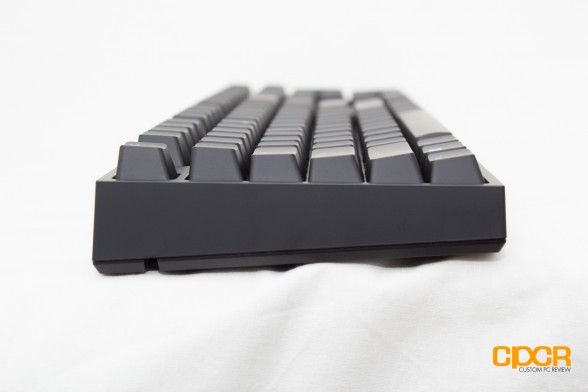 From the profile, we can see that the keyboard is quite tall so you might want to invest in a good wrist rest.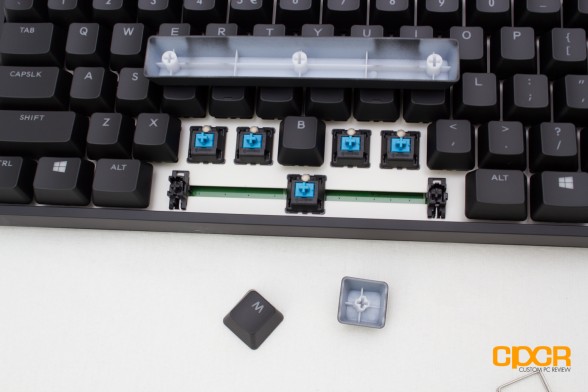 Our sample unit of the Cooler Master Quick Fire XTi featured Cherry MX Blue switches however the Quick Fire XTi is available in Cherry MX Blue, Brown or Red switchtypes. Removing a couple keys, we can see that each key is individually backlit and the longer keys are stabilized using Cherry stabilizers. Keycaps are also UV coated which are more durable when compared to the more common uncoated, laser etched keys. Underneath the keys, the Quick Fire XTi utilizes a white metal backplate which should help increase the glow of the backlight. Overall the board feels quite sturdy which is very nice.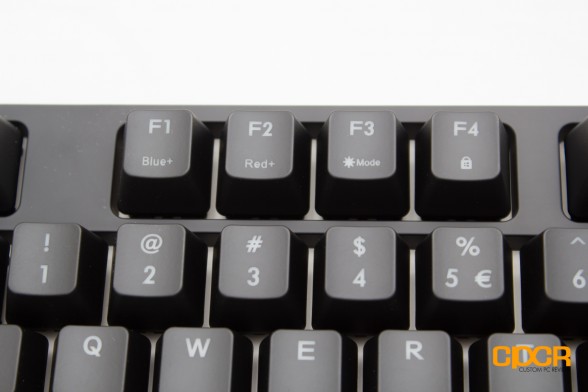 Lighting control can be set per region using the function keys. The Cooler Master Quick Fire XTi also has numerous lighting modes as well although they are limited to the modes pre-programmed into the keyboard. The windows key can be disabled during gaming.
Here's a great video which showcases the lighting functionality on the Quick Fire XTi.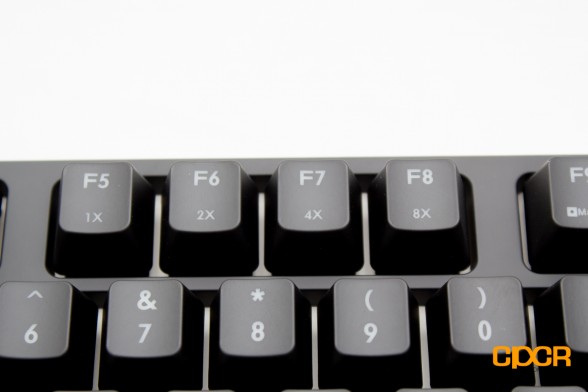 The repeat rate can be adjusted as well. This dictates how quickly a key is repeated when you hold it down.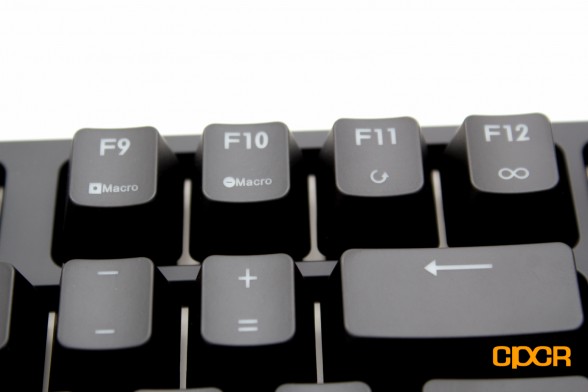 The Cooler Master XTi makes every key available to be assigned a macro. To make things simple, macro management is done purely through hardware.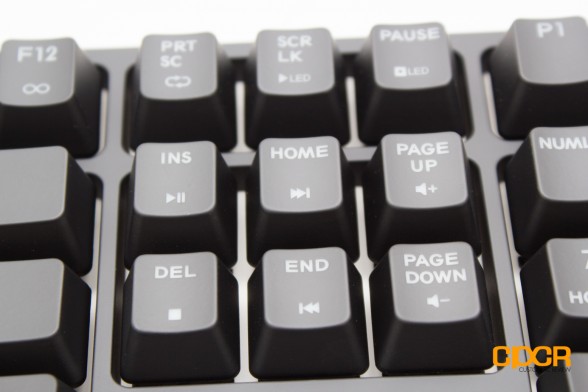 Media and playback controls are conveniently placed on the control keys.  I like this layout more because it's far easier to remember which key turns the volume up/down.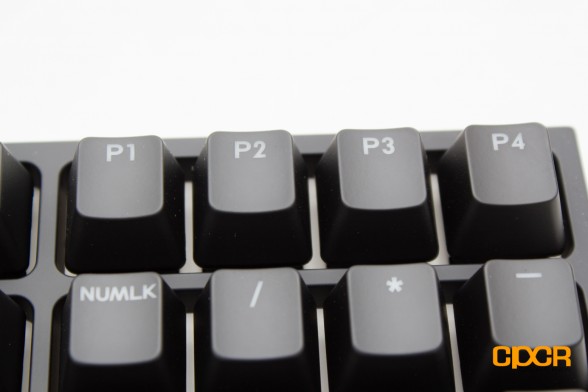 Cooler Master has replaced the indicator lights normally located at the top right of the keyboard with macro profile selectors. The Cooler Master Quick Fire XTi can store up to four banks of macros.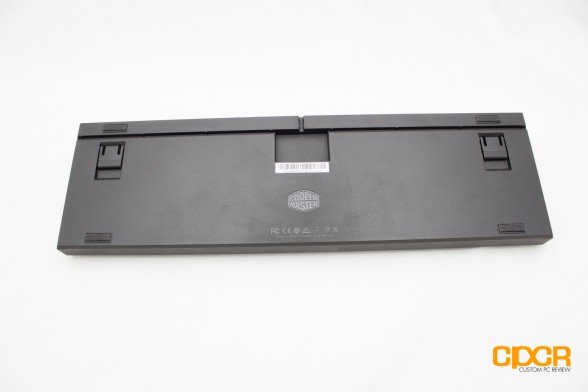 The bottom of the Cooler Master Quick Fire XTi includes cable channels and the elevator feet.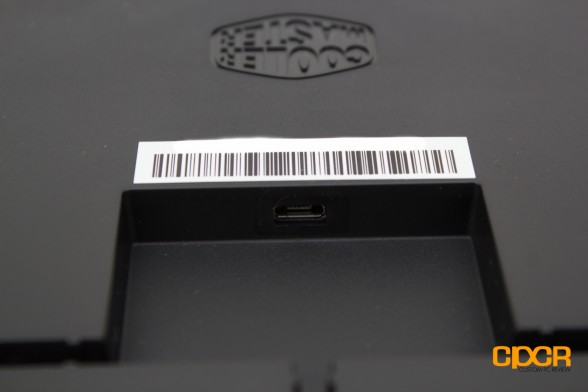 There's a micro USB port tucked away safely into a crevice in the chassis. The cable is held still by the cable channel.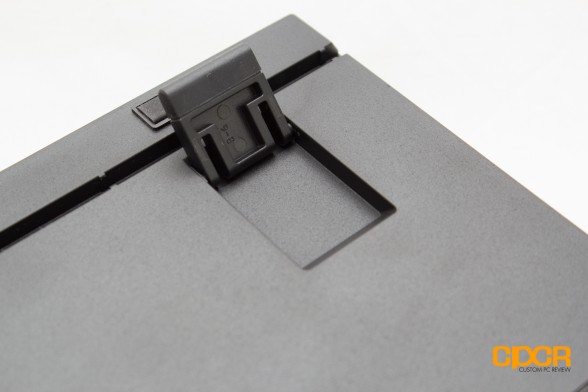 The elevator feet are padded with rubber. This increases traction and slightly reduces vibration.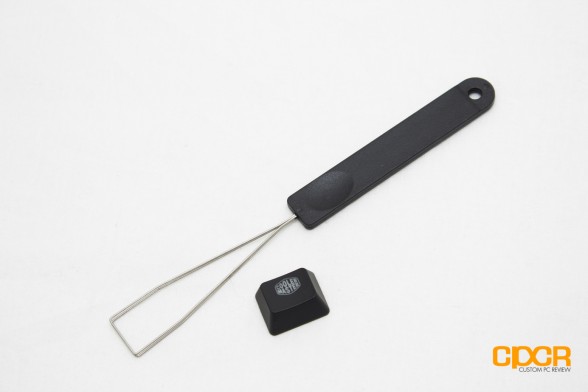 Finally, we have the key-puller and the replacement keycap for the right windows key.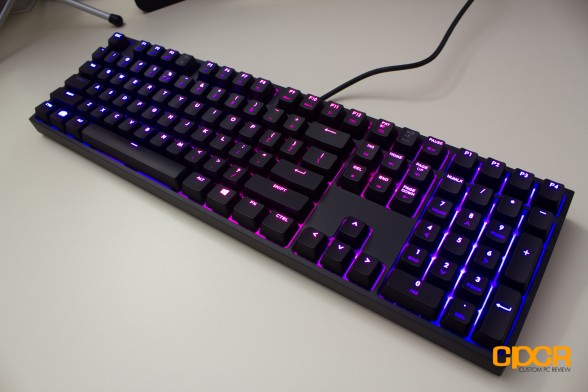 Plugging in the Quick Fire XTi, we can take a look at the backlighting. The white backplate really helps to reflect some of the glow bouncing off of the back of the keycaps as it's very bright. Even though the Quick Fire XTi only has a choice of up to 35 different color combinations, the lighting is still surprisingly pleasant.
[section label=3. Performance]
Cooler Master Quick Fire XTi Performance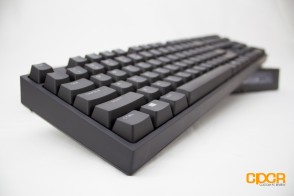 For testing, I ran the Cooler Master Quick Fire XTi keyboard through my daily routine for several weeks, which included gaming, coding, and of course writing articles.
Typing is where mechanical keyboards and especially Cherry MX Blue switches excel at the most. The tactile bump in the middle of the switch adds nice tactile feedback when pressed and they also have a very crisp and loud click which has a love/hate relationship with its fanbase. For users looking for a quieter typing experience, the Cooler Master Quick Fire XTi does come in Cherry MX Brown or Cherry MX Red switches as well.
The overall feel of the Cooler Master Quick Fire XTi is fantastic. As aforementioned, typing anything on it feels great. The keyboard is heavy enough that it tends to stay in one spot even for heavy typers and the keycaps have a nice consistent texture to them thanks to the UV printing. The switches felt a bit stiff out of the box, but they quickly loosened up after a few days of breaking in. Personally, I'm a fan of the crisp "click" every time I press a key, it makes it sound as if I'm actually being productive.
Gaming is relatively subjective, but playing first person shooters such as Battlefield 4 is fantastic with the Cooler Master Quick Fire XTi. In spam intensive real-time strategy titles such as StarCraft 2, I feel like the tactile bump in its Cherry MX blues get my way a little so I prefer a switch type with straight, bump-less travel; however, the keys were quick to rebound and are still responsive. The Quick Fire XTi also features NKRO so it doesn't miss a beat even for those with far superior APMs than I can imagine. The switches and the keycaps above them also showed little to no wobble under rapid depression.
Because all macro settings must be managed directly through the keyboard, documentation will likely be needed for the first couple times. For those of you who like to just "figure it out", trust me, you won't, so please read through the manual before attempting. Once you get past the learning curve, programming macros can actually be quite enjoyable (and pretty, to boot). I tried assigning some macros for Guild Wars 2, but it didn't really work out for me since they also activate when I'm trying to type. Up to 4 profiles can be switched on the fly, but at least for me it tends to be a hassle to do while in game.
One cool little feature unique to Cooler Master Quick Fire XTi is that it has Snake built right into the keyboard. I don't mean that you can launch it as a program, I mean you can literally play snake on your freaking keyboard! The LED backlights make up the body of the snake and the dots you must eat, and you can control it using the arrow keys. Sweet.
NKRO/Anti-Ghosting Testing
To test the NKRO/anti-ghosting functionality of the Cooler Master Quick Fire XTi, I'll be using a web app developed by Microsoft's Applied Science Group. More information about the web app and the relationship between ghosting and NKRO can be found here. The NKRO/anti-ghosting test is conducted using the USB connector.

My college textbooks clear have paid for themselves by aiding me in conducting this test. It's quite evident that the Cooler Master Quick Fire XTi has zero ghosting issues present.
Switch feel is a matter of preference
I've never addressed this in my other reviews, but this is an important note to take into consideration. While I can give you all the details about the characteristics of a switch type, it ultimately comes down to your personal preference when choosing between them. In the performance section, I wrote that that I preferred a straight travel switch like Cherry MX Blacks for StarCraft because I didn't like that bump in Cherry MX Blues. This may be true for me, but some professional StarCraft players strictly use Cherry MX Blues. It's all personal preference, so I'd definitely recommend trying out a key switch on a keyboard in person or purchase a key tester.
[section label=4. Conclusion]
Cooler Master Quick Fire XTi Conclusions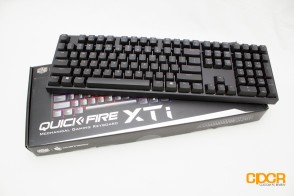 While it's not immediately apparent, the minimalist design combined with its beautiful backlighting makes the Quick Fire XTi one of the better looking mechanical keyboards on the market. Despite being only capable of displaying a mix of colors between blue and red, its per-key backlighting capability and beautiful pre-set lighting modes more than compensate for its lack of color. I also like the modern looking keycaps, though I wish its font would be a little less traditional. The built-in snake game also gave me a good laugh although its utility is questionable.
The build quality of the Quick Fire XTi is very solid. The keyboard has quite a bit of weight to it and the metal back plate behind the keys inspire a lot of confidence when it comes to durability. The keycap quality is decent as well and they're texturized thanks to its UV coating which makes them not only more durable, but also helps keep sweaty fingers from sliding off. I'm also a huge fan of the detachable USB cable featured on most Cooler Master keyboards which reduces the likelihood of the cable being destroyed during transit or when tugged on accidentally.
The Quick Fire XTi also includes a relatively good macro system as well. Every key can be programmed directly through hardware. Cooler Master makes excellent use of the back-lighting to indicated what macros can be programmed and what to delete. With that said, there isn't much you can do with the macros because it lacks dedicated macro keys. In order to set up macros, you must sacrifice another key on the keyboard and personally I found it annoying to use the keyboard when functionality of keys are changed. That being said, macro functionality is there and it works well for those who need it.
As expected of Cherry MX keyboard switches, the Quick Fire XTi's Cherry MX Blue switches are fantastic. No surprises there. Keystrokes feel nice with a clear tactile feel during the keypress. There's also a crisp link "click" sound unique only to Cherry MX Blues. Fantastic.
MSRP pricing on the Quick Fire XTi is $149.99 although the board can be found online for ~$135. Overall, would I consider the Cooler Master Quick Fire XTi to be a crème of the crop mechanical gaming keyboard? It's tough to give it the nod since there are many equally excellent offerings out there at similar or lower price points. That being said, giving credit to where it's due the Cooler Master Quick Fire XTi is still a solid mechanical keyboard that checks all the boxes, but feature-to-price wise the Cooler Master Quick Fire XTi could offer a bit more to surpass the competition.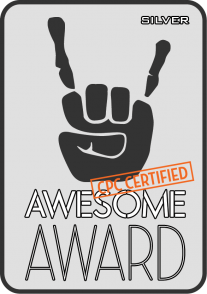 Sample provided by: Cooler Master
Available at: Amazon