[section label=1. Introduction]
A New Flagship Has Arrived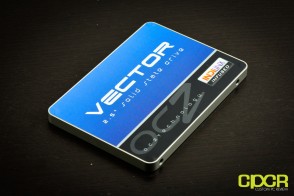 When taking a look at the storage market, I think no other company out there has really matched OCZ in making the SSD market what it is today. OCZ was really one of the first companies to mass promote SSD technology, always one of the first companies to introduce new SSD technology, and over the past couple years, they've also literally been the catalyst to making SSDs as affordable as they are today.
While the hard charging, first to market strategy worked very well for OCZ in the early days, the sacrifices in testing and validation time ended up creating huge problems for OCZ down the line as the early production Vertex 3 drives were plagued with firmware issues that ended up giving OCZ quite a negative reputation in terms of quality. Without a doubt, a negative reputation in quality probably had significant impacts on sales, so early last year OCZ introduced the Vertex 4, which promised top tier performance with greater reliability. Of course knowing OCZ, this definitely wasn't enough…
… Which then brings us to our review for today – the OCZ Vector 256GB SSD.
18 months. 18 months is the time it took for OCZ to bring the Vector to the market, which makes the Vector the most extensively validated OCZ SSD to date. Now, let's put that into perspective here. The OCZ Vector was officially launched in November of 2012, which means the Vector had been in the works at OCZ since June of 2011. At the time, OCZ had just barely launched the Vertex 3 and had just finished their acquisition of Indilinx.
Now, the most significant aspect of the OCZ Vector is the fact that OCZ is using the Indilinx Barefoot 3 controller, which is a brand new, completely exclusive and completely in house SSD controller. When it comes to high performance SSD controllers, only Samsung (Samsung MDX) and Corsair (LAMD LM87800) currently have exclusive controllers while only Samsung develops their controller completely in house. The benefit of having an exclusive controller is that the performance characteristics of your SSD will be exclusive while the benefit of designing a completely in house controller of course is the fact that you know exactly how your controller operates and you're better able to patch any issues that invariably crop up.
http://www.youtube.com/watch?v=vFiFmM4oYik
OCZ Vector Specifications
| | | | |
| --- | --- | --- | --- |
| Manufacturer | OCZ Technology | OCZ Technology | OCZ Technology |
| Model | Vector | Vector | Vector |
| Capacity | 128 GB | 256 GB | 512 GB |
| Controller | Indilinx Barefoot 3 | Indilinx Barefoot 3 | Indilinx Barefoot 3 |
| NAND | 25nm IMFT Synchronous MLC | 25nm IMFT Synchronous MLC | 25nm IMFT Synchronous MLC |
| Sequential Reads | 550 MB/s | 550 MB/s | 550 MB/s |
| Sequential Writes | 400 MB/s | 530 MB/s | 530 MB/s |
| Interface | SATA 3 6GB/s | SATA 3 6GB/s | SATA 3 6GB/s |
| Warranty | 5 Years | 5 Years | 5 Years |
Taking a first look at the specifications for the OCZ Vector, we can see that it's going to be a very high performing SSD. According to the specs, it's capable of a maximum of 550 MB/s sequential reads and a maximum of 530 MB/s sequential writes, which is generally something only reserved for SandForce based SSDs that do particularly well when dealing with highly compressible data. The fact that the Indilinx Barefoot 3 controller, a first generation controller I might add, is capable of pushing such incredible performance is simply astonishing.
Additionally, OCZ is also giving the Vector a 5 year or 36.5TB writes warranty as a testament to how much they believe in the reliability of the Vector. For those worried about the 36.5TB writes figure, this means that the Vector SSD is rated to deliver up to 20GB per day for 5 years. Unless the drive is used exclusively for short term storage, most typical use situations for the SSD would never get close to reaching the 36.5TB writes warranty within 5 years.
[section label=2. A Closer Look (Exterior)]
A Closer Look at the OCZ Vector 256GB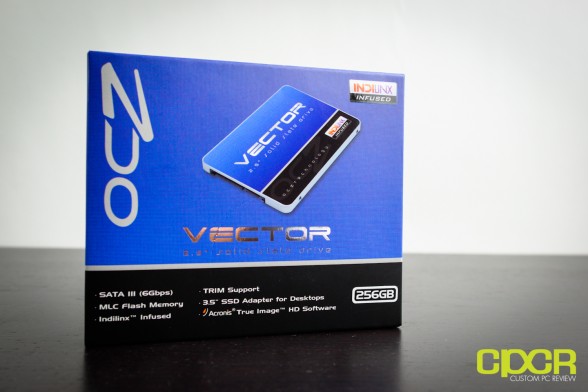 Here's a look at the packaging for the OCZ Vector 256GB.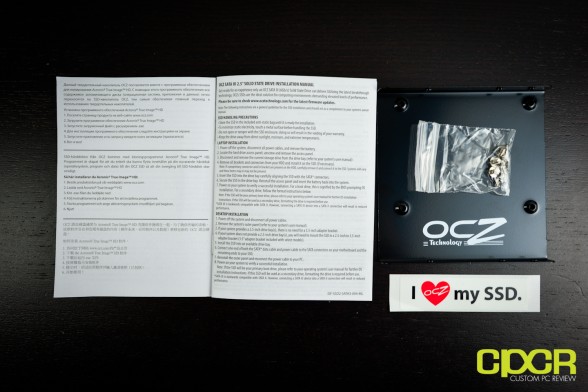 Included is some documentation, an activation code for Acronis TrueImage HD, some mounting hardware, a 2.5″ to 3.5″ adapter and an I heart my SSD case sticker.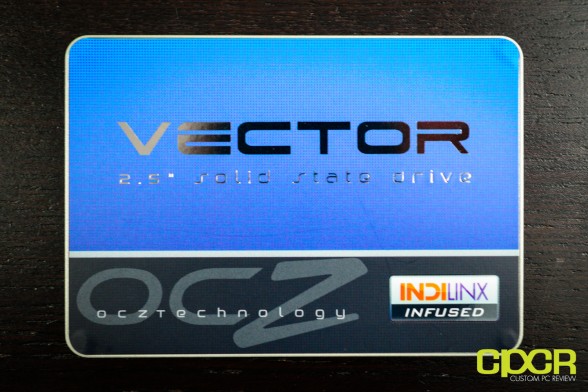 Also included of course is the OCZ Vector itself. Here's a look at the front of the Vector.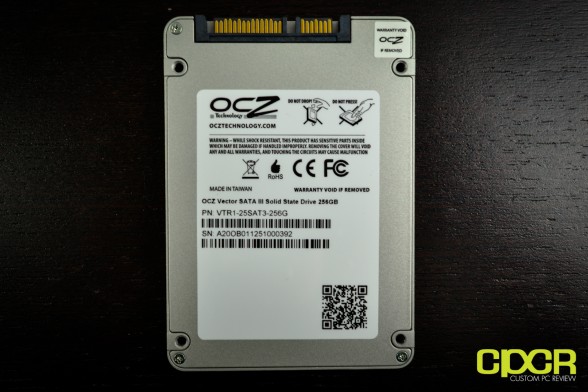 Here's a look at the back of the unit. As usual, OCZ includes all the important information back here such as the part number, serial number, etc. Unlike most of the OCZ lineup, the Vector's casing is constructed entirely of metal, which makes it more durable.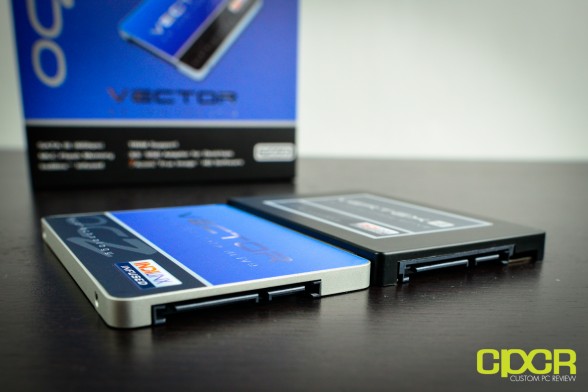 Here's a look at the SATA connector along with the SATA power connector as well. Like most top end consumer SSDs these days, the Vector uses the SATA 3 6Gb/s connection. The Vector is also a 7mm drive, which means it'll be more compatible with thinner notebooks and Ultrabooks that require thinner SSDs. 
[section label=3. A Closer Look (Interior)]
A Closer Look at the OCZ Vector 256GB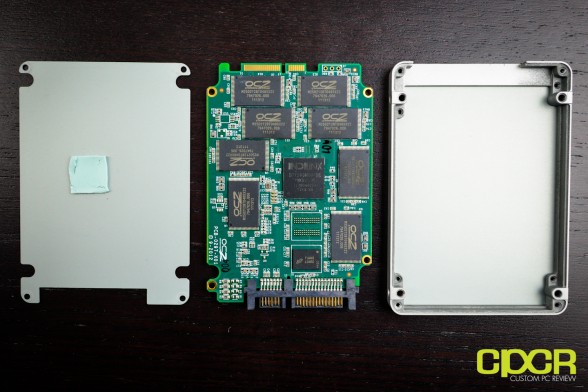 Let's take a look inside the OCZ Vector. The Vector's casing is held together via 4 Phillips screws which are found on the back of the unit. Taking off the front cover, we notice that another 4 Phillips screws hold the PCB in place. OCZ has also included a thermal pad on top of the Indilinx Barefoot 3 controller in order to help dissipate heat.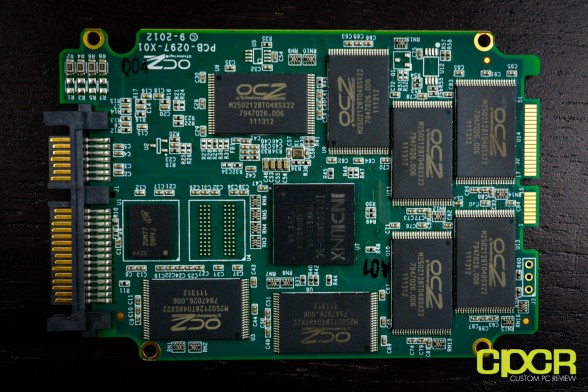 Let's take a closer look at the PCB. On the front of the PCB, we can see that OCZ has included the new Indilinx Barefoot 3 controller, 8 packages of NAND and a DRAM cache chip here.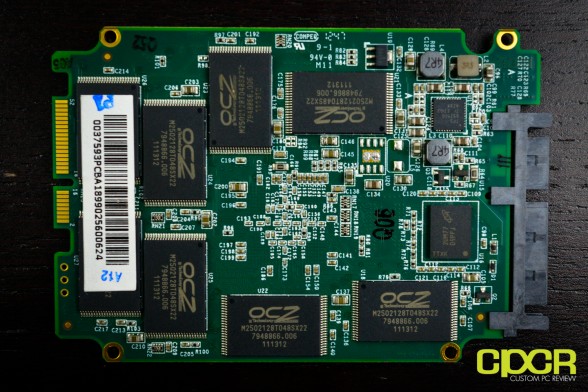 Flipping the PCB over, we get another 8 packages of NAND along with another DRAM cache chip.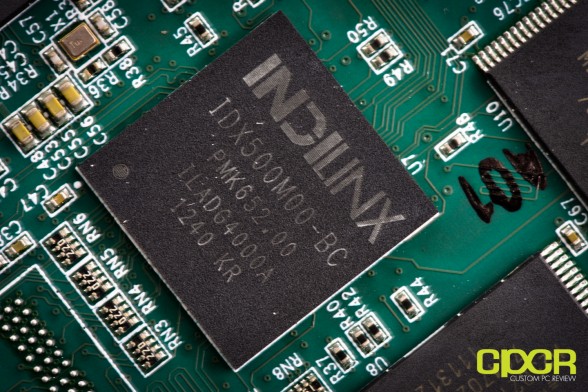 Taking a closer look at the new Indilinx Barefoot 3 controller, we can see that the specific model being used here is the Indilinx IDX500M00-BC.
Whereas it was revealed that previous Indilinx Everest and Everest 2 parts used on products such as the Vertex 4, Agility 4, and Octane SSDs contained Marvell hardware and Indilinx firmware, the new Indilinx Barefoot 3 controller is 100% OCZ, inside and out. This means that the performance characteristics from the OCZ Vector at this point will be 100% exclusive to the drive.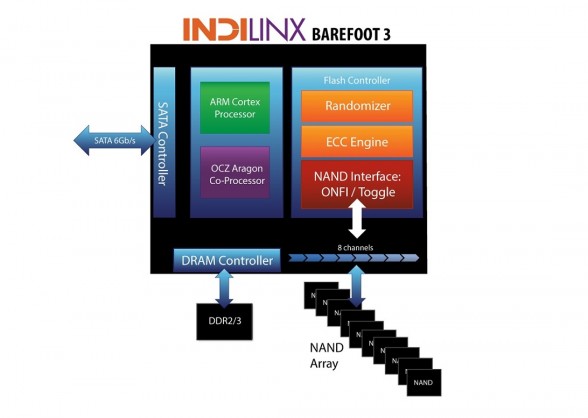 While not too, too much is actually known about the controller, OCZ claims that the controller offers features such as low write amplification, efficient garbage collection, advanced multi-level ECC, and adaptive NAND flash management. Looking at the controller's block diagram, we can see that OCZ is pairing an ARM Cortex processor along with an OCZ Aragon co-processor for the heavy lifting. The controller is also capable of interfacing with 8 channels of NAND and supports both ONFi and Toggle NAND.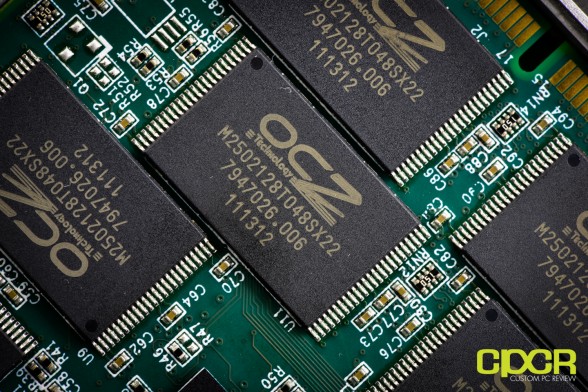 For NAND, OCZ has gone with OCZ branded 25nm IMFT Synchronous 2 bit per cell MLC NAND. The specific model of the NAND used is M2502128T048SX22. In total, our OCZ Vector has 16x8GB NAND packages making up 256GB.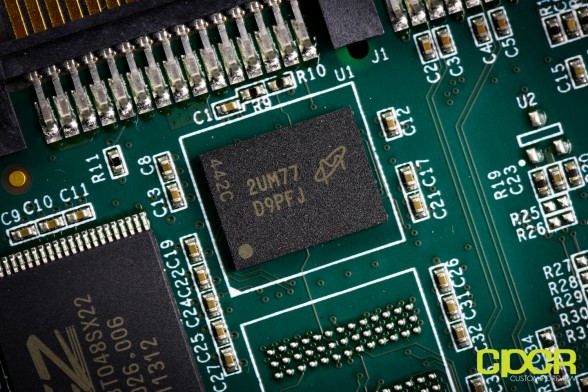 For the DRAM cache, OCZ is using two 256MB Micron DDR3 modules for a total of 512MB. The specific part number for the DDR3 ICs being used is D9PFJ.
[section label=4. Test Setup and ATTO Disk Bench]
Ivy Bridge Test Bench
Special thanks to Gigabyte, Kingston, and HSPC for sponsoring our test bench!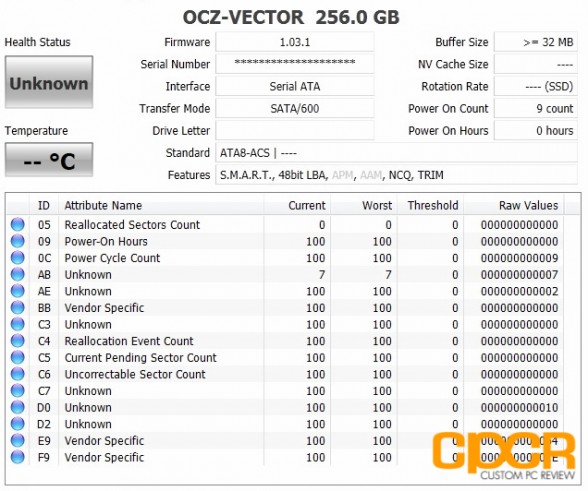 OCZ Vector 256GB Performance
ATTO Disk Benchmark v2.46
ATTO Disk Benchmark is one of the industry's oldest and most popular benchmarks for testing disk read/write speeds. This benchmarks allows read and write testing using predefined block sizes and gives us a good idea of read/write speeds with different sized files. Most SSD manufacturers these days prefer using this benchmark when advertising SSDs as it tests using compressible data, which tends to yield better performance.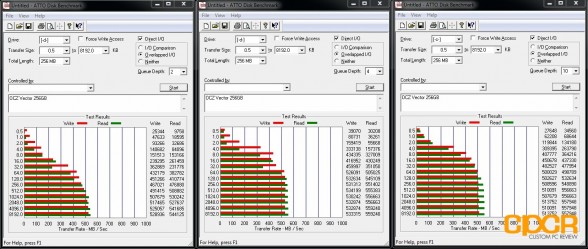 The Vector 256GB is advertised for a maximum sequential read speed of 550 MB/s and a maximum sequential write speed of 530 MB/s. Taking a look at ATTO Disk Benchmark, it's quite clear that the Vector delivers on the performance rating. This level of performance is pretty much the maximum level of performance possible with the SATA 3 6Gb/s interface.
What's impressive about the Vector is that it's capable of delivering over 500 MB/s reads and writes at lower queue depths, which puts it in a very select group of SSDs on the market.
[section label=5. Crystal Disk Mark / AS SSD]
OCZ Vector 256GB Performance
Crystal Disk Mark 3.0.1 x64
Crystal Disk Mark is another popular benchmark which allows us to measure both sequential read/write speeds as well as random read/write speeds. With this benchmark, tests can be run using both random fill (incompressible data) and 0 fill (compressible data). Realistically in typical computer usage scenarios, data being transferred will consist of a mixture of both incompressible and compressible data.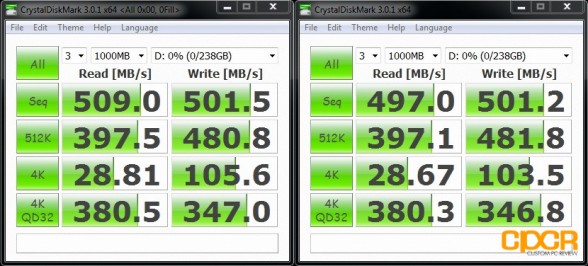 With Crystal Disk Mark, we can see that the OCZ Vector doesn't discriminate between compressible and incompressible data. Sequential read/writes top out at around the 500 MB/s range which again puts the Vector right at the top in terms of performance. Additionally, the Vector is capable of extremely fast 512K and 4K numbers as well. Since most OS and application files fall within this filesize, this will make booting the system and running applications feel smooth and snappy.
AS SSD Benchmark
AS SSD is a very commonly used benchmark used to measure SSD performance in a number of categories. Here, tests are run using incompressible data, which most simulate real world usage. It also outputs a final score at the conclusion of the test based off the read and write performance of the drive.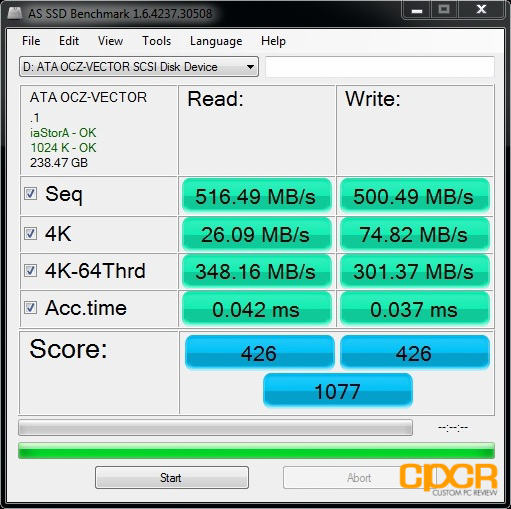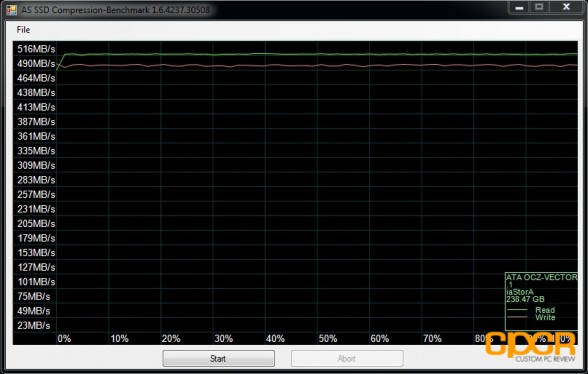 AS SSD confirms our findings in Crystal Disk Mark and additionally, we can see that access times for the OCZ Vector are very low as well. Included with AS SSD is also the compression benchmark, which shows us the Vector's performance when dealing with different levels of compression. As you can see, the line is very flat and consistent, which is nice when primarily dealing with incompressible data.
[section label=6. Anvil Storage Utilities / PC Mark 7]
OCZ Vector 256GB Performance
Anvil Storage Utilities
Anvil Storage Utilities is an excellent all around benchmark for testing many different functions of SSD performance. For our purposes, we ran the benchmark through both 0 fill mode (compressible data) on the left and 100% compression (incompressible data) on the right.
In Anvil Storage Utilities, we're again looking at excellent marks with the OCZ Vector scoring around 4,500 points both when dealing with incompressible and compressible data.
PC Mark 7
The PC Mark 7 storage test tests the SSD under many different real world tests such as gaming, video editing, etc. This is most representative of the SSD's performance under real world situations and therefore is the only benchmark used for comparison between different SSDs.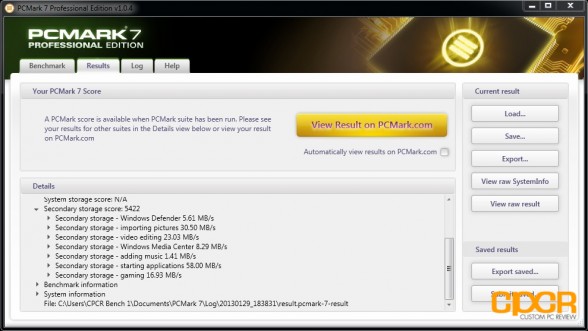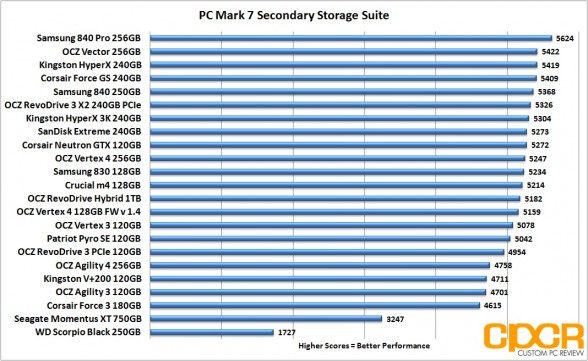 In PC Mark 7, the Vector performs very well, scoring a whopping 5422 points, putting it all the way up in the number 2 spot right behind the Samsung 840 Pro. Additionally, we can also see that the Vector significantly outscores the Vertex 4 as well, which is fitting for the Vector as OCZ's new flagship drive.
[section label=7. Power Consumption]
OCZ Vector 256GB Power Consumption
Since a great majority of SSD nowadays are used in mobile applications, we've begun testing SSD power consumption as a part of our reviews. For power consumption testing, we'll generally run three tests which consists of idle power consumption, constant 4K read/write power consumption, and constant sequential read/write power consumption. Please note that these power consumption measurements are constant read/write measurements, NOT peak measurements.
All tests below are measured by tapping directly into the 5v line running from the power supply to the drive. All testing here is conducted with "HIPM/DIPM" enabled and "AHCI Link Power Management – Adaptive" set to 0 milliseconds for maximum power efficiency.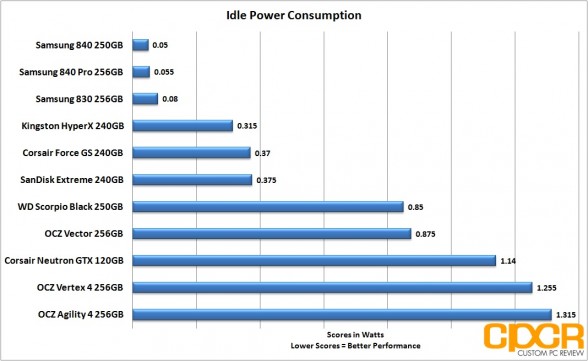 Taking a look at idle power consumption, the OCZ Vector draws around 0.875w, which is more power efficient than the Vertex 4, but it still draws more power when compared to the Samsung SSDs and the SandForce based SSDs.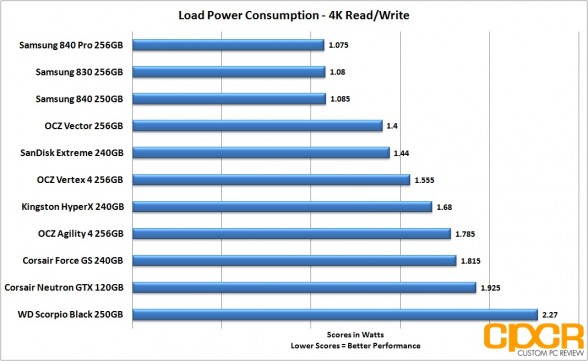 For constant 4K read/write power consumption, the Vector draws around 1.4w, which isn't too bad and is among the lowest in terms of power consumption. That said, the Samsung drives are still in the lead here, drawing less than 1.1w.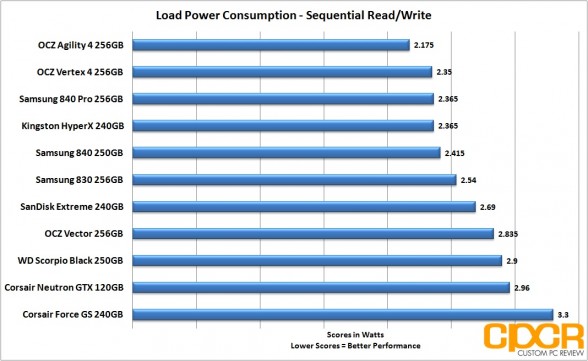 Constant sequential power consumption is on the high side for the Vector which comes in at 2.835w. The most power efficient drive here is actually the OCZ Agility 4, which is based off the Indilinx Everest 2 controller.
[section label=8. Conclusion]
OCZ Vector 256GB Conclusions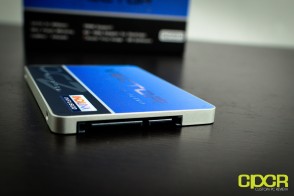 Performance from the Vector is as expected. OCZ is marketing the Vector as their flagship SATA based consumer SSD and well, it simply delivers. It's one of the highest performing SSDs on the market, and it's capable of pushing sequential performance that pretty much saturates the SATA 3 6Gb/s interface. 4K and 512K performance is again very good as well, and the Vector is capable of this type of top end performance irregardless of the data being compressible or incompressible. While it's very important to realize that most data transferred during typical use falls somewhere between 0% compressibility and 100% compressibility, it's definitely preferable having a drive that doesn't skip a beat just because some incompressible data is introduced.
In terms of design, it seems like OCZ is making sure that it differentiates the Vector among the rest of their SSD lineup. The entire casing of the Vector is constructed of metal, which feels extremely high quality and better helps dissipate heat as well. The Vector is also in the 7mm formfactor, which shouldn't matter for those using desktops, but those using thinner notebooks that can't fit the 9mm formfactor will love the fact that OCZ has gone with the 7mm height with the Vector.
Power consumption on the Vector isn't too bad, but OCZ definitely needs to work on idle power consumption. For desktop users, this probably doesn't matter, but this is definitely going to be one of the most important factors for mobile users as even an extra 0.5w of power consumption can lead to a fairly significant decrease in battery life. In terms of load power consumption, the Vector falls in at the middle of the pack and since notebooks generally sit idle or experience light loads when on battery power, this shouldn't be too big of a deal.
| | | | |
| --- | --- | --- | --- |
| Manufacturer | OCZ Technology | OCZ Technology | OCZ Technology |
| Model | Vector | Vector | Vector |
| Capacity | 128 GB | 256 GB | 512 GB |
| Street Price | $134.15 | $237.99 | $529.40 |
| Price/GB | $1.05 | $0.93 | $1.03 |
| Check Price | Click Here | Click Here | Click Here |
As expected of a top tier product, the OCZ Vector isn't going to be the least expensive SSD on the market, but it's definitely priced competitively against other top tier SSDs on the market. Those looking into purchasing an OCZ Vector will find that the 256GB edition of the drive will probably be the best deal as it's priced on the street at well under $1/GB. Looking back only a year or two, $1/GB for any SSD, top tier or not was extremely difficult, so the fact that even top tier SSDs are regularly priced at $1/GB or less is a huge win for the consumer. Additionally to make the 256GB or 512GB OCZ Vector a bit more enticing, OCZ is also bundling a free copy of Fry Cry 3 with the SSDs, which by itself is a $50 value.
Currently the main competition for the OCZ Vector is of course the Samsung 840 Pro, which has been my top tier SSD recommendation for some time now; however, between the Vector and the 840 Pro, I think for the most part it's going to be a toss up between the two. They both carry industry leading 5 year warranties, they both perform extremely fast, and they're both priced quite similarly as well. That said, those looking for a SSD for a notebook should definitely look into the Samsung 840 Pro as it does outperform the Vector when it comes to power efficiency.
With all that said, I'm incredibly impressed with what OCZ has done with the Vector. Despite the executive shakeup and OCZ's shaky financial situation, they've still been able to effectively utilize their acquisitions and pool together so many various resources to create the Vector – a product that's capable of going toe to toe with Samsung's best for the top spot in the consumer SSD market.
Looks like OCZ has really bet the farm on this one and personally, I think they've created a winner.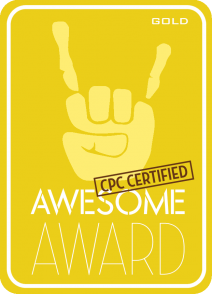 Sample provided by: OCZ Technology
Available at: Amazon