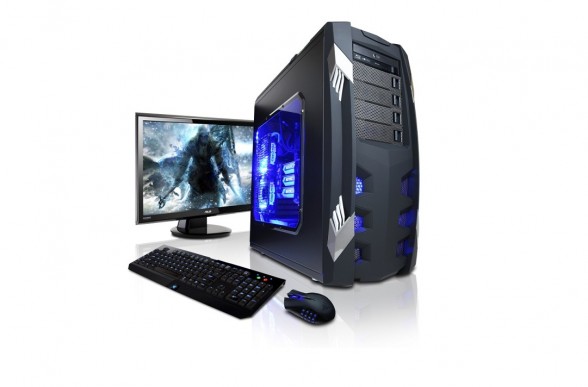 Press Release
CyberPower Inc., a global manufacturer of custom gaming PCs, entered the era of the Gaming Supercomputer when it today unleashes a series of performance desktop PCs based on NVIDIA's new GeForce GTX Titan GPU.
With the DNA of the world's fastest supercomputer and the soul of NVIDIA Kepler, the GeForce GTX Titan is a revolution in PC gaming.  This monster GPU establishes a new class of gaming PCs for CyberPowerPC customers: the Gaming Supercomputer.  CyberPowerPC systems based on this formidable GPU will deliver the ultimate combination of power, performance, efficiency, control, and acoustics that PC gamers and enthusiasts demand.
Starting February 21, CyberPowerPC customers can configure new GeForce GTX Titan-based gaming PCs across CyberPowerPC's enthusiast Fang III and Zeus series along with the Gamer Xtreme and Ultra series of custom gaming systems. When paired with Intel® 3rd Generation processors, users can create the ultimate gaming supercomputer. CyberPowerPC systems based on this game-changing GPU will start at $1699.
CyberPowerPC systems based on the Titan GPU offer all the premium features gamers expect such as 3-Way NVIDIA SLI technology to intelligently scale graphics performance by combining multiple NVIDIA® GeForce GPUs on a single motherboard as well as NVIDIA TXAA and NVIDIA PhysX technologies combine to provide the refined image quality and performance.
Users who customize their new CyberPowerPC Titan supercomputer can choose from the AMD FX platform, Intel X79 or Z77 enthusiast chipset. CyberPowerPC's advanced hydro 2 liquid cooling kit provides maximum cooling to both CPU and the new GeForce GTX Titan GPU.
The new systems are also NVIDIA 3D Vision and Surround ready. Support for NVIDIA 3D Vision brings a fully immersive stereoscopic 3D experience to the PC and transforms hundreds of PC games into full stereoscopic 3D. It also enables streaming of 3D movies and 3D digital photographs from 3DVisionLive.com in crystal-clear quality. The Vision Surround feature provides support for gaming across three displays in full stereoscopic 3D with a single GPU for the ultimate "inside the game" experience. NVIDIA Surround also supports triple-screen gaming with non-3D Vision monitors and a fourth accessory display for access to email, web, or other applications while gaming.
Users can tweak their CyberPowerPC system with GPU Boost 2.0 Technology, which allows for intelligent monitoring of clock speed to ensure that the GPU runs at its peak and games at the highest frame rate possible. It also offers new levels of customization, including GPU temperature target, overclocking, and unlocked voltage.
Additional standard features include PCI Express 3.0 to offer maximum data transfer speeds; Dual-link DVI to allow flat-panel displays with up to 2560×1600 resolution over a DVI connector; HDMI support for GPU-accelerated Blu-ray 3D, x.v.Color, HDMI Deep Color, and 7.1 digital surround sound with resolutions up to 4096×2160.
All CyberPowerPC custom gaming systems can be customized with a number of performance hardware and components such as liquid cooling, Solid State Drives, Blu-ray drives, performance gaming memory, gaming peripherals, business and productivity software, and more.
All systems are housed in gaming chassis from top-tier manufacturers are designed to provide ample features and intelligent functionality with emphasis on advanced cooling, silent performance and extreme airflow. Every system is meticulously built with precise cable routing to ensure optimal airflow and a clean aesthetic appearance. CyberPowerPC loads every system with Microsoft Windows 8 pre-loaded for an enhanced gaming and multimedia experience. All CyberPowerPC desktop gaming systems include an industry-best 3-year limited warranty.
For more information about configuring a CyberPowerPC system with Nvidia's GeForce GTX Titan, be sure to visit the CyberPowerPC website here.