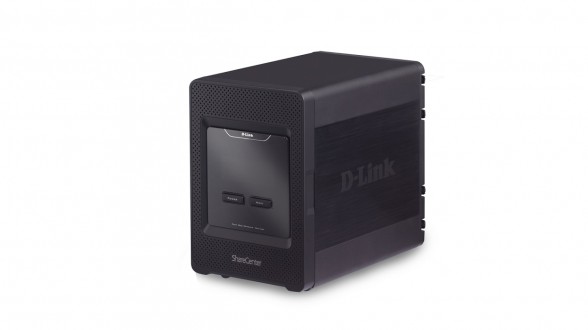 Press Release
D-Link Launches New 4-Bay Cloud Storage Solution for Home and Small Business Users
Cloud Storage 4000 Offers Superior Performance, Remote File Streaming, Sharing, Backup, and Management of Surveillance Solutions for Today's Digital Home and Office
D-Link today announced its newest installment to its high-performance ShareCenter® storage solutions – the 4-Bay Cloud Storage 4000 (DNS-345) – is now available. Offering superior performance with a fast CPU to simultaneously support multiple user streams, more memory to boost performance, four drives for up to 16TB of storage, and two Gigabit Ethernet ports for high speed data transfer and failover, the Cloud Storage 4000 is a robust storage, back-up and recovery solution. When combined with D-Link® Cloud Cameras, the Cloud Storage 4000 also enables a full-featured network video recorder (NVR) which supports real-time monitoring, recording and playback of surveillance video.
The Cloud Storage 4000 creates a personal Cloud portal via the free and user-friendly mydlink™ cloud app, enabling users to store, safeguard, share, and remotely access or stream their digital documents, music, videos, and photos from anywhere in the world on their iPhone®, iPad®, Android™, Blackberry®, or Microsoft® Mobile OS device. In addition, the mydlink cloud app supports two-way data syncing, ensuring users have the latest data on their ShareCenter and computers.
Equipped with four SATA HD bays for 3.5-inch drives supporting drive capacities of up to 4TB, the Cloud Storage 4000 ensures plenty of storage for today's home users and small businesses. Plus, the Cloud Storage 4000 grows with a user's storage requirement, allowing users to start off with one SATA hard disk with the ability to add up to four drives (up to 16TB of storage) as needed.
"Continuing our commitment to providing complete network solutions, D-Link's new Cloud Storage 4000 offers the ideal cloud storage solution for any connected home or small business," said Ken Loyd, director, consumer products, D-Link Systems, Inc. "The Cloud Storage 4000 provides flexible options for the end user, such as centrally storing and sharing your digital media, streaming movies from your ShareCenter® to your TV, managing your files remotely on your smartphone or tablet, or adding significant storage drive capacity."
For added network safety, the Cloud Storage 4000 features the D-Link Surveillance Station App, which supports recording and playback of up to four IP cameras, such as D-Link's award-winning line-up of mydlink enabled cloud cameras. In addition, users have the flexibility to choose from seven different RAID configurations for specific hard drive protection preferences, schedule backups, and set file and folder permissions to allow for ultimate sync flexibility and storage control. Installation of the Cloud Storage 4000 is simple without any special configuration requirement – making it easy for anyone to get their storage drive up and running. And easy expansion allows consumers to add up to four hard drives for more storage capacity, without using tools or attaching any cables.
Additional Features:
Built-in Web Files Server and Secure FTP Server for File Access Over the Internet*
DLNA™ Server to Stream Music, Photos, and Video to Compatible Media Players, including Boxee Box by D-Link, PlayStation® 3 and Xbox® 360
USB Port Supports Print Serving, UPS Monitoring and One Touch Backup
Full or Incremental Backups
Auto Power Recovers and Power-off Scheduling
Automatic E-mail and SMS Event Notification
Supports Add-on Applications, including Logitech Squeeze Center Support, Audio Streamer, Create a Blog App, and Photo Center App
Availability and Pricing
The Cloud Storage 4000 will be available for an Every Day Low Price (EDLP) of $449.99 throughout the D-Link® network of retail and e-tail outlets in North America, including Amazon.com and Tiger Direct.
Fore more details about the ShareCenter Cloud Storage 4000, check out the product page here.