Warning
: Undefined array key "width" in
/var/www/vhosts/custompcreview.com/public_html/wp-includes/media.php
on line
1381
Warning
: Undefined array key "width" in
/var/www/vhosts/custompcreview.com/public_html/wp-includes/media.php
on line
1386
Warning
: Undefined array key "height" in
/var/www/vhosts/custompcreview.com/public_html/wp-includes/media.php
on line
1386
Warning
: Undefined array key "width" in
/var/www/vhosts/custompcreview.com/public_html/wp-includes/media.php
on line
1381
Warning
: Undefined array key "width" in
/var/www/vhosts/custompcreview.com/public_html/wp-includes/media.php
on line
1386
Warning
: Undefined array key "height" in
/var/www/vhosts/custompcreview.com/public_html/wp-includes/media.php
on line
1386
Just spotted these Ivy Bridge benchmarks over at OBR-Hardware so I thought I'd let all of you know.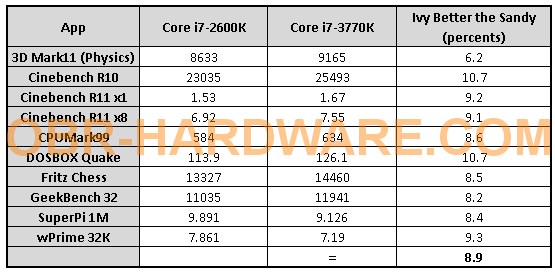 Anyway, these benchmarks were conducted using a Z68 board in combination with a C0 stepping engineering sample of the Intel Core i7 3770K, but remember Intel is also launching the Z77 chipset along with the launch of Ivy Bridge in April, so benchmark results with that chipset might be a little different.
At least in these benchmarks though, it's pretty clear that with the Intel Core i7 3770K, we're going to be seeing an overall performance increase of around 9%. Since we know that the main focus for Intel with these the Ivy Bridge processors is increased integrated graphics performance along with other efficiency improvements, a minor increase in performance was somewhat expected.
Since it's pretty clear engineering samples are now available, we'll probably see some more leaked information in the coming days. Anyone holding out on buying a new system to wait for Ivy Bridge?
Source: OBR-Hardware / VR-Zone