Warning
: Undefined array key "width" in
/var/www/vhosts/custompcreview.com/public_html/wp-includes/media.php
on line
1381
Warning
: Undefined array key "width" in
/var/www/vhosts/custompcreview.com/public_html/wp-includes/media.php
on line
1386
Warning
: Undefined array key "height" in
/var/www/vhosts/custompcreview.com/public_html/wp-includes/media.php
on line
1386
Warning
: Undefined array key "width" in
/var/www/vhosts/custompcreview.com/public_html/wp-includes/media.php
on line
1381
Warning
: Undefined array key "width" in
/var/www/vhosts/custompcreview.com/public_html/wp-includes/media.php
on line
1386
Warning
: Undefined array key "height" in
/var/www/vhosts/custompcreview.com/public_html/wp-includes/media.php
on line
1386
Warning
: Undefined array key "width" in
/var/www/vhosts/custompcreview.com/public_html/wp-includes/media.php
on line
1381
Warning
: Undefined array key "width" in
/var/www/vhosts/custompcreview.com/public_html/wp-includes/media.php
on line
1386
Warning
: Undefined array key "height" in
/var/www/vhosts/custompcreview.com/public_html/wp-includes/media.php
on line
1386
Warning
: Undefined array key "width" in
/var/www/vhosts/custompcreview.com/public_html/wp-includes/media.php
on line
1381
Warning
: Undefined array key "width" in
/var/www/vhosts/custompcreview.com/public_html/wp-includes/media.php
on line
1386
Warning
: Undefined array key "height" in
/var/www/vhosts/custompcreview.com/public_html/wp-includes/media.php
on line
1386
Warning
: Undefined array key "width" in
/var/www/vhosts/custompcreview.com/public_html/wp-includes/media.php
on line
1381
Warning
: Undefined array key "width" in
/var/www/vhosts/custompcreview.com/public_html/wp-includes/media.php
on line
1386
Warning
: Undefined array key "height" in
/var/www/vhosts/custompcreview.com/public_html/wp-includes/media.php
on line
1386
Warning
: Undefined array key "width" in
/var/www/vhosts/custompcreview.com/public_html/wp-includes/media.php
on line
1381
Warning
: Undefined array key "width" in
/var/www/vhosts/custompcreview.com/public_html/wp-includes/media.php
on line
1386
Warning
: Undefined array key "height" in
/var/www/vhosts/custompcreview.com/public_html/wp-includes/media.php
on line
1386
Warning
: Undefined array key "width" in
/var/www/vhosts/custompcreview.com/public_html/wp-includes/media.php
on line
1381
Warning
: Undefined array key "width" in
/var/www/vhosts/custompcreview.com/public_html/wp-includes/media.php
on line
1386
Warning
: Undefined array key "height" in
/var/www/vhosts/custompcreview.com/public_html/wp-includes/media.php
on line
1386
Warning
: Undefined array key "width" in
/var/www/vhosts/custompcreview.com/public_html/wp-includes/media.php
on line
1381
Warning
: Undefined array key "width" in
/var/www/vhosts/custompcreview.com/public_html/wp-includes/media.php
on line
1386
Warning
: Undefined array key "height" in
/var/www/vhosts/custompcreview.com/public_html/wp-includes/media.php
on line
1386
Warning
: Undefined array key "width" in
/var/www/vhosts/custompcreview.com/public_html/wp-includes/media.php
on line
1381
Warning
: Undefined array key "width" in
/var/www/vhosts/custompcreview.com/public_html/wp-includes/media.php
on line
1386
Warning
: Undefined array key "height" in
/var/www/vhosts/custompcreview.com/public_html/wp-includes/media.php
on line
1386
Introduction
Sub $100 graphics cards are great as a system upgrade for an office PC, or as the heart of a media center computer. AMD's 6000 series GPUs really shine in this category. Offering unparalleled performance to watt ratios, they provide a moderate, economical upgrade for people who don't need all the horsepower of a $200 graphics setup.
Today, we'll be taking a look at the HIS Radeon HD 6570 IceQ. Based off the lower end Radeon HD 6500 GPU design, the Ice Q edition comes with a large custom heatsink, much larger than the stock heatsink which HIS boasts will "dramatically lowers the GPU temperature and keeps noises to minimum". Whether or not this claim can be backed by testing, well be finding out in our review. So, stick around and enjoy the show.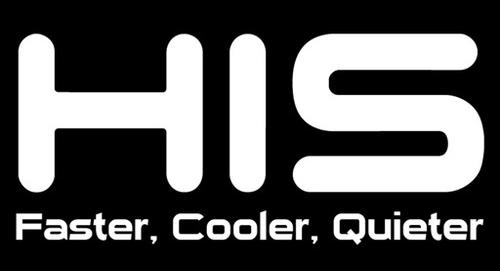 A Closer Look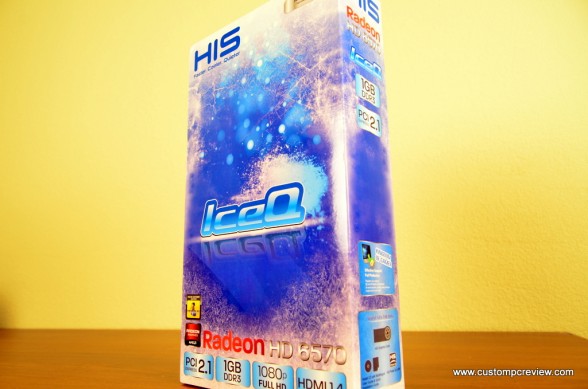 At the front of the box we have that huge IceQ logo making sure you know that it utilizes Ice Q technology. What is Ice Q you might ask? Well, let's turn to the back.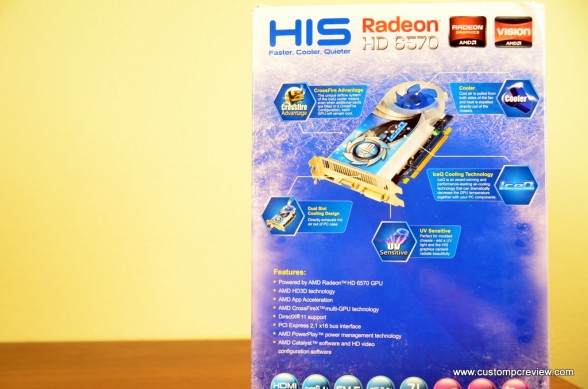 It's a cooler! Yes, it's the HIS custom cooler that they've included on so many of their graphics cards. It's also a blower design cooler which allows heat to be shot out the back to prevent heat from building up inside the case.
The HD 6570 doesn't come in a anti-static bag and instead comes in a plastic shell. Whatever, good enough. Can't expect too much  in terms of packaging with a $75 graphics card.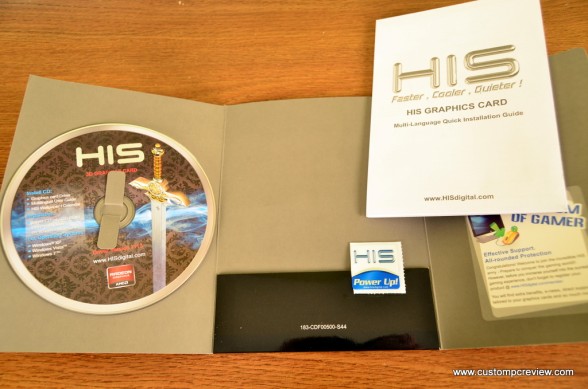 Some included gear. Love the folder. Nice touch.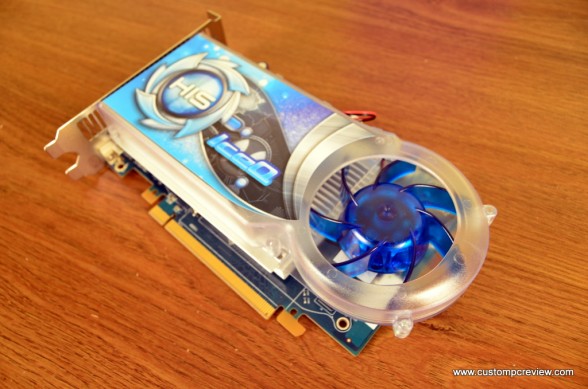 HAHAHA. Such a cute little video card. Really though, I kid you not. It's so small! (Yeah, yeah I know… "That's what she said!")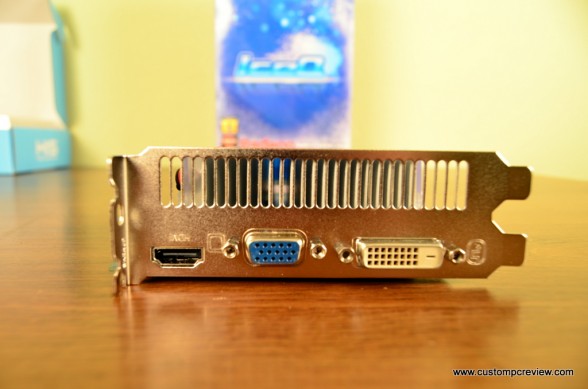 Onto the outputs, you get a DVI, VGA, and HDMI. Pretty standard stuff. It's missing Display Port so make sure your monitor isn't DP only.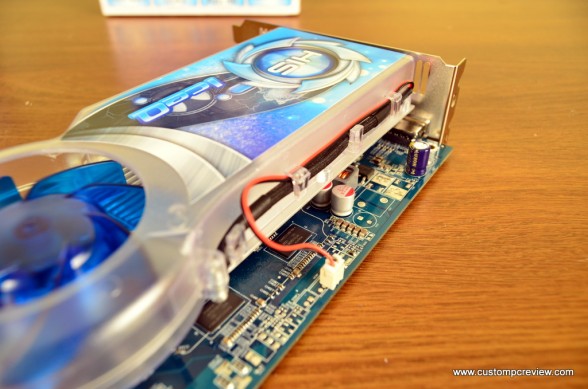 Interesting… the fan isn't PWM. I see no Crossfire fingers. I swear I saw Crossfire a couple photos ago. Then again, who'd Crossfire a pair of HD 6570's anyway? Ooh look! Nice, durable solid caps.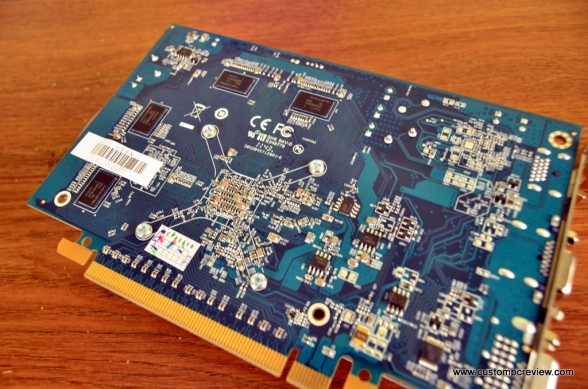 Not much going on back here. It's got a green PCB (which looks blue in the picture) which sorta sucks, but this isn't the kind of videocard you drop in a expensive case with a giant window out front. I also spot a couple memory chips back here. One interesting thing to note is that there's no backplate or any type of support around the back of the die area. Then again, the cooler probably isn't very heavy.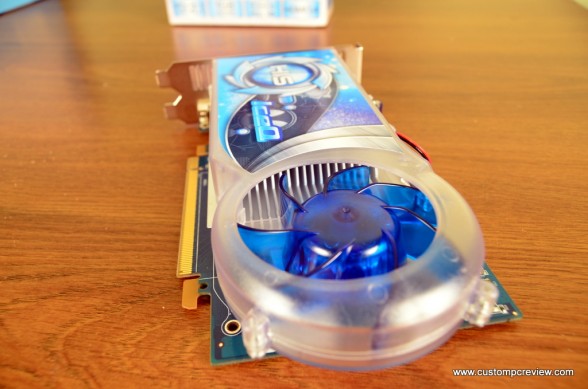 Final look at the fan here. Also notice that there aren't any power connectors which means you don't need to upgrade your power supply to get this puppy installed.
Specifications
| | |
| --- | --- |
| Model Name | HIS 6570 IceQ 1GB DDR3 PCI-E DVI/HDMI/ VGA |
| Chipset | Radeon HD 6570 PCIe Series |
| ASIC | RadeonTM HD 6570 GPU |
| Manu. Process (Micron) | 40nm |
| Memory Size (MB) | 1024 |
| Memory Type | DDR3 |
| Engine CLK (MHz) | 650Mhz |
| Memory CLK (Gbps) | 1.6 Gbps |
| Memory Interface (bit) | 128 |
| Power Supply Requirement | 400 Watt or greater power (500 Watt for ATI CrossFireX technology in dual mode) |
| Max. Resolution | 2560*1600 |
| Bus Interface | PCI Express2.1 x16 |
| VGA | Yes |
| HDMI | Yes |
| DVI | Dual-Link DVI-D |
| | |
HD 6570 System Requirement
PCI Express ® based PC is required with one X16 lane graphics slot available on the motherboard
400 Watt or greater power supply recommended (500 Watt for AMD CrossFireX™ technology in dual mode)
Certified power supplies are recommended. Refer to http://support.amd.com/us/certified/power-supplies/Pages/listing.aspx for a list of Certified products
Minimum 1GB of system memory
Installation software requires CD-ROM drive or DVD –ROM drive, a keyboard, a mouse, and a display
DVD playback requires DVD drive and a DVD
Blu-ray™ playback requires Blu-ray drive and a Blu-ray disc
The operation of AMD CrossFireX™ technology in dual mode requires a second AMD Radeon™ HD 6570 Graphics card and  AMD CrossFireX™ Ready motherboard
Test Bench
Intel Core i5 2500K (Overclocked to 4.7GHz)
Asrock Z68 Fatal1ty Professional Gen 3
Gskill Sniper 1866MHz DDR3 1.5v
Patriot Pyro SE 120gb
Corsair HX650
HSPC High Speed Tech Station
Special thanks to HSPC for providing us with the High Speed Tech Station (large) for our test bench.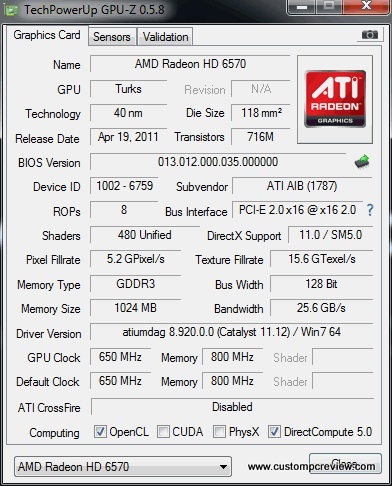 Performance
3D Mark 11
Developed and maintained by Futuremark Corporation, 3D Mark 11 is one of the world's most widely used graphics performance benchmarking software.
| | | |
| --- | --- | --- |
| | Galaxy GTX 560 GC 2GB | HIS 6570 Ice Q |
| 3D Mark 11 Entry | 6931 | 2244 |
| 3D Mark 11 Performance | 3985 | 1336 |
| 3D Mark 11 Extreme | 1234 | 382 |
Our first benchmark consists of 3D Mark 11. For comparison purposes only, we also added the benchmarks for our recently reviewed Galaxy GTX 560 GC 2GB, which is a very good mid range graphics card. As expected, the card wasn't able to perform anywhere near the mid/high end Galaxy GTX 560 GC 2GB.
Game Benchmarks
First, we ran our usual benchmark suite for mid / high end graphics. Each test is run at 1920×1200 with 4xAA wherever possible.
| | | |
| --- | --- | --- |
| All games run at 1920×1200, High/Ultra Settings, 4xAA | Galaxy GTX 560 GC 2GB | HIS 6570 Ice Q |
| Lost Planet 2 | 38.4 | 8.7 |
| Resident Evil 5 | 95.7 | 25.5 |
| Unigine Heaven v2.5 | 26.6 | 6.8 |
| Stalker: COP (Day) | 44.2 | 13.1 |
| Call of Juarez DX10 | 66.1 | 17.5 |
| Just Cause 2 | 36.52 | 12.1 |
| Metro 2033 | 23 | 6.67 |
| Crysis 2 (Central Park) | n/a | 11 |
And… the results aren't much of a surprise. The HIS 6570 wasn't able to achieve playable frame rates in any benchmark. Sad panda…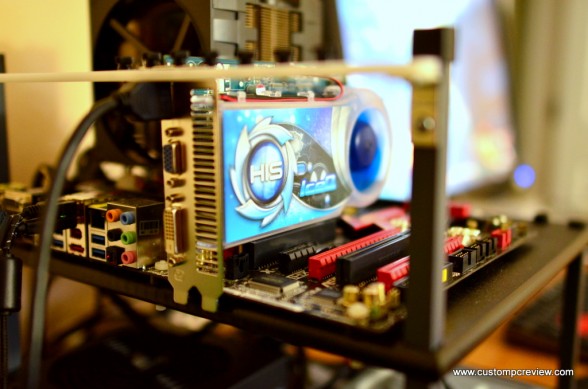 Perfomrance Cont…
Game Benchmarks
We now move on to our budget graphics card bechmarking suite.
| | |
| --- | --- |
| All games run at 1280×1024, Medium Settings, AA off | HIS 6570 Ice Q |
| Lost Planet 2 | 38.7 |
| Resident Evil 5 | 66 |
| Unigine Heaven v2.5 | 17.4 |
| Stalker: COP (Day) | 43.6 |
| Call of Juarez DX10 | 29.6 |
| Just Cause 2 | 33.7 |
| Metro 2033 | 32 |
| Crysis 2 (Central Park) | 21 |
As you can see above, the numbers are completely different from what we saw earlier. The HIS 6570 IceQ was actually able to perform very well once the settings were toned down. At 1280×1024, medium settings, and AA off, the card was able to pull off playable framerates on almost every benchmark with the exception of the very graphically intensive Heaven and Crysis 2 benchmarks.
Noise, Temperatures and Power Consumption
| | | |
| --- | --- | --- |
| Furmark | Galaxy GTX 560 GC 2GB | HIS 6570 Ice Q |
| Max Temps (Stock 19c Ambient) | 76c | 39c |
| Total System Power Usage | 314w | 96w |
Well, the Ice Q cooler isn't a gimmick for sure. The HIS 6570 Ice Q was able to hold max load temps while running Furmark at just 39c! This is quite possibly the coolest running graphics card I've seen to date. Additionally, despite the lack of PWM fan control on the IceQ cooler, the fan was near inaudible. The 120mm PWM fans off the Cooler Master V6GT CPU cooler were much louder than the Ice Q fan . Power consumption was very low as well with our test system only sucking up 96w during full load running Furmark.
Overclocking
Finally, my favorite section: Overclocking. After all those benchmark runs I decided that the card needed a little push, so I fired up MSI Afterburner to see how far this card would push. First thing I noticed was that the voltage controls didn't exist at which point I thought, ok… this card is not going to overclock very well. 25Mhz? Maybe 75Mhz tops?
Anyway, this card runs at 650MHz Core and 800MHz Memory stock. Therefore, I decided to push it up to 675/825… Oh nice, stable. A little more then… 700/850… Oh nice, stable. Onward! 725MHz/875… Oh what the heck?… 800/900… wow, a full 150MHz/100MHz and still running stable? Let's keep going…!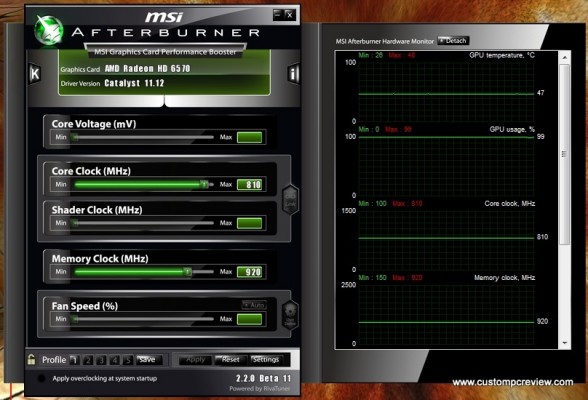 I honestly didn't have much faith in overclocking this card at first, but holy cow! With a bit of fine tuning, I was able to get a fully stable, 810MHz Core and 920MHz Memory. No voltage adjustments whatsoever! In fact, I was actually able to push it up to 845MHz Core (The maximum allowed by MSI Afterburner) and 935MHz Memory, but insane artifacting prompted me to drop the overclocking a bit. Really, really wish I had voltage adjustment control at this point…
As far as temps goes, a full load 15 minute Furmark run brought the card to a cool 47°C. Very, very impressive I must say especially for an overclock like this.
Additionally, power usage off the Kill A Watt spiked up to 130w when overclocked from 96w, which is about an increase of 34w under full load. Still, not too bad. Even a trashy OEM power supply should be able to handle that.
| | | |
| --- | --- | --- |
| All games run at 1280×1024, AA off | HIS 6570 Ice Q | HIS 6570 Ice Q (OC'ed 810MHz Core / 920MHz Memory) |
| 3D Mark 11 Performance | 1336 | 1598 |
| Unigine Heaven v2.5 | 17.4 | 22.4 |
| Just Cause 2 | 33.7 | 39.96 |
| Metro 2033 | 32 | 37.67 |
| Crysis 2 (Central Park) | 21 | 24.9 |
Anyway, this time I ran a truncated version of our budget graphics benchmark suite to show exactly what kind of performance benefits you get with a full 160MHz (+25%) overclock. On 3D Mark you're looking at a full 262 3D Marks (+20%) on Performance preset. You also get almost 5 more frames on average (+19%) on Crysis 2, making it much more playable. Sweeeet.
Conclusion
In my opinion there are three different groups of users who could really benefit from a card like this.
The first group is HTPC owners with maybe an older machine who need a video card that'll help improve HD playback or something of that nature. This is an excellent choice for that group of individuals because it's near silent, it's more than capable of handling HD video, and it's very small which means a lot of flexibility when it comes to different sized cases.
The second is the casual gamer group. Considering the fact that according to the Steam hardware survey, approximately 20%-25% Steam gamers are still running resolutions 1280×1024 or under, I think this is an excellent graphics card for those gamers out there in that category who like to play a game from time to time, but aren't serious enough to blow $200 on a graphics card.
The final group deals with people who own an older OEM system (Dell, HP, Lenovo, etc.). Many of these OEM systems come with small cases, terrible cooling, and weak power supplies that don't even include PCI-E connectors making it very difficult to install high end graphics. This graphics card would be perfect for someone just looking to get by a little while longer.
What's Hot
For the record, I don't buy low end graphics cards, so when I received this one for review I didn't have high expectations… at all. I thought this was going to be the card that struggled with everything past CS 1.6, but oh was I wrong. Yeah, this card got destroyed at 1920×1200, high settings, and 4xAA, but can you even expect it not to? I mean, if that were the case, there would be no reason to purchase $200, $300, $400, or $500 graphics cards.
That being said, the HIS Radeon HD6570 IceQ's overclocking, cooling, and acoustic performance were most impressive. You can't deny that the card easily managed to pull off a full 160MHz Core (+25%) overclock and the temperatures never passed 47°C despite the fans being almost completely inaudible.
Additionally, I was also surprised by card's performance as it ran through almost all benchmarks at 1280×1024, medium settings at playable frame rates. After overclocking, this card should even run Crysis 2 quite comfortably at low settings since it could already produce almost 25fps at medium.
What's Not
The first issue is that this is a dual slot card. This means that you must have enough room in your case for two slots, which may be problematic for people with extremely small form factor cases. Of course, this is the tradeoff for good graphics cooling, so it'll be up to you to decide what's more important.
Next, I feel like voltage controls should've been unlocked. The graphics card has such great overclocking potential, but it still feels neutered. I can easily see it hitting 900MHz or 1GHz with a little more juice even potentially matching the performance of the higher end HD 6700 series graphics cards. It's a real pity. I was just getting to like this card.
Finally, you have to admit that while the card is a good value for the 25% gamers out there with monitors 1280×1024, it's still not a miracle worker for the other 75% gamers with monitors at higher resolution.
Bottom Line
At the end of the day, this is still a fantastic card for the price. The insane overclocking bit is just icing on the cake.  It's cute, quiet, and cheap. Girlfriend need a new graphics card to play The Sims? This is it.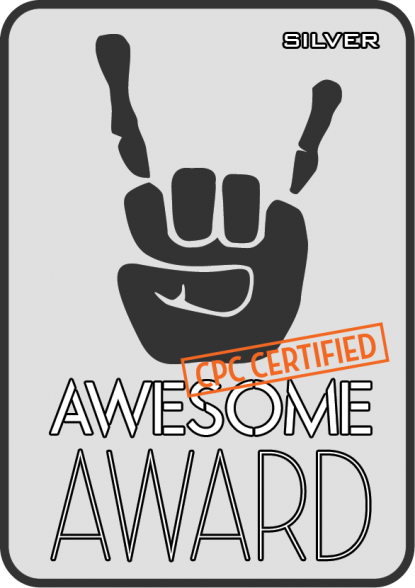 The HIS Ice Q HD 6570 IceQ is currently available on Amazon.
Thanks to HIS for making this review possible.