Warning
: Undefined array key "width" in
/var/www/vhosts/custompcreview.com/public_html/wp-includes/media.php
on line
1381
Warning
: Undefined array key "width" in
/var/www/vhosts/custompcreview.com/public_html/wp-includes/media.php
on line
1386
Warning
: Undefined array key "height" in
/var/www/vhosts/custompcreview.com/public_html/wp-includes/media.php
on line
1386
Warning
: Undefined array key "width" in
/var/www/vhosts/custompcreview.com/public_html/wp-includes/media.php
on line
1381
Warning
: Undefined array key "width" in
/var/www/vhosts/custompcreview.com/public_html/wp-includes/media.php
on line
1386
Warning
: Undefined array key "height" in
/var/www/vhosts/custompcreview.com/public_html/wp-includes/media.php
on line
1386
Warning
: Undefined array key "width" in
/var/www/vhosts/custompcreview.com/public_html/wp-includes/media.php
on line
1381
Warning
: Undefined array key "width" in
/var/www/vhosts/custompcreview.com/public_html/wp-includes/media.php
on line
1386
Warning
: Undefined array key "height" in
/var/www/vhosts/custompcreview.com/public_html/wp-includes/media.php
on line
1386
Warning
: Undefined array key "width" in
/var/www/vhosts/custompcreview.com/public_html/wp-includes/media.php
on line
1381
Warning
: Undefined array key "width" in
/var/www/vhosts/custompcreview.com/public_html/wp-includes/media.php
on line
1386
Warning
: Undefined array key "height" in
/var/www/vhosts/custompcreview.com/public_html/wp-includes/media.php
on line
1386
Warning
: Undefined array key "width" in
/var/www/vhosts/custompcreview.com/public_html/wp-includes/media.php
on line
1381
Warning
: Undefined array key "width" in
/var/www/vhosts/custompcreview.com/public_html/wp-includes/media.php
on line
1386
Warning
: Undefined array key "height" in
/var/www/vhosts/custompcreview.com/public_html/wp-includes/media.php
on line
1386
Warning
: Undefined array key "width" in
/var/www/vhosts/custompcreview.com/public_html/wp-includes/media.php
on line
1381
Warning
: Undefined array key "width" in
/var/www/vhosts/custompcreview.com/public_html/wp-includes/media.php
on line
1386
Warning
: Undefined array key "height" in
/var/www/vhosts/custompcreview.com/public_html/wp-includes/media.php
on line
1386
Warning
: Undefined array key "width" in
/var/www/vhosts/custompcreview.com/public_html/wp-includes/media.php
on line
1381
Warning
: Undefined array key "width" in
/var/www/vhosts/custompcreview.com/public_html/wp-includes/media.php
on line
1386
Warning
: Undefined array key "height" in
/var/www/vhosts/custompcreview.com/public_html/wp-includes/media.php
on line
1386
Warning
: Undefined array key "width" in
/var/www/vhosts/custompcreview.com/public_html/wp-includes/media.php
on line
1381
Warning
: Undefined array key "width" in
/var/www/vhosts/custompcreview.com/public_html/wp-includes/media.php
on line
1386
Warning
: Undefined array key "height" in
/var/www/vhosts/custompcreview.com/public_html/wp-includes/media.php
on line
1386
Warning
: Undefined array key "width" in
/var/www/vhosts/custompcreview.com/public_html/wp-includes/media.php
on line
1381
Warning
: Undefined array key "width" in
/var/www/vhosts/custompcreview.com/public_html/wp-includes/media.php
on line
1386
Warning
: Undefined array key "height" in
/var/www/vhosts/custompcreview.com/public_html/wp-includes/media.php
on line
1386
Warning
: Undefined array key "width" in
/var/www/vhosts/custompcreview.com/public_html/wp-includes/media.php
on line
1381
Warning
: Undefined array key "width" in
/var/www/vhosts/custompcreview.com/public_html/wp-includes/media.php
on line
1386
Warning
: Undefined array key "height" in
/var/www/vhosts/custompcreview.com/public_html/wp-includes/media.php
on line
1386
Warning
: Undefined array key "width" in
/var/www/vhosts/custompcreview.com/public_html/wp-includes/media.php
on line
1381
Warning
: Undefined array key "width" in
/var/www/vhosts/custompcreview.com/public_html/wp-includes/media.php
on line
1386
Warning
: Undefined array key "height" in
/var/www/vhosts/custompcreview.com/public_html/wp-includes/media.php
on line
1386
Warning
: Undefined array key "width" in
/var/www/vhosts/custompcreview.com/public_html/wp-includes/media.php
on line
1381
Warning
: Undefined array key "width" in
/var/www/vhosts/custompcreview.com/public_html/wp-includes/media.php
on line
1386
Warning
: Undefined array key "height" in
/var/www/vhosts/custompcreview.com/public_html/wp-includes/media.php
on line
1386
Warning
: Undefined array key "width" in
/var/www/vhosts/custompcreview.com/public_html/wp-includes/media.php
on line
1381
Warning
: Undefined array key "width" in
/var/www/vhosts/custompcreview.com/public_html/wp-includes/media.php
on line
1386
Warning
: Undefined array key "height" in
/var/www/vhosts/custompcreview.com/public_html/wp-includes/media.php
on line
1386
Introduction
Memory manufacturers are a dime a dozen and it's actually quite hard to find inexpensive, yet high quality memory, but one company that is consistently able to provide such a product is G.Skill. If you have no idea who G.Skill is, they're a relatively large manufacturer of memory products and, more recently, solid state drives.
So, what prompted this memory review? Is this some cutting edge space age stuff? Well, no. What it is, is some typical, run of the mill, relatively inexpensive, reliable enthusiast grade memory. So, what do we do with products like these? Well, we run it through some of our most intense testing, overclock it as high as it'll go and show you what this stuff can do. So, flip the page and let's get started!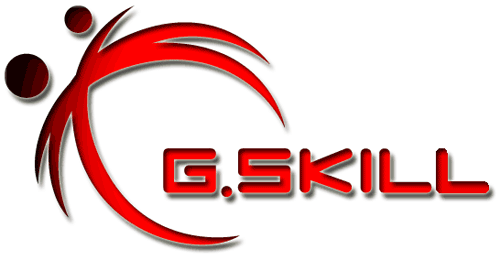 Video Unboxing
A Closer Look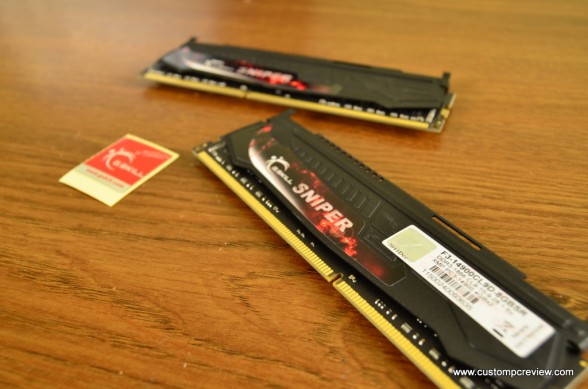 Included is a G.Skill sticker and 2 sticks of memory. As you can see, this specific kit is labeled F3-14900CL9D-8GBSR. It is XMP (Xtreme Memory Profile) enabled and runs at 1866Mhz @ CL9-10-9-28 @ 1.5v.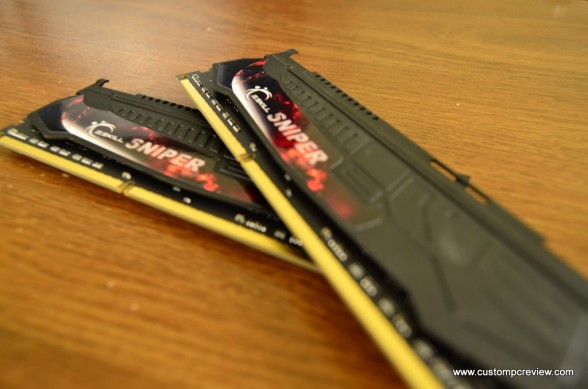 The heatsinks are very nice and are quite low profile allowing you to install most CPU coolers underneath them. Another nice touch about these memory modules is that the PCB is black whereas other manufacturers would skimp here and drop in a green or blue pcb. It's all about the little things…
Specifications
| | |
| --- | --- |
| System | Desktop |
| System Type | DDR3 |
| M/B Chipset | Intel Z68Intel P67Intel P55 |
| CAS Latency | 9-10-9-28-2N |
| Capacity | 8GB (4GB x2) |
| Speed | DDR3-1866 (PC3 14900) |
| Test Voltage | 1.5 Volts |
| Height |  42 mm / 1.65 inch |
| Registered/Unbuffered | Unbuffered |
| Error Checking | Non-ECC |
| Type | 240-pin DIMM |
| Warranty | Lifetime |
| Features | Intel XMP (Extreme Memory Profile) Ready |
Test Setup
Intel Core i5 2500K
Asrock Z68 Fatal1ty Professional Gen 3
Patriot Pyro SE 120gb
Corsair HX650
Galaxy GTX 560 GC 2GB
HSPC High Speed Tech Station (large)
We'd like to thank HSPC for providing us with the High Speed Tech Station (large) for our test bench.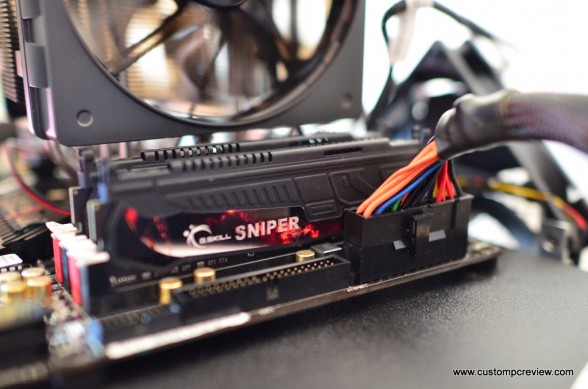 Did I mention how gorgeous this memory looked? Especially with it sitting atop our ASRock Z68 Professional Fatal1ty Gen 3 motherboard?
Testing Methodology and Software
Today's testing will comprise of 4 different tests. We will be using 4 different utilities to complete these tests: MemTest86+, Passmark Performance Test 7, SiSoft Sandra and AIDA64. We'd like to thank each of these companies for providing us with copies of their software for the purposes of this review.
The first test we'll be conducting is a reliability test. We will run the memory overnight through a round of MemTest86+. This is standard procedure for us as well as anyone purchasing or upgrading new memory to ensure that the memory is functioning properly. We will only begin actual performance testing after the memory has passed these tests.
The next 3 tests will focus on actual performance. The first actual performance test will test the performance of the memory at its rated settings with the CPU at full auto settings.
In the second test, we will overclock the CPU and find out if it is capable of improving memory performance.
In our final test, we will overclock the CPU and attempt to overclock the memory and report any performance gains from overclocking the memory.
Performance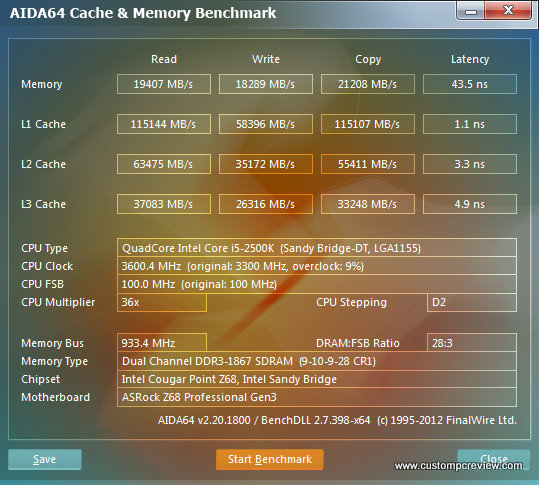 So, here's our first AIDA64 run with the G.Skill Sniper running at the rated settings, 1866MHz 9-10-9-28-1N 1.5v. Here the CPU is running at stock settings with the standard turbo boost on hence the 36x multiplier.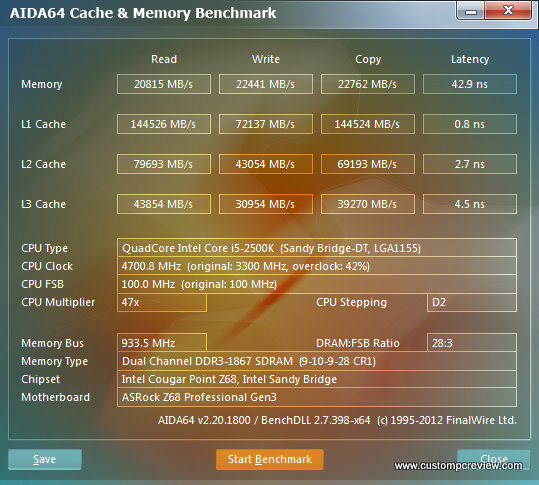 Here we're going to show you the memory's performance at rated settings with the CPU overclocked as well. As you can see, the read, write, copy and latency has improved significantly, so make sure if you're purchasing faster memory that your CPU has the capability of taking advantage of it.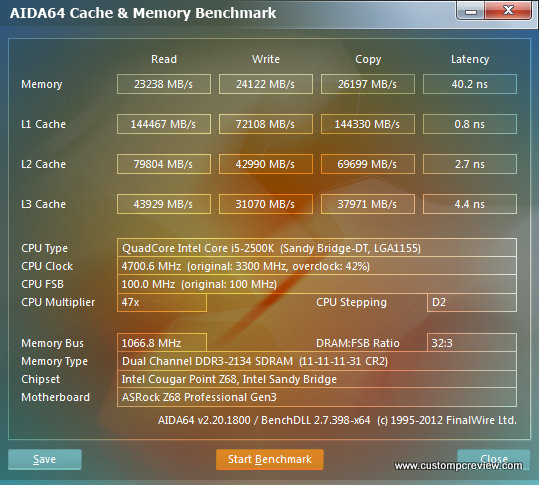 This third time around, I decided to really step it up and crank the memory up a bit as well. After applying 1.65v to the memory, I was able to keep the memory stable at 2133MHz 10-10-10-30-2N. I can't say I'm not impressed. Additionally, you can see that again that the read, write, copy and latency performance have improved significantly.
Performance Cont…
| | | | | |
| --- | --- | --- | --- | --- |
| | | 1866MHz (CPU 3.4GHz) | 1866MHz (CPU OC 4.7GHz) | 2133MHz (CPU OC 4.7GHz) |
| Performance Test 7.0 | Uncached Read | 2759.6 MB/s | 3557 MB/s | 3810 MB/s |
| | Write | 2563.9 MB/s | 3366.3 MB/s | 3351 MB/s |
| | Memory Mark | 2430.9 MB/s | 3243 MB/s | 3270.6 MB/s |
| SiSoft Sandra | Bandwidth | 24.41 GB/s | 24.53 GB/s | 27 GB/s |
| | Latency | 61.2 ns | 55.3 ns | 54.4 ns |
| AIDA64 | Read | 19407 MB/s | 20815 MB/s | 23238 MB/s |
| | Write | 18289 MB/s | 22441 MB/s | 24122 MB/s |
| | Copy | 21208 MB/s | 22752 MB/s | 26197MB/s |
| | Latency | 43.5 ns | 42.9 ns | 40.2 ns |
*Best scores are bolded
In addition to AIDA64, I also ran a SiSoft Sandra and Passmark Performance Test 7.0. Again, we can see from the numbers above that memory performance is significantly improved with the overclocked memory. We weren't expecting this memory kit to overclock this far, but it did and we're absolutely thrilled.
Comparison vs. Corsair Vengeance DDR3 1600MHz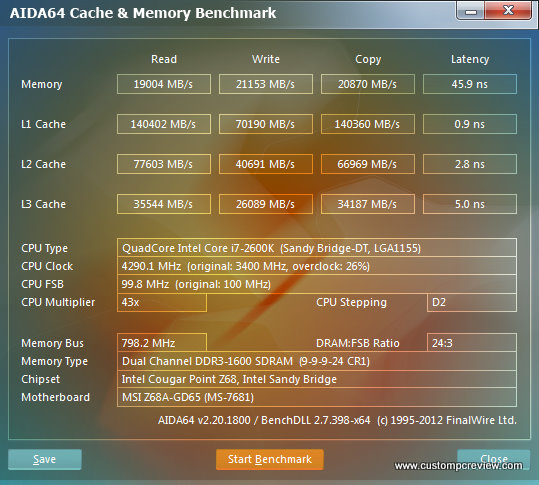 For comparison purposes only, I have an AIDA64 screenshot of the Corsair Vengeance 16GB DDR3 1600MHz 9-9-9-24 (1N) running on my main production machine. I'm not going to fully analyze these results because it is running off a different machine so there's too many other factors in play here, but we are looking at the Sniper 1866MHz memory getting better read, copy and latency performance than the Vengeance 1600Mhz memory even with the i5 2500K running at stock clocks and the i7 2600K running overclocked.
Conclusion
What's Hot
Well, starting from the looks, this memory looks great. The black heatspreaders look fantastic and the G.Skill Sniper branding sticker looks great as well. I'm also giving G.Skill a couple brownie points for the black PCB. As they say, it's all in the details and G.Skill has shown me they care about those details.
As far as overclocking performance goes, we saw a bag of mixed results. While the memory was running at 1.5v, we weren't able to do much higher than the rated settings. 1866MHz and CL 9 was as good as this memory was going to get. Nothing else booted for us, so that sorta sucked.
Our next step of course was to make attempts to tighten the timings to find out if that would improve performance. However, even cranking up the voltage to 1.65v, we weren't able to get stable results off the memory at 1866MHz CL8.
So, as a final effort we kept the memory at 1.65v, cranked the memory to 2133MHz and loosened the timings to CL10 (2N) and everything began to work. As far as performance goes, you can take a look at the testing results on the other pages.
What's Not
Don't get me wrong, this memory is able to run like a champ at its rated settings, but we weren't able to do anything in terms of tightening the timings or boosting the frequency at the stock 1.5v. At 1.65v, we did see some very impressive overclocking capability with these memory modules, however for those running Sandy Bridge, the Sandy Bridge memory controller is rated at 1.5v or less, so running it at any higher than that is at the discretion of the user since it has the possibility of frying your processor and voiding your warranty.
Bottom Line
The bottom line is that these are excellent memory modules for a reasonable price that perform like a champ. Add in the fact that you're getting lifetime warranty and you've got the capability to overclock it up to 2133Mhz (albeit at 1.65v) effectively making it a kit of memory that costs much more is a straight up bargain.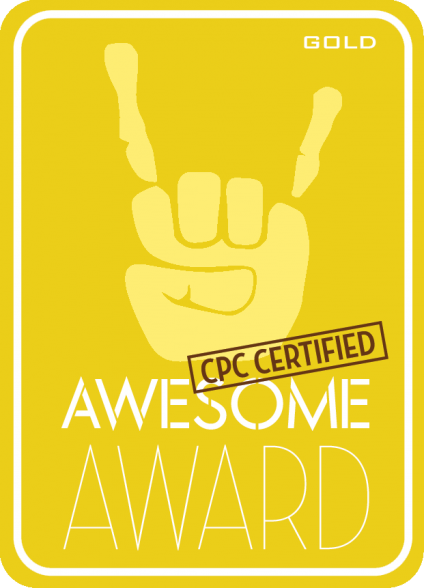 The G.Skill Sniper Series 8GB DDR3 1866MHz Memory (F3-14900CL9D-8GBSR) is available at Amazon or Newegg.