Better Performance, Higher Capacity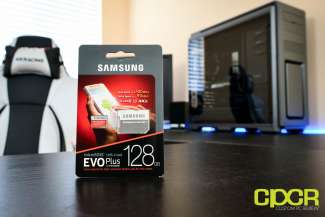 Several years ago, Samsung made their first introduction into the branded memory card space with their EVO and PRO lineup of memory cards and quickly dominated the space thanks to its great performance, reasonable pricing, and strong brand.
Following the introduction of the EVO and PRO memory card lines, Samsung also introduced the EVO Plus and PRO Plus lineup of memory cards back in 2015 to offer consumers a memory card that offers better performance and higher capacities than its predecessors. Although the EVO Plus and PRO Plus memory cards were already a great choice for customers, advancements have been made in NAND flash memory technologies which has recently prompted Samsung to update their EVO Plus lineup of memory cards to take advantage of the new technology.
As such, today we'll be reviewing the new Samsung EVO Plus 128GB which has been updated with Samsung's latest 3D TLC NAND.
Specifications
Manufacturer
Samsung
Model
EVO Plus (2015)
EVO Plus (2017)
Capacity
32GB
64GB
128GB
32GB
64GB
128GB
256GB
Sequential Read
Up to 80 MB/s
Up to 95 MB/s
Up to 100 MB/s
Seqential Write
Up to 20 MB/s
Up to 20 MB/s
Up to 60 MB/s
Up to 90 MB/s
Speed Class
Class 10, UHS-1
Class 10, UHS-3
Additional Features
Waterproof, Temperature-proof, X-ray-proof, Magnetic-proof
Warranty
10 Years Limited
Looking at the specifications, the biggest change with the new Samsung EVO Plus memory card is its performance. Sequential read performance has been bumped up to 100MB/s and sequential write performance has also been bumped up to 90MB/s. The new cards is also rated at UHS-3 (64GB and up), meaning the card has a minimum of 30MB/s sequential write performance. This will make the new memory card an excellent choice for all devices including the latest high resolution action cameras and drones.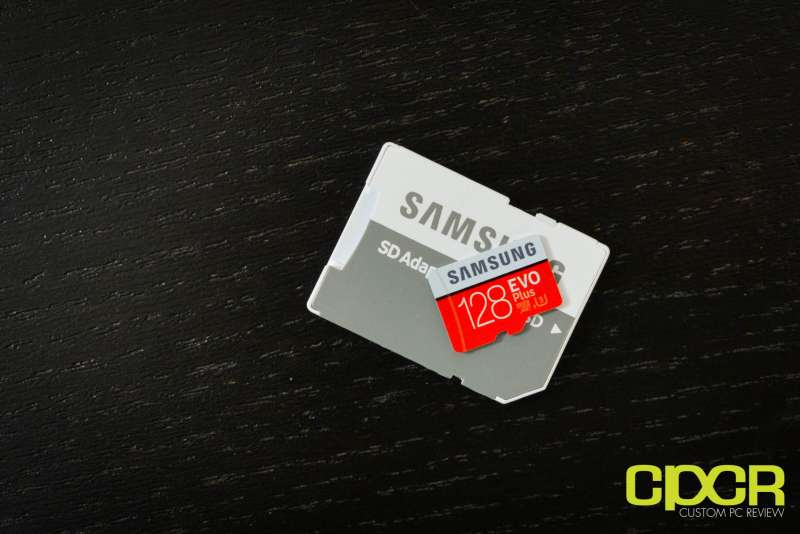 Here's a look at the Samsung EVO Plus 128GB. Nothing too special here. The major difference with the new Samsung EVO Plus and the old is the new card (64GB and up) features a UHS-3 logo while the old card features a UHS-1 logo.
Performance
Crystal Disk Mark
Crystal Disk Mark is a popular benchmark which allows us to measure both sequential read/write speeds as well as random read/write speeds.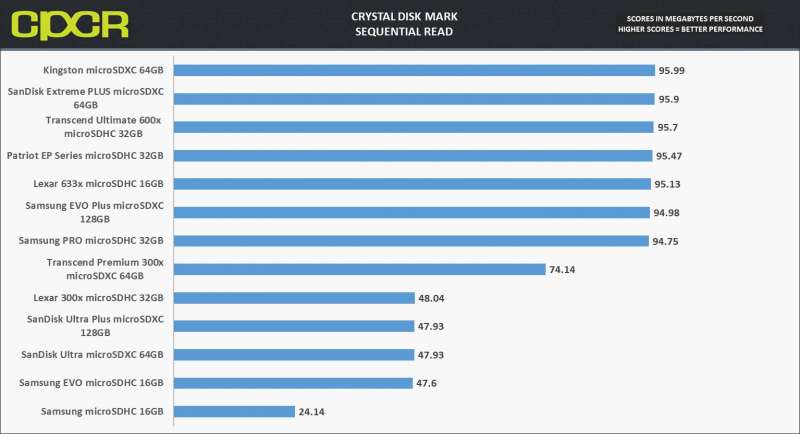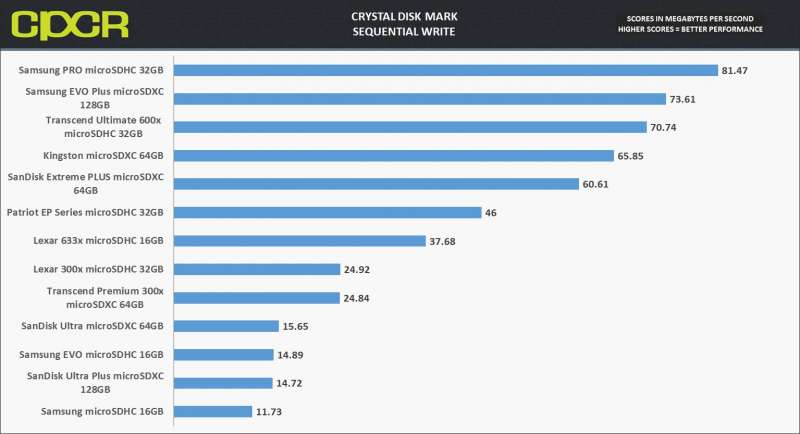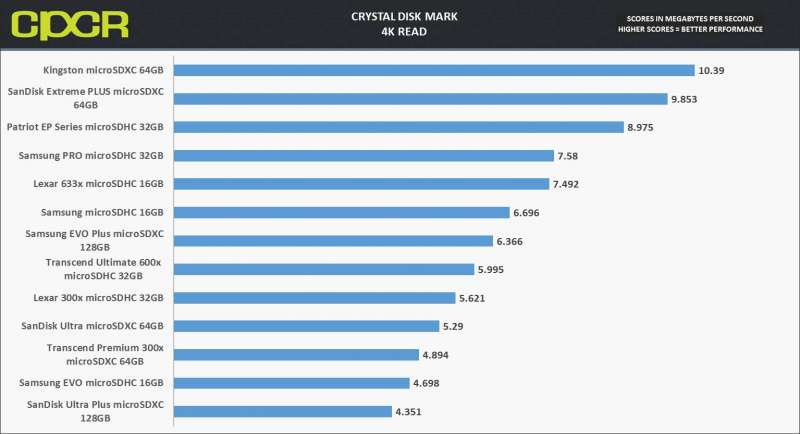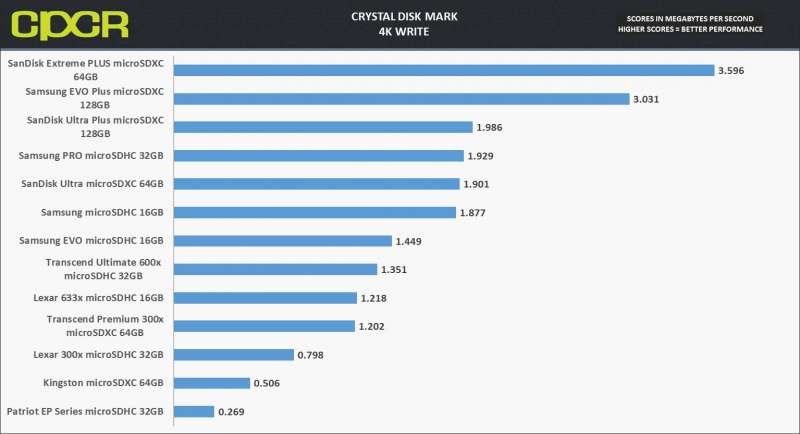 Performance Analysis
The new Samsung EVO Plus 128GB was able to reach impressive performance in both sequential read and writes, reaching 95MB/s and 74MB/s respectively. This makes it a good memory card for those doing larger file transfers such as video and other types of media. Thanks to the new NAND, the memory card is able to beat even memory cards based on planar MLC NAND. 4K write performance is also fairly good as the Samsung EVO Plus ranked significantly better than most of the competition. 4K read performance was fairly average.
Conclusion
The Samsung EVO Plus lineup of memory cards were already an excellent choice for mainstream consumers and the new memory card simply makes it an even better choice, especially for sequential read and write heavy operations such as storing and recording media. Like other Samsung memory cards, the Samsung EVO Plus continues to feature top notch reliability with resistance to water, temperature, magnets, and x-rays. For peace of mind, Samsung also backs every EVO Plus memory card for up to 10 years, which should far outlast the useful life of the memory card.
Pricing on the new Samsung EVO Plus is $29.99 for the 32GB, $49.99 for the 64GB and $99.99 for the 128GB when it becomes available in the next few days. Unfortunately, pricing for the 256GB is not available at this time. MSRP pricing for the new Samsung EVO Plus cards are significantly more expensive than the older EVO Plus cards, but street prices will likely be lower as the new cards begin making its way to retail shelves.
Overall, the new Samsung EVO Plus is an excellent choice and those looking for a new memory card will not be disappointed. Highly recommended!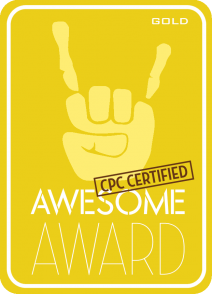 Sample provided by: Samsung