Warning
: Undefined array key "width" in
/var/www/vhosts/custompcreview.com/public_html/wp-includes/media.php
on line
1381
Warning
: Undefined array key "width" in
/var/www/vhosts/custompcreview.com/public_html/wp-includes/media.php
on line
1386
Warning
: Undefined array key "height" in
/var/www/vhosts/custompcreview.com/public_html/wp-includes/media.php
on line
1386
Warning
: Undefined array key "width" in
/var/www/vhosts/custompcreview.com/public_html/wp-includes/media.php
on line
1381
Warning
: Undefined array key "width" in
/var/www/vhosts/custompcreview.com/public_html/wp-includes/media.php
on line
1386
Warning
: Undefined array key "height" in
/var/www/vhosts/custompcreview.com/public_html/wp-includes/media.php
on line
1386
Back in 2010, Crucial released their RealSSD C300 and while it had some pretty severe problems out the gate,  it eventually became one of the fastest SSDs on the market. At the time, the C300 was among one of the first SSDs to support the SATA 3 6Gb/s interface, and provided users with one of the fastest 4k read/write speeds on the market. Yeah, the transition to the Marvell controller was a big factor and yeah it did take a while for Crucial to iron out the issues, but ultimately Crucial was able to pull off a winner. Unfortunately by then, SandForce started stepping up to the plate with their brand new SF-2200 controllers, and it was time for Crucial to up their game.
Fast forward to today and we've got the Crucial m4 SSD, the successor to the RealSSD C300. While it's still running that same 'ol Marvell 9174 controller, Crucial has dropped in some their finest 25nm synchronous NAND as well as a couple firmware improvements to bump the performance up to 500MB/s and 175MB/s sequential read/write speeds respectively.
How does this drive stack up to the SandForce dominated market these days? Read on my friends…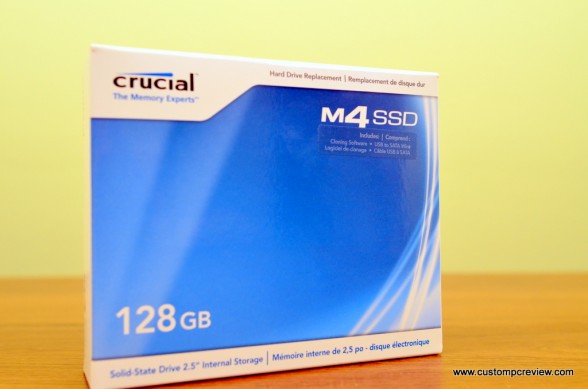 Video Unboxing
Specifications
[box_light]
Part Number: CT128M4SSD2
Sustained Sequential Read: Up to 500 MB/s(SATA 6Gb/s)
Sustained Sequential Write: Up to 175 MB/s(SATA 6Gb/s)
4KB Random Read: Up to 45,000 IOPS
4KB Random Write: Up to 35,000 IOPS
[/box_light]
Here, the specifications are quite interesting. When compared to SandForce based alternatives out there, it looks like Crucial's m4 is a flop, only boasting up to 175MB/s writes whereas comparable SandForce drives are able to advertise ~500MB/s. Don't be fooled by this numbers game though, the numbers advertised by SandForce based drives are typically run using compressed data – something SandForce controllers excel at. When actual, incompressible data is tested though, the actual read/write numbers tell a whole different story.
[box_light]
Physical Product Specifications
| | |
| --- | --- |
| Form Factor | 2.5″ |
| Memory Components | MLC |
| Interface | SATA III |
| Width | 69.85mm |
| Depth | 100.5mm |
| Height | 9.5mm |
| Weight | 75g |
| MTBF | 1,200,000 hours |
Features
Integrated 8-channel single chip Controller
Self-monitoring, analysis, and reporting technology (SMART) command set
RAID Support
Average Access Time < 0.1 ms
Data Reliability: Built-in EDC/ECC
Environmental Specifications
| | |
| --- | --- |
| Power Consumption (Idle): | < 65 mW |
| Power Consumption (Active): | 0.15W |
| Operating Temperature: | 0°C ~ +70°C |
| Storage Temperature: | -40°C ~ +85°C |
| Max Shock Resistance: | 1500G |
[/box_light]
A Closer Look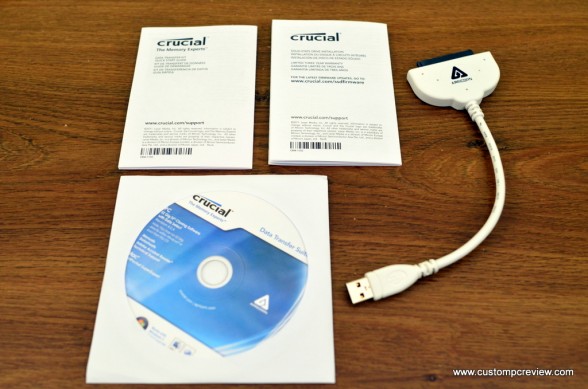 Since we received the upgrade kit for review, the SSD came with some accessories – cloning software, a usb to SATA adapter cable, as well as some documentation to get us started.
Here we have a quick look at the SSD itself. The casing has a nice metallic finish to it, and feels quite durable. You also get a Crucial sticker up front in typical Crucial colors. Lookin good!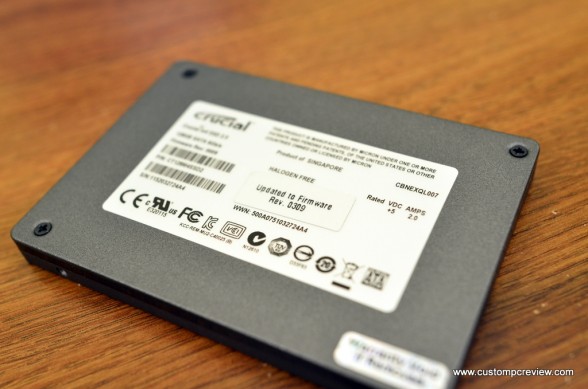 At the bottom you also get a sticker with all the specifications of the drive itself. The important thing here is that this drive is updated to revision 0309, which means it will be free from the 5000 hour BSOD issue. If your drive isn't updated to revision 0309, it is recommended that you do so as soon as possible to avoid this problem. You may find more details of the issue as well as the firmware update to fix it here.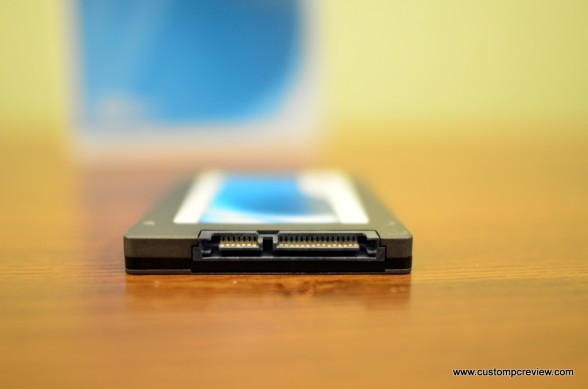 In its usual spot, we also get a SATA 3 6Gb/s connector as well as the SATA power connector. Be sure to connect this drive to a SATA 3 6Gb/s header on your motherboard to take full advantage of the performance of this SSD.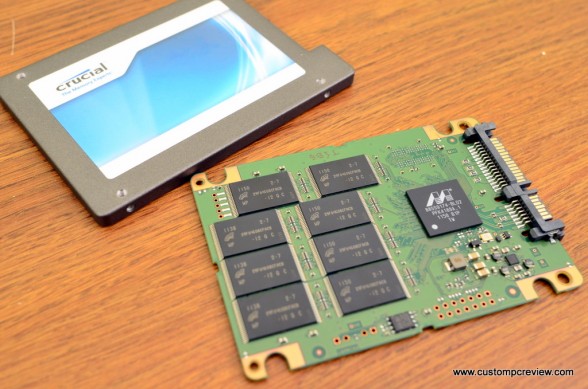 Here we can see the frontside of the SSD includes 8x 8GB 25nm Micron NAND modules along with the Marvell 9174 controller.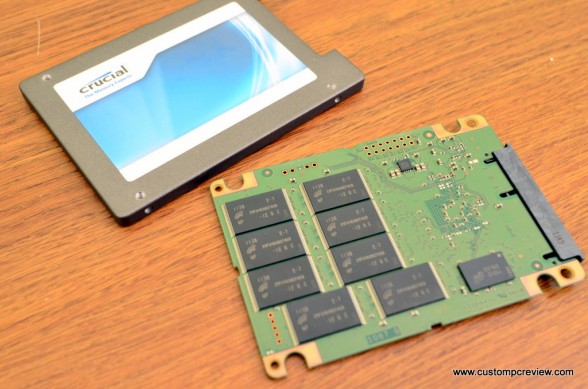 On the backside, we get another 8x 8GB NAND modules to make up a total of 128GB.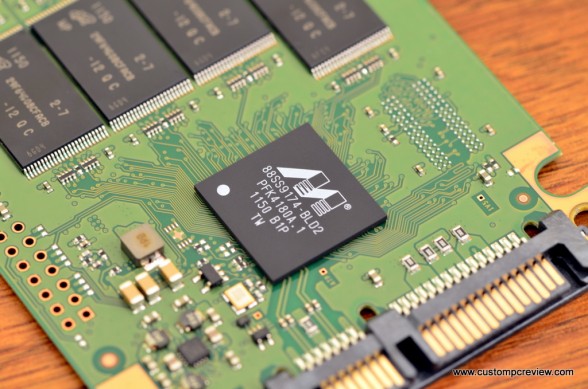 Here's a closer look at the Marvell 9174 controller.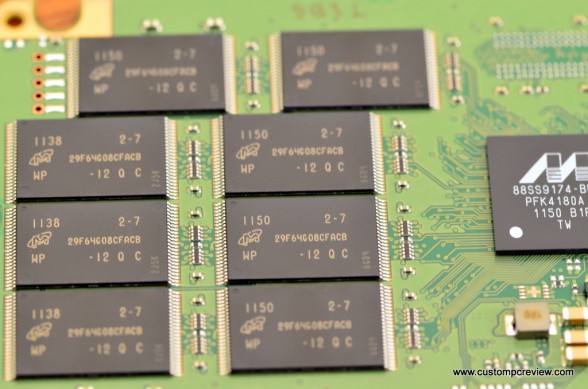 Finally, here we also take a closer look at the individual NAND modules. As you can see they are Micron branded.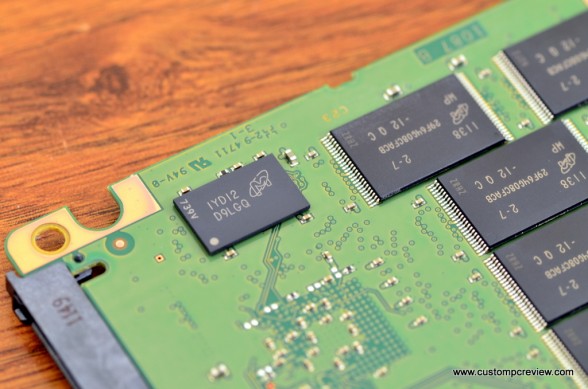 Finally, we also have a 256GB Micron branded DRAM module which acts as a cache for the SSD.
Test Bench
CPU: Intel Core i5 2500K
Motherboard: Asrock Z68 Fatal1ty Professional Gen 3
Graphics: Intel HD3000 Graphics
Memory: Gskill Sniper 1866MHz DDR3 1.5v
Storage: Patriot Pyro SE 120gb
Power Supply: Corsair HX650
Case: HSPC High Speed Tech Station
Special thanks to HSPC for providing us with the High Speed Tech Station (Large) for our test bench.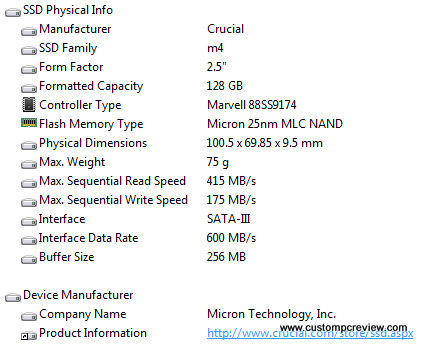 Performance
ATTO Disk Benchmark
ATTO Disk Benchmark is one of the industry's most popular benchmarks for testing SSD read/write speeds. This benchmarks allows read and write testing using predefined block sizes and gives us a good idea of read/write speeds with different sized files.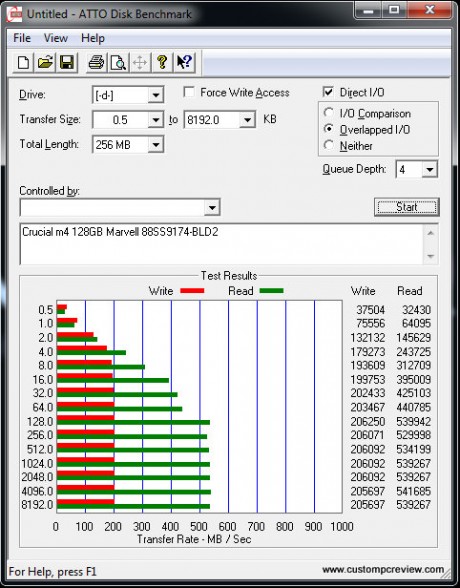 In the ATTO Disk Benchmark, the Crucial m4 does very well, pushing out 539MB/s reads and 205MB/s writes. Oh how I love it when actual product performance is greater than the manufacturer's advertised performance.
Crystal Disk Mark 3.0.1 x64
Crystal Disk Mark is another popular benchmark which allows us to measure both sequential read/write speeds as well as random read/write speeds. With this benchmark, tests will be run using both random fill (incompressible data which simulates music, video, pictures, etc.) and 0 fill (compressible data).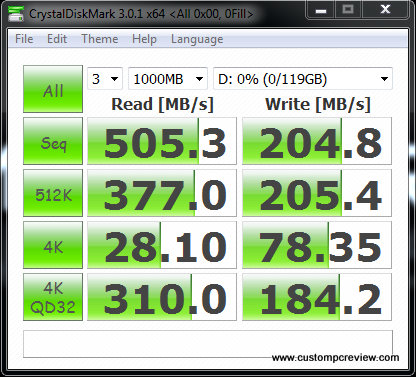 The 0 fill numbers (compressible data) aren't quite as strong as the ones you'd see on the SandForce based drives, but that's expected because the Marvell controller on the Crucial doesn't get any performance benefits when data is compressible.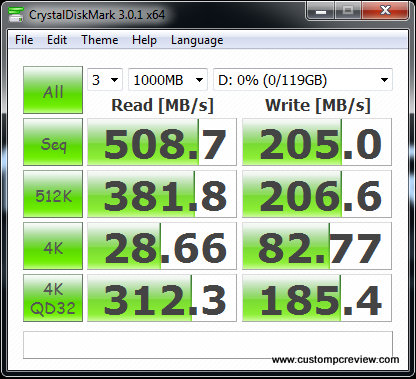 Here, we see the drive's performance with incompressible data, and it's very impressive. This drive is able to push out 508MB/s reads and 205MB/s writes, and ranks among the fastest drives we've tested.
AS SSD Benchmark
AS SSD is a very commonly used benchmark used to measure SSD performance in a number of categories. Here, tests are run using incompressible data, which most simulate real world usage. It also outputs a final score at the conclusion of the test based off the read and write performance of the drive.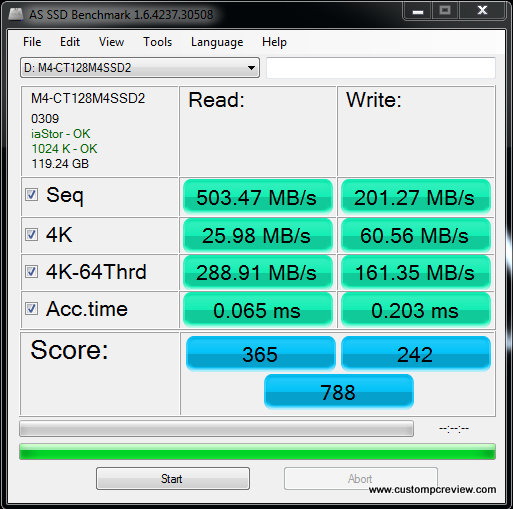 Again, we see a little more of the same with AS SSD. Reads over 500MB/s and writes over 200MB/s. Additionally, as usual per SSDs in general, we see very low access times and very high 4k reads/writes. This means we're going to see very quick, very snappy performance in normal day to day use.
PC Mark 7
The PC Mark 7 storage test tests the SSD under many different real world tests such as gaming, video editing, etc. This is most representative of the SSD's performance under real world situations.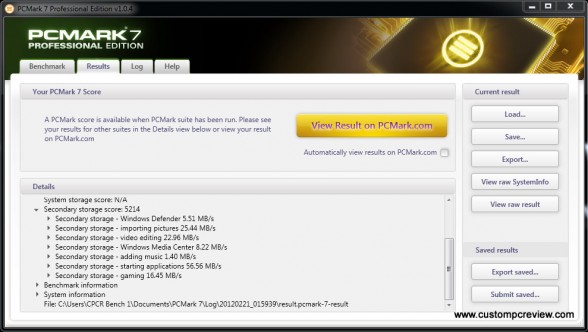 | | |
| --- | --- |
| SSD | PC Mark 7 |
| SanDisk Extreme 240GB | 5273 |
| Crucial m4 128GB | 5214 |
| Patriot Pyro SE 120GB | 5042 |
| Kingston V+200 120GB | 4711 |
| OCZ Agility 3 120GB | 4701 |
| Corsair Force 3 180GB | 4615 |
| Seagate Momentus XT 750GB | 3247 |
| WD Scorpio Black 250GB | 1727 |
Seeing the performance from previous tests, I must say this one was somehow expected. The m4 was able to top our PC Mark 7 score at 5214, which is higher than all other SSD's we've tested with the exception of the SanDisk Extreme 240GB, which uses toggle mode NAND and is the 256GB model, which is typically able to get faster writes.
Software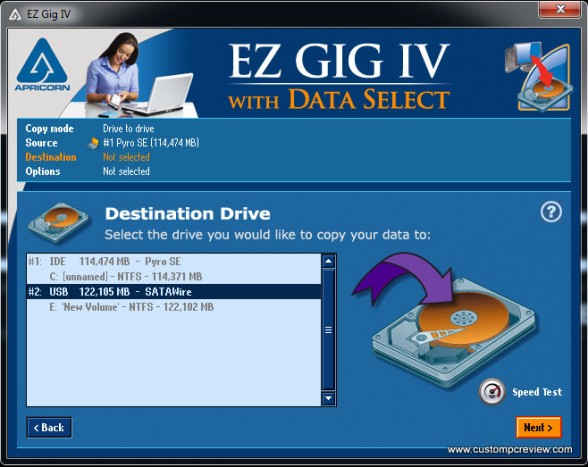 Included with the upgrade kit is the USB to SATA adapter along with some Apricorn cloning software. As you can see from the screenshot above, the software is very intuitive and simple to use. All you really have to do is choose the source drive, choose the destination drive and voila!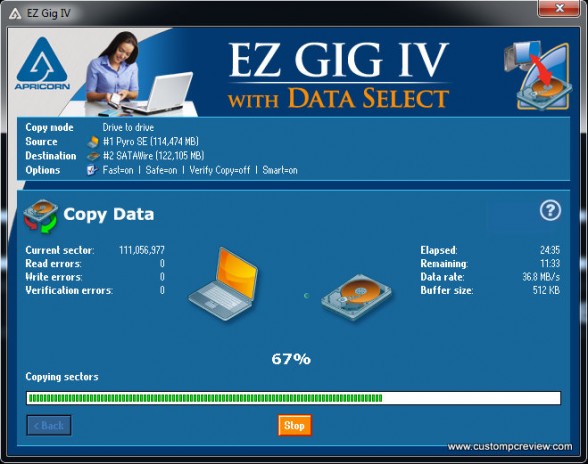 Unforutnately, as you see here, the transfer rate isn't the best since you are going to be limited to USB 2.0, but the copy only happens once, so that's not too much of a problem. I would've liked to see USB 3.0, but it's not a dealbreaker by any means.
Conclusion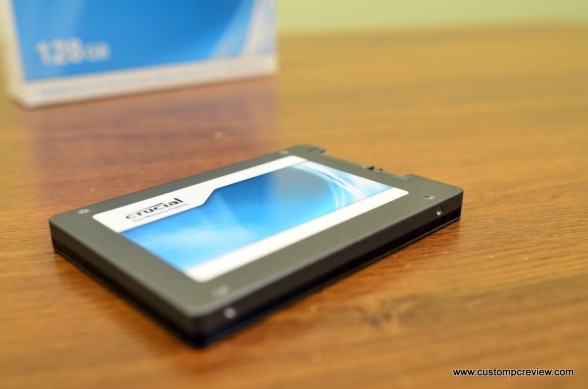 Honestly, I came into this review expecting a lot. There are so many factors in play that puts Crucial into such an excellent position when it comes to making great SSDs. For one, Micron/Crucial owns their own fab. These days, that's a pretty coveted position to be in with only a couple players on the market being able to say the same. Knowing exactly where your NAND is coming from and being able to customize your firmware for the specific NAND modules is a very good thing. Additionally the m4 is an evolution of the C300, a proven winner, and with Crucial sticking to the same controller, I expected most if not all bugs to be ironed out by this point.
After testing this drive, it seems like Crucial didn't let me down. The Crucial m4 was able to deliver some top of the line performance especially when put into scenarios where incompressible data was concerned. 4k performance was excellent as well, delivering around up to 80MB/s writes and 28MB/s reads, which should make this drive very fast in day to day use. Additionally, it was also able to outscore every drive I've tested so far on the PC Mark 7 benchmark, with the exception of the 240GB SanDisk Extreme, which again uses more expensive toggle mode NAND and is the 256GB model, which typically gets faster write speeds.
For those planning on upgrading their laptop drives, both the cloning software and adapter kit come in extremely handy as well. Once the drive is connected to the USB adapter, it's as easy as popping in the software and setting everything up. Of course, I do prefer Kingston's upgrade kit a little bit better since they go as far as including an entire external hard drive enclosure, but this does the job just fine.
Along the pricing front, this drive is very competitive. The M4 128GB is currently priced at $162.16 for the bare drive and $199.99 for the upgrade kit (what we've reviewed today). Other comparable 120GB SSDs such as the Corsair Force GT 120GB is priced around $170.99, Patriot Memory Pyro SE 120GB at around $173.32, and the OCZ Vertex 3 120GB at around $169.99.
Bottom Line
Overall, I'm very impressed with the Crucial M4. I came in expecting this drive to pump out some serious performance, and it didn't disappoint. So, what do you call an SSD that delivers solid performance at a great price? A winner.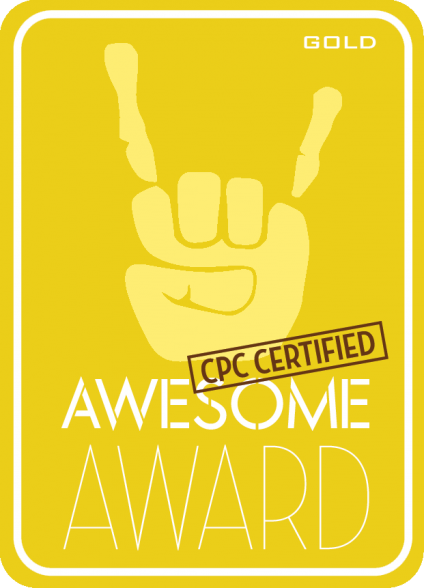 Special thanks to Crucial for making this review possible.
The Crucial m4 is currently available for purchase on Amazon.