[section label=1. Introduction]
Simple, Functional, Affordable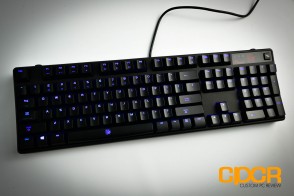 When it comes to the recent revival of mechanical keyboards, a couple companies such as Razer or Das Keyboard take most of the credit, but a number of companies were there from the beginning – one of them being Thermaltake. After starting off quite early in the game with the well designed Meka G1 mechanical keyboard, then the crazy feature rich Meka G-Unit, Thermaltake hasn't really done much with their mechanical keyboards other than rebrand the Meka G1 and Meka G-Unit over and over with new paintjobs.
To be honest, we were really beginning to wonder when Thermaltake would finally actually unveil a brand new mechanical keyboard, and luckily when we recently visited Thermaltake at CES earlier this year, they showed us one of the first units of a new mechanical keyboard which they've called the Tte Sports Poseidon Illuminated. Unlike the crazy Meka G-Unit with all of its macros, profiles, audio passthroughs, and usb ports, the Poseidon Illuminated goes back to basics of the Meka G1 with a very simple standard keyboard layout with the main feature being heavy duty design, Cherry MX switches and full, individually LED lit backlighting.
Thermaltake Tt eSports Poseidon Illuminated Specifications
| | |
| --- | --- |
| Manufacturer | Thermaltake |
| Model | Tt eSports Poseidon Illuminated |
| Key Switch | Cherry MX Brown/Blue/Red |
| Keycaps | Laser Etched |
| Key Rollover | 6 Keys (USB) / NKRO (PS/2) |
| Polling Rate (USB Only) | 1000Hz |
| Interface | USB 2.0 |
| USB Hub | None |
| Cable | 1.8m non-braided |
| Dimension | 17″ x 5.2″ x 1.5″ |
| Weight | 2.2 lbs |
| Warranty | 2 Years |
| Additional Features | Windows Key Disable Switch, Media Keys, Backlighting |
| Accessories | None |
[section label=2. A Closer Look]
A Closer Look at the Tt eSports Poseidon Illuminated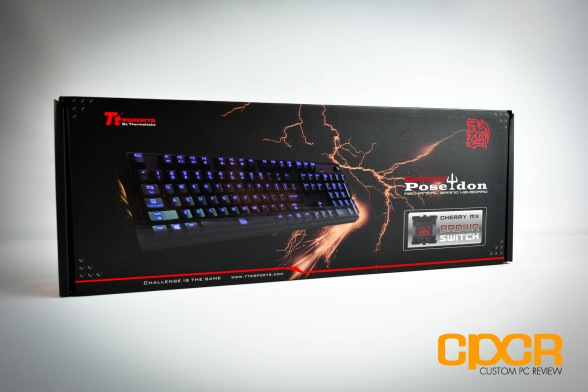 Here's a look at the packaging for the Thermaltake Tt eSports Poseidon Illuminated. Our sample came with Cherry MX Brown switches although it'll be available in the Cherry MX Blue variety as well.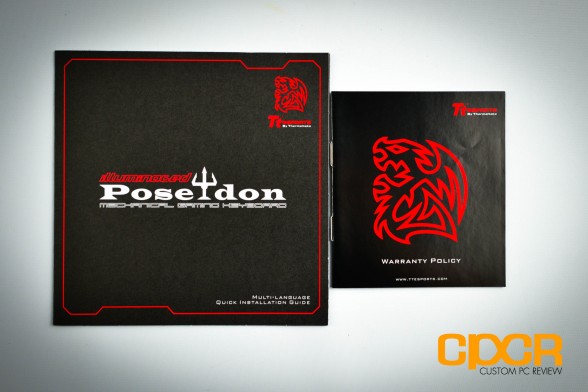 Included in the packaging, we get a product information brochure and a warranty policy booklet.
… and of course the Tt eSports Poseidon Illuminated. The first thing I noticed about the Poseidon Illuminated while taking it out of the box is that it's fairly hefty. This is a good sign as it helps prevent the keyboard from sliding across the table and is an indicator of higher construction quality.
Layout wise, our Poseidon Illuminated uses the standard North American layout and carries a very simplistic design. The entire chassis is treated with a smooth, matte finish.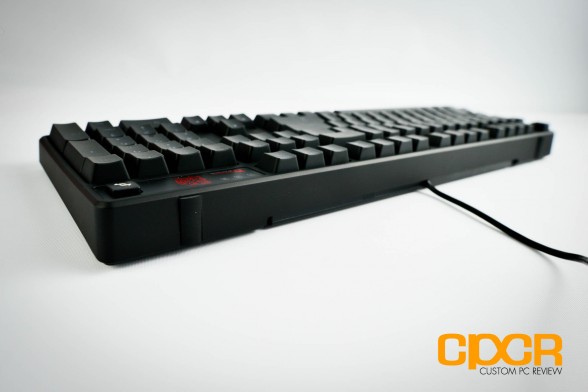 The Poseidon Illuminated has a fairly thick profile measuring in at 1.5″. There are rubber feet on the front side for the keyboard to make sure whatever it's pressed up against doesn't cause any damage to the keyboard… Or for standing the keyboard up vertically I guess if that's how you enjoy using your keyboard.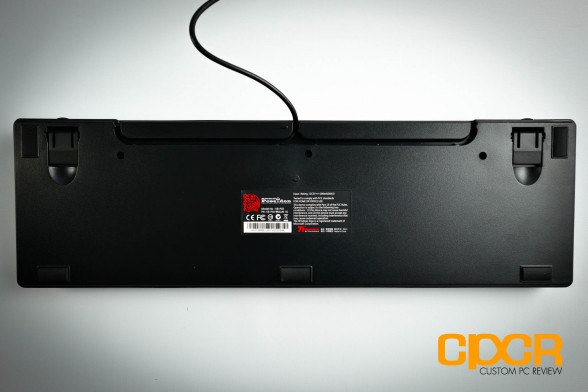 On the bottom of the keyboard we get 5 large rubber feet to prevent the keyboard from sliding. Although the chassis is already raised slightly in the back to improve ergonomics, there are additionally two flip-out stands for some extra vertical if you need it.
Some F-keys also double up as simple media and lighting controls when pressed together with the Fn key. The Poseidon has 5 backlight brightness settings (including off).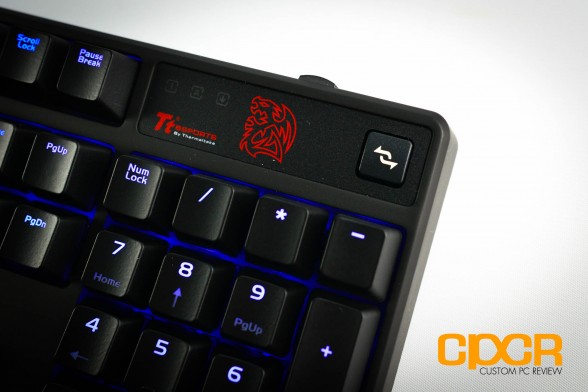 Thermaltake has also included a dedicated Windows key disable switch on the top right hand corner of the Poseidon Illuminated. This is much easier to use than most solutions that disable or enable the Windows key via a Fn + F-key that's almost always difficult to find mid-game.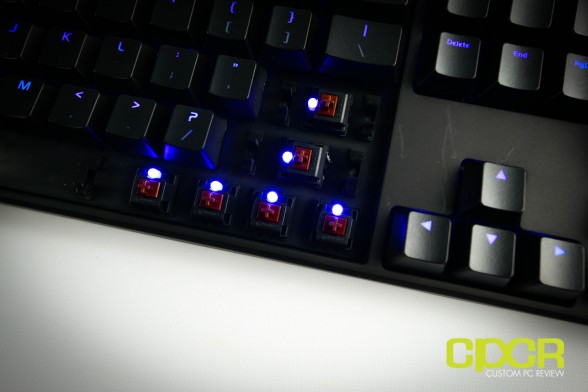 Removing the keycaps, we can see that ThermalTake is using Cherry MX Brown keyswitches here. There's also a blue LED under every key to provide even, consistent backlighting.
The most interesting thing about the Tt eSports Poseidon Illuminated is that the stabilizers on the keyboard aren't the usual Costar or Cherry MX design we're used to seeing. Instead, ThermalTake appears to be using a Costar style design with the stabilizer bar mounted on the keycap rather than next to the switch on the keyboard.
One thing to note is that on our sample, the stabilizer bars on the longer keys lacked lubrication out of the box, which caused some of the larger keys to feel a bit "sticky" and reduced smoothness of key travel. However, a bit of grease on the stabilizer bars will fix the issue.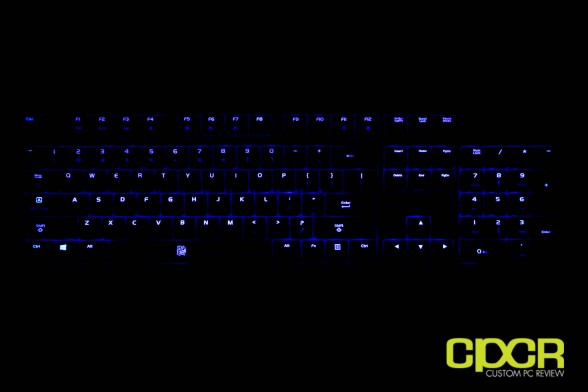 It may be a little hard to see in this shot, but the backlight is bright and even.
[section label=3. Testing and Performance]
Tt eSports Poseidon Illuminated Performance

We're pretty familiar with Cherry MX Brown switches here and the feel of the Tt eSports Poseidon Illuminated isn't much different. Playing hours and hours of Left 4 Dead 2 and Starcraft 2, I had no issues with ghosting or input lag with the keyboard. The windows key can easily be disabled mid-game by pressing the dedicated button which is nice since it's easy to find without even looking at the keyboard.
Thanks to its Cherry MX Brown switches, the Poseidon Illuminated was also a joy to type on. With an actuation force of 45 grams, the Cherry MX Brown switches were were easy to press yet still give you that nice tactile feedback on each keypress. Of course, typists looking for an audible click can go with the Cherry MX Blue edition as well. Although we've never used this type of Costar style stabilizer in any previous keyboard tested to date, we were surprised that it was able to product consistent feeling actuation force between normal and larger keys. Our one problem with the stabilizers is that the long keys felt slightly "sticky" out of the box however, a quick application of bearing lubricant on the stabilizer solved the issue.
With the backlight dialed all the way up, the Poseidon Illuminated is capable of glowing extremely bright. Thankfully, the backlight has 5 brightness settings so you can definitely tone it down if it's overpowering the screen. The Fn key's LED brightness can't be adjusted and always stayed at max brightness though so you can see what's going on.
Ghosting/NKRO Testing
Additionally I also did some more synthetic testing of the Poseidon Illuminated using Microsoft's Keyboard Ghosting Test. Developed by Microsoft's Applied Sciences Group, the app translates any keys I physically press into a virtual keyboard, allowing me to test for any sort of ghosting issues inherent on the keyboard.
USB Connection
Using the USB connection, the Poseidon Illuminated is only capable of the standard Windows USB limit of 6-key rollover. For some reason however, ThermalTake advertises the keyboard as "6-8 key N-Key Rollover", which is both quite funny and extremely confusing.
To clear up that mess, basically if you're using the Poseidon Illuminated out of the box in USB mode, you only get 6-key rollover, meaning only up to 6 keys can be registered simultaneously. This should cover most use scenarios. We did not detect any ghosting in all of our test patterns.
PS/2 Connection

As a shot in the dark we also went ahead and hooked up a 3rd party USB to PS/2 adapter to see if the Poseidon Illuminated will work in NKRO mode here. To our surprise, this actually does the trick as it enables the Poseidon Illuminated to be used in NKRO mode with no loss in functionality.
As you can see in our test above, every key pressed on the keyboard will register when the keyboard is hooked up via the PS/2 port and as an added bonus the backlight will work perfectly as well. I can't say this will be the case in every system, but the keyboard in PS/2 mode worked perfectly fine in the Z87, Z77 and X79 systems I tested it on. Unfortunately, Thermaltake does not include a USB to PS/2 adapter with the keyboard so you'll have to find your own. Luckily, it's fairly cheap to get one, but your mileage may vary as I haven't been able to test this on every platform/motherboard out there.
[section label=4. Conclusion]
Tt eSports Poseidon Illuminated Conclusions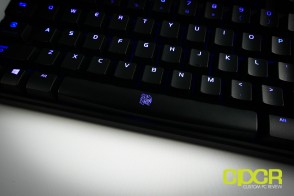 Now I don't usually start off my conclusions with pricing, but I'll make an exception for the Poseidon Illuminated. I mean if you look at the keyboard, there really isn't all that much to talk about. It doesn't really come with a ton of bells and whistles, nor does it offer anything substantially innovative compared to other mechanical keyboards out on the market. What's special about the Tt eSports Poseidon Illuminated is the fact that it can be found online for $79.99, making it one of the most affordable backlit mechanical keyboards on the market.  You simply don't really see a whole lot of keyboards with quality, Cherry MX switches and full backlighting at under $100. You just don't. 
Now you might be thinking well, OK what's wrong with the keyboard then? And the answer is, surprisingly not much. Most people think build quality will be the major issue, but after weeks of testing the Poseidon Illuminated I felt like the keyboard was extremely well built and is definitely sturdier than even some more expensive mechanical keyboards on the market. Thermaltake has really crammed in a very heavy duty backplate in the Poseidon Illuminated which helps keep the board from any sort of flexing or creaking even for those monster 120WPM bottom out typists out there. 
Of course, if you're a hardcore keyboard enthusiast looking for only the best of the best, you'll probably want to skip the Poseidon Illuminated. Keycaps aren't double shot molded, the stabilizers under the long keys need a bit of work out of the box for optimal feel, the stabilizers aren't standard so it's difficult to replace keycaps, there aren't any USB or audio passthroughs, and not having NKRO work straight out of the box is a travesty.
However, I think for the majority of gamers and typists out there simply looking for the most basic, entry level, quality, Cherry MX based backlit mechanical keyboard, the Thermaltake Tte Sports Poseidon Illuminated is a solid choice.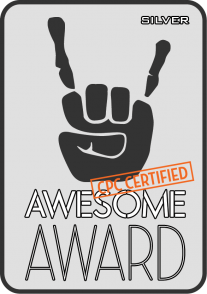 Sample provided by: Thermaltake
Available at: Amazon