OCZ Technology Vertex 3 120GB SSD Review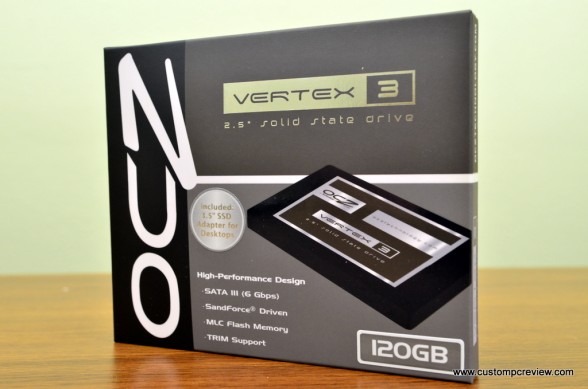 Back in 2009 when SSD technology was still in its infancy and consumer level SSDs were just starting to gain traction, OCZ Technology introduced the first SSD in the Vertex line of SSDs, along with a couple other SSDs such as the Apex and the Summit series SSDs. Of those, the original Vertex SSD was quite special, since at the time as it was one of the first SSDs to carry the new Indilinx Barefoot controller, which put out some very impressive performance. With some aggressive pricing, the Vertex eventually became one of the most popular SSDs on the market, which might help explain why it's the only one left between the three introduced in 2009.
So, why am I telling you all this? Because today we'll be taking a look at OCZ's 3rd generation Vertex SSD, the Vertex 3. Similar to what made the Vertex 2 and the original Vertex so popular, the Vertex 3 boasts some great performance at a reasonable cost. The particular Vertex 3 we'll be taking a look at today is going to be the middle of the road 128GB edition. So, does the Vertex 3 live up to the Vertex name? Let's find out!
Unboxing Video
Specifications
[box_light]
Form Factor: 2.5″
Capacity: 120GB
Memory Components: MLC
Interface: SATA III
Controller: SandForce SF-2281
Width: 3.93″
Depth: 2.74″
Height: 0.37″
Weight: 0.17 lbs.
Warranty: 3 years
[/box_light]
A Closer Look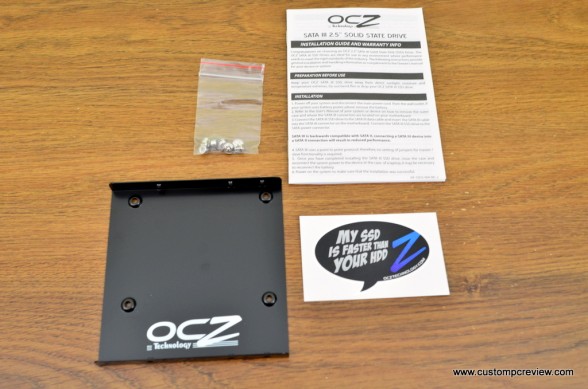 Along with the Vertex 3 itself, OCZ has included a 2.5″to 3.5″ adapter tray, a manual, a couple of drive screws, and a "MY SSD IS FASTER THAN YOUR HDD" sticker to make sure people know you're running a SSD.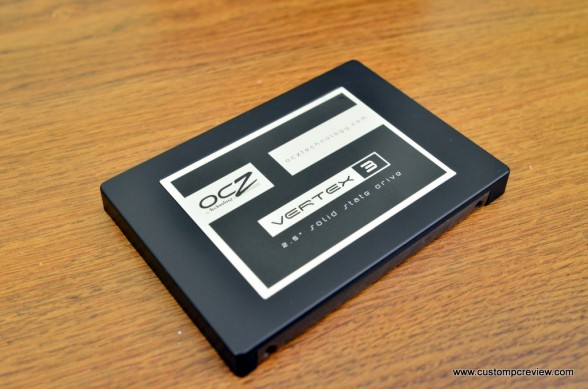 Nothing too special here. OCZ stuck with their traditional black and silver color scheme found on every other Vertex series SSD to date. Even the upcoming Vertex 4 will look pretty similar.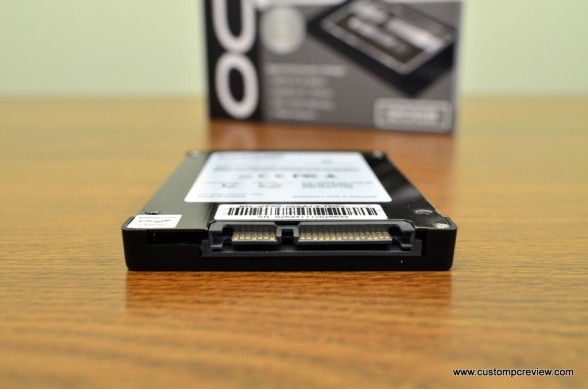 Here we've got the SATA 3 6Gb/s port along with the SATA power port in its usual spot.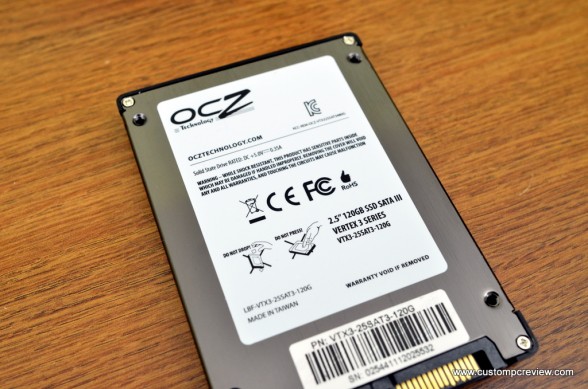 The back of the case is finished in a nice layer of brushed aluminum and it also includes a sticker that tells you how not to handle the drive. Be sure not to remove the sticker or you'll void the warranty.
A Closer Look (Cont…)
Speaking of voiding warranties, we've voided ours so you get a look at the drive. After penetrating the warranty voiding sticker, the drive opened without much effort. As you can see up front, we've got the SandForce controller along with 8x synchronous NAND chips.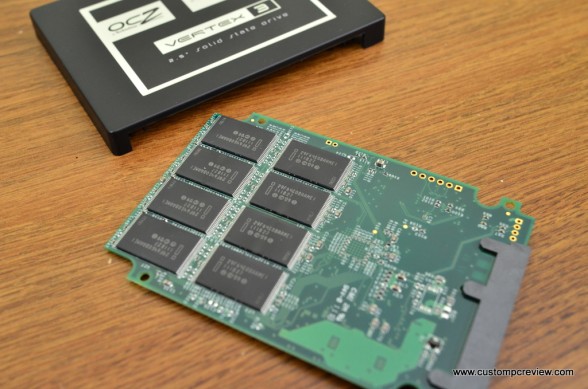 Along the back we've got 8 more synchronous NAND chips.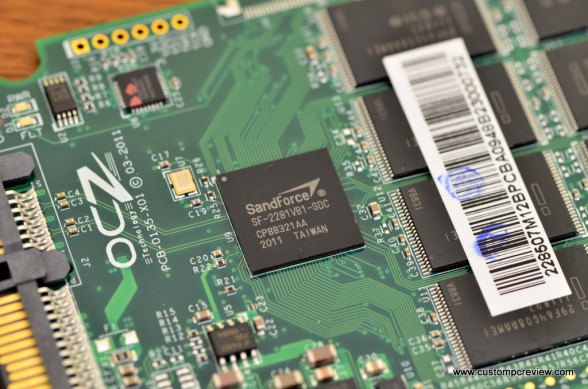 Here's a closer look at the SandForce SF-2281 controller. Nothing special here. It's that exact same SandForce controller seen in most SandForce based SSDs today.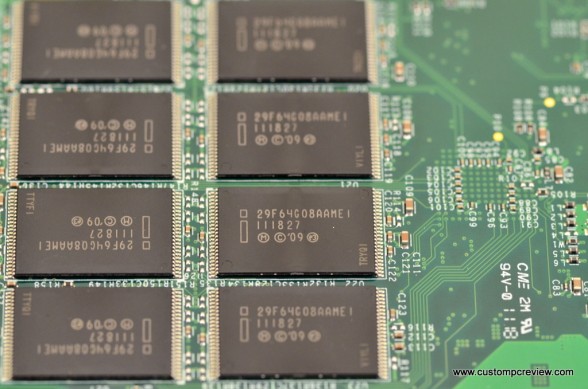 Adding up the NAND modules in the front and the rear of the PCB, the OCZ Vertex has a total of 16 modules of Intel branded 8GB MLC Synchronous NAND. This actually makes up 128GB, but 8GB is reserved for SandForce over-provisioning.
Test Bench
CPU: Intel Core i5 2500K
Motherboard: Asrock Z68 Fatal1ty Professional Gen 3 (Intel SATA 3 6Gb/s, AHCI mode)
Graphics: Intel HD3000 Graphics
Memory: Gskill Sniper 1866MHz DDR3 1.5v
Storage: Patriot Pyro SE 120gb
Power Supply: Corsair HX650
Case: HSPC High Speed Tech Station
Special thanks to HSPC for providing us with the High Speed Tech Station (Large) for our test bench.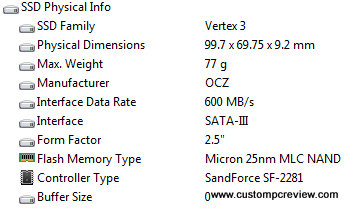 Hmm… strange. Each individual NAND module is Intel branded, but the drive itself reports Micron NAND. Either way the NAND should come from the same factory as Micron and Intel jointly own the NAND foundries.
Performance
ATTO Disk Benchmark
ATTO Disk Benchmark is one of the industry's most popular benchmarks for testing SSD read/write speeds. This benchmarks allows read and write testing using predefined block sizes and gives us a good idea of read/write speeds with different sized files.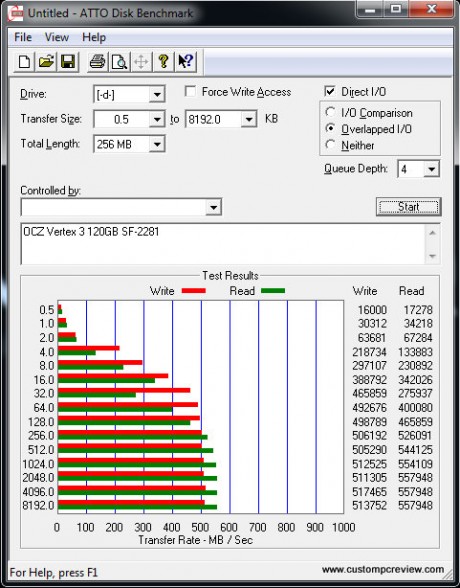 In ATTO Disk Benchmark, the OCZ Vertex 3 performs very well, similar to most SandForce based SSDs on the market. In the 1MB test, the Vertex 3 achieved 512MB/s writes and an 557MB/s reads. Typically, this is just what we expect from a drive of this class.
Crystal Disk Mark 3.0.1 x64
Crystal Disk Mark is another popular benchmark which allows us to measure both sequential read/write speeds as well as random read/write speeds. With this benchmark, tests will be run using both random fill (incompressible data which simulates music, video, pictures, etc.) and 0 fill (compressible data).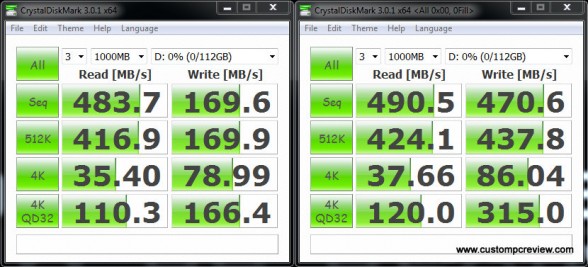 Taking a look at the benchmark on the right, sequential read and write speeds in the 0 fill test (compressible data) is right in line with most other SandForce based drives on the market, coming in at around 490.5MB/s sequential reads and 470.6MB/s sequential writes.
Taking a look at the benchmark on the left, the read and write speeds are quite different from the benchmark on the right. That's because the benchmark on the left was run in random data mode, which means the data used in this run is more incompressible and simulates data found in files such as movies, music, photos, etc. That being said, the Vertex 3 is still shows solid numbers across the board, coming in at 483.7MB/s sequential reads, and 169.6MB/s sequential writes. This is no doubt due to the synchronous NAND that OCZ has chosen to put in the Vertex 3. Additionally, the 4k benchmarks look great as well coming in at 35.40MB/s reads and 78.99MB/s writes so the drive should feel quite snappy in day to day use.
AS SSD Benchmark
AS SSD is a very commonly used benchmark used to measure SSD performance in a number of categories. Here, tests are run using incompressible data, which most simulate real world usage. It also outputs a final score at the conclusion of the test based off the read and write performance of the drive.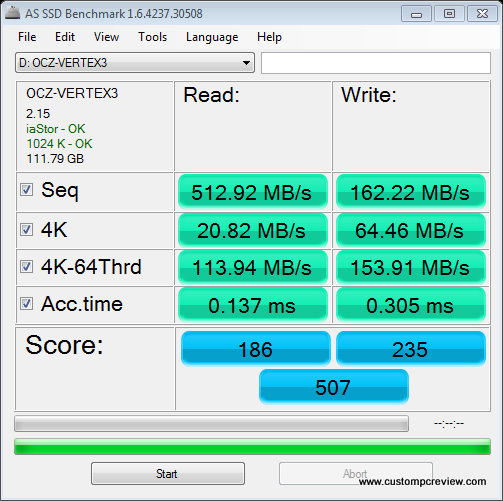 Taking a look at the AS SSD benchmark, the Vertex 3 shines again with an impressive 513MB/s read and 162MB/s write. The numbers here are very similar to what we saw previously in Crystal Disk Mark confirming the drive's performance.
PC Mark 7
The PC Mark 7 storage test tests the SSD under many different real world tests such as gaming, video editing, etc. This is most representative of the SSD's performance under real world situations.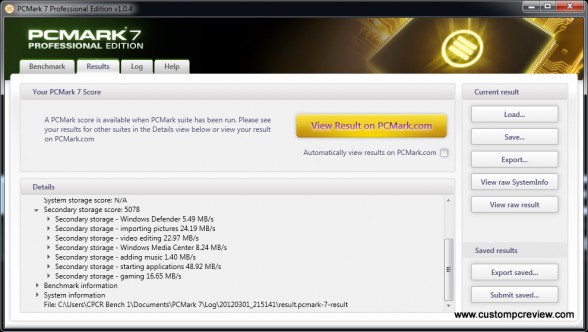 | | |
| --- | --- |
| SSD | PC Mark 7 |
| SanDisk Extreme 240GB | 5273 |
| Crucial M4 128GB | 5214 |
| OCZ Vertex 3 120GB | 5078 |
| Patriot Pyro SE 120GB | 5042 |
| Kingston V+200 120GB | 4711 |
| OCZ Agility 3 120GB | 4701 |
| Corsair Force 3 180GB | 4615 |
| Seagate Momentus XT 750GB | 3247 |
| WD Scorpio Black 250GB | 1727 |
Here we can see the OCZ Vertex 3 pushing a respectable 5078 score in PC Mark 7, which is no doubt due to the fast synchronous NAND used in the drive. On our comparison chart, the Vertex 3 was able to take the 3rd spot from the also synchronous NAND based Patriot Pyro SE, but does trail the Crucial M4. It also trails behind the SanDisk Extreme 240GB as well, but the Extreme does use higher end toggle mode NAND and is a larger capacity drive, which typically results in better performance.
Conclusion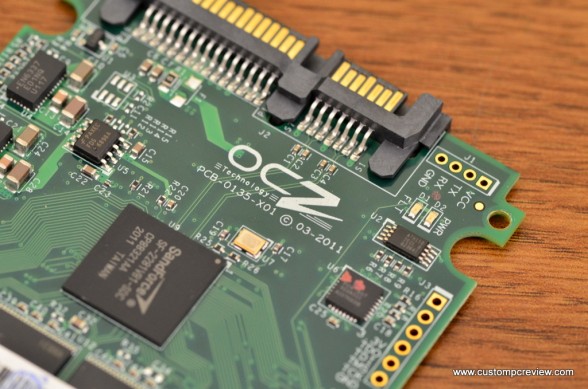 Since performance is one of the most important factors when selecting SSDs, we're going to talk briefly about that first. Overall, the Vertex 3 performed very well. Comparing the benchmarks between OCZ's own asynchronous NAND based Agility 3 and the synchronous NAND based Vertex 3, you can immediately see that going with the Vertex 3 is a far better choice. Whereas the Agility 3 scored around 209.4MB/s sequential writes, and 145.0MB/s sequential reads on the incompressible data test, the Vertex 3 was able to beat it out by a very wide margin, coming in at 483.7MB/s sequential reads, and 169.6MB/s sequential writes. Additionally, the Vertex 3 is also generally faster across the board in the 4K and 4K QD32 tests (small file transfers), which should directly translate into a perceptible difference while using the drive.
Aesthetically, the drive is also in my opinion one of the best there is as well. The black enclosure will blend with virtually any case out there, while the silver text and trim provide an excellent contrast to the color scheme.
Finally, the OCZ Vertex 3 is priced quite competitively. At $170, it's just a little more expensive than slower asynchronous NAND based SSDs such as their own Agility 3. Additionally, taking a look at some of its synchronous NAND based competitors such as the Corsair Force GT and the Patriot Pyro SE 120GB, the OCZ Vertex 3 is right in line when it comes to pricing as well. However, what I think is serious competition for the Vertex 3, and many other SandForce based SSDs out there is the Crucial M4. While the Vertex 3 is quite fast, the Crucial M4 128GB we reviewed previously is faster, has a slightly larger capacity, and is priced around the same block.
Bottom Line
The Vertex 3 is a very well performing drive, and should be a top pick for anyone on the market looking for a mid range SSD to give their system a little leverage.
However, I must also mention that the OCZ Vertex 4 carrying the new Indilinx Everest 2 controller has recently been announced at CeBIT 2012 and preliminary benchmarks of the new drive show a lot of promise. If you can find a great deal on the Vertex 3, it's still a very good drive, so feel free to make the purchase, but at this point it may be wise to wait for the Vertex 4.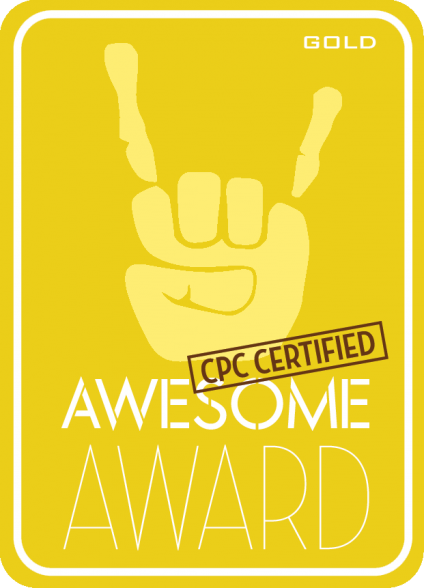 Special thanks to OCZ Technology for making this review possible.
The OCZ Vertex 3 is currently available on Amazon.